Original URL: http://www.theregister.co.uk/2009/12/14/review_notebook_toshiba_satellite_t110/
Toshiba Satellite T110
Trying too hard not to be a netbook?
Posted in Personal Tech, 14th December 2009 08:02 GMT
Review Toshiba's 11.6in Satellite T110 makes you appreciate the fuss Intel makes about multi-core processors.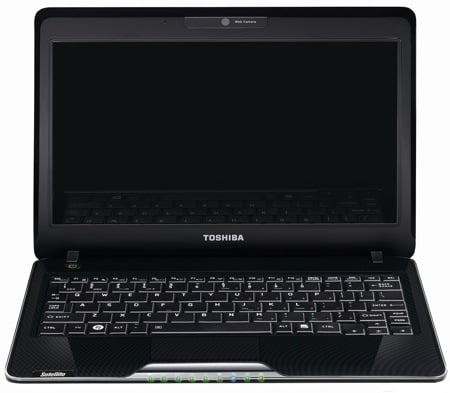 Toshiba's Satellite T110: very, very glossy
The T110, you see, has a single-core chip, a 1.3GHz Celeron 743, to be precise, which sits on an 800MHz frontside bus and has 1MB of L2 cache. The 743 is one of Intel's so-called "consumer ultra-low voltage parts" and that - plus the screen size - tells you the T110 is one of the laptops vendors are currently pitching as the kind of machine you want if you want to start creating the content you can view on a netbook.
Think of a compact laptop that's slightly larger than a typical 10in netbook, but has a faster processor and more memory. It still lacks an optical drive, to keep the weight down, but it's a machine, some vendors will tell you, that's a "proper" notebook.
It's a good set of design criteria that, as we saw when we tested Acer's Aspire Timeline 1810TZ - reviewed here - it's capable of forming the basis for some rather nice notebooks.
And the T110 is certainly a nice-looking laptop. Toshiba sent us the T110-11V variant, which comes decked out in "iron red metallic" decor: a glossy cherry red carbon-fibre look. We prefer the basic black styling rather than the Qosmio-esque look of the T110-11V, but it's not unattractive.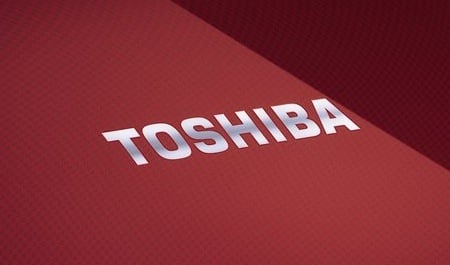 Available in black and "iron red metallic"
Toshiba is very keen on glossy plastics, and the screen bezel, lid, keyboard surround and wrist-rest area are all suitably shiny. So is the 1366 x 768 screen. The keyboard itself is matte, as is the base of the machine and, thankfully, the trackpad.
The trackpad's buttons, as you'll see from the pictures, are chrome-look plastic and form part of a band that runs around the edge of the laptop's base section. The two mouse buttons are formed from a single piece of plastic pivoted at the centre, and we found that not having a way to differentiate the left- and right-click keys by touch an annoyance. Too often, while looking at the screen, we'd hit the middle of the bar and not trigger a click. The buttons' actions are a little too heavy for us.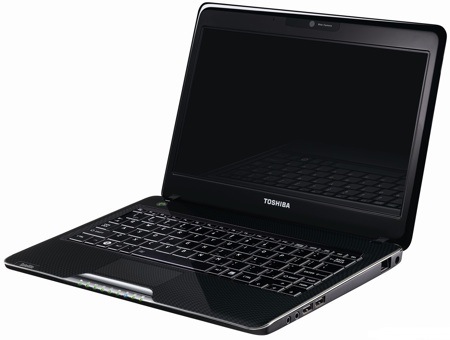 Ethernet, USB and audio on one side...
The trackpad does the basic multi-touch gesture of pinch-to-zoom, and you can use your finger to track a spiral and so rotate pictures, but there's no two-finger scrolling, just pre-determined scroll trigger zones.
The keyboard's a wee bit spongy too, but since there's very little flex, we'll give it out thumbs up.
Unlike the 1810TZ, the T110 has Bluetooth on board, but in most other respects the two machines' hardware essentials are the same. Both have 802.11n Wi-Fi, a VGA port, three USB 2.0 connectors - which can be set to provide power when the laptop's sleeping - a multi-format memory card slot and and HDMI port. They have Intel's GMA 4500MHD graphics core built into their chipset to drive both screen and HDMI.
While the Acer has Gigabit Ethernet, the Toshiba is limited to a netbook-like 100Mb/s. Personally, we'd rather have faster wired networking than Bluetooth, but you pays your money, and we'll pay ours.
There's 3GB of 800MHz DDR 3 memory on board, with the T110's two SO-DIMM slots taken up with memory cards. Both are easily accessible through a hatch in the base of the laptop, as is the 2.5in Sata hard drive, though its door is held down not with Philips screws but hex-headed ones.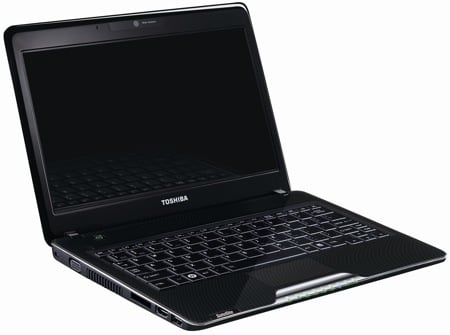 ... plus VGA, HDMI, USB and memory card slot on the other
Like the 1810TZ, the T100 comes with a big battery - 61Wh, in this case. It's not as well integrated into the casing as the Acer's power pack is, but it doesn't bulge excessively out of the back or the base, either. But it brings the T110's maximum thickness to 38mm to the Acer's 30mm. That 8mm may not seem much on paper but it made the Toshiba notebook feel by far the chunkier of the two. It's also wider and deeper.
And, at 1.6kg to 1.4kg, it's the heavier of the two, too. Not that the T110 is a shoulder-killer - this is a mini laptop we could carry around all day - but nor is it as small and as portable as it might be.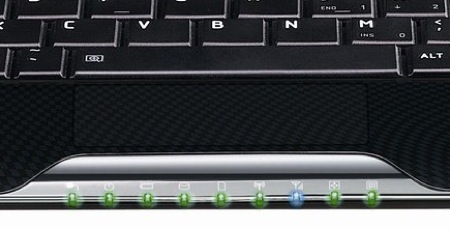 There's a trackpad in there, somewhere
Toshiba is clearly trying to make the T110 seem large, the better to make buyers see clear blue water between this machine and netbooks. The company wants to you realise immediately that this is a notebook.
So why the blazes did it choose that single-core Celeron 743?
Looking at the PCMark Vantage numbers, you can clearly see the disadvantages the T110's one-core CPU has when compared to the 1810TZ's 1.3GHz dual-core Pentium. The T110 is well behind, especially on the more content-centric tests.
Incidentally, during testing it ran hotter to the touch than the 1810TZ did, but no so much as to cause harm to any laps it may be resting on.
3DMark06 gives the T110 the better graphics score of the two, but, as you can see, there's not much in it, or with other laptops using Intel's latest integrated graphics.

Its slim, but not quite as slim where the battery is as this
We also did a quick run on ye olde PCMark05, to give us something to compare with netbooks. For CPU, Memory and HDD, the T110 scored 2130, 3047 and 4129, respectively. That compares to netbook category averages of 1515, 2328 and 4421.
Test Results
PCMark Vantage Results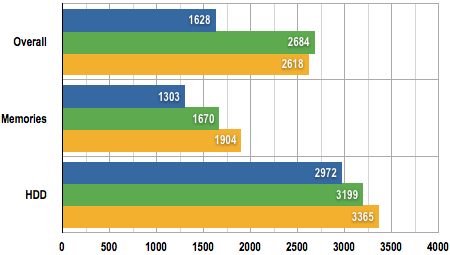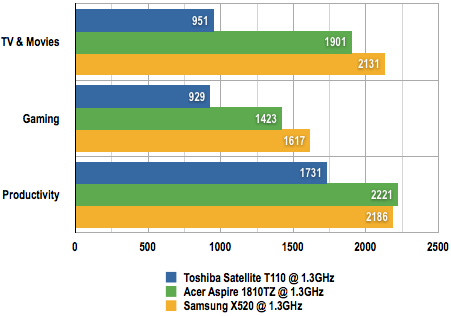 Longer bars are better
3DMark06 Results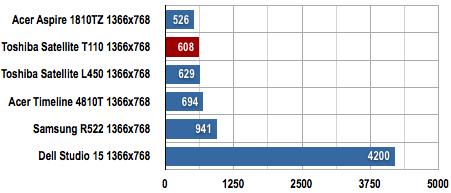 Longer bars are better
PCMark Vantage Battery Life Results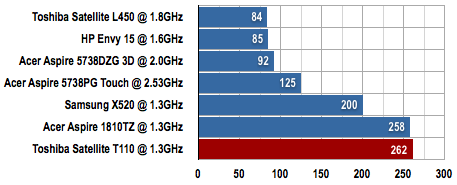 Time in Minutes
Longer bars are better
Bundled Software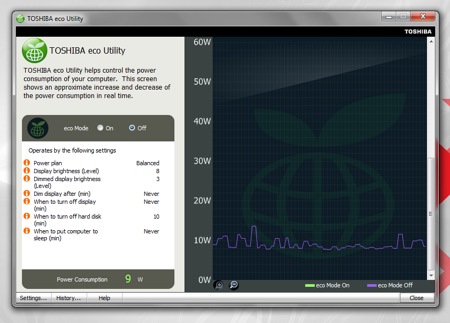 Monitor your T110's power consumption with Toshiba's Eco utility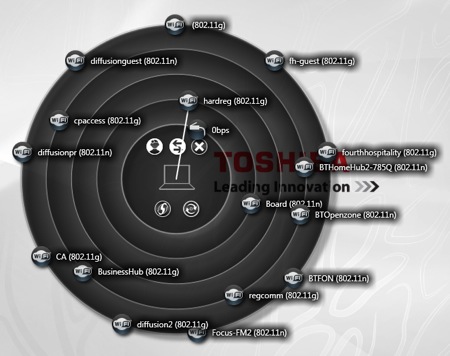 ConfigFree Radar helps you locate and connect to Wi-Fi networks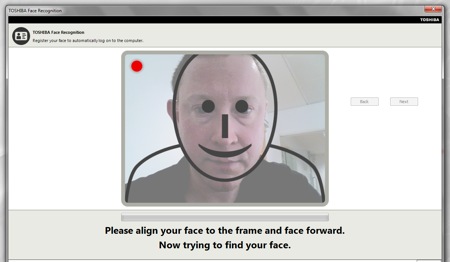 Use Face Recognition for login-by-fissog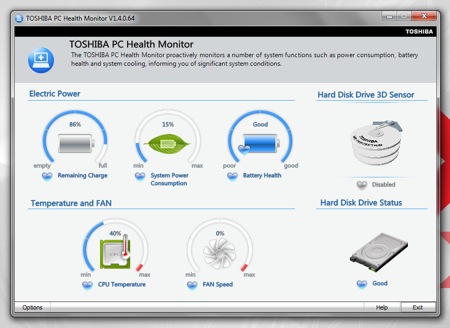 'Take two aspirins and see me in the morning'
But that doesn't tell the whole story. In use, the T110 didn't feel that much faster than the top-of-the-line netbooks we've used. Partly that's the slow hard drive Toshiba has equipped the T110 with - copying data and installing apps felt more slow than carrying out the same tasks on other notebooks does and not really any different from doing so on netbook.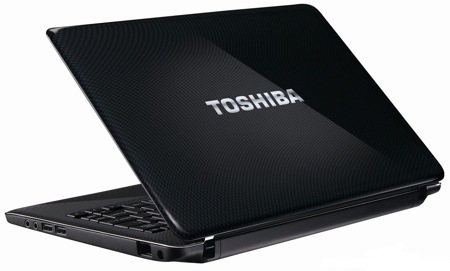 Excellent battery life
Drive and CPU conspire to make the T110 seem generally less responsive than we would have expected - and certainly less so than the Acer 1810TZ.
In fairness, it has to said that the T110 ran for fractionally longer than the 1810TZ did in our battery test. We run PCMark Vantage in a loop until the laptop goes to sleep. We have the screen on maximum brightness, Wi-Fi and connected to a basestation. Comparisons aside, the T110 put in a very good test performance that translates to around eight hours' usage in the real world, and you can't fault that.
Or the software bundle. Toshiba goes to town here, equipping the T110 with a host of utilities for adjusting system settings, keeping your drivers up to date, tweaking the Bios without entering it and even monitoring your laptop's power consumption. TimeLine lists the documents and apps you've used and when you did so, while Board provides a pin-board style UI to access settings and display notes, webpage bookmarks, reminders, widgets and the like.
But here's the thing: Toshiba is currently pricing the T110-11V at £429. That's not in inherently bad price, but when you can buy the smaller, lighter but no less useable Acer 1810TZ with a faster, dual-core CPU for only £21 more, the T110 suddenly doesn't seem such a good deal. You can have the T110-107 for £450. It has a Pentium processor, but again, it has only got one core.
Verdict
Just so no punter mistakes the T110 for a netbook, Toshiba has bulked up this notebook more than it needed to. Still, it's an attractive looking laptop with a wealth of features. If only it was priced more keenly, particularly since it only has a single-core CPU. ®
More Mini-Laptop Reviews...

Acer
Aspire
1810TZ
Recommended

Samsung
N510

Lenovo
IdeaPad
S10-2

Sony
Vaio X