Original URL: http://www.theregister.co.uk/2009/12/12/review_gadget_chumby/
Chumby internet-connected alarm clock
Widget-tastic bedside companion
Posted in Personal Tech, 12th December 2009 09:02 GMT
Review The Chumby is one of those strange little gadgets that defies easy categorisation. If we absolutely had absolutely to try to sum it up in half a dozen or so words, it would be: Wi-Fi internet radio alarm clock with widget support.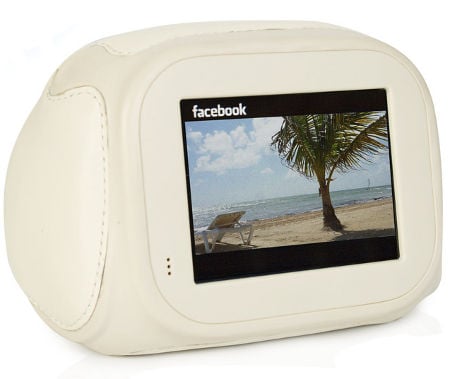 Chumby: internet-connected, squeezable blob
This description applies to a 150 x 100 x 80mm blob with a 3.5in, 320 x 240 touchscreen on the front. We say 'blob' because most of top, sides and back are covered with squeezable padded leather - real animal hide, not plastic. Squeezing the sides has no effect other than to relieve pent-up tension, but press the top and the Chumby's only external control is triggered. It takes you to the main menu screen.
Around the back you'll find a couple of 2W speakers, two USB ports, a 3.5mm headphone jack, the on/off switch and power jack. The Chumby is mains powered so you need to keep it plugged in though there's a back-up battery for the alarm in case of power cuts.
The Chumby's LCD looks crisp, colourful and bright and though it's resistive rather than capacitive, the basic-but-functional UI is slick and well judged with even the lightest of finger touches always registering first time.
Once you have fired your Chumby up and hooked it into your Wi-Fi network, your first stop is likely to be the music menu. This gives you direct access to SHOUTcast, Pandora – for US users only - and a selection of stations grouped together as Radio Free Chumby which immediately got our approval by having Radio Paradise in the number one slot. Podcast fans can access content from Mediafly, CBS and the New York Times.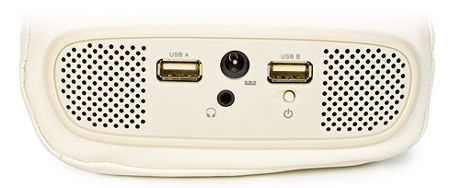 The USB ports can be used to feed music to the Chumby, but not pics or videoes
If none of that takes your fancy, you can add your own radio stations as long as they come in the form of MP3, Ogg, M3U or PLS streams. It's worth pointing out that when it came to trying to get hold of anything from the BBC, we failed horribly. Look on the Chumby forums and you will see some folk claim to get around this by hooking up their Chumby to a Squeezebox Server. But try as we might, we couldn't get our Chumby and server to converse. Not being able to access BBC radio may well be a deal breaker for many potential buyers over here.
Music can also be sourced directly from iPods – and only iPods - or USB sticks. DRM-free MP3, Ogg, AAC and Flac files are all supported. The alarm clock lets you wake up to any radio station or music source of your choice and those two speakers chuck out a decent enough sound even though they won't keep the audio engineers at Logitech or Pure awake at night.

You manage Chumby's widget Channels on your PC
Curiously, you can't access image files from USB sticks, which seems a bit of an oversight to us, nor is there any support for video playback other than Flash-encoded files streamed by an on-screen widget. At the end of the day, the Chumby has to make the best out of its 350MHz ARM processor and 64MB of RAM so you can hardly expect it to be a multimedia powerhouse.
Loading widgets involves setting up an account on Chumby's website and then mating your Chumby with your account. It's all very simple and once done you can create different channels with different sets of widgets. Moving to a new channel is a simple matter of tapping New Channel in the Chumby's settings menu. If you find you have loaded a truly annoying widget, you can delete it directly from your Chumby.
The Chumby website currently hosts some 1300-odd widgets - you can find a complete list here - which range from the useful – a Gmail client, Facebook and Twitter apps – to the wholly frivolous, such as the one that simply shows a video of a dog licking the 'inside' of your screen. In between, there are a host of weather and news feeds, and widgets to let you access images from the likes of Flickr, Picasa and Photobucket. Inevitably, there are more than 200 different clocks.
The amount of functionality you get varies from widget to widget. Some also take advantage of the Chumby's built-in accelerometer, which allows you to shake it for a reaction. You can also download the Chumby source code – the OS is based on Linux - if you fancy cooking up some widgets of your own.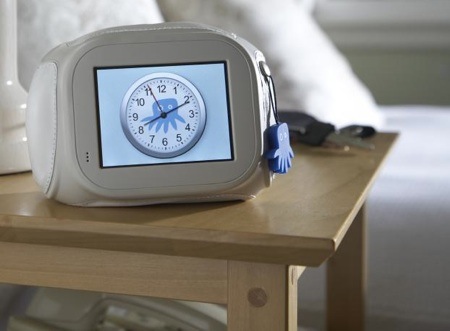 More 'nightstand' than 'bedside table'
When in use, the Chumby continually cycles from one widget to the next unless you are actually doing something with it. The time a widget spends on display can be altered on an individual basis so, for instance, you can have ten minutes of your Flickr account followed by 30 seconds of Twitter, ten of the weather and 20 of the news. If that sounds like information overload, you can also pin one widget to appear continually. Any music streams continue to run in the background while the widget player does its thing.
Apparently several Chumby's can be connected over a network so users can share widgets but as we only had the one that's not a claim we could verify.
With an eye on its target audience – affluent Americans in their early teens, we suspect - the Chumby comes with two rather nice Hessian storage bags and a selection of rubber 'charms' that you can attach to the unit's lanyard eye.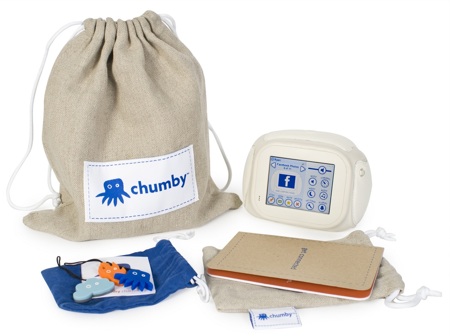 Designed to appeal to folk in their Gap year?
We say 'affluent' because the Chumby retails for £140, which seems a lot for an alarm clock radio - a cheap-as-chips one will cost you six quid from Argos - even one that can present internet-sourced info. Doubly so since the smartphone you already own will probably do all this already.
Before you all charge off to the comments section to tell us the Chumby Classic has been available in the US for 18 months and that the new – but monophonic and altogether less cuddly – Chumby One is now available, yes we know, but the Classic has only just made it to Blighty so it will just have to be added to the list of things that took a while to cross the pond like the Amazon Kindle, Sony Reader and morbid obesity.
Verdict
It would be quite reasonable to dismiss the Chumby as a toy or as the answer to a question nobody asked, but that would be to wilfully overlook its good points and misconstrue its purpose. Think of it as a network connected radio alarm clock with some social networking thrown in, and a plethora of subsidiary and whimsical stuff added for good measure, and it begins to make more sense. Unlike a lot of off-beam gadgets, it also just works. Our only real reservations are the price and the fact that the widget content is rather US-centric. ®
Thanks to Firebox.com for lending us the review unit
More Wireless Gadget Reviews...

Logitech
Squeezebox
Radio

Voiis

Q-Waves
Wireless USB
AV

Sony
Gigajuke
NAS-SC500PK