Original URL: https://www.theregister.co.uk/2009/12/11/apple_squishdock_patent/
Apple preps adaptable gadget adapter
Behold the iSquishDock
Posted in Policy, 11th December 2009 07:02 GMT
Apple has filed a patent application for a gadget dock that conforms to the shape and size of whatever you plop upon it.
The filing, self-confidently entitled "Aesthetically pleasing universal dock," describes a desktop charging and connectivity adapter that's constructed in such a way as to modify its grip to accommodate devices of different sizes and shapes.
The world-changing goal of this "aesthetically pleasing" invention is to eliminate the need for that pesky packet of multiple-sized adapter inserts that ships with iPhone and iPod speakers and similar accessories. You know the adapters we mean. They're the ones that you've either lost or have squirreled away in some junk drawer along with your spare USB cables.
In the brave new aesthetically pleasing world, you won't have to worry about those adapters ever again. Instead, your 'Phone or 'Pod's dock would be formed out of, as the filing states, "an array of vertical members, an elastic sponge-like substance, or any other suitable material" that will surround the connector pin and change shape when you nestle your device into it.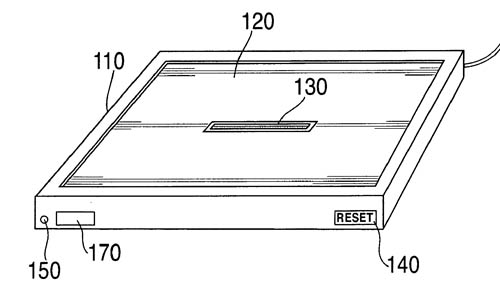 Presumably, any actual dock will be more aesthetically pleasing than this patent sketch
If the dock's conformability were to be provided by an array of spring-loaded vertical pins, the dockable surface could be kept aesthetically pleasing by being covered "by means of a Teflon sheet or by means of a webbing".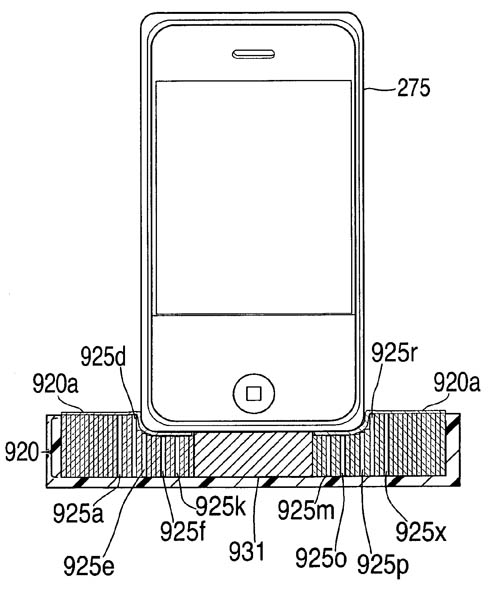 Place your iPhone or other device into the dock, and it will gently grasp its bottom
The shape-shifting of the dock's cradling surface could be accomplished merely by the pressure of the device being instered into it, or - more aesthetically pleasing, to be sure - by the dock sensing the identity and size of the device and signalling the support layer "to rise and expand around a portion of the bottom and the sides of the electronic device to provide support" for the aforementioned nestling. Alternatively, a series of front-mounted buttons could inform the dock which shape to assume.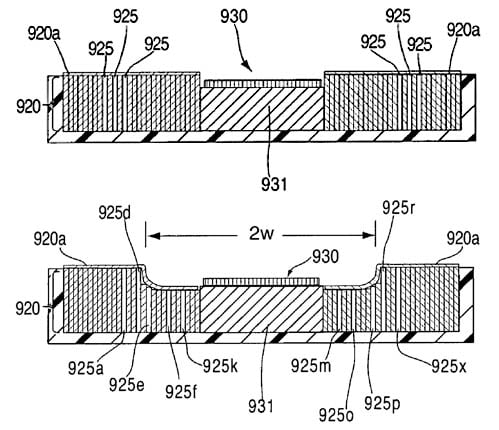 Pins in the dock base (top) would remain depressed after a device was removed (bottom)
In addition, the dock could be configured so that it would retain the shape needed to accommodate the last device that it held, awaiting with anticipation that device's next insertion. And should that expectant depression be deemed to not be sufficiently aesthetically pleasing, a Reset button could be provided that, when pushed, would restore the dock to its pristine, un-depressed state. The same Reset button could also be used to eject the device from the dock.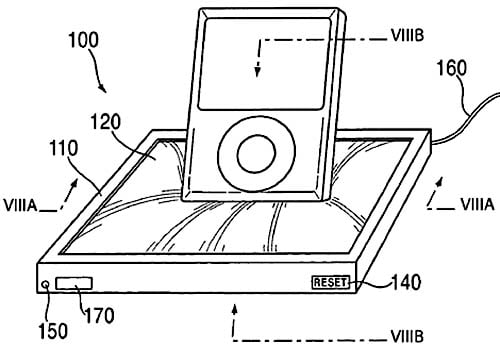 The dock would be able to re-conform itself to multiple devices, such as an out-of-date iPod nano
The benefits - aesthetic and otherwise - of this dock wouldn't be limited to Apple handhelds. The filing, which was originally submitted in June 2008, specifically mentions "the iPAQ Pocket PC available by Hewlett Packard Inc. of Palo Alto, Calif," plus Blackberries and Sidekicks.
In addition to conformability, the filing also mentions that the dock could be paired up with a remote to control the device inserted into it, presumably to play what one might hope would be aesthetically pleasing tunes. ®