Original URL: http://www.theregister.co.uk/2009/12/10/review_storage_buffalo_linkstation_duo_nas/
Buffalo Linkstation Duo
The paperless office stationery cupboard?
Posted in Personal Tech, 10th December 2009 13:40 GMT
Review Buffalo Technology's latest Nas box, the Linkstation Duo has been targeted to meet the ever-increasing multimedia and storage needs of home and small office users. Offered in 1TB, 2TB and 4TB capacities, it sports two Sata II hard drives that can be easily swapped out for user upgrades.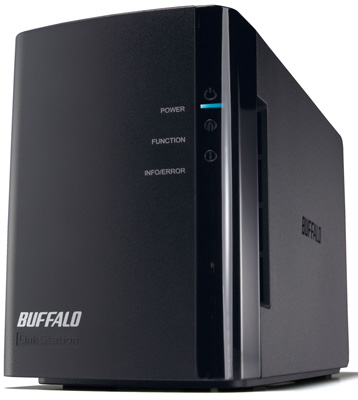 Sturdy storage: Buffalo's Linkstation Duo
The 1TB edition we reviewed utilises two 3.5in Samsung HD502HI EcoGreen drives running at 5400RPM and was preconfigured in RAID 0 mode, allowing for 902.9GB of true storage. Also configurable to RAID 1 and it performs are a DLNA-certified media server, with support for iTunes, Apple's Time Machine and even the hooks up with the iPhone.
Other features include remote operation with WebAccess as well as FTP and USB print server use and power saving modes. The Linkstation Duo uses an external 110/240v PSU and comes with both UK and EU mains leads, and a 2m flat Ethernet cable. The setup CD also includes Memeo Autobackup for both Windows and Mac.
Evidently, Buffalo hasn't cut corners on build quality, as the Linkstation Duo is sturdy with its 2.3kg weight enough to keep it securely planted on your desk without making it a burden to move or carry. Measuring up at 86 x 204 x 127mm, the unit has no gimmicky switches or dials, simply a set of indicator LEDs neatly concealed behind tinted acrylic and some nicely styled air intakes.
Set up is simple, just plug into your network and instal the included Nas Navigator software. On first run, the software will auto detect the drive and list those it finds (if you have more than one). From here, the menu allows the mapping of drives to local disks, placement of drive shortcuts on the desktop and access to the web configuration page.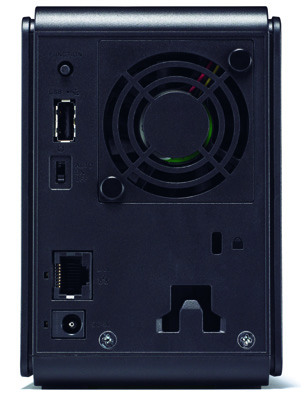 The external power supply won't be to everyone's taste
The web configuration interface is uncomplicated and easy to navigate, however, it can be slow to load and accessing certain settings can be somewhat time consuming and makes for a rather tedious user experience. Overall, the layout is pleasant to use and provides enough detailed information without becoming overwhelming and is certainly well-suited to the average home user.
The use of gigabit Ethernet is now standard across most decent Nas devices and its benefit is certainly observable with the Linkstation Duo, with read speeds exceeding 30MB/s.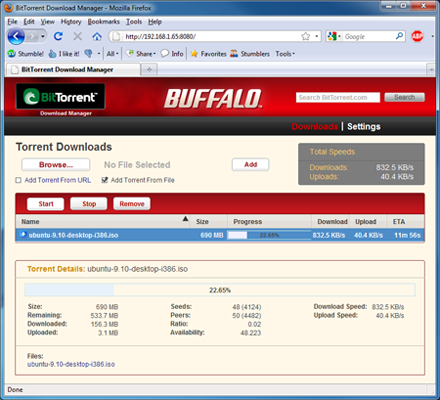 The obligatory BitTorrent client
It's likely most home users will be relying on networking gear supplied as part of an ISP's package that runs at 100Mb/s and will need to consider options such as a decent gigabit router or use a gigabit switch as part of their LAN to make the most of their purchase.
The USB port utilises Buffalo's Direct Copy feature, which copies data from a USB device to the Linkstation, as well as providing print server functionality. This feature works well, but only copies common media file types. With this in mind, it's far from ideal to be used to as a backup mechanism for general data but is intended mainly as a quick and easy way to backup music, video and photos.
Just be aware that the Linkstation will disconnect from the network when USB devices are added and removed, which may cause interruption to other tasks. Regarding backups, Buffalo even allows scheduled backups to other Buffalo network storage devices or attached USB drives.
During operation, the device runs cool and quiet with the rear fan never rising above a whisper. The use of Samsung EcoGreen drives also means that vibration is minimal to the point that it would only be noticed if it was placed in your immediate work area. Power consumption is also minimal, with the Linkstation Duo drawing approximately 12W at idle and with a high of 24W recorded under load.
Data Read and Write Test Results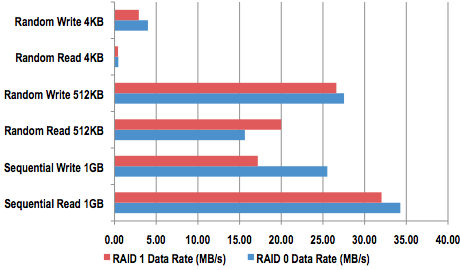 Longer bars are better
Our tests revealed that the claimed data rate of 40MB/s is close to real-life when reading large files. Indeed, whilst it's certainly not the fastest Nas out there, the Linkstation Duo has sufficient throughput to handle most home and small office applications with ease.
In the case of a disk failure (or you just want to increase storage capacity), the Linkstation Duo offers an incredibly painless drive removal system. Simply apply light pressure to remove the front panel, then tug on the release loop whilst depressing the lower catch so the disk can be pulled out of the housing. The rail system used is smooth and can be operated singlehandedly. In fact, both drives could easily be removed and swapped in less than 30 seconds with no tools required.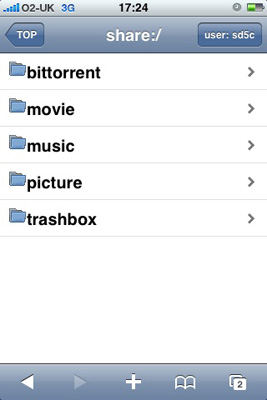 Remote access as viewed from the iPhone
The must-have feature on Nas boxes these days is remote access and Buffalo offers this with its WebAccess functionality. Users can gain access to their files away from home using any web browser that meets the minimum requirements, including the iPhone's Safari browser.
WebAccess allows the user to configure either a free account on Buffalo's own DNS service or use other third party services such as DynDNS to use a fixed access address. Setup of either of these systems is quick and easy, allowing access to the NAS as soon as the correct user accounts are set up locally.
The WebAccess interface is conservative in design, enabling use in low-bandwidth environments, but provides a wealth of features ranging from the standard Open/Rename/Delete functions to providing fixed URL links and streaming of media content within the browser. It is also possible to upload data to the Nas remotely. Access to the main configuration interface isn't available though
In addition to WebAccess, the Linkstation offers local streaming services to DLNA-compatible devices and iTunes library sharing. Music streaming to iTunes is flawless with little to no latency between tracks and video streaming produces a similar experience. 1080p content is played back smoothly with no dropped frames although audio takes a second to resume after a prolonged period of fast-forwarding.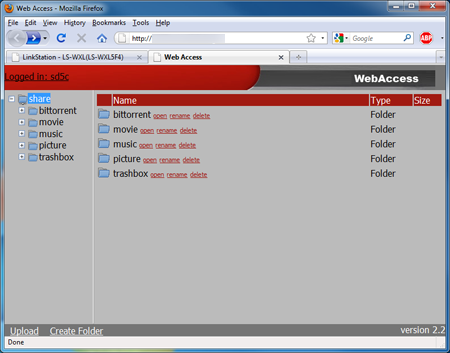 Remote file viewing from the WebAccess utility
A BitTorrent client is also included with its own web interface. The client is straightforward to use, but the web interface is not configurable for remote access outside of the home network. This may be possible to achieve, but appears beyond the current implementations of this device.
Apart from the irritating network disconnections when using USB peripherals and the loading times in the web configuration interface, the most noticeable disadvantage to the Linkstation Duo is the slow 5400RPM disks, which do impact on performance.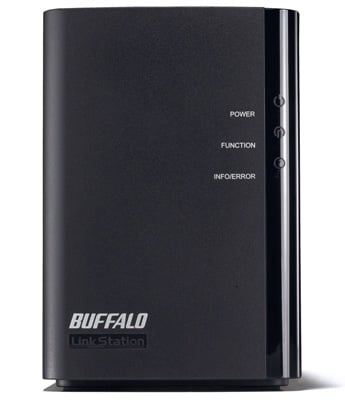 Drives are easily removed for swift upgrading
Grumbles aside, the Linkstation Duo is certainly a solid and reliable NAS, which is more than capable of meeting the average home or small office users daily requirements without unnecessary over complication.
Verdict
Although there are other NAS drives with similar capacities available for less money, the smooth media playback and WebAccess interface could easily make the Linkstation Duo the right choice if you are looking for a no-nonsense plug-in and go solution for data backup and media streaming with future-proofing upgradability. ®
More Network Storage Reviews

LaCie
d2 Network

LaCie
LaCinema Black MAX

Buffalo
Linkstation Pro

EZY Technologies
MyXerver MX3600