Original URL: http://www.theregister.co.uk/2009/12/10/review_laptop_sony_vaio_vpccw1s1e/
Sony Vaio CW
Affordable 14in Vaio shocker
Posted in Personal Tech, 10th December 2009 08:02 GMT
Review Sony's Vaio laptops aren't perhaps best-known for their good value, but with an Intel Core 2 Duo P7450, Nvidia GeForce 230M graphics and a £699 price tag, this latest model seems to buck the trend.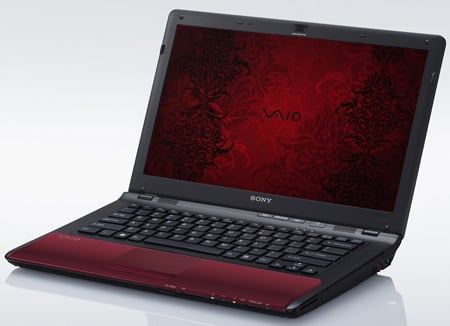 Sony's VPCCW1S1E: terrible name, terrific looks
Part of the CW series, the VPCCW1S1E might not have the most attractive of names, but it's not a bad looking piece of kit. We had the red model in for test and if red doesn't do it for you, it's also available in white, blue, black and even pink. Tipping our scales at 2.3kg and measuring 4cm thick, it's neither bulky nor hugely portable. Add the power adapter into the mix and the overall weight rises to 2.7kg.
Overall build quality is good, with a sturdy hinge holding the 14in screen in place, but we were dismayed to hear the battery had a slight rattle when the laptop was first picked up. After closer investigation, it clearly wasn't in any danger of falling out, but it's not as snug a fit as we'd like to see, and no one wants their laptop to rattle when carrying it around. When we quizzed Sony about this, it said it hadn't experienced the problem with any other samples in the series.
Power and Gigabit Lan ports sit at the rear, while the front is home to a Wi-Fi power switch and separate SD and Memory Stick card readers. It's one of the few laptops we've seen recently to have a mini-FireWire port (or i.LINK, as Sony calls it), which is found on the left side along with HDMI, VGA and two USB ports. Over on the right, you get a further USB port, a 34mm ExpressCard slot and a DVD burner. It's worth pointing out that, at the time of writing, the Sony Style website was offering a free Blu-ray upgrade.
A large vent is placed on the left side of the chassis and, during testing, the built-in fan only reached an audible level when running our benchmarks. We're also pleased to report there weren't any noticeable hot spots.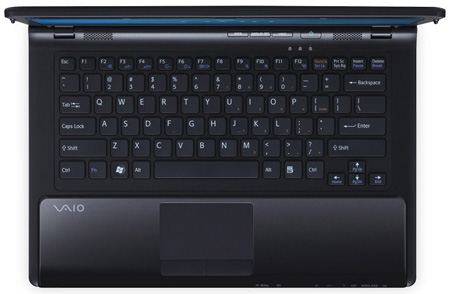 Spacious and responsive, the keyboard is a delight to type on
Sony's gone for its usual Vaio chiclet-style design for the keyboard, and thanks to the keys feeling solid and having a decent amount of space between them it's great to type on. It also exhibits very little flexing, which is always good to see. Due to the small chassis, though, the arrow keys have been squished to half-height, which makes them fiddly to use.
The large trackpad is responsive and can handle two-fingered gestures, but we found our palms consistently activating is while typing – certainly more so than on other laptops we've tested. In an attempt to sort it out, we headed into the Synaptics driver and whacked the PalmCheck feature to its highest level – this attempts to prevent the trackpad responding to your palm. This improved matters, but we'd prefer to have a dedicated on/off button for the trackpad.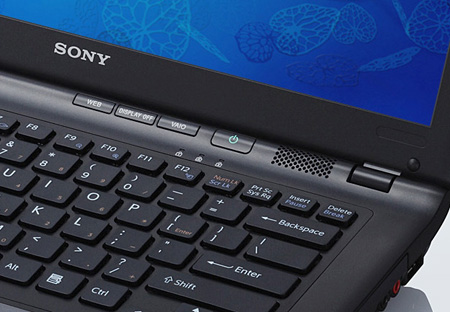 Fire up Linux-based Splashtop with the Web button
Three short cut buttons sit just above the main keyboard. If you're simply using the laptop as an oversized MP3 player, hit the Display Off button and the backlight will be extinguished, thereby boosting battery life. When Windows is running, the Web button simply launches a new browser window, but when the laptop is switched off it loads Firefox 3 via the Linux-based Splashtop 'instant-on' application. Sony neglected to install this software on our review sample, so we can't report on how well it works.
The 14in display is given Sony's glossy X-black treatment and has a native resolution of 1366 x 768. It's reasonably bright, but horizontal viewing angles are limited and it soon looses its shine when you veer from a centre-on viewing position. In fact, we found it hard to position it so that the entire screen appeared evenly lit.
Other specs include 802.11n wireless courtesy of an Intel Wi-Fi Link 5100 card, Bluetooth and a 320GB hard drive. As expected, Windows 7 Home Premium is charged with holding everything together, and Sony's sensibly gone for the 64-bit version.
Given its relatively low price tag (for Sony, at least), we were somewhat surprised to find Sony had furnished the laptop with a 2.13GHz Intel Core 2 Duo P7450. A 45nm chip with a 25W TDP, the P7450 has 3MB of L2 cache at its disposal and runs off a 1066MHz FSB. A total of 4GB DDR3 memory accompanies the processor.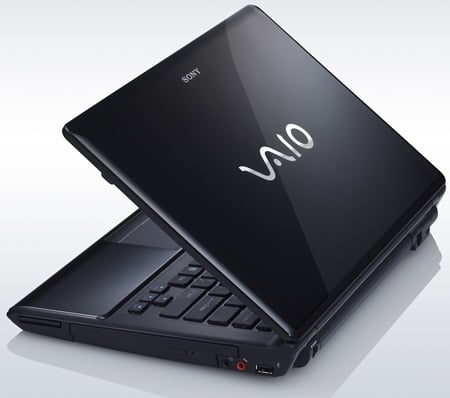 Compact, but not the slimmest and a bit weighty too
In the 64-bit version of PCmark Vantage, the P7450 helped to produce an impressive overall score of 3815, which indicates it's perfectly capable of handling processor-intensive applications. In the older PCmark05 test, it managed an overall score of 4871.
Test Results
PCMark Vantage Results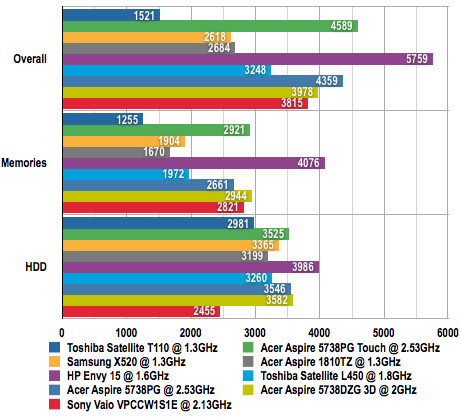 Longer bars are better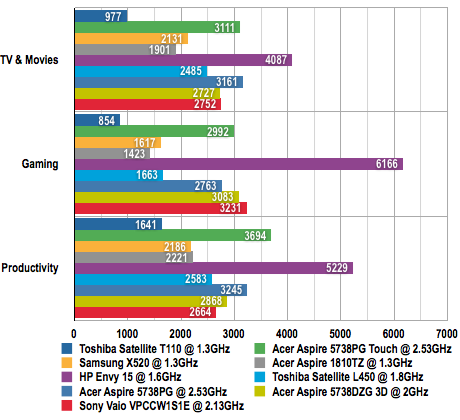 Longer bars are better
PCMark Vantage Battery Life Test Results

Battery life in Minutes
Longer bars are better
Graphics, meanwhile, are powered by Nvidia's GeForce 230M chip. Launched back in the summer, this sits near the bottom of Nvidia's latest mobile GPUs, but don't go thinking that means it's no good for gaming. Running Call of Duty 4 at the laptop's native resolution of 1366 x 768, we were able to achieve a perfectly playable 22.7fps – we also had 4x anti-aliasing switched on, which makes this frame rate even more impressive. In Far Cry 2 at the same resolution, it sped along at 47.5fps.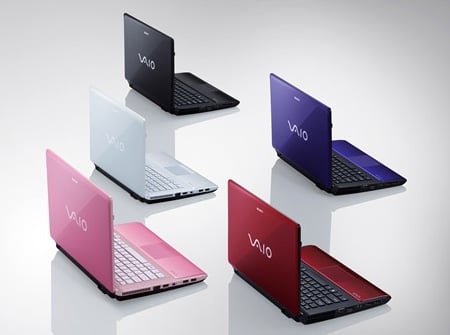 Available in various flavours
Curious as to how it would cope with something a bit more strenuous, we fired up the notoriously resource-hungry Crysis. Unsurprisingly, frame rates weren't quite so fluid, and at the native resolution it could only muster up 8.5fps. Still, overall we were pleasantly surprised by the VPCCW1S1E's gaming performance.
What's not quite so impressive is its battery life, and with a 3600mAh battery it only managed 93 minutes in our PCMark Vantage loop. Go easy on it and you'll likely get just under three hours uptime, but we were hoping for more.
As for the competition, Dell's Studio XPS 13 with the same processor but a 13in screen and GeForce 210M graphics will set you back £749 (this is actually a discounted price – according to Dell's website the normal price is a shocking £968). Meanwhile, Acer has a more tempting alternative in the Aspire AS5739G, which features faster GeForce 240M graphics and a 15.6in screen for around the same price as this Sony Vaio.
Verdict
Minor niggles aside, if you're looking for a compact laptop that's not short in the performance department, the VPCCW1S1E certainly delivers the goods. Its mediocre battery life is a shame and may be enough to dissuade more than a few potential buyers, but overall it's very impressive little laptop from Sony. ®
More Laptop Reviews...

Samsung
X520

Toshiba
Satellite
L450-137

MSI
X-Slim
X600

Dell
Studio
15