Original URL: https://www.theregister.co.uk/2009/12/09/review_graphics_amd_ati_radeon_hd_5970/
AMD ATI Radeon HD 5970 two-GPU graphics card
Serious performance, serious price
Posted in Personal Tech, 9th December 2009 08:02 GMT
Review Cast your eye over our news piece on AMD's ATI Radeon HD 5970 and our review of the HD 5870 and you'll have the essential information at your fingertips. AMD has, for some unknown reason, changed its naming convention, so this two-chip HD 5870-based graphics card has been named HD 5970 instead of the more predictable HD 5870 X2.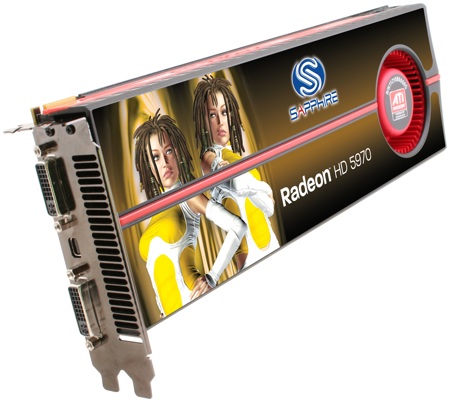 Sapphire's Radeon HD 5970: overclocked, slightly
What we have here is a very long graphics card with two HD 5870 GPUs that are linked by a PCI Express 2.1 bridge chip along with two groups of GDDR 5 memory that total 2GB. A single HD 5870 chip packs 1600 Stream processors into one 40nm core, so the HD 5970 has a startling total of 3200 shaders.
The key features have been carried over from the HD 5870, including support for DirectX 11, triple monitor support with ATI Eyefinity and some nifty power-saving technology. That said, although AMD has worked wonders to reduce the power draw of the HD 5000 series at idle, the fact remains that the two chips draw plenty of power when they are under load.
The mid-range HD 5770 has a figure of 108W, the HD 5850 draws 151W and the HD 5870 is rated at 188W. If AMD had kept the speeds and feeds for the HD 5970 at the same 850MHz/4800MHz used by the HD 5870 then it's reasonable to estimate the loaded power figure would have climbed to 360W. AMD tells us that the enormous cooling package used on HD 5970 can handle 400W so these figures might be sustainable provided we could stand having the cooling fan running at full tilt during a gaming session.
AMD decided to keep the maximum power figure below 300W by reducing the voltage fed to the graphics core and memory. This led to a reduction in clock speeds to 725MHz/4000MHz - speeds familiar to anyone who owns or has read about the HD 5850. This means that the HD 5970 is something of a mongrel: a kind of Radeon HD 5850 X2 with extra shaders. The loaded power figure for the HD 5970 is 294W which is pleasingly close to double the 151W for the HD 5850.

The port in the middle is the Mini DisplayPort
This emphasis on the control of power heat and its dispersal has dictated the layout of the graphics card. The exhaust vent for the cooling package fills the upper half of the dual-slot bracket while the three graphics connectors are arranged in a row underneath. There are two dual-link DVI outputs along with a mini Display Port. The standard AMD package includes an adaptor to convert the mini DisplayPort to a full-size DisplayPort.
AMD has carried over the Volterra VT1165 Digital Programmable Regulators that have been used on previous graphics cards such as HD 4890, along with chips from Texas Instruments that allow real-time power monitoring. We understand these chips allow AMD to throttle performance if the thermal levels rise to unacceptable heights.
3DMark Vantage Results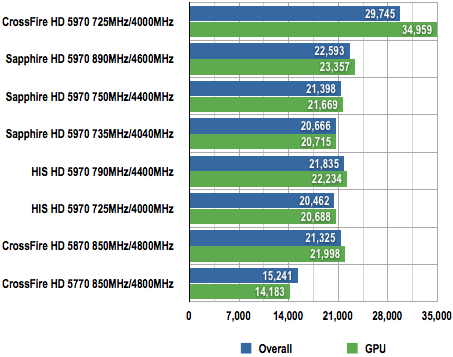 Longer bars are better
We lined up an HIS Digital HD 5970 with reference speeds of 725MHz/4000MHz and a Sapphire card that has the most miniscule overclock we have ever seen: 735MHz/4040MHz. That's right, the core and memory are overclocked by a paltry 10MHz.
It may sound trite but running the two cards on our Core i7 test rig - Core i7-965, Intel DX58SO motherboard, Intel X25-M SSD and Windows 7 Professional - delivered epic performance in 3DMark Vantage, Battle Forge and Far Cry 2.
An HD 5870 churns out pixels and frames at a rate that is practically obscene so it comes as no surprise that the two chips in HD 5970 deliver more of the same. CrossFireX isn't a perfect science and based on our experiences we reckon you can expect your HD 5970 to deliver 25-50 per cent more performance than an HD 5870.
Interestingly enough, the power draw that we measured at the mains socket was 290-300W with the system under load. That's the motherboard, memory, CPU and graphics card so we can say that either we didn't have the graphics card fully loaded, or AMD as been cautious with its power figures. We'll vote for the first option as we doubt that any current game will properly stretch an HD 5970/Core i7 combo.
System Power Draw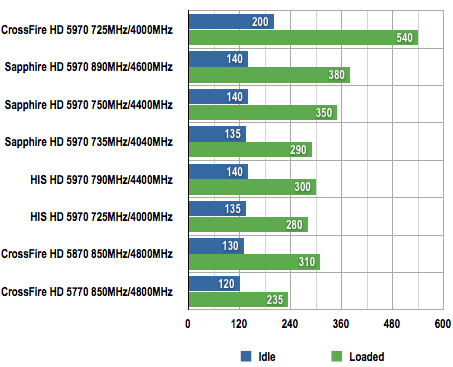 Power draw in Watts
Adding the second HD 5970 in CrossFireX raised our test results even further. In 3DMark Vantage, the overall score was 29,745 and the GPU score was 34,959. The HD 5870 of has a GPU score of 15,778.
So there we have it. An HD 5870 has prodigious performance and HD 5970 goes a step further. The HIS package costs £520 and consists of the graphics card, a voucher for Dirt 2, a DVI-to-VGA adaptor, a DVI-to-HDMI adaptor, said mini DisplayPort-to-DisplayPort adaptor and power adaptors for both six- and eight-pin connectors.
Battle Forge 1.1 Results
1920 x 1080, Very High Quality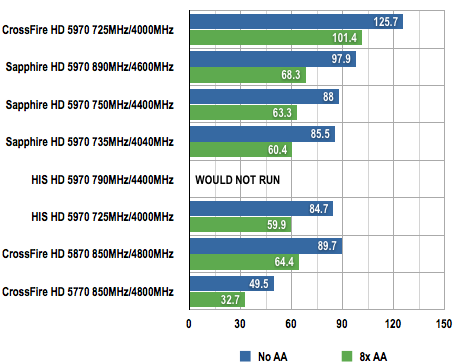 Average framerate in frames per second (f/s)
Longer bars are better
In addition, HIS includes a basic tool kit - screwdrivers and torch - and a limited number of HIS cards will come with an iClear card that claims to reduce interference between your sound card and graphics card. We have no idea whether this is a valid claim or pure hokum.
The Sapphire HD 5970 costs £530 - so a pound extra for each of those extra megahertz of clock speed - and includes the same adaptors and Dirt 2 voucher, but you get something extra on the CD: a copy of Sapphire's Redline utility.
When it comes to overclocking the HD 5970 is more interesting than you might expect. Most graphics cards will overclock by at least ten per cent unless they are a factory overclocked model that is already close to its limits.
AMD makes something of a song and dance about the fact the HD 5970 is unlocked for overclocking – surely just like every other graphics chip on the market - and the OverDrive settings in the Catalyst drivers have maximum settings of 1GHz core speed and 6GHz for the memory speed.
Far Cry 2 Results
1920 x 1080, Ultra High Quality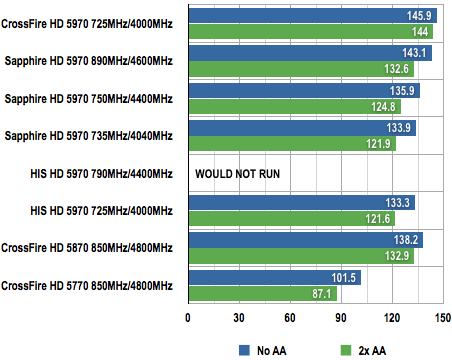 Average framerate in frames per second (f/s)
Longer bars are better
That's a huge step from 725MHz - or 735MHz - but we found that the Sapphire would only overclock to 750MHz/4400MHz, while the HIS went a little further, to 790MHz/4400MHz.
The reason for this tiny overclocking headroom is that AMD has set the core voltage to 1.105V and the memory voltage to 1.1V. For this reason, AMD issued copies of its ATI OverVolt tool to favoured reviewers but not us, or punters. We are told this software allows you to raise the voltages to 1.1625V and 1.15V in a single step as on On/Off switch.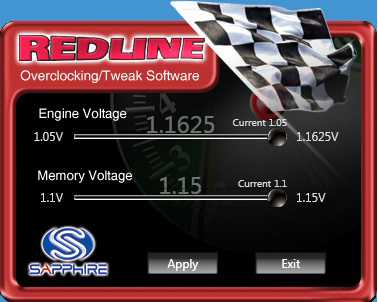 Sapphire's Redline utility lets you up the GPUs' voltages
We installed Redline tool which allows you to increase the voltages in steps. We immediately hit a snag when the utility refused to run as, apparently, it was developed on Windows Vista and doesn't much like Windows 7. We created a short cut to the utility and set it to run in compatibility mode with Windows XP and, lo, all was well.
We ramped up the voltages to the max and were able to overclock to 890MHz/4600MHz which means we effectively restored the HD 5870 clock speeds. We measured an increase in power draw at the mains plug from 350W to 380W. That's a modest amount of extra power but you have to wonder just how much more load the next generation of DirectX 11 games will place on this type of hardware.
Put it this way, we strongly suspect that AMD has chosen the voltage settings and clock speeds with very good reason. Overclockers, proceed with caution.
If you prefer to throw caution to the wind you might like to consider the Asus HD 5970 Voltage Tweak which allows a core voltage of 1.35V and has a claimed overclocking potential of 950MHz core and 5012MHz memory. And presumably you can also use it to grill sausages.
Verdict
Spending more than £500 on a graphics card is a serious decision. When you consider that we thought the HD 5870 was over the top, it will come as no surprise that we classify the HD 5970 as a frivolous toy. But, darn it, what a toy. ®