Original URL: http://www.theregister.co.uk/2009/12/08/review_laptop_acer_aspire_5738dzg_3d_notebook/
Acer Aspire 5738DZG 3D 15.6in notebook
World's first 3D laptop – are the specs up to it?
Posted in Personal Tech, 8th December 2009 13:05 GMT
Review Despite its obvious appeal, 3D hasn't really taken off as far as computers are concerned. However, things seem to be picking up pace of late, and Acer is the latest to get in on the game with what it claims is the world's first 3D-capable laptop.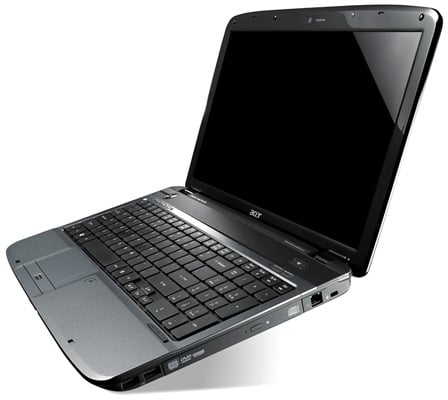 Acer's Aspire 5738DZG: 3D comes to the laptop
Before delving into Acer's wonderful world of 3D, it's best we give you a quick overview of the Aspire 5738DZG. It's a good looking piece of kit that's built around a 15.6in screen and weighs in at 2.8kg. The usual array of ports are dotted around the chassis, including HDMI and four USB, while the keyboard features a low-profile design and includes a numeric keypad. Windows 7 Home Premium is the operating system of choice, and Acer's gone for the 64-bit version.
Our review sample was powered by an Intel Core 2 Duo P7350, but it later transpired that the Aspire 5738DZG actually comes with a far less-powerful Intel Pentium Dual Core T4300 – more on this later. Memory sits at 4GB, while graphics are taken care of by an ATI Mobility Radeon HD 4570. Other features include 802.11n wireless, Gigabit Ethernet and a multi-format card reader. Thanks to the 500GB hard drive, there are no problems in terms of storage space.
We'll take a closer look at the laptop's performance in a moment, but first it's time to get down and dirty with the 3D side of things. Nvidia's been making plenty of 3D noise of late with its 3D Vision Kit, which retails for around £115.
Instead of using the traditional anaglyph method (think red and green filtered glasses), Nvidia's solution is to use powered glasses that have the ability to rapidly shut off the left and right eyepieces in turn. When viewing the right kind of image on screen, this shuttering is timed to coincide with individual video frames, providing the left and right eyes with slightly different images and thereby producing a 3D effect.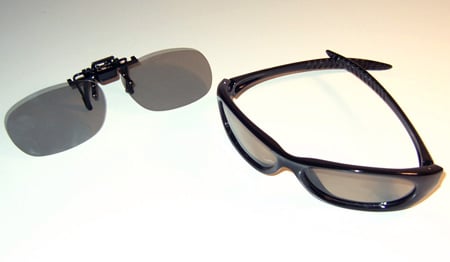 Speccie tech: two pairs of polarised glasses are supplied
It's by no means a new method – some of you may remember the Elsa 3D Revelator glasses that appeared back in the 90's – but it has a major drawback in that it requires a 120Hz monitor in order to deliver a smooth 60fps for each eye. And with only a couple of 120Hz TFTs currently available, there's a good chance you're not using one at the moment, which means splashing out on a new screen.
In an attempt to create a more affordable 3D experience, Acer's gone for a slightly different approach. Instead of active glasses, the 5738DZG uses a polarised pair of specs; Acer includes both a standard set of behind-the-ear glasses and an attachment for bespectacled folk.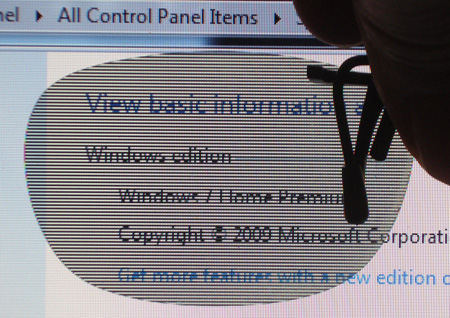 The polarised screen as seen through the left lens…
These then work in conjunction with the laptop's polarised display and mean the left and right eyes see alternate horizontal lines. As long as the 3D software is running and the user is wearing the glasses, each eye therefore sees different image. Since this polarising effectively cuts the screen's resolution in two, small text can be difficult (sometimes impossible) to read.
The 3D image generation is taken care of by DDD's TriDef software. A selection of videos intended to showcase the laptop's 3D capabilities are included and accessed via the TriDef utility. Unsurprisingly, these turned out to give us the best 3D experience, especially the animated ones.
Much like those videos that attempt to show high definition video in its best light (slow, panning scenes shot from high above), these videos feature characters that constantly lurch towards the screen, thereby exaggerating the 3D effect. And being specifically designed for 3D, each eye sees a slightly different perspective.
Impressive as these demos are, the real test for the Acer 5738DZG is how it copes with content that wasn't designed with 3D in mind. The TriDef software supports a wide variety of games and you can either drag-and-drop executable files into the launch window or simply ask it to scan for compatible titles.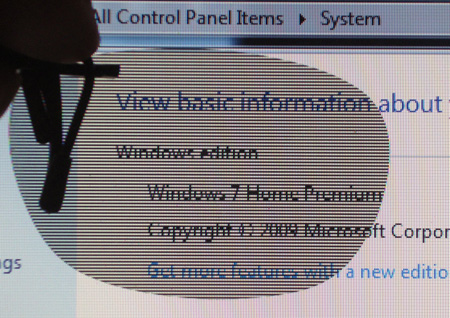 …and through the right lens
We tried out Call of Duty 4 and Far Cry 2, both of which resulted in some impressive 3D effects. Once up and running, settings (such as the depth of the 3D effect) can be altered on-the-fly. Given that these games were never designed to be played in 3D, the TriDef software has to create the 3D effects from scratch, which naturally means they're not as enticing as the demo content. That said, the games featured a good sense of depth and, on the whole, we found it to be an enjoyable experience.
Test Results
PCMark Vantage Results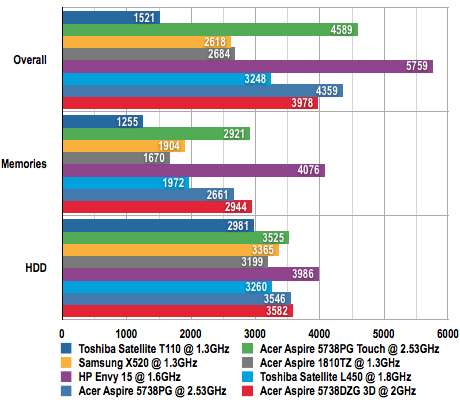 Longer bars are better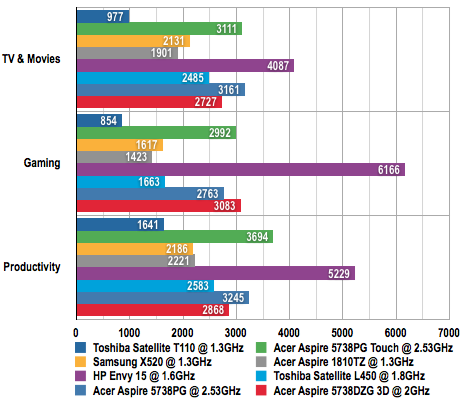 Longer bars are better
PCMark Vantage Battery Life Test Results

Battery life in Minutes
Longer bars are better
However, one of the problems with Acer's polarised 3D technique is that you need to keep your head fairly still. Move it up or down from the sweet spot and you'll notice some nasty ghosting effects. This proved to be a real problem when playing games since it's very hard to remain still while engrossed in a frenzied battle.

The left and right eye view of one of TriDef's specially-created 3D images
The TriDef software wasn't quite as good at converting 2D movies into 3D – a wide range of video formats are supported, as well as DVDs – and we noticed little or no depth. The same goes for converting photos to 3D, which can be performed by right-clicking an image or loading it through the TriDef utility.
Another issue with the 3D effects is that they take up a fair amount of resources. Before examining just how much they eat up, we'll take a quick look at the laptop's benchmark results without the TriDef software getting in the way.
With its Mobility Radeon HD 4570 graphics card, we weren't expecting wonders in 3Dmark Vantage. However, alarm bells started ringing when it returned an overall score of 781 along with a warning that 3Dmark believed the laptop to be under performing. After a bit of research online, we discovered reports of performance increases being achieved by disabling ATI's PowerPlay technology. Designed to improve battery life by reeling back the GPU when its full power isn't required, PowerPlay should, theoretically, not impede performance when the laptop's plugged in.
However, with PowerPlay completely disabled, we experienced marked increases in performance, with 3Dmark Vantage jumping to an overall score of 1145. Games featured similar improvements, with both Far Cry 2 and Call of Duty 4 experiencing a performance boost of around 40 per cent. Odd stuff indeed, and the finger of suspicion has to be pointed at the Acer-specific Radeon HD 4570 driver. Hopefully an update will solve the issue, but for now we recommend disabling PowerPlay.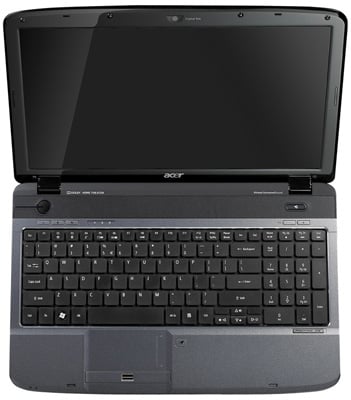 The low-profile keyboard comes complete with a numeric keypad
Perhaps the biggest problem for the Aspire 5738DZG is that when you switch the 3D on, performance takes a fairly large hit. With detail levels set to high, we achieved 29.5fps at 1366x768 in Call of Duty 4 when played in old-fashioned 2D. Running the game in 3D through the TriDef software, however, resulted in frame rates dropping to an unplayable 11.6fps. It was a similar story in Far Cry 2 – a speedy 22fps in 2D, but just 6.2fps in 3D.
Things improve when you drop resolution and detail settings, but it's hardly ideal and we can't help feeling Acer should have upped the price and included a more capable graphics card. And with the Pentium Dual Core T4300 processor that's found on retail models, frame rates will fall further.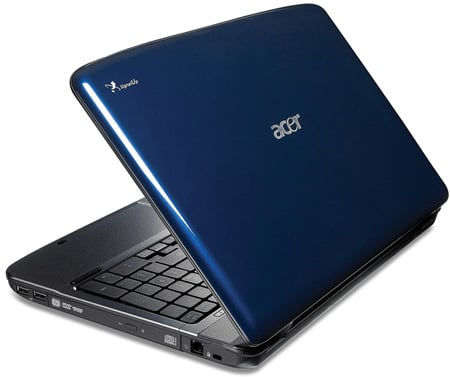 Good-looking, but under-powered
In PCmark Vantage, the laptop achieved an overall score of 4359, but once again you should bear in mind this is with the Core 2 Duo P7350, not the T4300. When run in a continuous PCmark Vantage loop, the battery lasted 92 minutes.
So how much of a premium are you paying for these 3D shenanigans? Well, you have to look no further than the almost identically-specified, but decidedly 2D, Aspire 5738ZG, which can be picked up £100 cheaper than this 3D model.
Verdict
Although the 3D demo material looks good, we experienced mixed results when converting content that wasn't designed with 3D in mind. Photos and videos remained flat, but we were fairly impressed with the games we tested it on.
The big problem is that the TriDef software places too much of a strain on the laptop's rather limited graphics resources, and in order to get decent frame rates we had to whack detail and resolution settings right down. Given that this laptop is all about 3D, we can't understand why Acer has gone for a relatively low-powered graphics card. Sure, it keeps the price down, but it also cripples one of best 3D features. In short, we recommend waiting for a higher-spec model to appear. ®
More Laptop Reviews...

Samsung
X520

Toshiba
Satellite
L450-137

MSI
X-Slim
X600

Dell
Studio
15