Original URL: https://www.theregister.co.uk/2009/12/08/review_hd_tv_monitor_samsung_p2370hd/
Samsung P2370HD TV-monitor
A PC-TV display worth looking at?
Posted in Personal Tech, 8th December 2009 08:02 GMT
Review Combo TV-monitors are not a new idea, but all too often what you get is a standard PC monitor with a TV tuner bolted on. Yet with the P2370HD, Samsung has created a fully functional 23in widescreen TV, that's designed to work just as well as a PC monitor.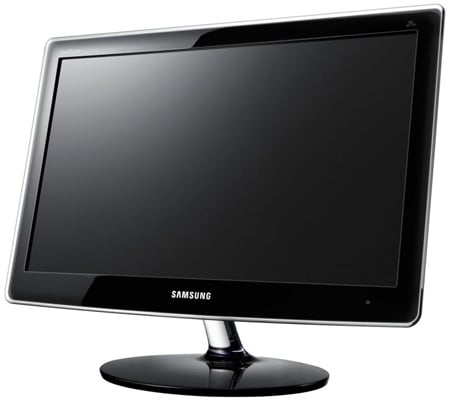 Dual purpose: Samsung's P2370HD
The monitor is comprised of a standard 16:9 display with a native resolution of 1,920 by 1,080 pixels, making it capable of full-HD playback of Blu-ray discs and games from your PC or directly using HDMI. Being a TV, it also comes with built-in stereo speakers. Indeed, the P2370HD offers the best of both worlds, bringing the design and usability of a great TV to the desktop. Moreover, it highlights just what we've been missing in the PC world.
Convergence of HD TV and PC peripherals has brought some really good design to desktop monitors, many of which have already started to look like TVs. Glossy, piano black bezels and gentle curves all help your monitor to look just as good in your living room or bedroom as they do in your office.
The P2370HD is no exception. Not only does it have the aforementioned TV-like looks, it also adds touch sensitive, backlit controls and an angled transparent acrylic stand which makes the display seem to almost float in mid air. The stand is also removable, allowing wall mounting with a standard VESA 75 bracket.
Samsung's trademarked "Touch of Color" design adds an almost homeopathically diluted amount of red tint to the bezel which actually succeeds in imparting a more expensive feel to the whole display. This is complemented by a row of illuminated touch-sensitive controls, which can be optionally turned off – at which point they become entirely invisible.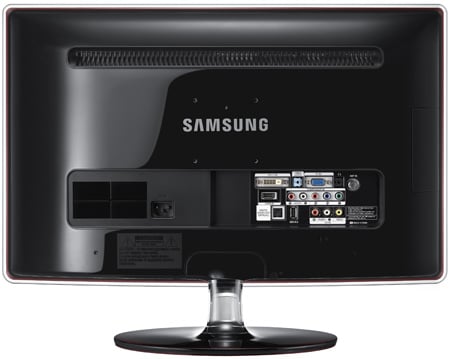 VESA mounting is an option
Powering the monitor you're greeted with an entirely unnecessary chime of a cheerful arpeggio and a short light show. Whilst being slightly annoying, it's also somehow re-assuring. It's a welcome that suggests you're going to be helped through this experience rather than left to fumble on your own.
Monitor controls are often notoriously fiddly and often quite frustrating to use. With a TV, you simply can't get away with this sort of thing – it has to be quick and it has to be easy. What's more, it has to be readable from the other side of the room. That's why the menus on the P2370HD are massive, making whole experience of setting up the display so much more user-friendly than on any standard PC display we've seen.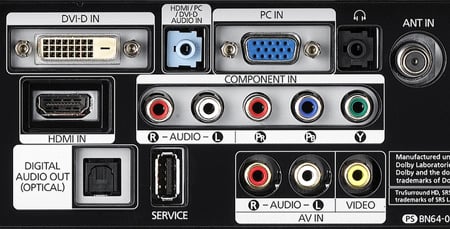 Interfacing includes digital audio
The P2370HD comes with a good selection of inputs and outputs. The usual VGA and DVI inputs provide the standard PC monitor connections, but we also get HDMI, Scart and component video, plus the ability to input both digital and analogue audio. An optical digital audio out port allows you to connect an external amplifier and speakers.
The built-in tuner is an analogue/digital hybrid, although Samsung was unable to confirm support for the DVB-T2 protocol required for Freeview HD, although we rather doubt this unit will support the feature.
The P3270HD also supports cable channels and pay TV from a CI card slot. The automatic tuning system is very simple to activate and you can choose to include or exclude the analogue channels, as well as maintain your own selection of favourites.
Watching SD content on an HD display is always going to be a little disappointing close up, and the P2370HD doesn't do the best job of scaling, as there's still some pixellation visible. However, the colour reproduction is very good and the numerous adjustments available make it easy to get a picture that looks great from more normal TV-viewing distances.

What telly would be complete without a remote?
Testing the display's performance with a Spyder 3 Elite calibrator revealed a colour gamut that's better than average by about one or two per cent. This is perfect for a display like this because – while wider colour gamuts are great for Photo editing in colour-controlled environments – this is a TV, so we want the display colours to look natural without the need for any adjustments.
We were however, very impressed with the accuracy of the colours reproduced. The measured output curves remained almost unchanged after calibration, as they were already pretty much spot on. Cheap TV monitors often produce rather unconvincing images when actually watching TV. The Samsung P2370HD, on the other hand, does an excellent job.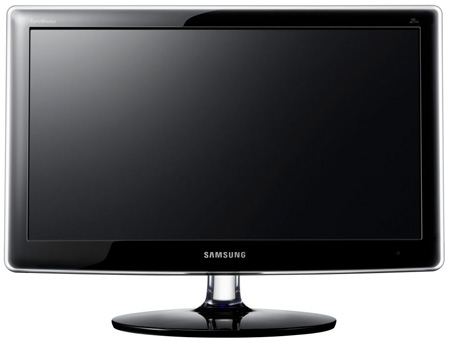 The studio flat monitor of choice?
Unfortunately there's some visible backlight bleed apparent when viewing dark scenes. This can be helped somewhat by activating the dynamic contrast option, but many users will find the constant and rather obvious increasing and decreasing of the backlight level quite distracting. Despite this quibble, we found the display quality to be generally very good indeed.
Verdict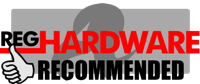 The Samsung 2370HD is a good-looking and generally rather impressive TV/monitor. It lacks some desirable features, such as picture-in-picture support or multiple HDMI sockets, but overall it's a great choice for a small flat or bedroom where there might not be room for both a second TV and a PC. ®
More PC TV Gear Reviews...

Digital Vision
GiGo
DV-DTR1

Elgato
EyeTV Sat

SiliconDust
HDHomeRun

LaCie
LaCinema
Black MAX