Original URL: https://www.theregister.co.uk/2009/12/08/eclair_guide/
Android 2.0: what to expect
What's new in Google's latest smartphone OS update
Posted in Personal Tech, 8th December 2009 14:02 GMT
You don't want to find stale donuts in your local patisserie, you want the freshest treats available. Likewise, you want the latest, most up-to-date smartphone operating system which, in the case of Android, means choosing Éclair.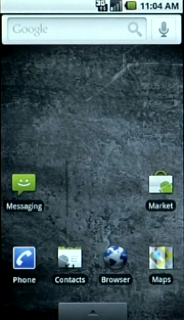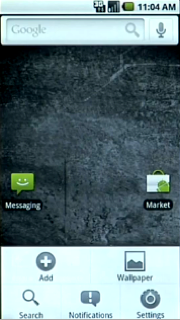 Google Android 2.0: coming soon to a handset near you
Éclair – also known as Android 2.0 - was released to application developers at the end of October, and this month updated to 2.0.1 thanks to the addition of some minor tweaks. But what should you – the user – expect from Google's latest handset tech?
Android 2.0 may lack a killer headline feature, but it does offer an array of tasty treats, each of which you'll want to get your teeth into.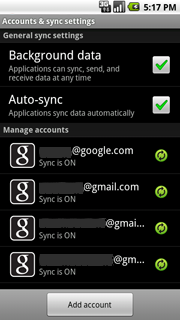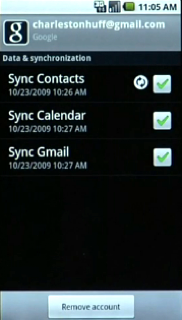 At last - support for multiple email accounts
While Google has no say over the camera that its OS is paired with, the company has taken steps in Android 2.0 to improve users' photography experience. For example, Éclair adds a digital zoom and will also allow you to adjust the white balance and colour effect of your snapped images. It has a close-up macro mode too. Pre-set shooting modes, much like those found on compact cameras, have also been added to the OS.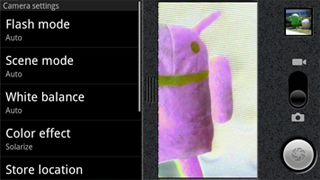 Several new camera features are incorporated into Android 2.0
Android now supports built-in flashes, a feature Motorola has used to allow it to fit a twin-LED flash to its Milestone smartphone.
Snaps of pals can be already be applied to their address book entries to make it easier to spot them in the list. Now, though, you can tap on a contact's photo icon to get a mini menu of the methods by which the person can be reached: phone, SMS, email accounts and so on. The menu appears in the Email, Messaging and Calendar apps. Google has exposed the code that makes this happen, allowing developers to support the feature in their own applications and to add in other contact methods.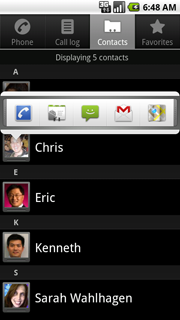 Tap a chum's icon to see how he or she can be reached
Speaking of Email, the application can now be set up to interact with Microsoft Exchange servers - though Google warns that this is optional and not all handset manufacturers may choose to support it. If you have multiple email accounts, incoming mail from all of them can now be fed into a single, combined inbox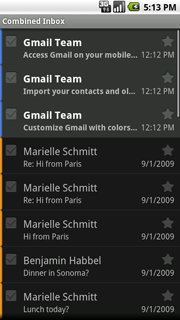 Feed all your email accounts into one inbox
Android 2.0 will keep your SMS folders tidy because it can be configured to automatically delete the oldest messages in a conversation when a user-defined limit is reached. But if you insist on hoarding every message ever received, then Android 2.0's message search feature should at least make short work of finding specific texts or pictures.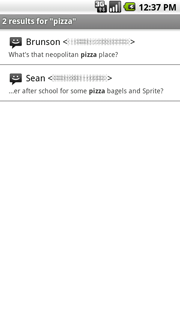 Text and media messages can now be searched
Contacts can likewise be sync'd in from multiple sources into the Éclair device's one address book. Any contacts who you've invited to join a meeting that you've scheduled and added to Android 2.0's Calendar app will appear separately, the better to show which ones will be coming along and those who won't. Further guests can be invited after the initial invitation has been sent.
For mobile web addicts, Éclair's addition of double-tap to zoom is great because it means that Android-based smartphones will finally be on a par with the iPhone's much-loved approach to quickly bringing a column of content up to full screen width. Android 2.0 also adds webpage thumbnails to your bookmarks and the ability to directly tap the browser's address bar for instant searches and navigation.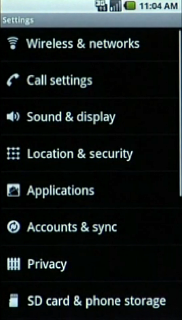 Settings... and more settings
And Google has added support for HTML 5, allowing web-based apps to be cached locally, the device to share its GPS-detected location with website and to play web-hosted video full-screen.
Surfing the web or writing text messages and emails should be much easier with Android 2.0 than previous versions. According to Google, the updated OS offers a virtual keyboard that's "virtually error-proof".
How has this been achieved? By re-jigging the keyboard layout that makes typing faster and more accurate, and leveraging the OS' new multi-touch capability to ensure that "key presses aren't missed while typing rapidly with two fingers".
The OS' dictionary will now also learn from your word use and automatically suggest names.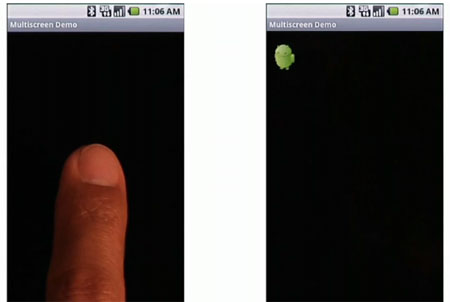 This game runs simultaneously on two Android 2.0 phones using the OS' new Bluetooth API
Android now supports Bluetooth 2.1, including the wireless standard's Object Push Profile and Phone Book Access Profile, allowing data to be sent to other devices and for them to look up information in the handset's list of contacts.
Other new under-the-hood features include the ability for developers to create custom sync adaptors that allow new types of information to be synced alongside the tradition phone book and calendar content.
Developers can set Android to run services when the handset is docked, change wallpapers from within an application and better manage an app's life-cycle according to how system resources change over time. ®