Original URL: http://www.theregister.co.uk/2009/12/05/review_dab_radio_pure_sensia/
Pure Sensia widget-running DAB radio
Tweet while you stream
Posted in Hardware, 5th December 2009 09:02 GMT
Review As a rule DAB radios don't really blow the wind up our skirt here at Register Hardware, but when Pure announced its new Sensia back in September, we had a brief Marilyn Monroe moment.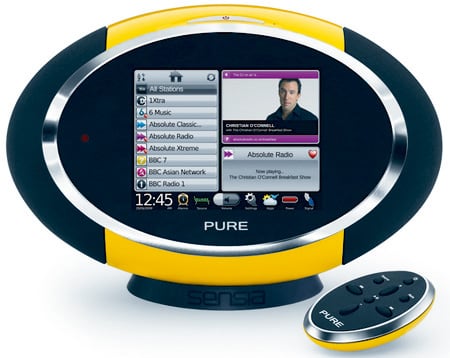 Pure's Sensia: Sound idea?
With a 5.7in 640 x 480 capacitive glass touchscreen, social networking apps, DAB/DAB+, RDS FM and Internet radio and wireless UPnP media streaming this self-styled 'radio for the Facebook generation' promised to be of rather more interest than the norm.
At a glance, the Sensia is, indeed, highly impressive. About the same size and shape as a rugby ball – or 166 x 280 x 180mm – and weighing a not inconsiderable 1.9kg, the Sensia is a beautiful looking bit of kit and feels equally well bolted together.
To prevent it rolling away the Sensia sits on a plastic base, which also lets you rotate the unit through about 45° for the ideal viewing and touching angle. Round the back you will find a 3.5mm audio input for plugging in an MP3 player, a headphone jack and a mini USB port for updates and Pure's optional i-10 iPod dock.
So far so good, but plug the Sensia in and switch it on and sadly things start to go down hill. To begin with using the touch screen to navigate about the system and especially to search and select radio stations, artists or albums is nowhere near as pleasant or easy an experience as it should be.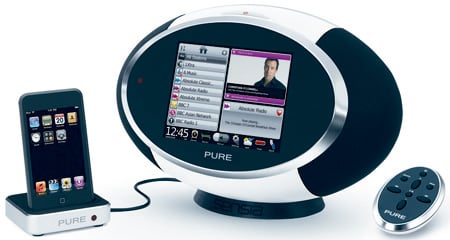 Alas, docked iPods can't be controlled by the remote
It's not the screen menu design that is at fault. The basic three-box layout with a row of icons at the bottom is sound enough too. Nor is it the capacitive screen itself, which seems to register taps and swipes well enough. No, the problem is that everything reacts just a little too hesitantly and haphazardly, suggesting either the firmware is a work in progress or that the operating system lacks the grunt for the job in hand – or a combination of the two.
To give you some frames of reference we came to the Sensia while messing with Logitech's Squeezebox Radio – which uses its big knob to navigate lists and menus – and we have a touchscreen O2 Joggler in the kitchen, which we use pretty much every day.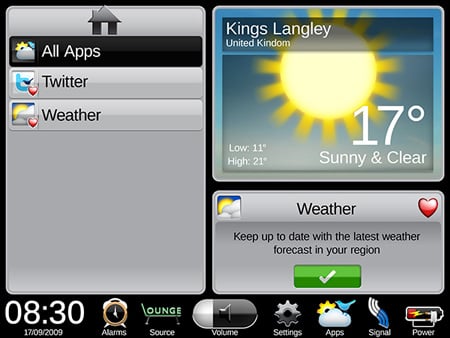 The available apps are somewhat limited
Whereas scrolling through content on the Logitech is swift and satisfying, the Sensia proved stodgy and slow with swipes simply not translating into the hope for fast and fluid on-screen reactions. On some occasions, swiping up a station list would register the first and last touch, but not the intervening swipe motion, thus necessitating a repeat performance.
Problems are exacerbated by some of the icons and buttons on the Sensia's screen, these being just a bit too small for easy arms length use. The Joggler's system of larger, well-spaced icons and touch/drag menu bars may not look as swish as the Sensia's UI, but it works better in the real world. Put the Sensia on a desk directly in front of you and things are easier, but this isn't a phone - you shouldn't have to pick it up or go nose-to-nose to use it.
Swiping through long lists also suffers from the system not shifting to an accelerated letter-by-letter search when you swipe repeatedly. When flicking up and down long lists the Sensia is a also bit too skittish for our likes, taking a noticeable amount time to work out where it is and in what order its supposed to list stuff.
Once content had been located activation taps often have to be made twice and sometimes three times before anything actually happens even though the screen clearly showed the first touch registering. The remote control – another lovely bit of design, it must be said – only manages the volume, pause/play/next/last track, source and power so you can't use it to cut down on the time spent prodding the screen. Incidentally, the on-screen volume control works perfectly.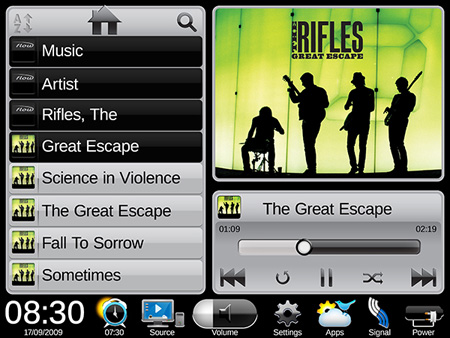 Album art is displayed... on good days
Strangely, for a device with such a large screen, the Sensia can't play video. We are used to streaming video from a PC to our Joggler and hoped to be able to do the same with the Sensia but without the need for external speakers. Such a shortcoming seems a waste of the Sensia's large and colourful display.
Although the Sensia hooked up to our PC's Windows Media Server over an 802.11b/g network with no problems – and suffered none of the occasional network drop-outs that slightly besmirched the Squeezebox Radio – it refused to show any album art which once again left that huge screen looking for something to do.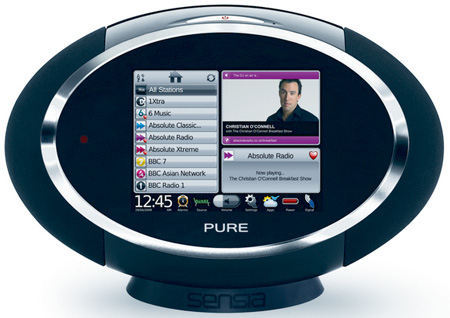 Runs on Linux using a Chorus2 CPU with 64MB Ram
Downloading Pure's own FlowServer software – PV's Twonky with Pure graphics slapped on it – fixed the album artwork situation, but it also caused our Sensia to re-boot itself nearly every time we tried to access the server which didn't strike us as a step forward. When streaming various radio stations, the Sensia didn't show the station logo, album art or 'now playing' information. Again, something that the cheaper Logitech Radio has no problem doing.
Only when tuned into a DAB station does the application panel finally find a use for itself by displaying station slide shows. Internet radio content can be managed using Pure's Lounge site. Log into that on your PC and you can set up different favourites folders and the like, which then sync with your Sensia. This is handy, but hardly essential. More useful is the Sensia's ability to access a wide selection of podcasts and the BBC's national, but not local, Listen Again content.
As for the Sensia being a social networking tool, well at the moment the only applications available are Twitter and a weather forecast using data from AccuWeather. More applications including Facebook and Picasa and an apps manager will arrive 'soon' according to Pure. Apps run in the upper right hand box on the screen and can be flicked one to another by swiping up or down but again the transition is not as smooth, reliable or quick as we would like.
Tap the top right corner and apps go full screen and you can toggle a 'now playing' overlay, which is a nice touch. Twitter works well enough on the Sensia as does the virtual keyboard but Pure really should have made sure that Facebook at the very least was also available at launch. Getting the most from a Sensia is hampered by the lack of a decent user guide making any detailed examination of the machines abilities a matter of patient exploration and trial and error.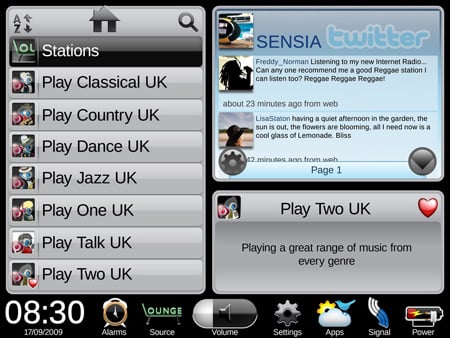 Twittering is easy enough, but some of the basics are a challenge
A firmware update – our test unit was running the latest v1.3 - may fix all these shortcomings, but we can only review what's put in front of us. It's not all bad news though. Pure know a thing or two about getting decent sound out of small packages and on this front at least the Sensia doesn't disappoint.
With a quoted 2 x 15W RMS output and two 3in drive units, the Sensia is loud and composed in equal measure. From BBC Radio 3 to Xfm we were very impressed by the amount of solid and well-defined bass the Sensia generated, along with excellent stereo separation and good high-end definition.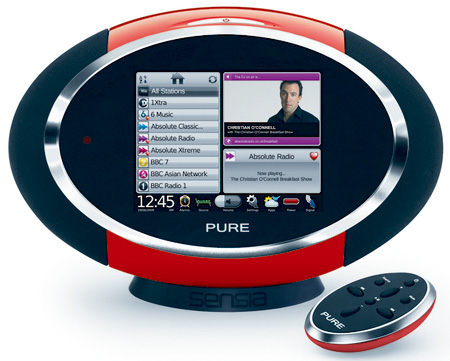 Sonically appealing, but not as finger-friendly as we'd hoped
And we have no complaints about the performance of the auto-tune RDS FM and DAB radios either. The Sensia easily and quickly locked onto all 50 DAB stations and signals we have ever managed to get at our test location, doubtless helped by the sturdy telescopic aerial.
Favourites – 30 DAB and 10 FM – are also easy to set making channel selection very straightforward, once you have found your favourite stations to begin with. But we were a bit disappointed to find the Sensia doesn't support the same DAB rewind 'ReVu' function as other top-end Pure radios.
Like Logitech, Pure reckons rechargeable batteries should be an accessory at additional cost. If you are interested, a battery pack for the Sensia will set you back £35. As with Logitech, we reckon this is having a laugh – for £250 product, a battery should be included.
Verdict
On paper, the Sensia is a very nice idea but we can't escape the feeling that the we're involved in beta test. Assuming all you are after is an Internet radio and UPnP media streamer with some social network functions, the Logitech Radio is a safer purchase and the best part of a £100 cheaper. If you just want a good DAB/FM radio then one of Pure's less ambitious products such as the Evoke-2S is a better bet. ®
More DAB Gear Reviews…

Cowon
D2+ DAB

Pure
Evoke
2S

Sony
Gigajuke
NAS-SC500PK

Roberts
RDK-2