Original URL: http://www.theregister.co.uk/2009/12/04/review_media_player_samsung_yp_r1/
Samsung YP-R1 16GB PMP
Small screen sensation
Posted in Personal Tech, 4th December 2009 08:02 GMT
Review You can argue until the cows come home about what is the minimum screen size a PMP can get away with for watching feature length video on. Most would agree that an iPod Touch-esque 3.5in is the sweet spot, but Samsung reckons there is room beneath that.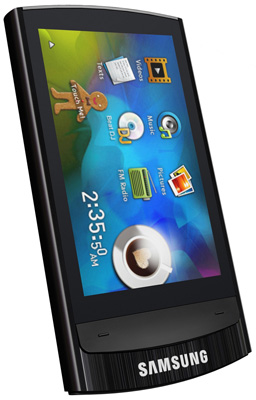 Shrinking the boundaries: Samsung's YP-R1
To all intents and purposes the new YP-R1 is a half pint version of the YP-P3 with which it shares the, now familiar, Samsung widget and icon based TouchWiz touchscreen UI. The main difference is screen size. While the P3 has a 480 x 262 resolution 3in affair, the R1 makes do with 2.6in screen at 400 x 220.
The drop in screen size has allowed Samsung to make the R1 quite a bit smaller than the P3. In fact at 85.2 x 45.5 x 8.9mm and weighing only 50g, it's just about the smallest PMP we have come across with pretensions to serious video playback.
Furthermore, the reduced screen size hasn't put the kibosh on the touchscreen UI, because the capacitive screen is one of the best we have come across on a Samsung device of any size, shape or type and is a major step forward from the P2 and P3.
In fact, the UI is near enough perfect. It's accurate, fluid, responsive and quick and this makes the well thought out menu system and cover-flow style album and video selection screens a joy to use.
The diminuitive size impacts on battery life
External controls are limited to two buttons for volume. These are located below the screen – or to the right of the screen to be more accurate. Like the Philips Muse the sighting of the physical controls suggest the device should be held portrait rather than landscape. On the R1 the feeling is reinforced by the orientation of the maker's name.
Despite the rather petite screen, Samsung is punting the R1 as a serious video player with format support covering all the popular codecs and containers including DivX, XviD, H.264, MPEG4, WMV, AVI, MP4, ASF and QuickTime. The R1 will also support file resolutions above its native screen size up to and including 720 x 480 – a trick the P3 can't pull off.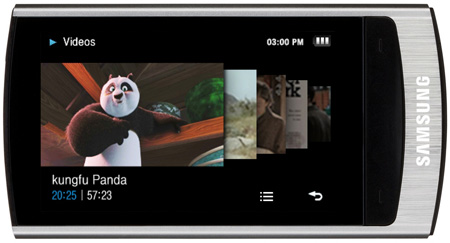 Coverflow style for video and audio libraries
With a full beans 16 million colours palette and a more than respectable DPI of 166, the R1's screen makes for a highly satisfactory viewing experience with video looking extremely crisp, clear and colourful.
Aspect ratio can be manually adjusted to either full screen 16:9 or original, which is handy if you are watching DVD rips of feature films. The fast-forward/rewind functions have been very well thought out, which makes zipping about through large video files a cinch.
To pop a cherry on the cake, the R1 also supports SubRip subtitle files. Also, utilising Samsung's Digital Natural Sound Engine (DNSe), you can access a video-optimised set of sound modification functions whilst actually viewing the video. This made watching Kieślowski's Double Life of Veronique an absolute treat. Not only did it look and sound great, but we could read what was going on! Move away from video and you will find that audio and picture file support isn't too shabby either with MP3, AAC, WMA, Ogg, FLAC, WAV, JPEG, GIF, BMP and PNG files all accepted.
Like all Samsung media players we have tested recently, the sound quality is firmly towards the top of the pile. Not only is this helped by DNSe tweaks, but by a better than average pair of bundled in-ear earphones, which come with three sizes of rubber bud.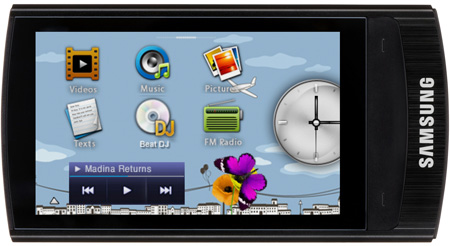 The Touchwiz UI takes care of the menus and navigation
Unlike the Samsung Q2 we looked at recently, we had no issues loading DRM protected BBC iPlayer downloads onto the R1, nor did we have any problems getting it to show up as a mass storage device when plugged into Mac and Linux machines. Playlists can either be set up on-board or synced across from an MTP compatible media player.
Aside from core media playback, the R1 comes with all the goodies we have come to expect from Samsung including an RDS FM radio, voice recorder, Flash player, Bluetooth and a TV-out so you can connect it to your telly. Cables for the latter, however, are not supplied.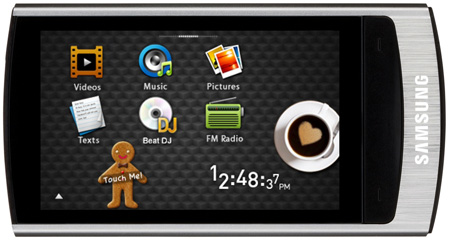 Beat DJ: entertainment for small people
You also get the slightly silly Beat DJ software, which lets you 're-mix' music, a memo-pad with handwriting recognition that has a mind of its own and a selection of cutesy decorative widgets that may amuse Korean under-12s but left us both cold and irritated in equal measure. Of course, you can simply remove the widgets for these from the 'Desktop' and forget they exist.
Battery life is not the R1's strong point. Samsung reckons a full charge will get you 25 hours of audio or five of video. But that first figure assumes you are playing 128kbps MP3 files, have the DNSe system switched off and the volume at half-mast. We weren't doing any of those things and so only got 18 hours. On the video front, the best we managed was 3 hours 45. Battery capacity has clearly been a victim of Samsung's efforts to keep the R1 dinky.
Shop around and you can find a 16GB R1 for around £120, that's around £15 less than you can find a 16GB iPod Nano for and the R1 sounds much better, comes with a far superior set of earphones, has much more comprehensive format support and a larger screen. OK, the new Nano has a camera, but who today has a mobile phone without one of those?
Verdict
There is a lot to like about the R1. Video playback is, by some margin, the best we have come across on a device with a screen smaller than 3in, while the sound quality is up to Samsung's usual very high standards. While there are 8GB and 32GB models also available, it's a shame the R1 has no memory expansion slot and uses a proprietary USB port, as it would be damn near perfect. ®
More PMP Reviews...

Archos
5

Philips
GoGear
Muse

Apple iPod
Touch 3G

Cowon
D2+DAB