Original URL: http://www.theregister.co.uk/2009/12/03/review_phone_acer_betouch_e101/
Acer beTouch E101 touchscreen smartphone
Cheap and..?
Posted in Personal Tech, 3rd December 2009 08:02 GMT
Review Acer has been successful in the laptop market by building low-cost, efficient computers that deliver the goods for less dosh than many of its big-brand brethren. When it first began manufacturing smart phones earlier this year, we had high hopes that they'd be able to pull of the same trick. Yet, Acer's first four Windows Mobile smartphones seemed out-of-date almost as soon as they hit the shelves, and there was the feeling that they were old Glofish models with a new badge.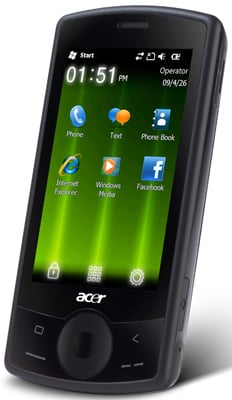 Acer's beTouch E101: Price and performance payoff?
The latest beTouch batch, however, are new, with improved processors and the latest Windows Mobile 6.5. The E101 is the lowliest of the bunch, way behind the range-topping neoTouch S200, and claims distinction as the market's cheapest WinMo smartphone. But with no Wi-Fi, no 3G and an exceptionally poor screen, could Acer have made a compromise too far?
The Acer beTouch E101 is a fair old handful at 113 x 56 x 13mm, but feels lighter than it looks at 118g. Part of the reason for this is its rather cheap and plasticky casing, which feels particularly flimsy on the thin back panel.
Beneath the large 3.2in screen is a large circular navpad with an outer scroll wheel and an inner action button. We were pleasantly surprised to find that it is a genuine scroll wheel which allows you to twirl through menus and web pages, but also has pressure points underneath, so it doubles as a five-way navpad. On each side of it are hard buttons for call start and stop, as well as back and home.
Around the sides are a volume rocker and a mute switch – handy if you're heading into a meeting – mini USB power/sync slot, a slot for the metal stylus, a camera shutter button and a micro SD memory card slot covered by a plastic grommet. There's a power button on the top and on the back there's a loudspeaker and the 2Mp camera lens.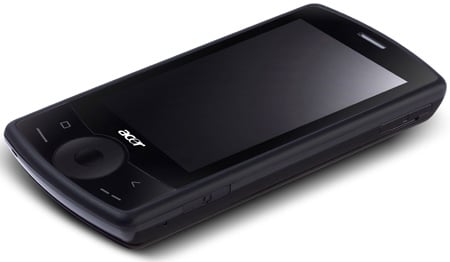 It has some good features, but the touchscreen wasn't one of them
So it looks more or less like a standard touchscreen smartphone, but as soon as we began to use it, the trouble started. The resistive touch screen is one of the worst we've encountered on a smartphone. We couldn't get it to respond accurately or consistently to our brushes and presses. This made the onscreen keyboard particularly difficult to use and we even had trouble with the numeric keyboard, which can't be right.
With only 240 x 400 pixel resolution it tends to look a little fuzzy too, with drab colours and screen movement that often seems delayed, especially when scrolling through the menus. It's running a Qualcomm MSM 7225 528MHz processor with 256MB or Ram and 512MB of Rom, which doesn't sound particularly impressive – certainly not when compared to the neoTouch S200's 1GHz Snapdragon processor – and sure enough it did seem to struggle when we laid on the multi-tasking options a bit too thick.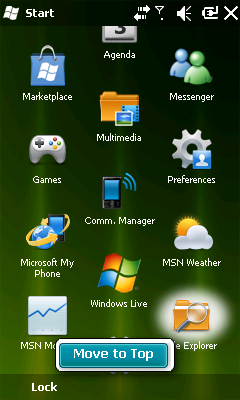 Menu selections were best performed with the stylus
The operating system is Windows 6.5, which, in theory, means you should have little recourse to the stylus (though the poor quality of the screen meant we used it almost all the time) with its big, thumb-friendly app icons in the Start menu. Acer has done little to adapt the basic interface, as we've seen with the likes of HTC's Sense UI.
However, there is the option to add up to nine app shortcuts to the Today page, including Facebook, Flickr, Blogger and Youtube, all of which you'll find on board. Other apps are available from Marketplace, Windows' answer to Apple's App Store, which is still a little thin on the shelves, but growing rapidly.
Call quality tended to be rather tinny through the beTouch E101's speaker, with a slightly metallic quality that we were less than thrilled with. Though this lessened if we turned the speaker volume down a little, this meant compromising on our ability to hear the speaker's voice clearly.
The beTouch E101's economic compromises are also keenly felt when you try to go online. Without Wi-Fi for broadband access or even 3G network connectivity – just GPRS or EDGE – you really start to wonder whether it's worth having a smartphone. The screen may be impressively large, but with such slow connectivity you typically spend too long waiting for pages to render for browsing for it to be anything more than a chore.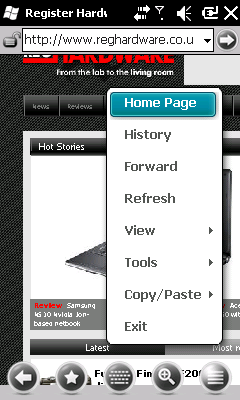 Without Wi-Fi or 3G, browsing takes an age
Internet Explorer is the standard browser, but you can also download Opera from Windows Marketplace, if you feel the need. There's no accelerometer on board though, so if you want to browse in landscape mode (and you will) you'll have to adjust it separately in the settings menu, which is a pain. The beTouch E101 also has GPS on board, but we found it almost as much of a disappointment as the browser, since it tended to take ages to lock on to a satellite and render map pages.
The camera is about as basic as they come these days, with a maximum resolution of 1600 x 1200 pixels and very little in the shape of extras. There's no autofocus or flash, but at least it's quick to start up, at about three seconds from pressing the camera shutter, and takes a pic in less than two. Good for quick snaps in other words, so long as you're not too fussed about the quality. Grain was a persistent problem, as was light saturation. Still, it does have one-touch options to share your new pics using email or SMS.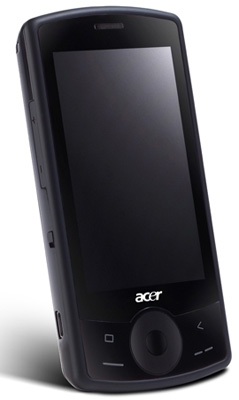 Looks decent, but doesn't sound so good
Watching video is okay but the screen's low pixel count means it suffers in comparison with most touchscreen smartphones we've tried. Since there's no accelerometer you'll have to adjust the screen resolution in Windows Media Player to switch to landscape mode and you'll need the stylus to negotiate the fiddly menus to make any adjustments.
Windows Media Player is also the default player for music and the sound is generally harsh and tinny through the supplied headphones. You'll be stuck with them as well since there's no 3.5mm jack plug that would allow you to upgrade to another pair.
Battery life wasn't particularly impressive, albeit far from a disaster, giving us around a day and a half of moderate to heavy use. This being a Windows Mobile handset you should be able to stretch this a little by adjusting the screen brightness and shortening the screen saver kick-in time.
Verdict
The Acer beTouch E101 may have an exceptionally low price but it's also by far the least desirable of any smartphone we've seen this year. The lack of Wi-Fi or even 3G connectivity severely limits the use for its browsing capabilities but the inefficiency of the screen is what really makes it difficult to recommend. There's just no good reason for a phone to be this difficult to use in 2009, no matter how low the asking price. ®
More Budget Touchscreen Phone Reviews...

T-Mobile
Pulse

Nokia
5530 XpressMusic

Samsung
Tocco Lite

Orange
Vegas