Original URL: http://www.theregister.co.uk/2009/12/03/gg2_xmas_part2/
Geeks Guide2 Christmas 2009 - Part II
More Christmas Savings at Reg Books
Posted in Site News, 3rd December 2009 10:34 GMT

Welcome to the second part of our Christmas trilogy. This week we move from digital photography to the modern man's pastime of gaming. We have a 40% discount on each of the below titles including this year's sleeper hit Plants vs. Zombies on PC and Mac; a guide to the biggest game of them all – Modern Warfare 2, and for the old-timers, we have Vintage Games.
Plants vs. Zombies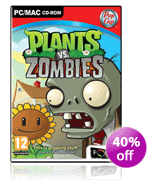 Plants vs. Zombies arrived in May to plaudits from game critics the world over, garnering accolades from the likes of Edge magazine and a coveted 9/10 from Eurogamer. Strip it down and what you have is a traditional tower defence game that puts you in control of placing various types of plants, each with their own unique offence or defence capabilities, across a garden lawn in order to stop a mass of zombies from devouring the home residents.
There are 42 plants available to you to help battle the 26 types of raging zombies you'll encounter, including newspaper zombie, conehead zombie, and the now infamous Michael Jackson zombie. On the surface it may seem to be a humorous take on a classic genre, but as you play you'll realise the true genius of this highly addictive gem of a game which is capable to entertain for a spare 5 minutes or five hours.
Modern Warfare 2 Limited Edition Strategy Guide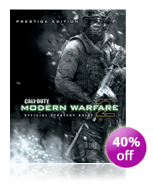 This Limited Edition MW2 guide is as polished as its gaming counterpart. It comes with a striking hardcover and provides a comprehensive walkthrough of all 18 campaign and 23 Special Ops missions. Every mission and multiplayer level has detailed maps with all Intel and objective locations, spawn points, mounted guns, and more revealed.
Multiplayer is at the heart of MW2 and this guide doesn't disappoint with its coverage. There is analysis of every perk, weapon, attachment etc. and the Create Class recommendations ensure you pick the perfect loadout. The guide is packed with expert tactics for team-based play, Killstreak and Deathstreak bonuses, ranks and much more. There is also an exclusive tactical map pack which is a unique, folding, dry erase poster that displays all the multiplayer maps. You can use this to plan out your team's attack strategies and wipe them clean once you're done fragging.
Fallout 3 GOTY Edition: Official Game Guide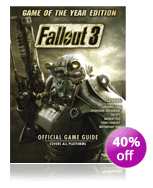 Fallout 3: Game of the Year Edition was let loose on the public in October. It featured the original game from twelve months prior and the five downloadable content packs that have been issued since its release. Over 750 plus pages, the official guide covers every aspect of the original game and all five add-ons. Whether you're lost in the middle of a deserted space, trapped by a group of enemies, or want to follow the path of the righteous, the guide will have a page dedicated to just what you need.
As standard with all game guides, you can expect info and stats on all the perks, armour, weapons, items, factions and enemies you'll encounter throughout the game. There are also over 200 detailed maps that give you all the tactics, locations, items and rewards for each area. An additional giant map poster also accompanies the book which helps keep your bearings or avoid higher level enemies as you trudge through the wastelands.
Vintage Games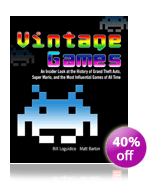 Modern games not your cup of tea? Why not reminisce this Christmas with Vintage Games, a look back at 26 titles that have impacted the direction of the computer games industry since 1978. The formula works like this. Each chapter concentrates on one key release, discusses the history surrounding it, what impact it had, and looks at how future titles (not necessarily the same series) built upon and improved the genre. Each page is in full colour and uses ample screenshots to make it accessible enough for young gamers as well as old-hats.
Obvious games such as Pac-Man, Space Invaders and Tetris are there and they're mixed with more recent titles such as Square classic Final Fantasy VII, Dance Dance Revolution, and the gaming Hollywood that is Grand Theft Auto III. Also, pretty much every genre is more or less covered; survival-horror is represented by Alone in the Dark, point-and-click by Myst, first-person-shooters by Doom, and much more throughout its near 400 pages.
iPhone Games Projects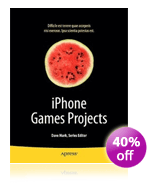 iPhone Games Projects is brought to you by the authors responsible for some of the most popular games on Apple's hand-held device. It is part of a popular Apress series of iPhone development books and comes loaded with practical tips for effective development that helps you create compelling and creative gaming experiences.
Through its 250+ pages the book illustrates how to optimise games using the iPhone SDK tools, implement social gaming with RESTful web services and create multiplayer games. Tips on rapid game development with C are also on show as too are guides to port games to Mac OS X, Linux and Windows. Wonderfully illustrated with clear code samples and diagrams, the iPhone Games Project book is a candidate for any would be games developer looking to branch out to the lucrative world of the App Store.
Want something else? We stock the a huge range of game books available and offer huge savings on all forthcoming titles, free delivery on all orders over £25, and all orders are dispatched same working day. ®
*Offer correct at time of going to press.
Offer covers selected titles only.
Terms and Conditions apply.