Original URL: http://www.theregister.co.uk/2009/12/02/review_pc_video_streamer_q_waves_wireless_usb_av_kit/
Q-Waves Wireless USB AV Kit
Cable-free TV from your PC
Posted in Personal Tech, 2nd December 2009 08:02 GMT
Review It's often useful to be able to connect your PC to an HDTV, perhaps to play the latest Call of Duty epic on a large screen or give a presentation at work. It's not that difficult either, as long as you've got a suitable cable or adaptor. But if you're the sort of leading-edge gadget fiend who prefers to do away with wires altogether, then you might want to look at Q-Waves' new Wireless USB AV Kit.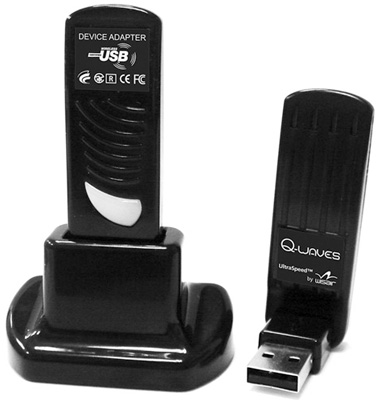 Broadcast views: Q-Waves' Wireless USB AV Kit
The Wireless Kit uses DisplayLink technology, which allows your PC to output a video signal to an external monitor using USB, rather than relying on the video interface of the PC's graphics card. However, it's given DisplayLink a wireless twist by also including a pair of UWB (ultra-wideband, aka Wireless USB) adaptors that allow the video signal to be transmitted wirelessly from the PC to an external display.
The final piece of the kit is a small dock unit that has HDMI, VGA and stereo outputs so that you can use the Wireless USB AV Kit with either a conventional computer monitor or an HDTV.
Q-Waves says that the adaptors provide a data transfer speed of 480Mbps for a distance of up to three metres, or 110Mbps up to 10m. We had no problems using the kit over a distance of around 5m, although the main limitation is more likely to be the fact that you need a clear line of sight connection between the two adaptors. This means that you're most likely to use the kit with a laptop that you can easily carry into the same room as the TV or monitor that you want to use.
Installation is fairly straightforward, as you can instal the DisplayLink software and drivers for the wireless adaptors from CD in just a few seconds. The software provided with our review unit was for Windows XP and Vista only, but there's a Windows 7 update available on the Q-Wave web site if you need it. There's currently no Mac support available, although Q-Wave say that this is under development and may arrive in Q1 next year.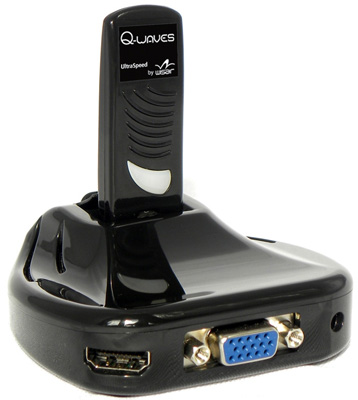 Easy Windows set-up, Mac support due soon
Once the software is installed you plug one of the wireless adaptors into a USB port on your PC, and the second adaptor into the dock unit. The dock unit can then be hooked up to an external display using either the HDMI or VGA interfaces. The dock needs its own power supply, but this is a simple plug with no bulky power brick to clutter the place up.
We started by installing the DisplayLink software onto a laptop running Windows XP, and everything ran smoothly. The two adaptors connected to each other automatically, and an icon for the DisplayLink software appeared in the system tray on the Windows desktop. We then used an HDMI cable to plug the dock into a 37in Samsung HDTV and were duly impressed when the Windows desktop appeared on the TV screen as promised.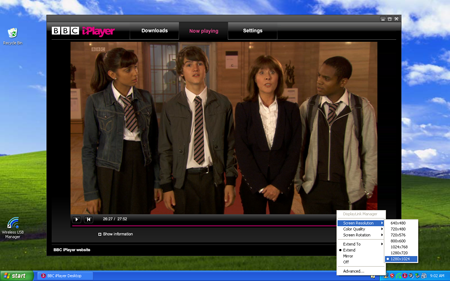 Ideal to set up the BBC's iPlayer to stream to your telly
Right-clicking on the DisplayLink icon activates a menu containing a variety of options for configuring the video output on the external display. You can select resolutions from 640 x 480 up to a maximum of 1280 x 1024.
Alas, no 1080p high-def video support. You can 'mirror' the video output so that the PC's own monitor and the external screen both display the same image, or 'extend' the Windows desktop across both screens to provide a larger desktop area.
We soon had a web browser running on the laptop's built-in monitor and the BBC iPlayer running The Sarah Jane Adventures on the Samsung TV. We also slipped a few DVD films into the laptop's optical drive and got equally good results.
However we sometimes noticed a slight lag – maybe a second – in the wireless transmission. That isn't a problem if you're just watching video, but could be annoying for shoot 'em up games that require lightning reflexes.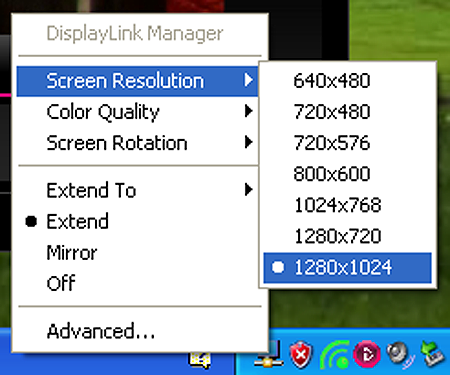 Resolution controls max out at 1280 x 1024
We also found that the 2GHz Core 2 Duo processor in this laptop struggled to maintain smooth frame rates when transmitting some HD test files at 1280 x 1024 – even though it could normally play those files on its own screen perfectly well. So you'll need a fairly beefy machine if you want to play HD video across the wireless connection.
To confirm this we pulled out a newer laptop that had a 2.4GHz processor and had recently been upgraded with Windows 7. We downloaded the Windows 7 drivers from Q-Wave's web site, and found that this faster laptop was able to transmit our HD files to the Samsung TV with better frame rates.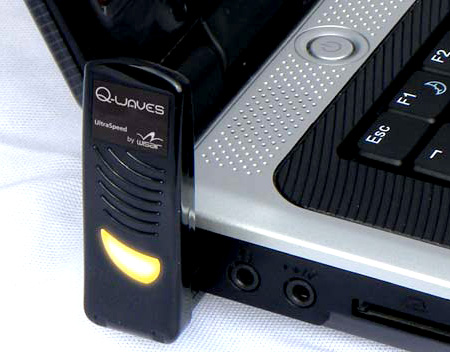 A solution looking for a problem?
However, when using an HDMI cable, the Windows 7 version of the software currently fixes the resolution on the external screen at 1280 x 1024. This isn't a problem if you use the dock's VGA connector, and Q-Waves tell us that there's a fix for the HDMI output due very soon that will allow you to select lower resolutions, as you can with the Windows XP and Vista software.
To be fair, the 1280 x 1024 resolution worked well enough – the only problem being that this is a 4:3 aspect ratio (or 5:4 to be precise), so we had to use the Samsung TV's own aspect ratio controls in order to stretch the image out for the widescreen display.
Verdict
From a technical point of view the Wireless USB AV Kit is really rather impressive. The question is simply whether you really need a wireless connection to a second monitor or HDTV. Home users already have numerous options for playing music and video from a PC on an HDTV – so the Wireless USB AV Kit may only attract people with a phobia about cables. However, its appeal may lie with business users, enabling them to walk into a boardroom with their laptop and have a presentation up and running on a large display in a matter of seconds. ®
More AV Kit Reviews...

Western Digital
WD TV Live

LaCie LaCinema
Black MAX

Elgato
EyeTV DTT Deluxe

SiliconDust
HDHomeRun