Original URL: https://www.theregister.co.uk/2009/12/01/review_laptop_acer_aspire_5738pg_touch/
Acer Aspire 5738PG Touch
Notebook gets touchscreen treatment
Posted in Personal Tech, 1st December 2009 13:03 GMT
Review Plenty of notebooks supporting Windows 7 multi-touch features have already been announced, but the Aspire 5738PG Touch is one of the earliest to actually hit the shelves. Acer has entered into the spirit of the touch revolution by implementing the technology on-screen as well as on the trackpad, but more on that later.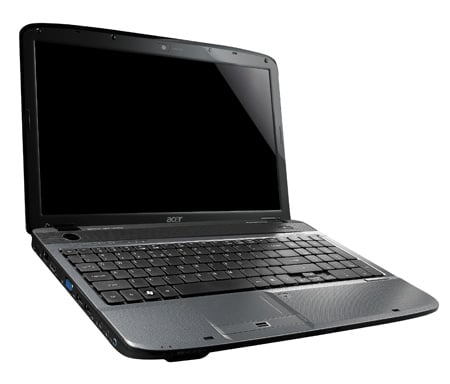 Acer's Aspire 5738PG Touch: if it looks big, it's because it is big
The model we tested was driven by an Intel Core 2 Duo P8700 processor running at 2.53GHz. It was fitted with a 500GB Hitachi hard disk, 4GB of Ram installed as two 2GB SODIMMS, an 8x DVD writer and an ATI Mobility Radeon HD4570 graphics chipset with 510MB of memory. Our immediate impression of the Aspire 5738PG out of the box was of a big and very shiny blue toy. While it is certainly no toy, its size (383x250x26mm) and weight (2.8kg) are unusual in a market currently being swamped by rinky dinky little netbooks.
The unit opens using a shiny sliding catch at the front, which we found tricky to operate, to reveal a large keyboard and an even shinier screen. The keyboard features a full 103 keys and a proper numeric keypad. The key caps are big with good, minimal action, and the wide keys are really wide indeed. Unfortunately, the essential left-hand Ctrl key is still the same size as a normal character key, its width sacrificed to make room for a non-essential Fn key.
In front of the keyboard is a large trackpad with a dedicated vertical scrolling strip on its right-hand edge. A button to the right of the trackpad can be used to disable it temporarily to prevent accidental cursor movement while using a mouse or on-screen touch input. This is all good stuff: it shows that Acer has thought about the way real people use notebooks.
Sandwiched between the left and right mouse-click buttons in front of the trackpad is a swipe-action fingerprint reader. In conjunction with the supplied Acer Bio Protection software utility, you can assign any of your ten fingers to log in (in place of your password), log off, shut down, hibernate, set reminders and so on. It works reliably but you need to maintain a certain level of hygiene: a combination of greasy fingers and a coffee-and-crumb-infested keyboard will eventually get in the way.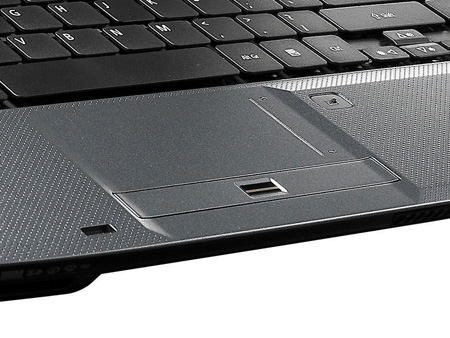 The large track-and-scroll pad is accompanied by a fingerprint reader
Towards the back of the base, above the keyboard, Acer has fitted a series of useful button controls for altering audio volume and enabling or disabling wireless and Bluetooth functions independently. There is also a large and lonely button marked 'P' which you can use to launch a favourite program. Just the one, mind. The wireless support includes 802.11n, nothing less would do in a modern notebook.
The display is a 16:9 ratio 15.6in widescreen with a native resolution of 1366 x 768 pixels, rather impressively backlit with LEDs and producing a very bright, clean image at a reasonable variance in viewable angle. The big screen was lovely to use, although the shiny surface was distracting when watching dark scenes during movie playback: it was like looking into a black mirror. While 1366 x 768 is great for home entertainment, it is a frustratingly shallow resolution for work use.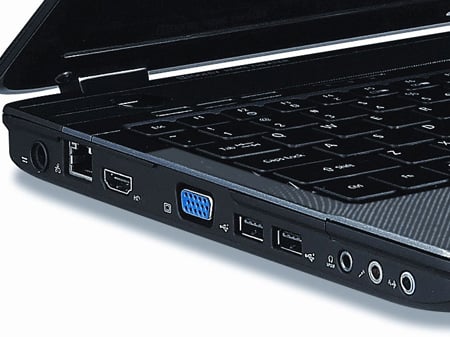 Most I/O ports are provided along the left edge, including HDMI
A webcam is built into the unit just above the display, with a mono microphone built into the base above the keyboard. Stereo speakers are also built-in, producing better-than-average notebook audio through Acer's implementation of Dolby Home Theatre and Virtual Surround Sound technologies. The audio still lacks bass but it is expansive, clear and fairly loud.
Wired connectivity is well provided for: there are four USB ports, a gigabit Ethernet port, an obligatory telephone socket for the built-in modem, and 3.5mm sockets for external mic, earphones and digital audio out. There is a standard VGA mini D-sub port for an external monitor but no DVI alternative, although the Aspire 5738PG does include an HDMI port, which also means you can use the notebook with your TV.
There is a camera card multi-reader slot at the front edge, supporting SD, xD, MMC, MS and MS Pro formats. You have to push a card in quite deeply to get it to insert or eject correctly, and we found it impossible to do so without tilting the whole notebook backwards to give more access to the slot. We experienced a similar difficulty when trying to eject the DVD drive tray on the right-hand edge. Simply pressing the Eject button was not enough: we had to push it inwards using a fingernail. By contrast, swapping out the battery pack from the base was quick and easy. Acer states a battery life of "up to 3 hours": running the intensive PCMark Vantage benchmarks on a loop, we achieved 2 hours 5 minutes.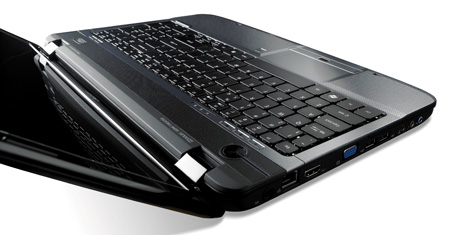 With 103 well-sized keys, it's a pleasure to type on
Finally, let's return to the Aspire 5738PG's multi-touch features. Acer has done a great job in making them accessible by enabling both the trackpad and the display itself as multi-touch devices under Windows 7. This means you can scroll, pan, zoom in and zoom out using dual finger movements open the trackpad or screen, much as you might while operating an Apple iPhone.
Test Results
PCMark Vantage Results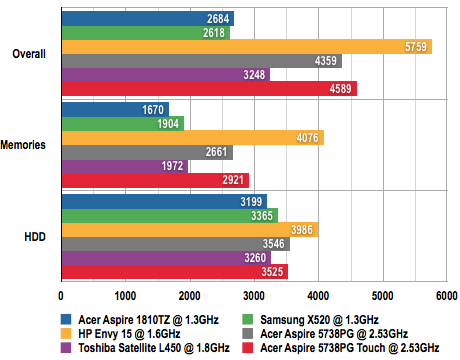 Longer bars are better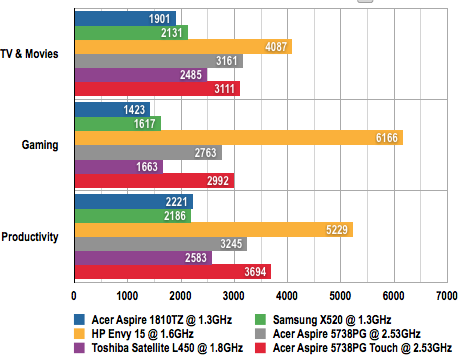 Longer bars are better
PCMark Vantage Battery Life Test Results

Battery life in minutes
Longer bars are better
Using the touchscreen takes some practice and there are many occasions when using the visual precision of a trackpad or a mouse is far preferable (selecting text is one prime example), but it is a liberating experience too.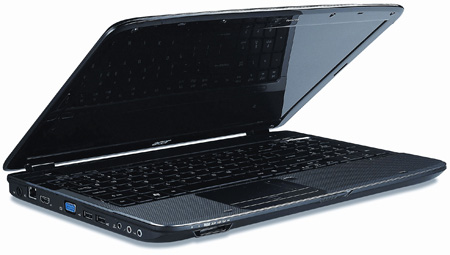 The shiny finish adores collecting fingerprints
Often you just want to press a button, move something aside or zoom in to see more, and you no longer have to locate the cursor with a mouse or break your fingers with multiple contortions on a trackpad: instead, you just touch the screen with your hand and do whatever you wanted to do directly.
Imagine tasks such as scrolling through a long PDF with your thumb of one hand while occasionally zooming in or out with the fingers of another. Our only disappointment is that you cannot fold or twist the display back onto the unit and use the Aspire 5738PG like a Tablet PC.
Acer also provides a TouchPortal interface, reminiscent of those 'Kid Desk' type alternative home-user Windows desktops from the 1990s. It is fine if all you want to do is play media files and run a few pre-determined Windows games and Virtual Earth, but it seems to have little long-lasting charm if you are older than 12.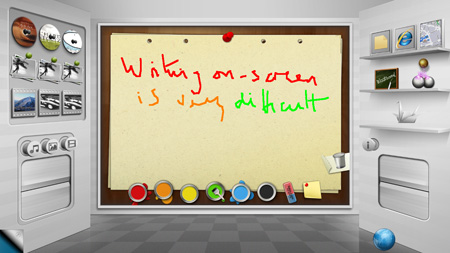 Acer's animated TouchPortal interface is cute but limited
In use generally, the notebook performs very well, as reflected in our PCMark Vantage 64bit results. It boots Windows 7 faster than our Windows XP desktop PC and feels immediately responsive to keypresses, manual touches and clicks. Unfortunately, it earns a Windows Experience Index of just 4.1 for graphics but all other areas (processor, memory, gaming, hard disk) are rated at between 5.8 and 6.1.
Verdict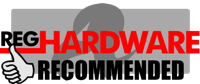 The Aspire 5738PG makes a damn good attempt at offering the best of both worlds to those who need well-connected portability while retaining the bells and whistles of desktop computing. The display and keyboard quality are excellent and the multi-touch functions are actually very practical indeed. It would not be our choice for 3D gaming or working with business spreadsheets, but it is just about perfect for everything else. ®
More Laptop Reviews...

Samsung
X520

Toshiba
Satellite
L450-137

MSI
X-Slim
X600

Dell
Studio
15