Original URL: http://www.theregister.co.uk/2009/11/30/review_phone_samsung_h1_vodafone_360/
Samsung H1 Vodafone 360
The Twitbook lover's delight?
Posted in Mobile, 30th November 2009 08:02 GMT
Review Apparently, you are nobody today if you aren't connected to hundreds of other people through a web of social networks. If you aren't poking, tweeting, linking, posting, chatting, emailing and texting, you're living in the past.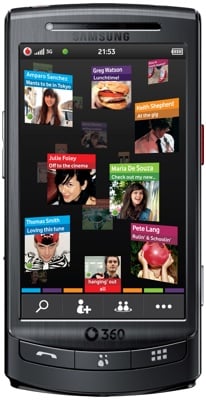 Samsung's H1: built for Vodafone 360's social network centric UI
No wonder, then, that everyone in the communications biz wants a piece of the social network action. Vodafone's latest attempt to cash in is to launch its own service, Vodafone 360, and to do so with an exclusive handset, Samsung's H1. The H1 runs a new operating system, sort of. That's three things for potential buyers to get their heads around, and we aren't sure they're going to want to.
The H1 isn't a bad phone. But we aren't convinced by Vodafone 360. While it's easy to use once configured, and has the great pluses of cloud-based backup and a usable web-based service so you can also access your information on a computer, it's complicated to set up, isn't sufficiently two-way and ultimately relies on people signing up for 360 itself.
But let's start with the handset. The H1 is an HSDPA 3G phone with Wi-Fi, Bluetooth and GPS, so it meets all the location aware, fast data access requirements of a modern smartphone.
The screen is a very serviceable 3.5in, 800 x 400 OLED number that's sharp, bright and clear. It dominates the front of the handset, and the overall look of the phone isn't dissimilar to any one of a large handful of full-frontal touchscreen phones. We found the capacitive screen a little reluctant to respond to screen taps at times, though. Getting haptic feedback is well and good, but it does need to be accompanied by action.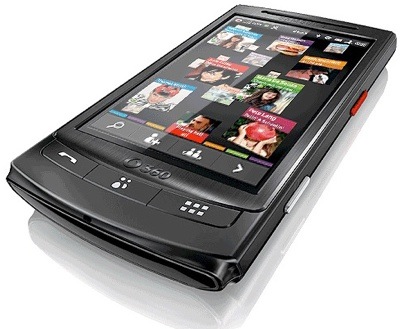 Red button: there's a dedicated search key on the side
There is a bank of three shortcut buttons under the screen. One takes you to phone and messaging, the next to the main contacts screen, and the third to the apps menu. There's no end call button – it's on the touchscreen.
Other buttons and connectors run to an on/off switch and 3.5mm headphone socket on the top; a volume/zoom rocker and micro USB mains power port on the left side; and camera and search buttons on the right edge. The search button opens up a generic search screen which lets you hunt through the phone and memory card storage, Vodafone 360's list of members, Vodafone's online store, and Google.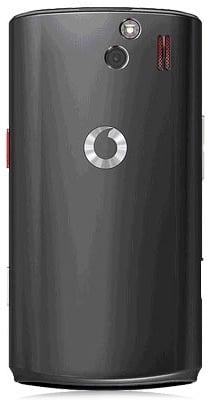 The 5Mp camera is nothing special, the LED flash feeble
The bottom edge of the H1 has no connectors, but emits a bright white glow when messages come in.
There is 16GB of internal memory, and a Micro SD card can be used to augment this. The slot is under the battery cover but you don't need to remove the battery to get to it.
There's a front camera for two-way video calling, and a camera with a 5Mp sensor on the back. The main camera is accompanied by a wee LED flash which works reasonably when you are close to your subject, but doesn't have much of an impact otherwise. Overall, images lack colour richness, though we've seen a lot worse.
The H1 is a fairly big handset – it has to be to accommodate that screen. Measuring 115.9 x 58 x 12.9mm, it's just about possible to reach right across it if you're using the phone one-handed. Our hands are fairly dainty but you might what to try before you buy. Build quality is good, though the backplate is a bit plasticy.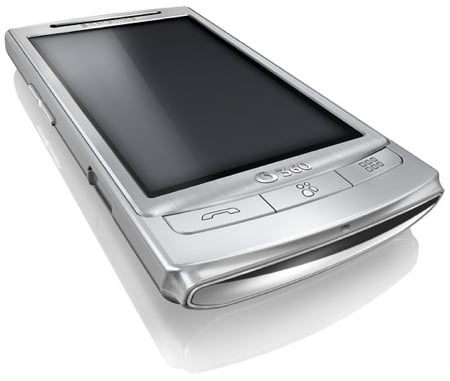 The bottom glows when a chum wants a word
Samsung's PC Studio software isn't provided on CD. Instead, when you first connect the H1 to your PC, you get the option to install it. Taking this option opens a browser window to download the latest version.
The H1 and Vodafone 360 are designed to go together, so you can't really get much out of the phone without understanding Vodafone 360. The service will be supported by more handsets in the future, to varying degrees depending on what Vodafone decides to build in - or what it's able to. The handsets won't all have huge screens, and they won't all run the LiMo - Linux Mobile - Release 2 operating system as the H1 does.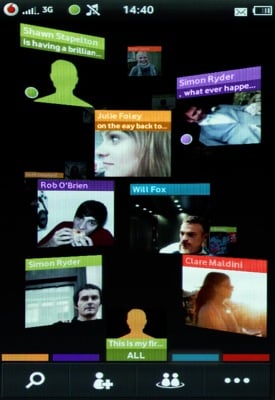 All your pals, right in front of you
The LiMo-360 user interface looks and feels very different to the norm. When you switch on and get past the unlock screen, you're presented with a home screen that shows your contacts – what Vodafone calls the "People" view. These can be grouped – the default settings are All, Work, Friends and Family, but you can change these and add more groups.
You import contacts from a wide range of online tools, including Facebook, Google and Windows Live, though not yet Twitter. You can also include friends who have signed up to Vodafone 360.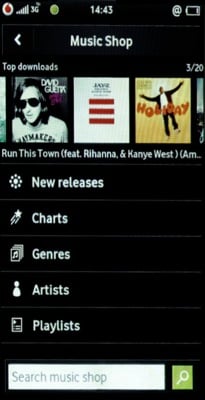 Ah, the inevitable music store app
Contacts are presented in a 3D view, with images drawn initially from Facebook, though you can use different pictures if you like. The people you've interacted with most recently are placed at the front. Sweep with a finger and the view changes to show those you've been in touch with less often.
It looks absolutely stunning, and is a very novel and interesting way of coming into a handset. But all that sweeping isn't the most convenient way to actually find a contact. If you only ever contact half a dozen people then they'll be on the front page all the time. If you have more friends than that, you'll prefer to tap the People key again to call up the less cool but easier to navigate A to Z list view.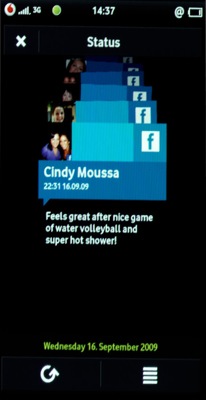 Contacts' Facebook status is displayed - but you need to go to website to enter info
Tap a contact and you can see whether they're online and reach them in various ways, though not all are available all the time. The options run to phone, email, SMS and chat. You can send location information too – but only to Vodafone 360 members.
You can see Facebook status updates but to enter any info into Facebook you need to go to the Facebook web page. That's the full desktop web page, not a special app designed for the H1's small screen. There's a shortcut by each status update, but the process feels disjointed and unpolished.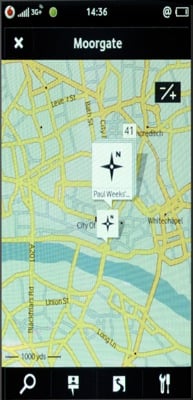 Find friends' locations - but only if they're Vodafone 360 members
There's a considerable element of cloud-based stuff going on with Vodafone 360. The phone's contacts and photos are automatically backed up to an area you get into with your Vodafone 360 login at www.360.com. Here you can view photos and create albums to share with designated Vodafone 360 chums. You can also send SMS and email - you get your own name@360.com address. And you can shop for apps.
The apps menu is a horizontally scrolling collection of every app on the handset - there are no folders hiding stuff away. Apps are colour coded according to broad groupings and can be moved around so the most frequently used are near the front of the collection. Some have a small grey triangle at their bottom right edge to show they can deliver data.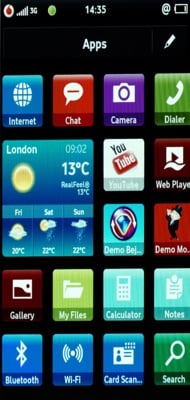 Tap certain apps in the menu and they expand to display data
The apps' icons sit in a normal sized tiled arrangement, but you can press and hold those that can deliver data and they grow to 4x size and their data begins to stream through. There's an AccuWeather link, for example, as well as dull old Vodafone McLaren Mercedes and ESPNSoccenet news. To turn off the streaming, press and hold again and the icons shrink to normal size.
There is other stuff on the H1, which offers a rounded set of applications. There is a calendar, alarm clock, calculator, notes maker, voice recorder and web browser. There's a YouTube client which wasn't working on our review handset so sadly we have no idea how well it functions. There is an FM radio, a movie player with Dvix and Xvid support, and a music player. The bundled headset is a two-piece affair so you can easily use your own headphones.
Call quality was fine and battery life was good too. We managed a day and a half between charges but using the Wi-Fi really does thrash the battery.
Verdict
The H1's focus is on social networking is welcome, but the phone has some key faults. If you pull in contacts from, say, Google and Facebook, you'll need to 'merge' the data using the Vodafone 360 website to make sure the same person doesn't appear on the H1 twice. That's a tedious task.
The technosavvy might be willing to put in the required level of effort to get Vodafone 360 working for them, but this handset is aimed at a wider market than them, and the majority of users might find it all too much trouble to bother with. ®