Original URL: https://www.theregister.co.uk/2009/11/30/review_hd_tv_samsung_ue40b7000/
Samsung UE40B7000 40in LCD TV
Skinny screen, but ample vision
Posted in Personal Tech, 30th November 2009 13:05 GMT
Review Flatscreen TVs with LED backlighting offer more vivid colours, darker blacks and greater contrast than regular LCD screens. And there's a slimness dividend, too, as edge-mounted LED backlights take up less space than conventional LCD bulbs. A case in point is Samsung's UE40B7000, a 40in 1080p HDTV that's only 30mm deep.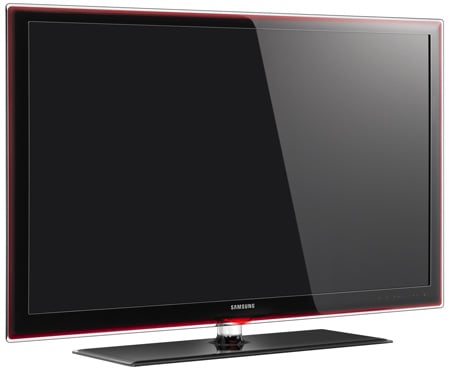 Indubitably, a flatscreen TV: Samsung's UE40B7000
We've noted before that a slim TV shouldn't make much difference – after all, if you're sitting front and centre you won't even see it. Even so, it makes an LCD TV look pretty striking at glance from an angle, and it looks especially neat if you wall-mount the set.
Samsung is particularly good at making its sets stand out, on this model the bezel is clear at the edge and rose red behind. The stand has a thick transparent tube neck that connects to the black-and-clear glass stand, both of which are visually agreeable. Of course, you'll be paying more attention to the TV when it's on, but even so, it's a good start.
To preserve its sleekness, a super-slim TV, is unlikely to have room for a Scart connector, Component or Composite inputs, which is the case here. Instead, there's a slim, one-socket solution for each and an adaptor supplied. Not perfect, but it'll do, and is certainly a more elegant option than the external connections box favoured by some slim TV makers. And the set makes up for this with four edge-mounted HDMI connectors, two USB sockets alongside the aerial, common interface and other slots.
Additional connections include a port, which connects either to a computer or the Internet – so you can tune in to YouTube and more on your TV. The range of services you can connect to in this walled garden is limited, and it's a shame Samsung's WIS09ABGN wireless USB connector option isn't included as standard or, even better, built in, as the addition of an Ethernet cable to the router won't suit all living rooms, especially if your TV is wall-mounted. Even so, it's still a neat way to add to what you can watch on your TV. Setup was straightforward, though neither painless nor quick, mind.

LED backlighting allows for a slimline design
Once you're up and running, though, a press of the dedicated Internet key on the remote displays Yahoo! News, Flickr, Weather, Stocks and more. YouTube took an age to load, which was boring, but the simpler widgets were quick and simple in use. The usefulness of this convergent technology still isn't clear, though.
Anything that requires detailed searching really benefits most from a Qwerty keyboard, rather than a remote control. And besides, this TV is designed to show off great, high-quality images at their best, which has never been the priority for the quick-and-dirty YouTube and its ilk. It's also the sort of thing you can't quite show off about – a boast at a dinner party that 'My TV can surf YouTube' would be met with disappointment as the widget took forever to come up with content as you miserably mutter 'Oh well, you get the idea' before turning to the dessert wine.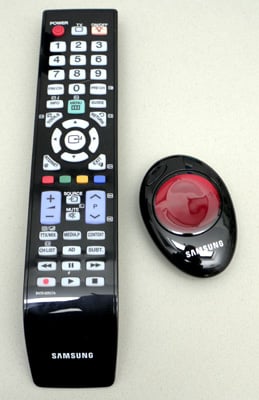 Two remotes: one for in depth probing and the other does the basics
A word about the remote: Samsung has always had a way with snazzy controllers and even if the gloss plastic isn't to everyone's taste, it's easy to use, with clearly marked buttons and a handy backlight for darkened rooms. It also has an odd scooped shape, which is tactile and pleasing.
There's also a strange mini remote, which is like a plastic pebble – black with a rose red-hinted centre button. It has rather less functionality than the main remote – you can change volume and channel, or turn the TV on or off. It's not bad to use but will be swiftly mislaid.
The TV's sound is reasonably good, clear and powerful from the hidden speakers, though the volume icon with its fussy doughnut image that pops up as you turn it up or down is a little annoying. Of course, the slim body of the TV doesn't allow space for big speakers and you'll find more beefy sound from a separate home cinema system, but it was certainly acceptable.
Although this TV uses LED backlighting – because the LEDs are mounted on the edge of the screen rather than behind – there's none of the localised dimming possible on the LE40A786, reviewed here last January. But although this means the versatility of the backlight is reduced, the picture is still impressive. The LED lighting, it's claimed, also means a noticeable difference to energy consumption, too.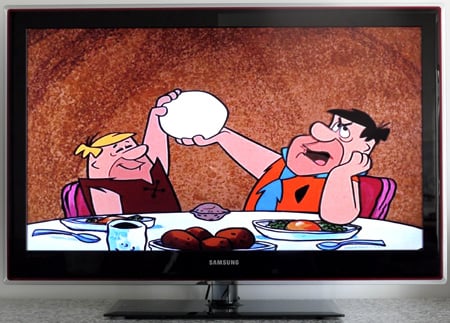 Wi-Fi connectivity is an option, but Ethernet appears as standard
Samsung's out-of-the box settings tend towards the garish with pumped-up colours that can seem neon-lit. That's true here, too, but a moment or two spent tweaking (adjust backlight from 10 to 7 and colour from 55 to 45, say) and the results are dramatically improved.
Once that's done, the images are convincing and enjoyable, although with a little work on noise reduction, things get even better. The truth is that it shouldn't be quite as complicated as it is to get a perfect picture, and Samsung loses points for this, but when you do have things just as you like them, the images are terrific.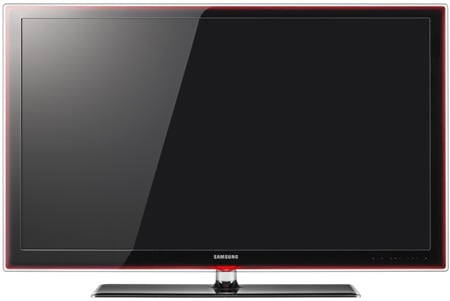 Ideal for wall mounting and looks good both on and off
Colours are realistic, including subtle skin tones and detailed shadows. Freeview content plays well, looking bright and inviting with no artefacts or jagged edges. Indeed, upscaling for both Freeview and DVD content is perfectly satisfactory, rather than outstanding.
High-def is predictably better: even dark suits have depth and richness. In Enchanted on Sky Movies HD, Patrick Dempsey's sober suit describes every detail of the pinstripe where SD might have shown this as a dark grey blob. The lively colours of the fairytale princess gleam appropriately. Again, even fast-moving action is managed without ugly smearing effects.
Blu-ray, as you'd expect, is better still. In Frost/Nixon, Frank Langella's presidential face appeared suitably sepulchral, and Michael Sheen's pasty-skinned David Frost looked realistic, as convincing as the actor's pixel-perfect performance. The subtle palette shifts from colour-bleached flashbacks to sunshine-heightened California exteriors were beautifully delineated. Overall, splendid.
Verdict
This TV has a lot going for it, from great looks before you even plug it in through to sharp, pleasing HD images and decent Freeview fidelity. The audio isn't cinephile quality, but fine for day-to-day use. The addition of limited Internet access, though mostly a gimmick, is enjoyable enough – apart from slow YouTube loading times. Sure, the out-of-the-box colour settings require tweaking unless you wear sunglasses indoors, and the absence of the Wi-Fi adaptor to connect to the Internet is a shame, but all the important boxes (picture quality, style, ease of use) win big ticks. ®
More HD TV Reviews...

Sharp
Aquos
LC40LE700E

Philips
Cinema
21:9

Sony
Bravia
KDL-46W5810

Toshiba
Regza
37AV615DB