Original URL: https://www.theregister.co.uk/2009/11/28/review_hd_blu_ray_players/
Blu-ray Players
Crispness viewing for Christmas?
Posted in Personal Tech, 28th November 2009 09:02 GMT
Group Test With the nights drawing in, and a shiny flat-screen TV set in the living room, what better way to relieve the tedium of the TV schedules than with a high definition movie? With time off over Christmas, and a looming VAT increase, is now the best time to invest? We've rounded up a selection of Blu-ray players that all feature BD-Live.
BD-Live is supposed to enhance disc extras by providing live content, so there can be film trailers, Internet lookups and so on. We had two BD-Live titles to hand – X Men Origins: Wolverine and My Bloody Valentine. The former provides the ability to look up IMDb info, letting you pick from photos of the actors in the current chapter, while the latter has movie news and downloadable trailers that need a faster net connection than what we used during testing.
Many players, despite offering BD-Live, don't actually have storage for the downloads, so you need to connect a USB memory key, or SD card. And frankly, we're not yet convinced it's really a must-have. There are better uses for the Ethernet port that BD-Live requires, as some of the players we tested show. Picture quality is pretty much identical between the players, in our view, and for many, it's ease of use and additional features that are going to be the deciding factors.
Denon DBP-2010

If you have a lot of big chunky AV equipment, the Denon DBP-2010 will be right at home. It's the most expensive of the players on test, and has connections to integrate control with other Denon equipment. There's also a built-in decoder, providing 7.1 channel analogue audio outputs to feed into your amplifier, along with a standard stereo output.
Curiously, there's no optical audio out, just coax digital. There's support for a decent range of formats, including DivX, DivXHD, WMA, AVC HD and Kodak Picture CD, but at this price we'd have liked to see SACD too. And also built-in memory for BD-Live, instead of having to use the front-mounted SD card slot.
Specs may be good, but this was the slowest of all the players in our test, taking over two minutes to load some discs. And the remote is a bit too large, with the 'colour' buttons simply labelled, rather than being coloured.
On screen menus leave much to be desired too – a bright colour scheme doesn't always overcome the omnipresent Denon logo in the background, rendering some text hard to read. It also had an annoying habit of going right back to the top level when you've changed an option.
Audiophiles may welcome the analogue outputs, and 'pure direct' mode, which shuts down video and front display circuits for the best audio performance. But for most of us, it's outclassed by many of the cheaper players.
Rating 60%
Price £600 Click here for the best online price
More Info Denon's BDP-2010 page
LG BD370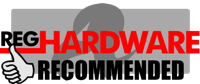 LG's BD370 is a slim unit with a large central power button; press just to the left to open or close the tray, press just to the right to play or pause. Or hit power by mistake. There's another ergonomic annoyance, which is that there's no built-in memory for BD live, and the USB port is accessed by pulling down the right hand flap.
When using USB flash drives the flap has to stay open, exposing stop and next/previous chapter buttons as well. Also, we found the LG a bit picky with this storage method, by not loading some BD-Live titles with one of our USB flash drives. Connectivity options include component and composite, plus co-axial audio, as well as digital.
Niggles aside, this is a pretty good player. It has the best interface of the bunch, with well designed graphics, and a decent remote. The Home screen offers Movie, YouTube, Photo, Music and Setup options. YouTube is simple to use, and worked well, as did the photo browser, and the player was one of the fastest to load our test discs.
Format support is not as good as the Samsung, though there is DivX playback. However, BD-Live features on our X-Men Wolverine disc didn't work, and that, together with the pickiness over USB memory, precludes an outright recommendation, even at this attractive price.
Rating 80%
Price £150 Click here for the best online price
More Info LG's BD370 page
Panasonic DMP-BD60

Like most other recent Panasonic AV products, the DMP-BD60 includes VieraCast, which gives access to YouTube, Picasa, weather reports, Bloomberg stock prices, EuroSport clips and a German language news service. There's support for AVC HD playback from SD card, as well as photos and DivX; you'll need the SD card inserted for BD-Live, too, as there's no built in storage.
Setup is straightforward, and the remote is quite easy to use but, overall, everything felt a bit sluggish – a fact borne out by some of the slowest disc load times in the group. And while the menus are clear and uncluttered, they lack the polish and simplicity found in the Philips or LG players, which both cost around the same amount.
Connectivity is pretty standard – HDMI, composite, and component video, plus optical and analogue audio. If you have a Panasonic TV and want to use the single remote, it's worth looking at, but there are better performers for the money.
Rating 65%
Price £196 Click here for the best online price
More Info Panasonic's DMP-BD60 page
Philips BDP7300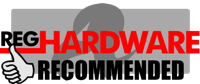 With rounded corners and a plain front panel, the Philips BDP7300 looks sturdy, and is deeper than some other other units. As well as having 1GB of memory built in for BD-Live, it's also the only unit tested to boast of having an HDMI cable in the box.
There's also a USB socket on the front panel, which can be used for playback of DivX, AVC HD, MP3 and WMA, as well as photos. The rear adds 5.1 analogue audio outputs to the usual component, composite, HDMI and digital audio connectors, which is good to see at this price.
Menus are second only to the LG in ease of use, with a simple 'Play disc, USB, Settings' choice from the home screen, and straightforward menus behind the setup icon. But the experience was marred by an inability to work with the live features of our Blu-ray test titles, not even loading the disc unless the Ethernet was disconnected. If BD-Live isn't important to you, though, you'll be glad to know the player was the fastest to load our test discs.
Rating 70%
Price £249 Click here for the best online price
More Info Philips' BDP7300 page
Sony PlayStation 3 120GB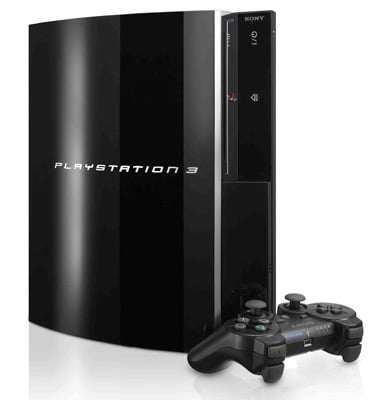 For many people, the question is 'Should I buy Blu-ray or PS3?' After all, for not much more than a standalone player – and in some cases its cheaper – the PS3 offers a games console as well, with web browsing and access to BBC iPlayer thrown in too.
Set against that, though, is the gaming remote. If you 're not a gamer then this takes some getting used to. The Cross Media Bar interface is in evidence here too, but more legible and without the opacity problems that affect the BDP-S360.
Thanks to the internal hard drive, you don't need to plug anything in for BD-Live storage, and there's also support for UPnP media playback. But connectivity is limited to HDMI, optical audio and a proprietary AV port.
It does the job, and loaded our Blu-ray discs fractionally faster than any of the standalone players, but unless you are a gamer, we reckon you'll still be better off with a dedicated player.
Rating 75%
Price £250 Click here for the best online price
More Info Sony's PlayStation 3 page
Samsung BD-P4600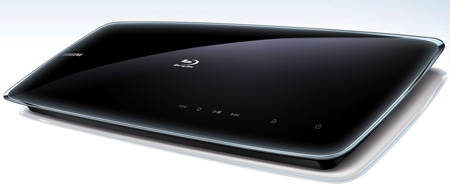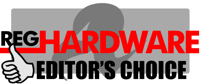 Samsung's player is a little unusual in terms of design; it's not intended to sit in a stack, and works best when fixed to a wall, with the illuminated touch-sensitive controls facing you. If the layout of your living room doesn't allow that, it will sit on top of other things, with or without a stand, though the disc slot on the right hand side may be awkward.
In terms of socketry, it's the most limited player here – there's just HDMI, optical audio, composite video, analogue audio, Ethernet and USB ports, plus a connector for the external PSU. This all appears in a small space that can get a bit cramped as you plug more things in. However, it does have a straightforward interface, with a responsive remote and was one of the quickest to load our test discs.
With 1GB built in, there's no need to add anything to access BD-Live. You can also play a wide range of media, including MKV files, and YouTube is built in too. Oddly, playback from your PC is from an SMB connection, rather than UPnP, and entering passwords or share names using the on-screen keyboard is a chore. If you want something to play back PC media as well as Blu-ray, this is a very handy one-box solution – as long as you can live with the design.
Rating 85%
Price £250 Click here for the best online price
More Info Samsung's BD-P4600 page
Sony BDP-S360

As one of the prime-movers in Blu-ray, you'd expect good things from Sony. There's a standard selection of outputs – component, composite, HDMI, coax and digital audio – and a front panel that hinges down as the disc tray opens, marring the overall sleek appearance.
Like many of the other players here, the BDP-S360 needs extra memory for BD-Live. Fortunately, the USB port is on the rear, out of the way, so there's no need to keep the front panel down, or have something sticking out. That said, it lacks support for media other than on disc – so it's Blu-ray, DVD or CD (audio or photos) only.
If you've used a PlayStation, or a Sony Vaio, you may be familiar with Sony's Cross Media Bar interface. If you haven't, you'll quickly come to detest it, and wish you could align the crosshairs on the designer. It's a misbegotten idea that involves so many changes in directional scrolling you're liable to become seasick. And to make matters worse, the BDP-S360 has a level of opacity on some settings screens that leaves the previous screen just visible enough to make reading really difficult.
Fans of needless anthropomorphism in domestic appliances will doubtless rejoice at the cheery "See you" message that appears when you turn the player off. The rest of us will whimper in despair at how energies were so clearly directed to the wrong part of interface design. With its quirky interface, and lacking features like YouTube or network media playback, Sony's player just doesn't stand out from the crowd. ®
Rating 65%
Price £180 Click here for the best online price
More Info Sony's BDP-S360 page