Original URL: https://www.theregister.co.uk/2009/11/27/super_micro_sc_servers/
Super Micro primes 'Magny-Cours' Opterons
Intel Nehalems too. And, yes, Tukwilas
Posted in The Channel, 27th November 2009 07:02 GMT
SC09 Super Micro may not be a name-brand, tier-one server maker, but it's the motherboard and whitebox maker behind scads of tier two, three, and four server sellers around the globe. And that's because Super Micro gets out in front - and stays there - whenever a new technology is coming to market.
A year ago, at the SC08 supercomputing trade show, Super Micro was way ahead of the pack with motherboards supporting Intel's "Nehalem EP" Xeon 5500 processors, and it wasn't shy about showing off its wares a full four month before the Xeon 5500s were launched. Fast forward a year, and Super Micro was at SCO9 in Portland showing off two motherboards based on AMD's forthcoming "Magny-Cours" Opteron 6100s, their G34 socket, and the homegrown chipsets supporting them.
The Opteron 6100s and the G34 sockets are due at the end of the first quarter of 2010. Their "Lisbon" Opteron 4100 brethren and the C32 sockets are due later in the second quarter. So there is no point going over that ground again. There are a bunch of different ways to skin the future Opteron cats. What's interesting is how Super Micro is coming out of the gate with Opteron products and once again making a commitment to being first to market.
"We are definitely excited about the year coming up," says Don Clegg, vice president of marketing and worldwide business development, who took El Reg into the belly of the ginormous Super Micro booth at SC to show off the first of what will no doubt be many G34 mobos.
Technically speaking, the Opteron 6100s are aimed at two-socket and four-socket servers - and larger, if companies want to do their own chipsets - but Super Micro is being crafty and will actually deliver a uniprocessor mobo based on the Opteron 6100s. By doing so, the company can deliver a single-socket box with lots of memory and I/O, since the C32 socket is crimped compared to the G34 socket.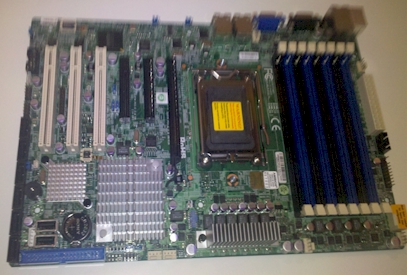 The Super Micro H8SGL-F Opteron 6100 G34 uniprocessor mobo
The lighting was poor inside the Super Micro booth, and I had not quite got the hang of using my new Droid phone's camera, so these pictures are pretty crappy. But as you can see in the picture to the left, the G34 uniprocessor board has eight memory slots, for a total of 64 GB of DDR3 main memory, and what looks like three PCI-Express 2.0 slots (two x8 and one x16) and three PCI-X slots.
With eight or twelve processor cores, this will make a pretty peppy workstation or entry server, depending on if you plunk a video card or a RAID disk controller into that x16 slot. This board is called the H8SGL-F, and the -F part of the name means that it has an IMPI management server embedded on the system board, which means it does not have to eat up a peripheral slot, as it does on other mobos.
Universal I/O
Clegg was also showing off a two-socket G34 motherboard, the H8DGU-F, shown in the picture below. Like the uniprocessor mobo, this two-socket board has eight memory slots per socket, yielding 128 GB of capacity using the densest DDR3 memory that is widely available (and still too damned expensive). This particular board has a modular peripheral slot design that Super Micro calls the universal I/O board. See the three connectors running down the middle of the board, to the left of the processors and memory?
As far as the AMD chipset knows (which is below that fan and heatsink), those are plain old PCI-Express 2.0 connections, but they are actually proprietary Super Micro links that allow different variations of PCI-X and PCI-Express peripheral slots to be plugged into the mobo through those links, filling in the missing chunk of the motherboard.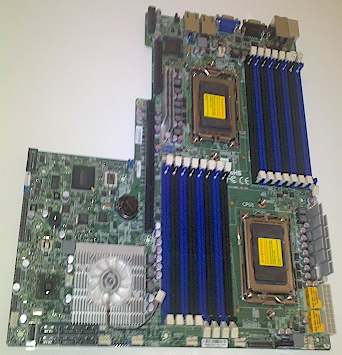 The Super Micro H8DGU-F Opteron 6100 G34 two-socket mobo
As you can see from this Super Micro G34 mobo, the Opteron 6100 package is rather rectangular. AMD has not released the pin count, but considering that Opteron 6100s are really two six-core Istanbul chips with upgraded on-chip memory controllers and some other virtualization and power management features baked in, all crammed into a single chip package with lots more pins coming out the bottom, this stands to reason.
Super Micro was also taking up Istanbul systems using AMD's initial "Fiorano" SR5XX/SP5100 chipsets (see the feeds and speeds of the chipsets here, for both rack and blade servers. But with much better Opteron 6100s right around the corner, only those who need to buy systems today really give a care about these.
There was also a SuperChassis 847A-R1400 white box disk array on the show floor that was interesting. You can plug just about any EATX or ATX motherboard that Super Micro makes into this chassis, which now sports 36 3.5-inch disk bays in the 4U chassis, up from 24 with the prior model. (That's the same 24 in the front of the unit, but now a dozen along the bottom of the back of the unit). If and when Super Micro shifts to 2.5-inch drives, it will be able to easily double the number of drives in a 4U space. No word on when this will start shipping, bit probably in the new year.
Clegg also said that Super Micro would be out in front with whatever Intel has cooking in its wafer bakers, and is looking forward to putting boards and systems together to support the eight-core "Nehalem EX" Xeon 7500s and the four-core "Tukwila" Itaniums, both of which are supposed to start shipping early next year in systems. When pressed for the kind of machines Super Micro would field, Clegg admitted that four-socket and eight-socket systems were the obvious choices for both Intel processors, but committed to nothing in particular ahead of launch. ®