Original URL: https://www.theregister.co.uk/2009/11/27/review_notebook_acer_aspire_1810tz/
Acer Aspire 1810TZ
Small laptop, enormous battery life
Posted in Personal Tech, 27th November 2009 08:02 GMT
Review So you want a small notebook, but you're put off by the average netbook's puny graphics, relatively low res screen and limited-horsepower Atom processor. What do you do?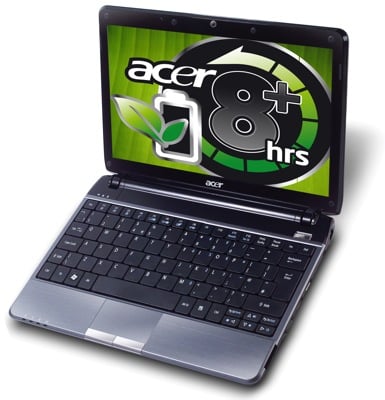 Acer's Aspire Timeline 1810TZ: big name, small notebook
We think you could do a lot worse than Acer's Aspire 1810TZ. Sony's skinny and compact Vaio X is nice, but it's not cheap. Acer's alternative is a wee bit more bulky, but since it's on sale for around £450, it's considerably less expensive.
The 1810TZ is part of Acer's Timeline series of long-endurance laptops, so it's also a good long runner.
But we're getting ahead of ourselves. The 1810TZ is a kind of netbook-plus. Its size suggests a netbook - its 285mm width is set more by the large keyboard than by the 11.6in widescreen, LED-backlit display - but it has a dual-core Pentium SU4100 processor clocked at 1.3GHz and 3GB of 800MHz DDR 2 memory.
The Pentium is a Core derivative rather than one of Intel's old notebook CPUs, so it delivers a reasonable lick of performance - certainly for the kind of apps you'll be running on a portable with a relatively small screen. It's a 45nm chip that's essentially the same part as the Core 2 Duo SU7300 found in the Samsung X520 we reviewed earlier this week. The SU7300 has 3MB of "smart" cache, according to Intel; the SU4100 has 2MB of cache - ordinary, presumably. The Pentium lacks SSE 4 support, too. You'll see from the performance numbers, the missing megabyte of cache makes a small difference.
Another difference, this time to a typical netbook: the display is 1366 x 768 rather than 1024 x 600, so you have a decent amount of space to work in. Of course, that's fewer pixels vertically than 1280 x 800, the typical resolution of low-end laptops until vendors got the 16:9 aspect ratio bug. You will notice those missing 32 pixels if you're used to a screen with a higher resolution. And, yes, it's a glossy screen, though we like it.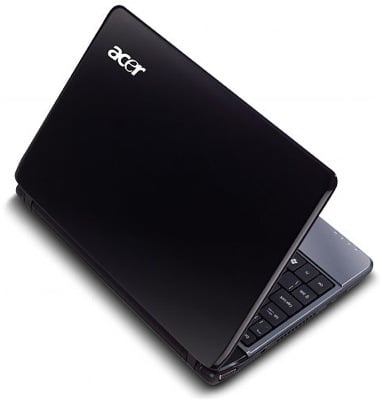 The thick glossy lid protects the glossy 1366 x 768 screen
The screen is driven by Intel's GMA 4500MHD graphics core integrated into the GS45 chipset, which also feeds the 1810TZ's HDMI port - again, a feature we're not used to seeing on a netbook.
Not so the three USB 2.0 ports, VGA, analogue 3.5mm audio I/O and SD Card slot, all of which are exactly what you'd expect to find on a netbook, as is the low-res 0.3Mp webcam. But the Ethernet port is Gigabit and the wireless is 802.11n. There's no optical drive, of course.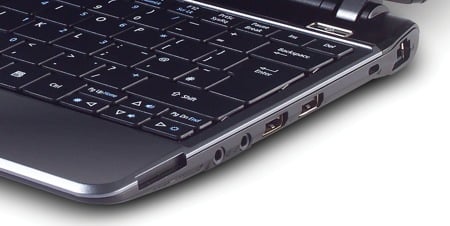 A netbook-style port array on this side...
Closed, the 1810TZ is a little over an inch (30mm) thick at its thickest point - where the battery is, basically - but it falls to around 22mm so it doesn't feel chunky when you're carrying it around. The lid adds some thickness, but we'd rather have the 1810TZ's 6mm-thick lid to protect the screen that some of the thin, bendy tops we've seen on some machines.
That thickness, along with the construction of the base, gives the 1810TZ a solid, well-made feel. It's nice looking too. The glossy lid offsets the matte black body. opening it reveals the matte black keyboard surrounded by a sober, businesslike gunmetal grey area and wrist rest.
Acer has eschewed fashionable chiclet keyboards, but the 1810TZ's keys aren't the old-style slope-at-the-edges type either. The keys are like those you find on a chiclet board but are larger and thus far less spaced out. There's barely any flex in the keyboard - though it's not as rock-solid as some - and it's pleasant to type on. If we had a complaint, it would be that it's quick close to the front: the wrist rest area and trackpad are narrow.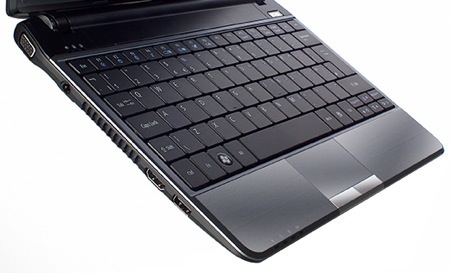 ...though there's HDMI on the left
While the trackpad is bigger than those on some netbooks, it's by no means notebook sized. However, we like the fact that it runs smooth and flush with the rest of the wrist-rest area. It also does multi-touch, with pinch-to-zoom, two-finger image rotation and - what we really like - two-finger scrolling. The buttons have a nice, easy action too.
The reason the keyboard is so far forward is that the battery takes up a large part of the back end of the 1810TZ's body. But that's a good thing, because it's a six-cell 5600mAh job so it can hold a charge for a good, long run.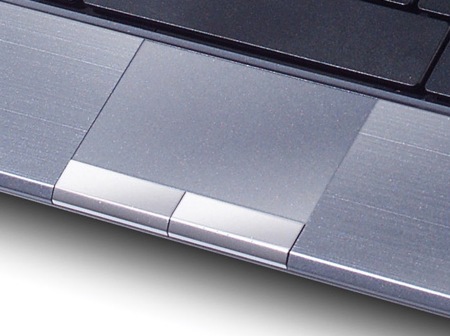 The trackpad is a bit on the small side, but does do multi-touch
And it's well integrated into the 1810TZ's design, unlike some six-cell netbook batteries that jut out well beyond the lines of the laptop. Apart from a shallow bulge on the bottom of the machine, you wouldn't think this notebook had such a capacious power pack.
Speaking of the base, Acer has provided hatches for the 250GB Sata hard drive, the memory - two slots, both populated, alas - and the Wi-Fi card. Acer isn't currently selling a 3G-enabled 1810TZ in the UK, so while there is a SIM slot under the battery, there's no 3G card. Don't expect to be able to add one: there's space for it, but Acer hasn't fitted the secondary Mini PCI slot it would need, or the antenna cables. There's no Bluetooth, either.
But back to battery life. We took the 1810TZ to a conference, turned off Wi-Fi and nudged the display brightness down to its still-well-illuminated minimum and Windows reported we had well over eleven-and-a-half hours' runtime. And the battery wasn't even full.
Acer claims the Timeline series delivers over eight hours' battery life, and we can well believe it. Looping PCMark Vantage yielded a runtime of over four hours: 258 minutes, to be precise.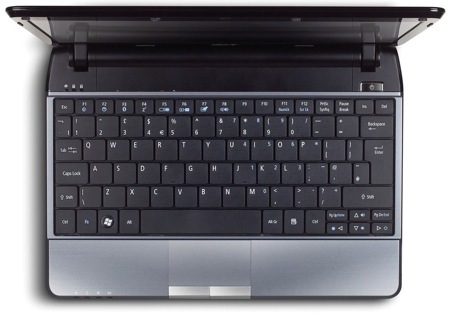 The keyboard's good to use
This is an extreme test designed to allow us to compare different laptop batteries properly, so don't expect a real-world runtime as low as this. We estimate you'll get around double this time using the Aspire for typical notebook browsing, email and productivity duties, so Acer's claim is right on the money.
Test Results
PCMark Vantage Results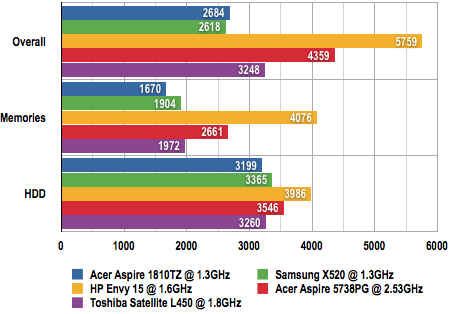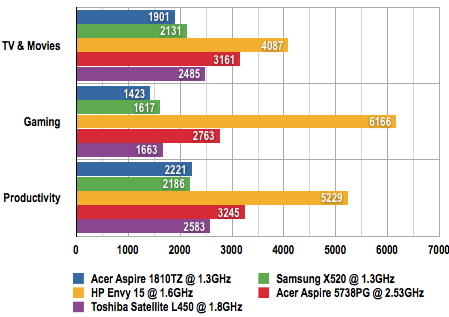 Longer bars are better
PCMark Vantage Battery Life Test Results

Battery life in Minutes
Longer bars are better
In use, the 1810TZ performed reasonably well. It's no powerhouse, but it feels nippier than a netbook. It had no trouble giving us a full-screen run through the blast-fest that is Quake Live, so while the GMA 4500MHD wouldn't be the hardcore gamer's choice, it's fine for more casual play and certainly a big improvement on netbooks' GMA 950.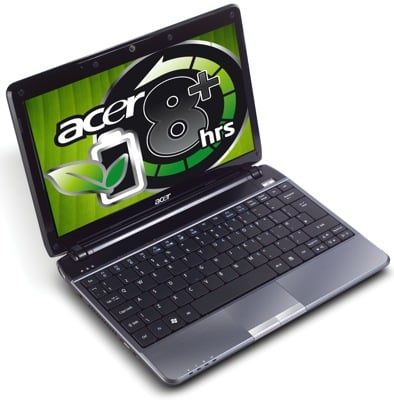 Compact gaming machine? Kind of...
But its 3DMark06 score of 529 puts it well behind the 1303 that the Nvidia Ion-equipped Samsung N510 netbook - the two machines have the same screen resolution and size, don't forget. The Acer had no trouble running our sample 1080p MP4 video full-screen.
Our PCMark Vantage numbers - taken using the 64-bit version of the app since the 1810TZ comes with 64-bit Windows 7 Home Premium - show it to almost match the performance of the Samsung X450. It's slightly behind the X450, largely thanks to the smaller on-chip cache. But then the X450 is around £200 more expensive.
However, the N510 netbook is about £70 cheaper and you get faster graphics. But you get a much weaker CPU. We ran PCMark05's CPU, Memory and HDD tests to give us numbers with which to compare the 1810TZ's performance with netbooks. It scored 3205 on the CPU test - double any 1.6GHz or 1.66GHz Atom-based netbook we've tested. Its lead on the Memory and HDD tests wasn't so pronounced, but still clear: 3107 to a netbook average of 2328 and 4868 to 4421, respectively.
Complaints? The 1810TZ's speakers are rather tinny and the oft-used fan can get a tad distracting. The fan works, though - the laptop's base got warm but certainly not hot.
Verdict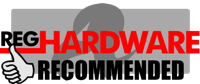 The Aspire 1810TZ mini notebook delivers Atom-smashing performance in a package that's no less portable than a typical 10in netbook. And with a significant battery life boost into the bargain. But while it's cheap for an ultra-portable, you do pay a wee bit extra for netbook-plus technology. ®