Original URL: https://www.theregister.co.uk/2009/11/26/review_satnav_tomtom_iphone_car_kit/
TomTom iPhone Car Kit
Worth its Jobsian price tag?
Posted in Science, 26th November 2009 13:02 GMT
Review Yes, the iPhone incarnation of TomTom's GPS navigation system is a bit on the pricey side. But if you're a fan, you're used to paying a pretty penny for flashy tech. And this TomTom actually gets the job done.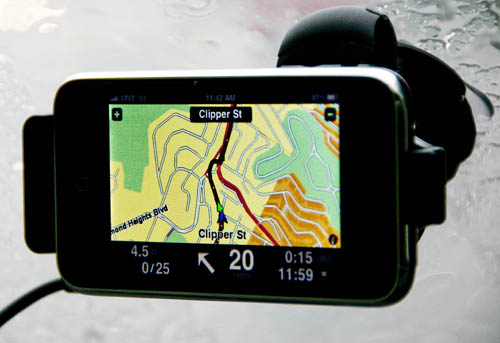 The TomTom car kit for iPhone mounts firmly and easily to your car's windshield - or windscreen
TomTom released a major upgrade to its iPhone app last week, so we installed all 1.3GB of it onto our iPhone 3GS, hooked it up to the market-leading GPS maker's brand new iPhone car kit, and took it for test drive around San Francisco.
We were impressed. The car kit for iPhone provides what the company refers to as "enhanced GPS performance". It's based on a SiRF Star III GPS chip - the de facto standard for standalone satnav gadgets - which helped the iPhone flawlessly find its way around downtown San Francisco, dense with signal-limiting high-rise buildings.
Along with a host of new features, the new version of the software, release 1.2, adds support for the iPod Touch and first-generation iPhones, as long as they're running iPhone OS 3.0 or higher. A TomTom car kit for the Touch (£80/$100) with a built-in GPS receiver is also now available.
The price differential is undoubtedly due to the iPhone car kit's ability to also function as a hands-free phone using its built-in microphone and speaker. The phone function worked fine in our testing, although - like any hands-free unit - call quality was degraded by road noise and, in our rainy-day testing, blower noise from our Mini Cooper's defroster.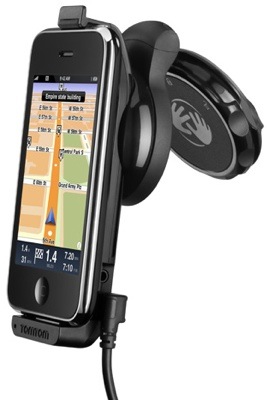 The necessary power cable will dictate where you can place the cradle
The TomTom app for iPhone is available in editions (App Store links) for the UK and Ireland (£60/$100), US and Canada (£60/$100), Australia (£45/$80), and 16 other locations at prices ranging from £30/$50 for Hong Kong to £80/$140 for Western Europe.
The car kit mounted easily to our Mini's windshield - or windscreen, depending upon your location. A three-inch adhesive dashboard-mounting disk is also provided, but it must be stuck to a flat area of the same size - something our dashboard doesn't provide.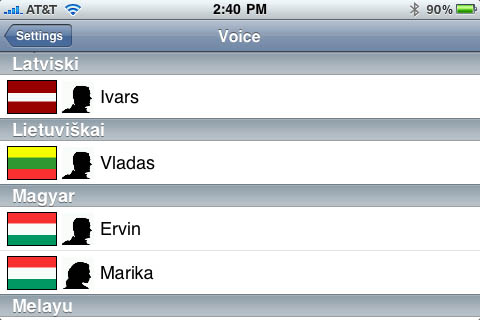 Need your turn-by-turn directions spoken in Lietuviškai? TomTom has you covered
Still, even when attached to the windshield the iPhone's display was plenty big enough to read, and the voice directions were appropriately loud. A volume control is included on the car kit, but we found it necessary to keep ours cranked to the max.
Voice directions are available in 30 different languages from Afrikaans to Türkçe, most with multiple voices and many with multiple accents - English directions, for example, can be heard in British, American, New Zealand, Australian and Irish inflections.
The iPhone slips into a cradle on the car kit that's connected to the suction-cup mounting pod by means of a ball joint that allows you to tilt and swivel the cradle into landscape or portrait mode. Unfortunately, the swivel is ratcheted rather than allowing smooth, true 360° flexibility, so it's no easy feat to get your iPhone exactly level.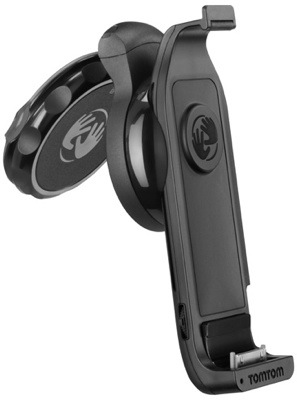 The cradle holds the iPhone snuggly - but you'll have to take the handset out of its case, if you have one
Another minor but unavoidable annoyance to the kit's mounting scheme is that you must connect the included USB power cable to your car's cigarette lighter - which also charges the phone. The mount's mini USB connector is on the left side of the cradle, next to a 3.5mm earphone jack. Your choice of portrait or landscape mode - or, for that matter, the car kit's placement - may be dictated by the length of that cable and where it ends up. For example, when we tried to mount the kit to the inside of our Mini's sunroof, the cable interfered with the stickshift.
In addition to the standard 30-pin iPhone connector in the cradle, the car kit communicates with the iPhone over Bluetooth - a connection that brings with it all the vagaries of that wireless standard. Bluetooth may not be quite as finicky as parallel SCSI, but we needed a few tries to get it to establish a link between our iPhone and the car kit. Once it did pair up successfully, though, it stayed solidly paired between multiple power-downs and power-ups.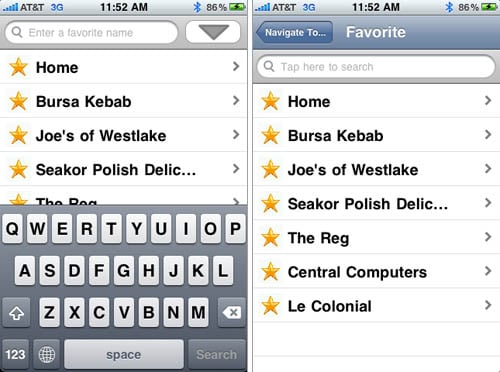 When choosing a destination from your Favorites, you can either search (left) or scroll and tap (right)
Once we got the car kit set up, we programmed a series of destinations into the TomTom app. Doing so is a simple matter - as you type in a city or street, the app narrows its choices down to an easily selectable list. Choose your street, type in the address, and you're ready to roll.
Addresses can easily be added to a Favorites list, and choosing among them is an equally easy task. You may, however, want to use the list's Edit function to arrange them into the order you prefer - standard iPhone UI rules apply for reordering and deleting - since the default listing is merely the order in which you entered them.
As we drove around the Cool, Grey City of Love, the TomTom app performed like... well... like a satnav unit should. Turn-by-turn directions were clear and correct - though, at times, the app warned of an approaching turn a bit early.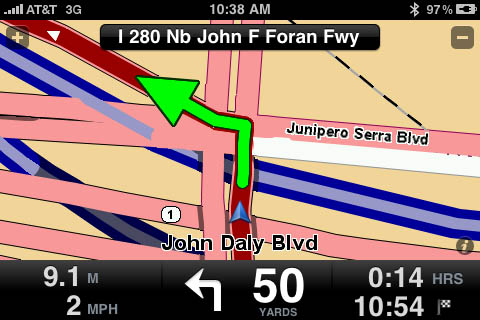 This 2D map got us on the freeway, but the spoken directions were less than clear
The only time that the app gave confusing or incorrect directions in our hours of testing was when it was faced with a particularly complex intersection. Ask any San Franciscan about the confluence of Sloat, Portola, West Portal, Junipero Serra and St. Francis, and you'll hear why the TomTom app got its signals crossed. Still, had we blindly obeyed it we'd be visiting our T-boned Mini in the junkyard and not writing this review.
One particularly confusing freeway on-ramp caused some confusion, as well. Although the map displayed the correct route, the spoken directions were somewhat ambiguous.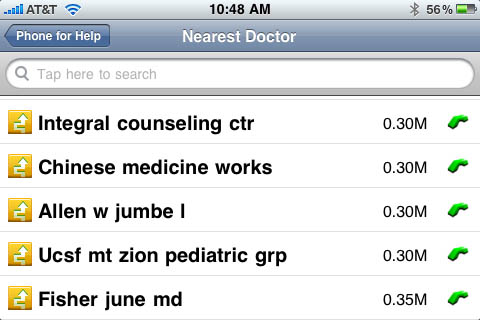 Dented aura? The Help Me feature can call or give you directions to your local Integral Counseling Center
Version 1.2 of the TomTom app adds a Help Me feature that provides a text description of exactly where you are, and can display driving directions to the nearest hospital, car-repair shop, police station and more. The Help Me feature also lists phone numbers, linked to your iPhone's phone app, that allow you to quickly call the cops, emergency services, the nearest doctor and so forth. The provided list of possible contacts, however, is distractingly broad. Listing our local new-age self-help center - Integral Counseling, "Leading Therapy for Mind, Body, and Spirit" - seems a bit of overkill for a purported emergency-services feature.
Text-to-speech has also been added for speaking street names - "turn right, Main Street", rather than merely "turn right", for example. TomTom says that text-to-speech is available in version 1.2 in English, Spanish, and French, but although the quality of its pronunciation of English and Spanish-named streets during our San Francisco testing was quite acceptable, we were unable to drive to Quebec to test its pronunciation of Rue de la Point-aux-Livères.
In the US and Canada edition that we used in our testing, text-to-speech was limited to one of the dozen supplied English-speaking voices: Samantha. But that's a minor limitation: text-to-speech is a helpful addition in this new version, especially when you're taking an unfamiliar route through familiar territory. And, fortunately, Samantha has a pleasant voice.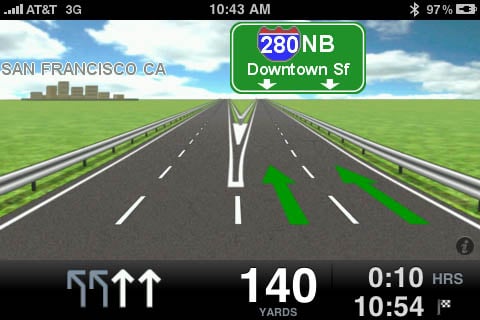 Counterintuitive freeway splits are clearly indicated - here, you turn right to get to SF on the left
There's also now what TomTom refers to as "advanced lane guidance," a capability that we found quite helpful in warning us which lane we should be in to best prepare for an approaching turn. Also, timely lane-guidance images for freeway off-ramps prevented us from careening around in heavy traffic to take the correct turn-off.
Once again, TomTom has included its IQ Routes technology, which plots the most-efficient route based on data acquired from what the company claims are billions of miles worth of actual customers' driving experiences. IQ Routes displays routes based on the actual speeds achievable on roads at different times of the day and different days of the week, and not merely the posted speed limits.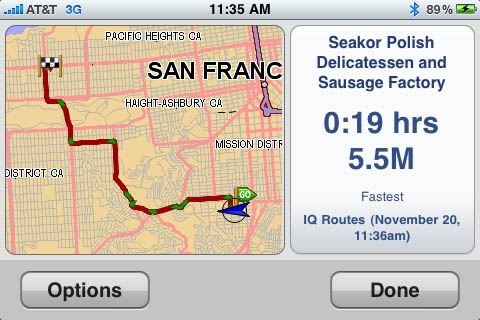 Full-route displays have been updated to take advantage of TomTom's IQ Routes technology
If you don't like the suggested route, you can use one of various Route Options controls to bend the app to your will. Among the Travel Via options, for example, is a Point on Map feature that allows you to tap on a map to tell the app a location you'd like to include on your route.
And speaking of routes, the app gives you a choice of a variety of route types from which to choose: Fastest, Shortest, Avoid Highways, Walking Route, Bicycle Route, and Limited Speed - and, if you should choose one with which IQ Routes disagrees, it will pop up a bit of gentle advice.
Your route can be displayed in either 2D or 3D views - and in both, such landscape features as parks, lakes, and the like will appear, a boon when matching what the app is telling you to the real world around you.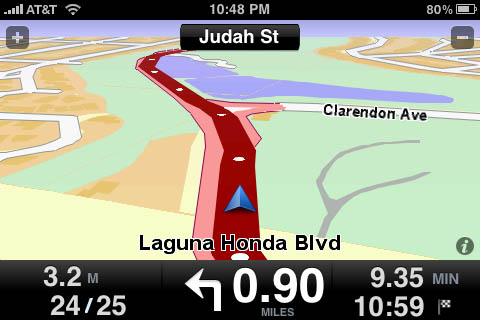 It's reassuring when the 3D display shows a lake as you approach a lake
Other niceties that have been carried over from the earlier version of the TomTom app are the display of points of interest (POIs) such as gas stations, restaurants, airports and 51 other types; the ability to plan trips in advance; and an assortment of differently colored displays for day and night driving.
All in all, TomTom app for iPhone version 1.2 is a solid upgrade that answers many of the complaints that users had about earlier releases. The one problem it doesn't solve, however - and it's a big one - is price.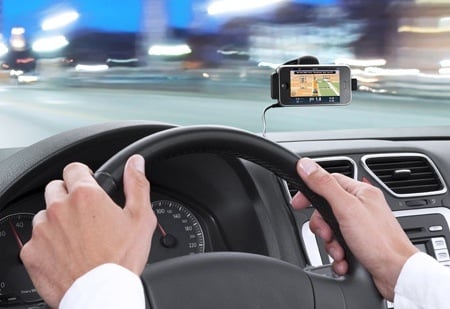 You'll have to splash the cash to stash the iPhone on your dash
Add the £100/$120 car kit to a £60/$100-or-so iPhone app, and you're talking serious money for what is, essentially, simply a well-equipped GPS unit - and one with a relatively small, if crisp, display. You can find the basics for less money from not only TomTom, but also such competitors as Garmin.
We'd also like to see apps that cover less territory and are therefore less expensive. Personally, we'd rather pay £18/$30 for just California than £60/$100 for the entire US and Canada - we have no plans to roam about Manitoba, for example, in the foreseeable future. But if we did, how about the opportunity for, say, a £5/$10 in-app purchase for turn-by-turn directions from Winkler to Winnipeg?
Verdict
If you own an iPhone or iPod Touch, TomTom 1.2 coupled with the appropriate TomTom car kit will provide a satisfying satnav experience with niceties not found in lower-priced units. After all - as we said earlier - if you're already an iPhone owner, you're used to paying big money for top tech. ®
More GPS Reviews...

TomTom
Start

IDC Ecco
Personal

Garmin
Nüvi
1340T

Coyote
Mini