Original URL: https://www.theregister.co.uk/2009/11/26/mac_secrets_icon_design/
Icon design for dummies fanbois
Going Rogue (Amoeba)
Posted in Software, 26th November 2009 22:02 GMT
Mac Secrets This month, we broaden the bailiwick of the Mac Secrets column. From now on, I'll cover not only undocumented Apple APIs and programming techniques, but also other topics of Mac developer interest. This time around, I examine the thorny issue of application icon design.
Why thorny? Well, even if you can churn out awesome code all day long, one of the things that sets an app apart - especially on the Mac - is a great looking icon. And frankly, that's an area where I have almost no ability. My father was a very passable artist, and his talents were inherited by both my siblings but not, apparently, by me.
Anytime I've sat down to produce an icon for my new software creation, the end result has always looked much like my attempts at watercolour painting - muddy and uninspiring.
For the artistically challenged...
Recently, all that changed when I discovered a program called Axialis IconWorkshop. I'll get the bad news out of the way: This is a Windows app. I find fewer reasons to use Windows as time goes by, but for the artistically inept like myself, this app is definitely one of them. As a Mac devotee, I run IconWorkshop using Vmware Fusion.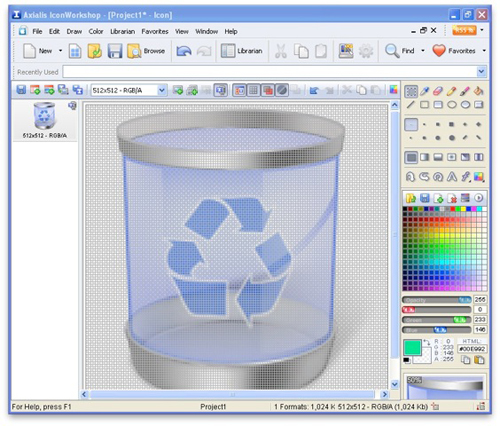 Axialis IconWorkshop makes it easy for even the artistically challenged to produce great-looking application icons, thanks to the large number of included images, and the mix-and-match approach that's use
The program includes all the standard drawing/painting tools to enable you to create a design completely from scratch - if you're comfortable with that! However, what I find especially attractive about IconWorkshop is the large number of pre-packaged "icon packs" which registered users can download and install into the program.
By combining these high-quality images in various ways (usually by simply dragging, dropping and resizing), you can create completely new, custom icons which are wholly your own and, for purchasers of the Professional Edition, royalty-free for use in your own commercial software.
IconWorkshop supports numerous different icon file formats up to and including 512x512 pixel icons as used by Leopard and Snow Leopard. Obviously, Windows icons are supported too (after all, this is a Windows app!) and the program includes plug-ins for integration with Visual Studio and with Photoshop. The Pro Edition costs $69.95, which is a fraction of what you'd have to pay if you employed an icon designer to create artwork according to your specifications. For me, that makes Axialis IconWorkshop a no-brainer.
Icon insanity...
But not the only one who needs an icon builder. A couple of weeks back, loyal El Reg readers may have noticed an article entitled "Apple snuffs iPhone app for too much Appleness." It describes the woes of Rogue Amoeba Software in seeking to use a Apple-authored images in their iPhone application and the way Apple essentially stalled them for several months through the App Store reviewing process.
My sympathies are very much with the folks at Rogue Amoeba. For a full explanation of the technicalities involved, check the blog entry dated November 13th here. This makes it clear that Rogue Amoeba specifically did not include Apple's images in their executable, contrary to what some folks think. They simply invoked valid, legitimate Cocoa API's designed to retrieve those icon images. It's a particularly irritating example of high-handedness on Apple's part, and it ultimately benefits nobody, least of all Apple themselves.
Having said all that, I hope my mention of Axialis IconWorkshop has convinced you that, at the end of the day, it's no big deal to come up with your own, alternative images if Apple won't play ball.
Other alternatives
I'd be remiss if I didn't mention a few alternatives to IconWorkshop, although you'll definitely need to be a bit more artistic than me before sailing into these waters.
First up is a program called Inkscape which is a vector-based SVG-compatible drawing program. It aims to be somewhat like Xara X in operation, but has the big advantage of being open source and freeware! You can find Inkscape at www.inkscape.org, and you'll find an excellent two-part tutorial from Matt Gallagher on using Inkscape for icon design here. Be warned, though that on the Mac, Inkscape runs as an X11 program, with all the attendant 'Bizarro' implications. Full marks to Matt for a terrific tutorial, but how I wish Inkscape was a native Cocoa app...
Next up is a Photoshop tutorial on iPhone icon design which you can find here. Obviously, most of the principles explained here can be adopted to Mac desktop icons.
Another very cool drawing program is Opacity which you can find here. This is a native Mac application, although perhaps a bit expensive at $89.99. As you'll see on the web site, there's a very nice video tutorial which walks you through the creation (from scratch) of an attractive, Web-browser style icon. Heck, even I might be able to handle that one.
Finally, there's Intaglio, another vector-based drawing program from the rather scary-sounding Purgatory Design. Costing the same as Opacity, Intaglio claims to have a very familiar feel to 'MacDraw' of fond memory, and it's certainly easy to get to grips with. ®