Original URL: https://www.theregister.co.uk/2009/11/25/review_e_book_reader_iriver_story/
iRiver Story
Best in class e-book reader?
Posted in Personal Tech, 25th November 2009 08:02 GMT
Review While the price and diversity of e-book readers is still some way off achieving the sort of critical mass that put an MP3 player in nearly pocket, the number of devices appearing on the market is increasing at a healthy rate.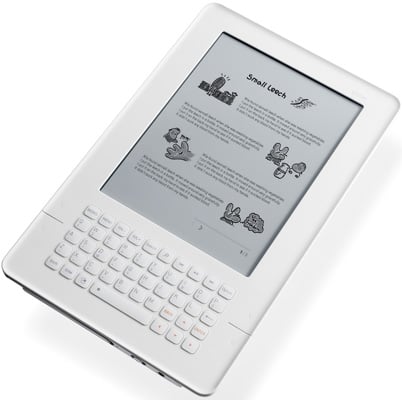 A good read? iRiver's Story
While not exactly a household name here in the UK, iRiver can usually be relied upon to cook up a quality product that's a little different from the norm. Entering the e-book reader market with the Story, this all-white device looks a lot like Amazon's Kindle. On more careful inspection its obvious the similarities are simply down to the colour and the presence of a full Qwerty keyboard below the 6in electronic paper screen, rather than any shared heritage.
At 127 x 203.5 x 9.4mm and weighing 284g the Story is par for the e-book reader course. Even if the white plastic case lacks the cool, machined finesse of Sony's aluminium Readers, it still has a solid and substantial feel to it and will only flex or groan when subjected to some pretty severe torque.
The Story is heavily tapered on three sides with only the bottom having a flat surface. This is home to a 3.5mm headphones jack, the on/off switch, mini USB and SD card slots – the latter two being concealed by a plastic flap in typical iRiver style. The SD card slot requires just a little too much in the way of push to get the card to sit. Fine if you have long fingernails, a bit of a pain if you don't.
Like Amazon, iRiver has done a service to both the left and right handed users by duplicating the page turn keys that sit next to the keypad and form part of the fascia on both sides of the unit. For one-handed use though, the page turn keys could have done with being placed a few centimetres nearer the top.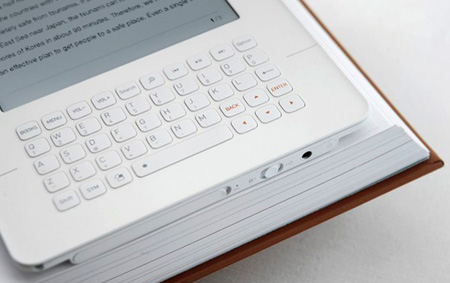 Interfacing includes SD card expansion
The keyboard itself is well designed and built. The keys are well spaced and have a firm and pleasant action making it look and feel a bit like the best keypads from HTC. The majority of the Story's controls sit together in a row above the letter keys, while four arrow keys for navigation along with the Back and Enter keys are grouped together at the bottom right hand corner of the keyboard.
All the keys are labelled with admirable clarity, rather than with cryptic symbols. In typical Korean style, the Story comes with a fair amount of extra functionality including a voice recorder, memo facility and diary. Of course, all these features can also be found on any half decent mobile phone, so we wouldn't hold them up as reasons to buy a Story in the first place.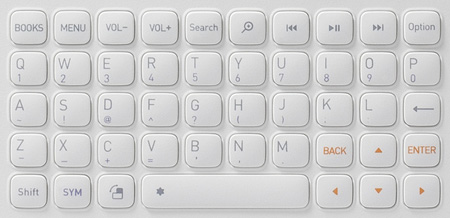 The clearly labelled keyboard avoids icon confusion
iRiver supplies the Story with an impressive 2GB of built-in storage, but the SD card slot is good for another 32GB. Applying Register Hardware's patented e-book reader storage formula, we find that the Reader will hold 1037 copies of War and Peace or 2554 of Moby Dick in ePub format, after the system has swallowed its 300-odd megabyte morsel.
Being iRiver the storage system has its idiosyncrasies, so if you load your SD card with music files and then try to access the card from the Home screen menu, they vanish. What you have to do is hit the Menu key, select Music and then SD Card, then your music reappears. The same is true for image files, which have to be accessed from the Comic menu key.
Data on the storage card and in the on-board memory are kept separate, rather than presented as a whole but, thankfully, the main menu also contains a Folder view, which gives you an unfiltered picture of what exactly is where.
Aside from MP3 files, unlike Sony's Reader Touch, the Story's music player can also handle Ogg and WMA files. It presents your music library in a sensible artist/album folder layout too, and puts album tracks in the correct running order rather than alphabetically. While short on offering fully-fledged ID3 tag support, it does at least make the Story a genuinely usable device capable of handling a large music library.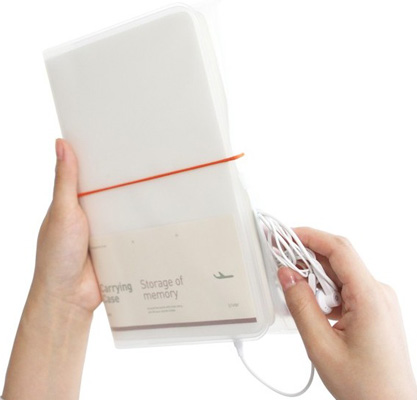 No case to answer: an optional extra, alas
Music files can be loaded onto the Story using an MTP media player. It sounds pretty good, helped by the eight different available EQ settings. Given the MTP support, it's a slight shame iRiver didn't fit the Story will a playlist facility. Even the 0.6W mono speaker round the back does a pretty decent job of audio playback and never makes listening to music too painful even at higher volumes.
iRiver divides the Story's file support into three categories – the E-Book Viewer handles ePub and PDF files while the Office Viewer can cope with PowerPoint, PDF, Word, plain text and Excel spreadsheet files. The Comic Viewer deals with JPEG, GIF and BMP files contained in zip archives or loaded individually.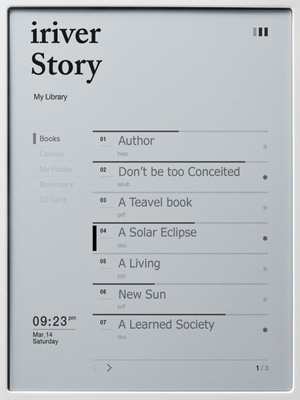 PDF reflow issues are improved with a firmware update
We have two minor complaints about the Story's file handling. Firstly, if you want your PDFs to reflow, you will need to update the Story's firmware from v1.02 to 1.04 which is pretty straightforward once you have downloaded the new firmware from here.
Secondly, the text in Excel files always appeared rather too small to read comfortably even when the magnification was set to maximum. Flip the image into landscape and the zoom option vanishes all together when looking at spreadsheets. Someone at iRiver needs a slap around the head for that, but hopefully a future firmware update with take care of things.
The Story's screen is the now common 800 x 600 E Ink affair. With its eight levels of grey scale it is crisp, clear and easy to read. While the Story doesn't 'turn' pages any faster than other e-book readers we have tested, the basic menu system does move a lot faster. Flicking up and down through the library was a noticeably more brisk affair than it was on the Sony Readers.
Navigating about the Story's menu system is helped by the home screen's double menu layout. If you are scrolling through your books or tunes, just hit the left arrow button and the cursor moves to the small subsidiary menu without having to refresh the entire page. Similarly, if you hit the Menu key a pop-up menu appears allowing direct access to all the Story's functions, again without a time consuming page refresh.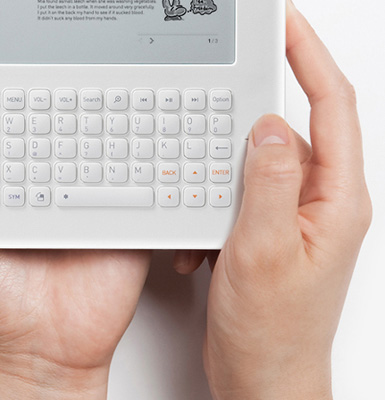 Navigation is good, but bookmarking could be less fiddly
Conveniently, you can control the music player directly from the keypad even when it is playing the background, so changing track, pausing or altering the volume doesn't have to interrupt your reading. The only trick iRiver has missed on the book reading front is not having a one-touch bookmark button. As it is, you have to hit Option, arrow down to highlight Add Bookmark and then select. It's a bit of a faff compared to Sony's one hit system.
iRiver doesn't supply any e-book management software, so loading non-DRM content is a simple matter of drag'n'drop which worked out of the box with Mac and Linux machines, as well as Windows. If you want to load DRM protected files, then Windows and Mac users can download Adobe's Digital Editions software, which works a treat with the Story.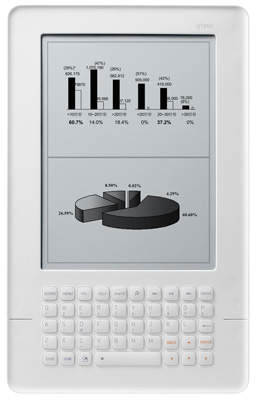 Robust volume: a decent music player and good battery life add appeal
When it comes to battery life, the Story again comes on strong. iRiver quotes 9,000 page turns or 20 hours of audio playback. The latter proved to be a little optimistic, as the best we managed was 17 hours, but that's still not bad going and the Story is over a thousand page turns better than any of Sony's Reader's can manage.
It's a pity that iRiver's rather useful combined zip-lock bag and carry case doesn't come with the Story. In Korea, it's only a £10 accessory if bought direct from iRiver, so hopefully it will follow in the Story's wake.
At £229 the Story undercuts the Sony Reader Touch Edition by around £30 and, despite the saving, you get more storage and a much better music player. Bookeen's Cybook Opus can be picked up for £200 but that only has a 5in screen, as does Sony's £180 Reader Pocket Edition and neither of them has a music player of any description. That makes the Story pretty decent value as far as these, admittedly, expensive e-book readers go.
Verdict
With its speedy menus, decent built-in music player, strong battery life and handy ancillary features, the Story looks a winner, provided you're running the latest firmware. If you want Santa to stick an e-book reader under the Christmas tree this year, then the iRiver Story is a sound choice, literally. ®
Thanks to AdvancedMP3Players for the loan of the iRiver Story.
More E-book Reader Reviews...

Sony
PRS-600
Touch

Bookeen
Cybook
Opus

Interead
Cool-er

Sony
PRS-300
Pocket