Original URL: http://www.theregister.co.uk/2009/11/25/plastiki_recycled_boat/
Billionaire floats eco dream on sailing soda bottles
Plastiki and the 100% recyclable yacht
Posted in Science, 25th November 2009 07:02 GMT
By now, David de Rothschild is used to being cast as the eccentric visionary whose well-meaning crusade to save the world's oceans is overshadowed by a lack of execution - or at least naiveté.
After all, the billionaire eco-adventurer's three-year quest to sail across the Pacific in a boat made completely of recycled materials has suffered its share of setbacks. For one thing, the vessel is no longer being made solely of recycled plastics.
And for another, some doubt the 60-foot catamaran containing 12,500 2-liter reclaimed soda bottles will withstand the cruel Pacific waves during a planned 12,000-mile trek from California to Australia.
What's more, the Plastiki - as the experimental ship is to be christened - was originally set to sail some 12 months ago, a deadline that's been repeatedly extended as the ambition of de Rothschild's plan has presented obstacle after obstacle to his 30-person team. (They now hope to put the boat in the water for the first time by year's end and begin the voyage early next year).
"Everybody has written us off," de Rothschild conceded in September while speaking to The Register from the massive San Francisco pier where the vessel's skeleton was finally taking shape. "I don't think anyone will really truly understand the impact of the project probably until we've sailed and 'till many years later, when we influence a kid in school who then decides to become a marine biologist, [or] a scientist who decides to design something differently."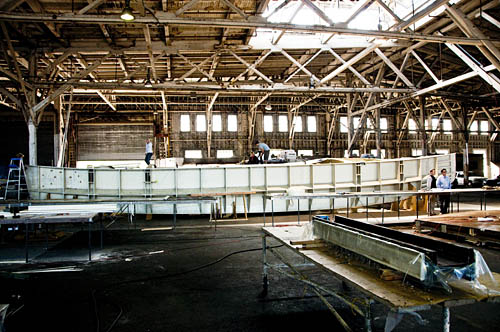 Plastiki's skeleton takes shape at San Francisco's Pier 31. Photos by Rik Myslewski
Like no boat ever built
Indeed, the Plastiki will be unlike any oceangoing boat ever built, mainly because 100 percent of the materials it's made of is recyclable. Because seaworthy vessels must be both extremely light and strong, most are made of fiberglass-reinforced polymer, a compound that's not recyclable at all.
Today, when boats are decommissioned, their hulls have to be discarded. De Rothschild envisions a day when old boats are disassembled and their raw materials are melted down and used to make new boats. If de Rothschild's dream floats, the process would be extended to car door panels, medical equipment, and thousands of other items that today are made from single-use plastics.
The special sauce that makes Plastiki recyclable is a polymer known as srPET, short for self-reinforcing polyethylene terephthalate. It's made from the same PET used to make soda bottles - except it's processed into a woven fiber mat that possesses unusual strength for a plastic, thanks to its two-dimensional strands, which act like self-reinforcing beams in a house.
Two woven srPET mats - which in their raw form look like cloth napkins - are heat-bonded to the top and bottom of PET foam boards to create structural "sandwich" panels with strength-to-weight ratios unattainable in the foam boards alone. The result is a self-supporting material with the strength and lightness approaching those of fiberglass or carbon fiber.
But because the PET isn't commingled with other substances, it's also fully recyclable, unlike those latter two compounds.
The sandwich panels connect the pontoons and support the deck of the boat. The pontoons themselves will be composed of 12,500 soda bottles that de Rothschild has insisted be externally visible. They are pressurized by dropping 12 grams of dry ice into each one and then sealing it. After the carbon dioxide reverts by to a gaseous state, the ultra-light container is virtually unbreakable, or at least strong enough to be run over by a Land Rover sport utility vehicle. (It can still be punctured by a sharp object).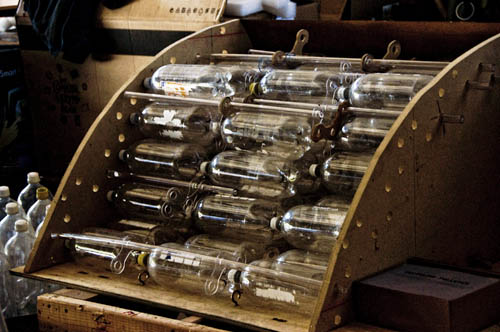 A panel holding bottles to be loaded into the ship's hull.
Plastiki's distinct disadvantages
While aiming to be wholly recyclable, Plastiki's unique design brings some distinct disadvantages to the catamaran. The exposed soda bottles and lack of a traditional hull mean it will probably never be able to travel upwind or during strong storms, and the drag that's expected will likely be much greater than most vessels experience. Its maneuverability is also expected to be limited.
"This is going to be very different sailing a boat with the bottles tightly exposed," said Jo Royle, the skipper who de Rothschild has hired to pilot Plastiki. "The material has different properties than fiberglass and wood and carbon fiber, so it'll be interesting to see how it behaves in the water."
As is now characteristic for the project, only a crude prototype of the boat has been tested, so no one knows for sure.
From the beginning, Plastiki was never about building the fastest or sturdiest boat. Rather, its mission has been to raise awareness about the perils of single-use plastic and to promote alternatives that will be viable in the marketplace.
An heir to the English branch of the Rothschild banking dynasty, the 31-year-old de Rothschild has applied his considerable fortune to activities that pursue a unique blend of outdoor adventure, environmentalism, and education. He's traveled to both the South and North Poles, making him one of only a few dozen people known to have traversed both ice caps. He also owns an 1,100-acre organic farm in New Zealand.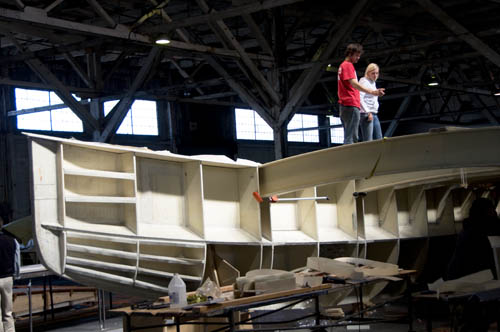 One of Plastiki's pontoons takes shape
Eastern Garbage Patch - like Nature's toilet
The genesis of his latest project came in 2006 as de Rothschild was planning a four-year sailing trip and he read an article about the "Eastern Garbage Patch," a floating vortex of bottles, fish nets, and other plastic debris located between California and Hawaii and estimated by some to be twice the size of Texas.
Also known as the Great Pacific Garbage Patch, it was most prominently recorded by California sea captain Charles Moore, who first encountered it in 1997 as he was sailing to Los Angeles. With help from oceanographers, he has since documented how a large system of wind-driven currents called the North Pacific Gyre acts as a giant whirlpool that sucks discarded plastics from the western US, Mexico, China, and Japan, as well as from ships at sea.
"As I gazed from the deck at the surface of what ought to have been a pristine ocean, I was confronted, as far as the eye could see, with the sight of plastic," Moore wrote in an essay published in 2003 in Natural History. "It seemed unbelievable, but I never found a clear spot. In the week it took to cross the subtropical high, no matter what time of day I looked, plastic debris was floating everywhere: bottles, bottle caps, wrappers, fragments."
Moore's writings had a powerful effect on de Rothschild, who is prone to citing figures from the National Academy of Sciences estimating that 5 million tons of additional plastic makes its way into the world's oceans each year.
"We've got this voracious appetite for plastics, but we're being driven down a path of single-use plastics because we don't really understand the value," he said. "I don't believe that plastic is outright the enemy. I think there's a big bundle of plastics that are the enemy, and they're just dumb and they are creating human fingerprints on our planet."
Plastiki is modeled after Kon-Tiki, a raft made of balsa wood that Norwegian explorer Thor Heyerdahl sailed 4,300 miles across the Pacific in 1947. Besides its novel use of recyclable PET, de Rothschild's boat will be equipped with an assortment of green-technology amenities, including solar panels, trailing turbines, and stationary bikes for electricity, a desalinator for drinking water, a hydroponic garden, and a mast and sail made of irrigation pipe and post-consumer plastic. It also has a compostable toilet and will store all the crew's feces and urine in the hull where it will be converted to fertilizer.
The crew cabin is a geodesic dome that's 20 feet long and six feet high, four inches shorter than de Rothschild is tall. It was designed with help from a group called Architecture for Humanity. De Rothschild envisions similar structures could one day form the blueprint for modular relief shelters for low-lying areas such a Tuvalu, which some scientists believe is threatened by the steadily rising sea level.
"We're going to communities where becoming an environmental refugee is a serious possibility in the next, five, 10, 15 years," he said.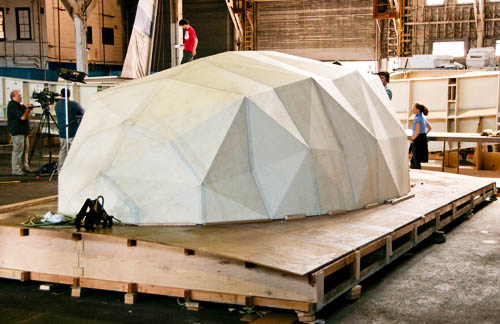 Plastiki's partially completed crew cabin
With a little help from HP
When the boat sets sail, de Rothschild plans to provide regular updates on the journey using a video camera mounted to boat's mast, a satellite transmitter and the official Plastiki website.
When all is said and done, the project will probably cost several million dollars, a sum that is partially being offset by corporate sponsors such as HP. While HP is equipping Plastiki with free PCs and other wares, de Rothschild said the real value of the partnership is the opportunity to nudge the technology behemoth in a more environmentally responsible direction.
"If we can influence a company like HP to maneuver its purchasing of certain material for its packaging from styrofoam to a biodegradable or biocompostable material for 50 million units a year, we as a very small organization have created a disproportionate impact, and that's what this is about," he explained.
IWC Schaffhausen is also involved in the project with a limited edition watch in observance of the Plastiki voyage.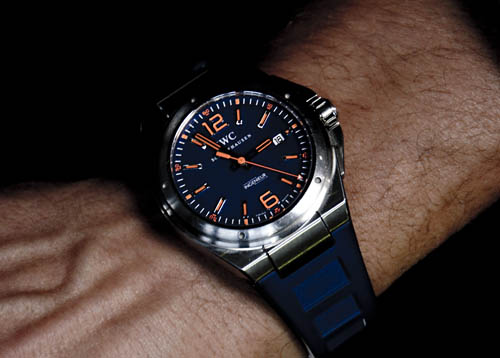 IWC Schaffhausen designed this watch in observance of the Plastiki voyage
"There's a lot of organizations out there pointing fingers. For us, what we're very good at doing is creating conversations pulling people together and hopefully using that to inspire action."
Not that the Plastiki participants don't have plenty of work left if they are to revolutionize the way ships and other items are built. Right now, working with the srPET requires heating the fabric to about 400 degrees Fahrenheit, which they accomplish using carbon-producing catalytic heating elements.
The group hopes one day to employ less carbon-intensive sources of heat, such as a parabolic solar ovens or Stirling engines. For now, they are buying carbon credits instead.
Some disarray
They also acknowledge some disarray in getting the project off the ground. De Rothschild initially insisted the boat be built entirely out of reclaimed materials, so they initially settled on recycled plastics such as ecosheet and ecoboard, which are made from a variety of polymers reclaimed from electronics, bottles, and other materials. After buying a large quantity of the materials, they eventually discovered they were unsuitable in almost every conceivable way.
One - Plastiki expedition coordinator Matthew Grey doesn't recall which - was almost as dense as lead, and yet it also bent like chewing gum.
"It was largely a turning point in the project when we pretty much realized that our ambition of making the structure of this boat entirely out of reclaimed plastic was unrealizable," he said.
After settling on srPET made from virgin plastic, the objective was revised to invent a manufacturing process that yields a boat whose raw materials are wholly recyclable, effectively creating a closed loop where the plastics, once introduced, can be reused indefinitely rather than having to be created anew for each new vessel.
But not every polymer expert is so optimistic. While they generally agree that srPET is fully recyclable - and holds great promise for changing the way boats, cars, and other items are built - some question Grey's promise of completely closing the loop.
"Any time plastic goes through a processing, a heating up and a cooling down, the molecular chains do get broken or damaged, so it doesn't have an infinite reprocessing life," said Terry L. Schwenk, a plastics expert with consultant Process & Design Technologies. "You can reclaim and reuse it, but most certainly, you can not melt the whole thing down and have the same properties as the original."
Charles F. Pratt, a plastics expert with Pratt Materials Consulting in Seattle, agreed.
"You're always going to have to put into that circle some virgin materials at some point," he said. "I don't think you can ever get a full closed loop system, but certainly the idea of raising awareness of the need to recycle and (for) sustainability...is a great effort."
From its outset, the project has had a seat-of-the-pants quality that's led to its share of dead-ends and delays. The inquiry into the suitability of srPET consisted largely of home experiments, in which the material was cooked in ovens at almost 400 degrees.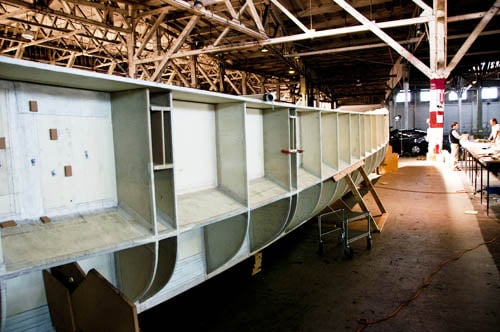 Plastiki's bow
And in addition to changes in personnel and objectives, it's no longer clear if Plastiki will visit the Eastern Garbage Patch, as was once the goal, since to do so would probably require the craft to sail upwind. De Rothschild, who had wanted to visit the patch to increase mainstream awareness of it, seemed unfazed at the change arguing that "our entire ocean system has become a dumping ground for waste."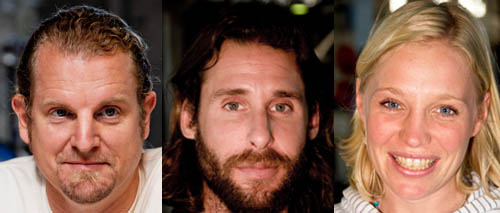 From left, architect Nathaniel Corum, David de Rothschild and skipper Jo Royle
But the improvisational nature has also brought a flexibility that has allowed the project to continue despite the formidable barriers it's encountered.
"It's a bold way to test something new," said Nathaniel Corum, an architect who was introduced to srPET when he started working on the Plastiki's six-person cabin. "It's a landmark material. If it works, it's going to put PET on the map." ®