Original URL: http://www.theregister.co.uk/2009/11/24/review_laptop_samsung_x520/
Samsung X520 notebook
Nine-hour battery life – hit or myth?
Posted in Personal Tech, 24th November 2009 08:02 GMT
Review With smooth, curved edges and an eye-pleasing design, the 15.6in X520 slips into Samsung's new X-series range. There are two other X-series models: the 11.6in X120 and 14in X420. The focus is on mobility here and, as such, all feature so-called CULV - Consumer Ultra-Low Voltage - processors and integrated graphics from Intel.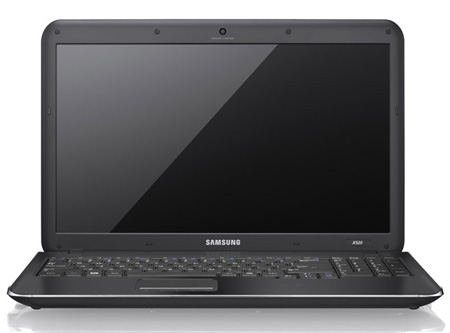 Samsung's X520 – a robust offering?
When first announced at IFA earlier this year, Samsung made something of a bizarre marketing move by proudly proclaiming the batteries powering the X-series will not explode. Good news for those with an adverse reaction to spontaneous combustion then, and we're happy to confirm the X520's battery remained free of flames during testing. As well as not exploding, Samsung also claims the battery will last a nine-hour road trip from Paris to Barcelona. We'll come to our own battery tests in a moment.
According to Samsung, the X520 is extremely robust and "doesn't need any extra protection". We wouldn't go quite this far, and while the chassis is by no means flimsy, it does have some weak points – pick it up with a firm grip and you'll hear a bit of creaking, especially around the optical drive.
We've no complaints about the laptop in terms of style. The silver lid has a smooth, scratch-proof coating, while on the inside an attractive, silver chrome-effect rim surrounds the keyboard. The X520 finds room for three USB ports, all of which are situated on the right side of the chassis alongside the DVD writer. Lan, audio in/out, VGA-out and HDMI ports are found on the left.
The low-profile keyboard is almost identical to the one found on Samsung's R720, and comes complete with a numeric keypad. Samsung's made good use of the space available, and the only keys to suffer being slimmed down are the arrow keys. They're not too fiddly, though, and we soon got used to their size during testing.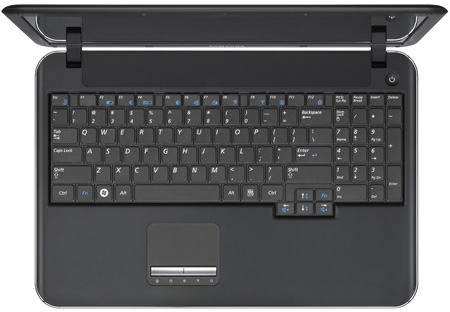 Keyboard flexing casts doubt on ruggedness claims
While there's very little flexing on the main keyboard, the numeric keypad feels more like a miniature trampoline. Somewhat worryingly, you don't have to press down too hard before you can hear it bashing against the optical drive beneath. Considering Samsung is highlighting the X520's robustness, we're surprised this design flaw has slipped through the net.
Two small 1.5W speakers sit just above the keyboard and provide adequate audio, but we're not sure why Samsung has opted to extend the speaker grille from one end of the keyboard to the other. Eat a couple of digestives while using the laptop and the crumbs will soon find their way into the plethora of small holes, leaving you to get to work with a toothpick to remove them.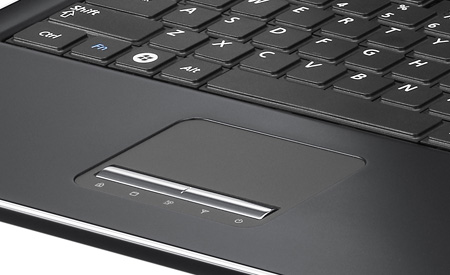 Stylish maybe, but small trackpad buttons are a fiddle
Samsung has perhaps been a little too keen to keep the X520's minimalist looks intact and gone for unnecessarily small buttons for the trackpad. With a thickness of just 9mm, we often found ourselves missing them and, instead, bashing our thumbs against the row of LED indicators below. There's also very little travel to the buttons – these take the form of a single rocker bar – which doesn't help matters.
On the plus side, the trackpad is a multi-touch model, allowing you to perform tasks such as zooming in and out of photos using a two-fingered pinching motion. It won't recognise more than two fingers at a time, though, and its small size makes multi-touch gestures feel very cramped.
The 15.6in LED-backlit display has a native resolution of 1366x768 and is furnished with a glossy coating. It also boasts wide viewing angles, and with the brightness at full whack it performs well outdoors. We've criticised Samsung in the past for not including 802.11n wireless in some of its most recent laptops. Thankfully, the X520 comes with an Intel Wi-Fi Link 5100 card that supports 802.11a-n.
It's stubbornly sticking with 10/100Mb/s Ethernet as opposed to Gigabit Ethernet, but this probably won't be a major sticking point for too many potential buyers. Bluetooth comes as standard, but there's no HSDPA – the latter would have been welcome on a laptop that's designed to be ultra-mobile. Meanwhile, storage is well catered for thanks to the 500GB hard drive.

No Gigabit Ethernet, but 802.11n Wi-Fi is supported
Given Samsung's going for mobility over power, it's no great surprise to find an ultra-low voltage processor at the heart of the X520. The SU7300 CPU Samsung's opted for is a dual-core model, but it runs at just 1.3GHz and the X520 suffered in our benchmarks as a result.
Test Results
PCMark Vantage Results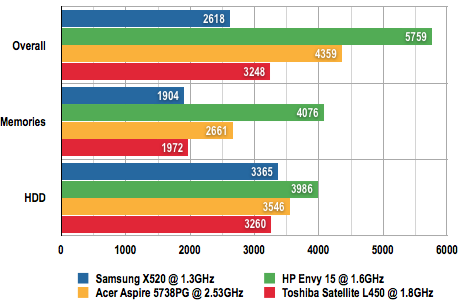 Longer bars are better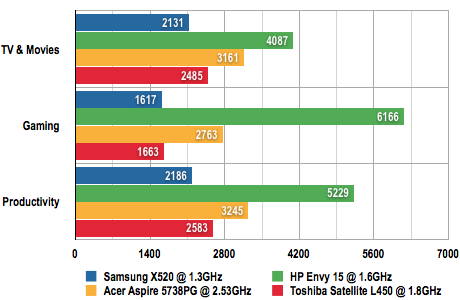 Longer bars are better
PCMark Vantage Battery Life Test Results

Battery runtime in minutes
Longer bars are better
There's 4GB of DDR3 memory installed. However, with the 32-bit version of Windows 7 Home Premium, only around 3GB of this available to the processor – Samsung confirmed to us that it's not currently possible to opt for 64-bit Windows 7, which is a shame.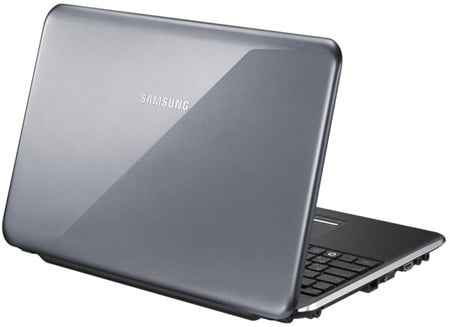 A scratch-proof coating keeps the lid nice and neat
PCMark Vantage returned an overall score of 2618, which only goes to highlight the low-powered nature of the X520. In the slightly less-demanding PCMark05, it achieved an overall score of 3427, with 3078 and 1672 in the CPU and Graphics tests respectively.
With an Intel's GS45 chipset at its heart, the X520 runs off integrated graphics in the form of a GMA 4500MHD core, so only the least demanding of 3D games at the lowest resolutions will be playable. 3DMark Vantage refused to grace the X520 with a score, but we did get a result of 877 out of 3DMark06 at the laptop's native resolution of 1366 x 768.
The X520's fan remained active throughout our benchmarks and, despite being barely audible, did a good job of keeping things cool – the only noticeable hot-spot was on the belly of the laptop.
So, back to that nine-hour battery life claim. Samsung states that actual battery life results "vary based on configuration", and in our stress-fuelled PCMark Vantage loop test the X520 managed to keep going for three hours and 20 minutes.

Samsung has kept the X520's chassis impressively slim
It's by no means a bad result, but not nearly as impressive as the recently reviewed Packard Bell Butterfly, which managed five-and-a-half hours in the same test. Then again, keep in mind the Packard Bell has a single-core processor and 13.3in screen.
Curious as to how Samsung achieved its nine-hour road trip with the X520 – we're assuming the laptop was switched on for the duration and not just used as a footrest. We also ran a test that involved slowly scrolling a text document and under these far less strenuous conditions, battery life increased to just a few minutes shy of five hours.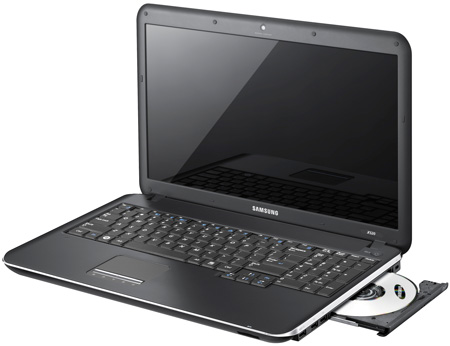 Battery life claims were a challenge to match in our tests
Flicking the Samsung Optimized power setting on – which among other things throttles the CPU at fifty per cent – and banishing Wi-Fi saw a further increase to a little over six hours, but is still a way off Samsung's nine-hour figure.
Indulge in a mix of web browsing, word processing and music listening, and you can expect around four hours out of the X520 when unplugged. And tipping our scales at 2.2kg - 2.5kg with the power adaptor included - it won't weigh you down too much on your travels.
Verdict
With its good, albeit not nine-hour, battery life and a rather enticing design, the X520 certainly has its plus points. And despite some unnecessary design imperfections, such as the springy numeric keypad and thin trackpad buttons, it's a decent choice for mobile workers. Alternatively, if you're willing to shave an inch off the display, the X420 will save you around £50. ®
More Laptop Reviews...

Toshiba
Satellite
L450-137

MSI
X-Slim
X600

Acer
Aspire
5935

Dell
Studio
15