Original URL: https://www.theregister.co.uk/2009/11/24/emblaze_demos_else/
Emblaze demos Else handset
Not a smartphone, a 'mobile apps device', apparently
Posted in Personal Tech, 24th November 2009 16:28 GMT
If you are bored of the same old smartphones, then an Israeli design firm claims to have designed a handset that offers something Else.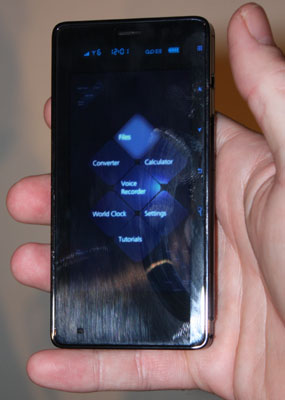 Emblaze's Else runs on Linux
The Else "mobile device" runs on Linux and has been hailed by Emblaze as a step away from "phone-centric" devices and a step towards "application-centric" multi-purpose gadgets.
Apparently, this simply means that if, for example, a call comes in while you're capturing a video using Else's 5Mp camera then you'll be given the option of accepting the call and ending the video. Instead of the call simply taking over, as is the case on most smartphones.
"Application-centric" also means that the handset's Assisted GPS app will, for example, supposedly provide full turn-by-turn guidance rather than a list of directions on getting from A to B.
But Else does makes calls too, even silent ones using "silent communication mode", the company told Register Hardware today. Imagine your partner calls while you're in a meeting, simply answer the call and then press '#' to have an automated voice ask the caller if their call is urgent. If they press '£' – signalling that it is urgent – you can take the call; if you don't want to then just press '*' and the automated voice will tell the caller to ring back in ten minutes.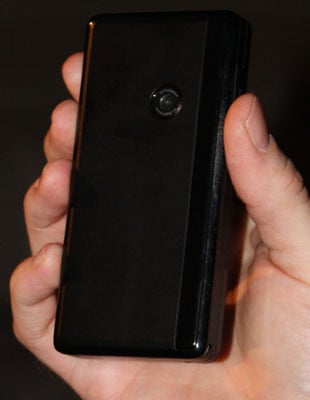 Makes calls and and has a 5Mp camera
Emblaze has overlaid Else's Linux OS with its own sPlay UI to provide users with quick access to the device's phone, media and diary features. Each option expands like a fan into a seemingly never-ending list of sub-menus.
Each sub-menu can be operated by one thumb click – as can all of Else's touchscreen features. However, a series of physical shortcut keys also exist beside Else's 3.5in touchscreen, including one for jumping back to the main menu and another for calling up the cross-app search facility.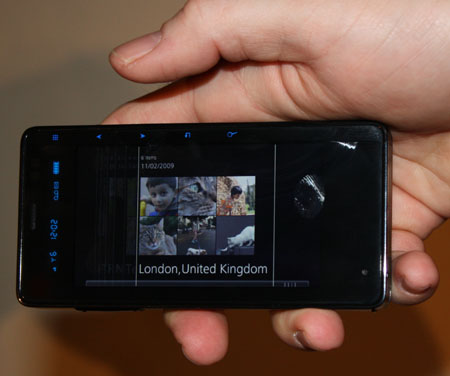 Videos replay on the 854 x 480 screen
Else will replay videos on its 854 x 480 display and, with 32GB of on-board storage to play with, you should have plenty of room for music and movies.
While Else undoubtedly offers many other smartphone-grade features - HSDPA 3G connectivity, haptic feedback, an accelerometer, etc - Register Hardware isn't convinced that the "mobile device" is a true smartphone.
Emblaze has made plenty of noise about Else's applications, but hasn't said anything about installing and deleting them at whim – as iPhone and Android owners can.
A virtual store has been designed for Else, but store screenshots shown to Register Hardware - not the real thing, you'll note - only refered to music downloads.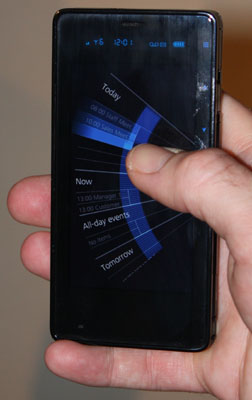 A UK launch hasn't been announced
Emblaze has decided to keep mum about Else's UK launch date and price, for now. The phone will be given a formal unveiling in January, though, so don't expect it under your tree this Christmas. ®