Original URL: http://www.theregister.co.uk/2009/11/21/review_satnav_tomtom_start/
TomTom Start
Made for map lovers, apparently...
Posted in Science, 21st November 2009 09:02 GMT
Review TomTom's Start is essentially the satnav specialist's new low-end model. Rather than say so, though, it's not pitching the product on price but for its simplicity. It's a device designed to get you from A to B and nothing more.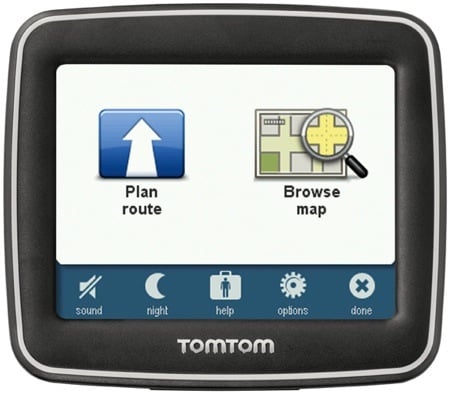 TomTom's Start: cuts to the chase with a simple, straightforward UI
But it's also being described by the company as "the satnav designed for people who still think they prefer reading maps", implying this is the gadget that will finally get the doubters to leave their Readers' Digest Book of the Road at home.
The Start certainly lacks a lot of the clever stuff electronics can do that paper can't. There are no traffic updates, fuel price and local services searching here because it doesn't support TomTom's Live offering. Likewise, there's no lane guidance beyond broad 'keep to the left' instructions. It does incorporate TomTom's iQ Routes system, which is designed to apply to route planning an understanding of what roads get busy and when they do so, the better to steer you onto quieter, faster roads.
The Start is really about route planning pure and simple, which is why it presents you with just two, large icons: "Plan Route" and "Browse Map".
Below these is a bar the presents five small icons for settings: switch the sound on or off; flip the screen to night mode and back; get help; call up the main options screen; and a Done icon that takes you back to the map view.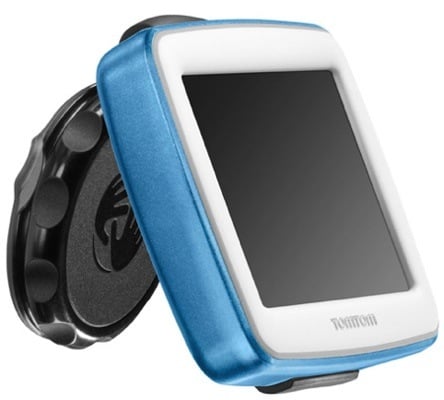 The screen is 3.5in
Options is likewise "simplified", presenting just six settings you can change rather than page after page of icons you need to tab through to find the one you want. That said, there is a second page of options, reached by clicking on a button market Advanced.
The effect is to de-clutter the typical satnav UI, not by removing options, but placing them in a hierarchy of importance. Rather than put up front an icon for, say, looking up POIs, the Start places that icon on the menu you see after you press "Plan Route", on the assumption that you're not going to be looking for places of interest unless you have a journey to make.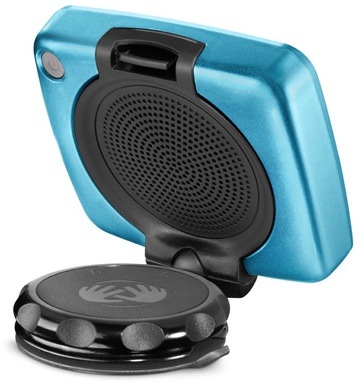 The car mount is built-in - but removable
Hitting "Plan Route" calls up the usual screen of departure selection options, followed by a series of screens that let you input that information or take it from existing data - your home, where you're currently parked, a POI - then on to the destination, which you choose in the same way.
The notion is to focus solely on getting from A to B, and this will indeed simplify the satnav process for most people. What it also does is limit browsing: deciding where to go for a weekend drive by looking up interesting POIs first, for example. This is ironic given TomTom's belief that Start will appeal to map buffs, and it's probably why it felt the need to add that "Browse Map" icon to the main screen.
Pressing it calls up a map you can zoom in and out of, scroll around and use to see what's what. It's not a new feature by any means. All satnavs have it, though it's not always brought to the fore the way it is on the Start.
The problem is that a 3.5in touchscreen - and a resistive touchscreen at that - isn't the ideal platform for map browsing. Even if the resolution were a darn sight higher than it is, and the screen capacitive so that taps and drags were immediately interpreted as such and not occasionally the other way round, the Start doesn't provide anything like the same experience you get with a map or mapbook open in front of you.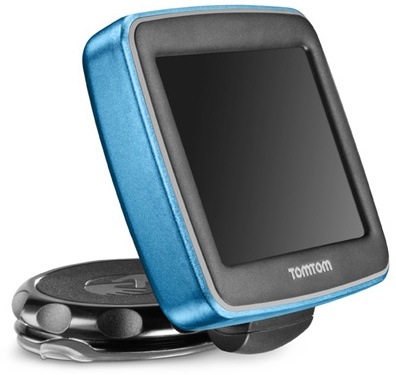 You can fit it to the dash as well as the windscreen
The screen is just too small. To get a decent bit of map into it, it has to start off zoomed so far out that all the detail is lost. Zoom down to a scale that's relevant to working out where a POI is in relation to somewhere you may be visiting or driving through, and you lose all sense of that location's place in the geography.
Now, this isn't TomTom's fault as such - all satnavs suffer from this, even those with 7in or larger screens - but TomTom is the one saying that this device is better than reading a map.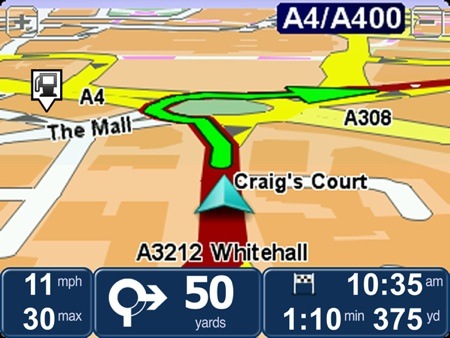 The navigation map is standard
Another point: the AA Great Britain Road Atlas we keep in the car has a far more interesting and comprehensive set of POIs printed on it that the Start has stored in its digital innards. We initially planned to drive to Wrest Park, an English Heritage property near Luton. The Start has never heard of it, so we cheated by driving to the nearest village and following signs from there. But surely, satnavs should be about eliminating the need to follow signs?
At Wrest Park, we had to decide where next to go. A glance at the map revealed a wealth of curiosities - castles, houses, obelisks and so forth - none of which appear on the utterly prosaic Start. Burger joints and banks? No problem. Scenes of natural beauty? You need to know about those already.
The second leg of our journey took us serendipitously past Ivinghoe Beacon and Ashridge, which we chose to go and have an impromptu look at. Credit to TomTom: it calculated a new route on the fly, quickly, and got us to where we originally selected without fuss.
The technological side of satnav, as demonstrated by the Start, can't be faulted. Route planning is quick, recalculation quicker. It got a satellite fix within moments of being attached to the windscreen using its integrated but removable mount, and when we came out of the Hatfield tunnel.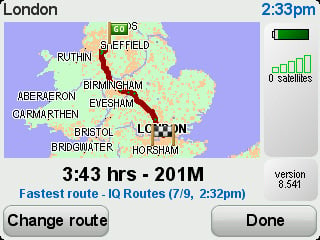 Route calculation is quick
As we say, there's no specific lane guidance, but in most instances the Start's bear left/bear right instructions were sufficient. The instructions came in good time, and were repeated. Its mental map of roundabout layouts could be improved, but since it was always clear and correct about which exit to take, this isn't a problem.
Road works aside - the problem with no Live support - we were correctly informed about speed limits and speed camera locations. Pragmatic as ever, the Start succeeded in getting us home by what we know to be the best route.

Multicoloured casing swap shop
Start is nothing if not prosaic, and that's perhaps what TomTom has forgotten when it goes on about maps. Maps are visual guides as much as a list of roads and places, and until TomTom kit can project a chart up onto the windscreen - while you're parked, of course - its satnavs won't replace maps.
The Start's built-in battery is good for about an hour and a quarter, so you'll need to keep the bundled USB charger cable handy on long trips. As we said, the mount is removable, and so is the device's casing, so you can replace it with a colour more to your taste - for a small consideration, of course.
The Start itself isn't especially cheap - £120 for the UK and Ireland version - but at half the price it's still way more expensive than, say, the AA's AA Big Road Atlas, which is yours for less than a tenner. Yes, you have to update it once a year, perhaps, but that's true of the Start. TomTom wants an extra £27.80 to keep the Start's maps updated during a 12-month period.
User-provided map tweaks can be downloaded for free, and TomTom's Home app also allowed us to grab a gratis list of English Heritage sites so we will be able to navigate straight to Wrest Park next time. We still think it should be in the box, though. It would be, if we'd bought a map.
Verdict
Don't get us wrong, we liked using the Start, and it's cut-to-what-matters approach is an step forward for its satnav UI. It does its job and it does it well, albeit for the casual driver rather than folk who spend their lives behind the wheel, who will want the updates Live support brings. Our only real complaint: it's the wrong side of £100. Reduce the price and quit making quips about map reading, TomTom, and we could happily find a place for the Start in our car. ®
More GPS Reviews...

IDC Ecco
Personal

Garmin
Nüvi
1340T

O2 XDA
Guide

Coyote
Mini