Original URL: http://www.theregister.co.uk/2009/11/20/review_phone_htc_hd2/
HTC HD2 Windows Mobile smartphone
Big screen winner?
Posted in Personal Tech, 20th November 2009 08:02 GMT
Review HTC has just about the fullest range of Windows Mobile smart phones on the market at the moment with a wide variety of types and prices. The HD2 is at the apex of its range, offering arguably the most bang, but also demanding a considerable amount of bucks. It lines up as HTC's most complete package to date though, with a huge screen, the latest Sense UI, Windows Mobile 6.5 OS, HSDPA 3G, a 5Mp camera, Wi-Fi, FM radio, GPS and social networking integration.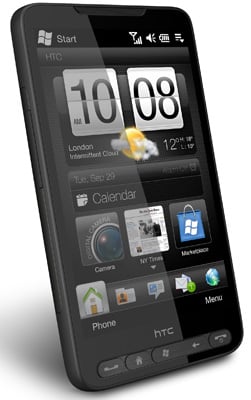 Quite a display - HTC's HD2
There's no getting around it, the HD2 is a large handset and looks as if it's well on the way to becoming a notebook PC. HTC has sweetened the pill however by making it exceptionally slim and fairly light, so it measures up as 121x67x11mm and 157g. It's still a handful, but not a huge jump from the iPhone and, in practise, we found it surprisingly pocket-friendly.
The capacitive LCD touch screen is a mighty 4.3in with 480x800 pixel resolution and both looks and feels fantastic. The display is clear and sharp for viewing but it's also sensitive enough that it never seems to have any trouble distinguishing between brushes and strokes – not something that you'll find on all Windows Mobile touch screen phones (are you listening Acer?). It is a bit of a fingerprint magnet however, seemingly lacking the sort of anti-grease coating that the iPhone revels in.
Below it is the usual line of hard buttons: call start and stop, home, Windows and return. The touch sensitive zoom bar we've seen on some recent HTC handsets has gone, but that's because the screen now supports multi-touch, so you can pinch to zoom when you're browsing the net or viewing pics.
On the rubberised plastic sides there's just a volume rocker with a micro USB power/sync slot and a 3.5mm headphone jack on the bottom. The back features a large loudspeaker, plus the protruding camera lens and double LED flash. There's also a micro SD card slot under the metallic back cover plate and, fortunately, you can hot swap it without removing the battery.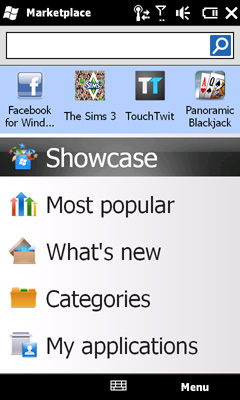 Windows Marketplace is gathering momentum
The HD2 has the latest Windows Mobile 6.5 operating system with HTC's own Sense user interface running on top. You get the new-look Windows menu with its big thumb-friendly icons taking up the full screen. Why you can only shuffle individual icons to the top of the screen, rather than placing them wherever you like, Android-style, we can't imagine. Along the bottom of the display is HTC's customisable menu bar scrolling. Windows Marketplace may not have its shelved stacked so high as Apple's App Store just yet, but it's easy to use, and the apps are mounting by the day.
Those little animations for weather, messages and the like, keep advancing too and now look virtually 3D on the big screen. You can use the menu bar to find apps or you can brush the screen sideways to move between contacts, messages, mail, browser, calendar, stocks info, gallery, music, weather, Twitter, Footprints (HTC's geotagging photo function) and settings.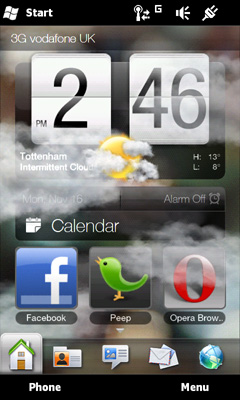 The usual suspects litter the homepage
There's also a trio of shortcuts on the homepage, which you can assign to programs, documents or individual contacts – including quick access to their phone or email. Flick the screen up and you get a new page where you can expand the number of shortcuts to nine. It seems a world away from the scrappy old Windows Mobile interface, and we never at any point felt the need for a stylus.
Lip service has been paid to social networking with onboard apps for Twitter and Facebook, though only Twitter is featured in the menu bar. It's not as advanced as recent options we've seen from the likes of the Motorola Dext, which offers networking updates on your home screen, but by adding shortcuts to each to your homepage it becomes easy to keep up with your posts and followers.
The Facebook app is the same as the one available in Windows Marketplace and it's good as it goes, but it would be even better if it would automatically integrate your Facebook friends into your contacts book, as it does on Android handsets.
Old-school email messaging is easy to set up with most major accounts requiring just an address and password, plus there's support for MS Exchange. The four-line onscreen keyboard is a breeze to use too, whether you're in portrait or landscape mode, with haptic feedback and auto spelling.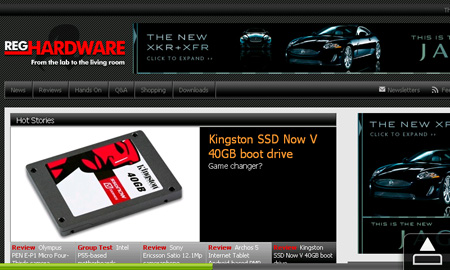 Both Opera and Internet Explorer are offered for browsing
Web browsing is also easy, especially with the ability to zoom by pinching or double tapping. Opera is loaded on-board, although Internet Explorer is also present should you feel the need. The accelerometer will flip it into landscape mode and it renders most web pages very well. It's nice and fast too, with HSDPA 3G network connection or Wi-Fi for broadband access. There's no Flash support, although there is a YouTube app for video viewing.
The camera, with its protruding lens, promised that it could be something of a departure for HTC and might turn out to be not bad. Unfortunately, that wasn't the case and we found the same problems that we always have with HTC camphones – flat colours, poor handling of bright exposures and fuzzy edging.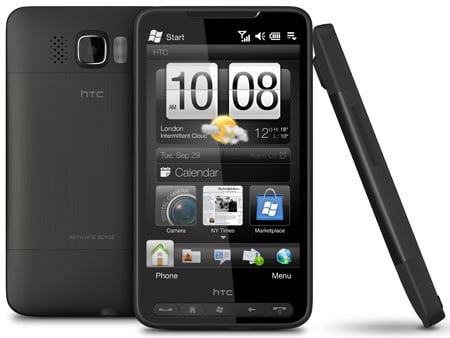 The camera looks promising, but the results are astonishingly bad
It has autofocus and a double LED flash there's not a great deal in terms of additional features. The touch focus option sounds nice but doesn't seem to have much effect in practise, there's only a 2x digital zoom and the panorama option which allows you to take three consecutive pics and stitches them into a single widescreen photo was very hit and miss. There's no timer option either.
Video quality wasn't quite as bad as we'd feared, delivering 640x480 pixels and 25fps, which isn't bad, but it still suffers massively in comparison with similar spec'd camphones from Sony Ericsson, Nokia, Samsung and LG. Even the iPhone's movie capture stands up well in comparison.
Watching video clips was much better than filming them. It can handle WMV, ASF, MP4, 3GP, 3G2, M4V and AVI files and they come up superbly on that bright, clear (and did we mention it was huge?) screen. There's an option to expand the clips to the screen's resolution too, which is extra impressive.
HTC's music player is preferable to the now very old-looking Windows Media Player – it looks better, and seemed to be able to accept a wider variety of audio formats, including AAC, AMR, M4A, MIDI, MP3, MP4, GCP, WAV and WMA. It's backed by a graphic equaliser and there's FM radio too.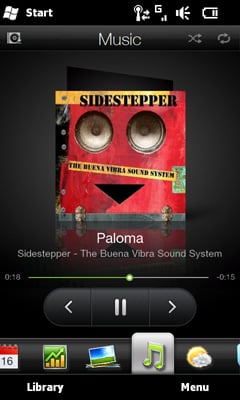 Sonic boon: plays numerous formats to avoid the silent treatment
The HD2 is a very busy handset, and we were pleased to see that it's running a 1GHz Snapdragon processor, which seems more than capable of handling multiple programs simultaneously. Moving between menus and apps happens at quite a lick as well, and there never seemed to be any hint of it slowing down.
Call quality from the large loudspeaker above the screen proved to be perfectly fine, delivering well-rounded vocal tones. The battery gave us just under a day and a half of moderate use – not great, but understandable for such a high-feature phone.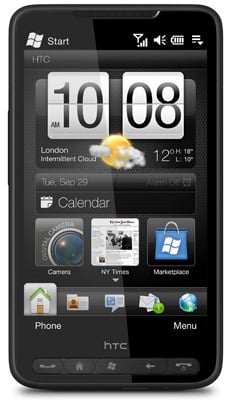 Fully loaded and with a price to match
As with other WinMo handsets, there are a range of options you can take to help eke out the battery life, such as shortening the display time of the screen, dimming the brightness and switching off Wi-Fi and automatic email and Twitter access.
Verdict
The HTC HD2 is a gorgeous multi-media device with lots of points in its favour, not least its impressively huge screen, Sense UI, Windows mobile 6.5 and social networking functions. The camera still isn't up to much, and we'd have liked to see the social networking apps integrated a bit more intuitively into the system. And, of course, we'd have liked the price to be a wee bit lower, but it does almost everything really well, making it a worthy contender for the iPhone. ®
More Big Screen Phone Reviews...

Sony Ericsson
Satio

LG
New Chocolate
BL40

Samsung
i8910
Omnia HD

Toshiba
TG01