Original URL: http://www.theregister.co.uk/2009/11/20/cartercopter_aai_deal/
VTOL gyro-copter flying car mates with killer robot
Droid jump-choppers to be offered to military
Posted in Science, 20th November 2009 16:03 GMT
A flying-car company which has struggled for 15 years to win acceptance for its radical gyrocopter/aeroplane technology may have finally broken through into the mainstream. It was announced this week that Carter Aviation technologies - aspiring designer of the CarterCopter Personal Air Vehicle - has partnered with successful military robot maker AAI.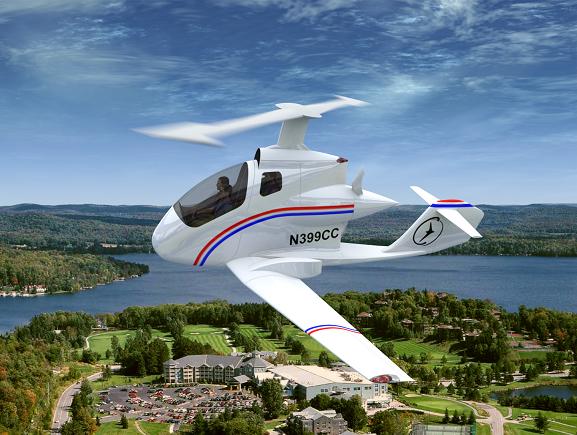 Well you should have gone before we left home.
The CarterCopter is described by its inventors as a "slowed rotor/compound" (SR/C) aircraft. In essence it's an autogyro - a helicopter whose rotors aren't powered but spin freely - with added wings. At slower speeds through the air, the rotor whirls faster and supports most of the CarterCopter's weight.
Going faster, the rotor slows to reduce drag and the wings take on the burden. The machine is driven through the air by one or more normal propellers.
A normal autogyro can land vertically - in the same fashion as a helicopter "autorotating" to an emergency landing - but it can't lift off straight up like a regular chopper. The CarterCopter avoids this, however, using a cunning gadget called a pre-rotator to make a "jump takeoff".
The pre-rotator, not being required to power the rotor when it is driving air, can be quite small and light. It is engaged with the CarterCopter sitting on the ground with blades pitched flat so as to offer zero resistance. The rotors are gradually spun up to very high speed, with their weighted tips allowing a lot of energy to be stored as in a flywheel - and the undercarriage holding the fuselage oriented.
When ready, the rotor pitch is pulled in and the forward driving prop engaged. The whizzing rotor heaves the machine up into the sky and the prop shoves it forward to flying speed. The CarterCopter can't hover in mid-air, but it can "jump" to a surprising height like this, clearing 50 foot buildings without bother.
No amount of spin has sufficed to get it off the ground so far
Despite all this cunningness, however, Carter Aviation's plan to develop designs and then licence them to manufacturers have suffered from one major problem: no manufacturers have come forward since the firm began work in 1994. The company has been restricted to building small prototype craft, though there have sometimes been plans to offer a kit craft that buyers would assemble for themselves.
This week that has finally changed. AAI Corp, a unit of US aerospace heavyweight Textron Systems, has inked an exclusive 40-year deal covering use of CarterCopter tech in unmanned aircraft for the next 40 years. AAI, among other things, makes the Shadow flying robot employed in large numbers by the US Army. AAI is reportedly interested in deploying robo-CarterCopters to deliver supplies to isolated US bases overseas, an idea gaining some traction lately.
The amount paid by AAI for the SR/C unmanned rights is undisclosed, but it should allow Carter to proceed on the current manned prototype, a 2+2-seater Personal Air Vehicle - or flying car by any other name. This little beauty is expected to be able to make a vertical jump liftoff with full fuel and 1000lb of payload and cruise at better than 200mph, handily trumping the Terrafugia Transition - which is slower, lifts less and can't do VTOL at all.
On the other hand the planned CarterCopterCar requires a parking space or garage 45 foot across, and can't fold its wings and take to the road the way a Transition can. Also, the Transition has actually flown, which the Carter PAV hasn't. Various less-snazzy SR/C designs have taken to the skies, but they don't seem to be easy to pilot - even experienced ex-military test pilots have had some mishaps at their controls.
It just could be that the first CarterCopters to go to work will, in fact, be robotic ones from AAI. After all, one of the many things necessary for a true flying car - one that anyone could have - would be a robot autopilot more or less capable of flying the machine without assistance. ®