Original URL: https://www.theregister.co.uk/2009/11/19/review_storage_external_iosafe_solo_usb/
IoSafe Solo disaster-proof drive
Fireproof and waterproof - we know, we tried it
Posted in Personal Tech, 19th November 2009 08:37 GMT
Review The IoSafe Solo USB drive is a robust storage device that promises to protect precious data in the event of a fire or flood. It uses patented technology to surround the 3.5in Sata hard disk with both waterproof and fireproof barriers, as well as an innovative cooling mechanism.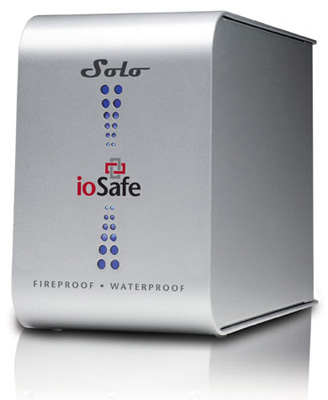 IoSafe's Solo: disc burning and soak tests take on a new meaning
At 15lbs, the IoSafe drive feels reassuringly heavy – portable, it most definitely is not. The case measures 11 x 7 x 5.1 inches and of a sturdy "alloy steel" construction. Being terminally curious, opening it up we found it contained two large slabs of a solid fire-resistant material resembling plaster of Paris. Cooling channels are moulded into the slabs, leading to a large hole in the centre, in which sits IoSafe's choice of drive, a 500GB Hitachi Deskstar, enclosed in a plastic jacket.
The drive cables are sealed at the neck of the bag with a silicon-based cement. On the back of the unit is the power switch and sockets for the external PSU and a solitary USB 2.0 interface – pity there's no FireWire or eSata option though.
The manufacturer boasts a three year warranty against "mechanical or operable part malfunction or breakdown" and included in the purchase price is a one year, one time, no-questions-asked Data Recovery Service, which IoSafe underwrite up to £500; this can be upgraded to 3 years for £50 or 5 years for £100. However, no backup software is provided, so it's up to you whether to use your default OS applications or something more sophisticated.
The IoSafe Solo is extremely quiet in operation and produces little in the way of heat. It comes pre-formatted with NTFS for Windows, but was reformatted for use with a Mac for our tests. The uncomplicated 23-page manual covers reformatting and suggests ways to physically secure the unit, by bolting it to the floor or padlocking to a cable. It also includes details on exactly who to call (in the US) following a disaster.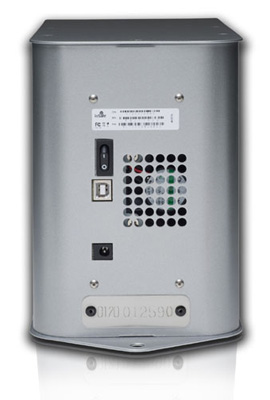 Minimal interfacing at the rear
For our initial tests, around 4GB of home directory data consisting mainly of photos was copied to the drive, taking a seemingly inexplicable 1 hour and 20 minutes to complete. However, this said more about the state of the laptop than the speed of the IoSafe, as will be revealed later. Under normal conditions, the manual suggests a typical sustained transfer rate of 25MB/s.
Given the IoSafe Solo's credentials are, apparently, bordering on indestructible, some real world testing was in order. There are various reports of this unit being left in a burning car or a shallow stream for relatively short periods, but something more extreme was in order. Why not drop the thing down a well and see if it survives?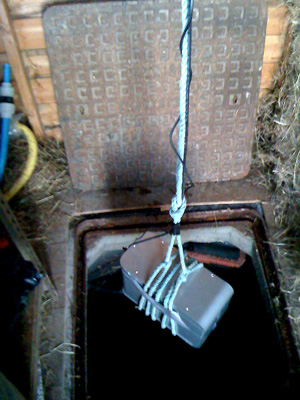 Don't try this at home
The first question was: would the IoSafe actually work whilst underwater? Figuring the internal cooling fan wouldn't work too well whilst submerged, it was disconnected. Once re-assembled, the unit was lashed up on a 5m length of rope along USB and power leads with connectors enclosed by plastic bags and gaffer tape. Another file copy was started, this time from the IoSafe to the laptop and both drive and cables were lowered into the well.
At this time of year, the well is around 3m deep and, as soon as the drive was submerged, the spinning ball appeared and the file copy hung. No big deal: IoSafe doesn't claim the drive actually works underwater, but you gotta try it, right? The unit touched down at the bottom and bubbles continued to appear for a good five minutes. The laptop was disconnected, manhole cover replaced. Time for a break in the Highlands.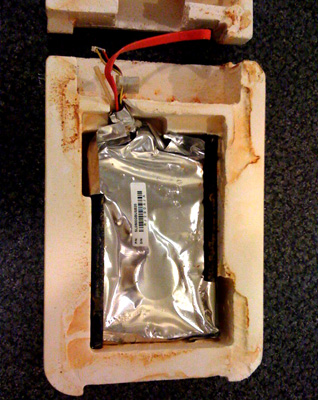 Data packets of a different sort
The plan was to leave the IoSafe down the well for three days whilst on holiday, as this period would be in line with the specifications: "Humidity: Non-operating, 100 per cent, up to 72 hours @ 10' depth". A trusted friend had been asked to pull the drive out and leave it to drain and dry out after that time had elapsed. Unfortunately, he forgot.
Returning from holiday, it transpired that the IoSafe had been under 3m of water for nine days. When finally recovered and left on the boiler for a further week, there was significant corrosion on parts of the metal case and fittings.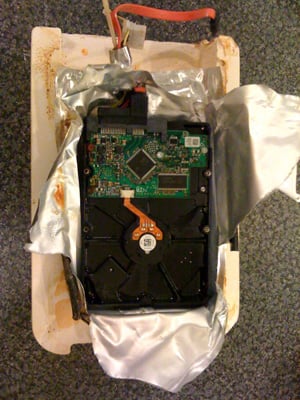 Rust never sleeps
The internal water-resistant jacket was cut open and a small amount of moisture was visible inside, along with some corrosion of the drive screws. It wasn't looking good. As a last ditch measure, before resorting to IoSafe's Data Recovery Service, the Sata drive itself was removed and put in the airing cupboard for a couple of days to dry fully.
Curiously enough, whilst away sampling single-malt in the Highlands, the test laptop apparently died and refused to boot up. It hadn't previously been backed-up either – surprise, surprise. The hard drive had failed after a period of poor performance, thus explaining the slow data copying issues mentioned earlier, and the only backup of some precious photos was actually on the IoSafe drive that was being desiccated.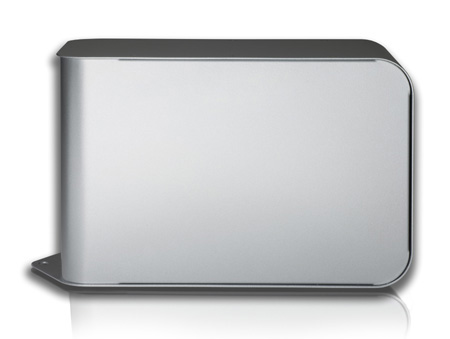 Big and heavy, but that's disaster protection for you
Hooking it up to another Mac with a Freecom Sata/USB Hard Drive Dock, the 3.5in Hitachi drive spun up and appeared on the Desktop. A sample of files totalling 411MB were copied off in 20 seconds – equivalent to 20.5MB/s, and not too far off the IoSafe figures. The data was recovered, as the drive had evidently not been consigned to a watery grave.
Verdict
At around £230, the IoSafe Solo represents very good value, with 1TB and 1.5TB options also available at £299 and £345, respectively. However, the absence of any backup software does seem at odds with the IoSafe's raison d'être, namely, file preservation. Those misgivings aside, if you're concerned your storage could be compromised by natural disasters, the IoSafe Solo evidently succeeds in protecting your data from two of the most damaging of the Earth's elements; fire and flood. ®
More External HDD Reviews...

Western Digital
My Passport Essential

LaCie
Starck

Samsung
Story Station

Freecom
ToughDrive Sport