Original URL: http://www.theregister.co.uk/2009/11/19/review_hd_tv_sony_bravia_kdl_46w5810/
Sony Bravia KDL-46W5810 46in LCD TV
Setting the standard for Freesat tellies?
Posted in Personal Tech, 19th November 2009 13:02 GMT
Review The W5810 range represents Sony's first move into the Freesat market, allowing you to sample the delights of true HD broadcasting without coughing up any extra cash for a Blu-ray player or Sky HD subscription.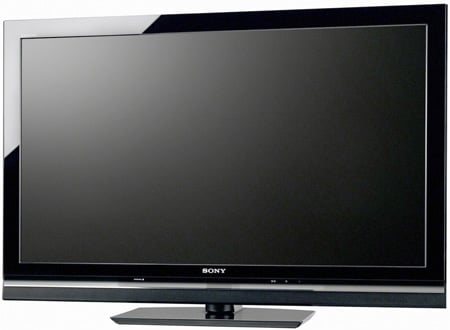 Sony's Bravia KDL-46W5810 – one of the company's first Freesat tellies
As the name implies, the KDL-46W5810 is the 46in representative of the W5810 range, although there are other models available that range from 32 to 52 inches in size. Sony's press office prefers not to discuss anything as mundane as pricing, but a quick detour into our local Sony Centre yielded a price of £1300, and online prices seem to be much the same. Sony is never the cheapest of brands, but that isn't a bad price for a 46in model that provides an impressive image, good connectivity and the Freesat option.
Still, it's not the most elegant TV we've ever looked at, as the screen is bordered by a chunky 2in wedge of black plastic, supplemented by an additional 2in strip of speaker grille running along the bottom edge of the screen. This gives the unit a rather monolithic appearance, as it sits there waiting for you to turn it on.
A quick look around the back of the unit reveals both the Freesat tuner and a second 'hybrid' tuner that can receive both Freeview digital and ye olde analogue terrestrial channels. There are two HDMI connectors on the back, along with two Scarts, component video and stereo audio input, optical digital output, and a VGA connector for a PC. Incidentally, our Mac Mini worked fine when hooked up to one of the HDMI ports.
Over on the left-hand edge of the screen you'll find two additional HDMI ports, composite video and audio input, one USB port, and a CI slot for pay-TV services. There's also an Ethernet port and DLNA support for streaming content from devices such as a games console or media server. Sony's Applicast feature also allows the KDL-46W5810 to connect directly to the Internet in order to run exciting on-screen 'widgets' such as a world clock, RSS news feeds, or even an on-screen calculator.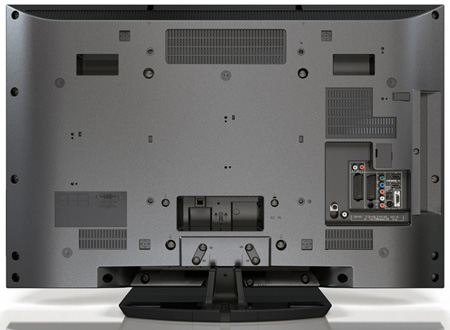 Good connectivity at the rear and the sides
The initial set-up is very straightforward. When you turn it on for the first time it asks if you want to automatically scan for Freesat channels, and also gives you the option of performing separate scans for Freeview or analogue channels as well. That will be handy for people who may not have their satellite kit sorted out yet.
Our initial impression of the image quality was that the colours were a little lacklustre, but a quick prod of the Options button on the remote control revealed that we were using the default 'Standard' preset. Switching to the 'Vivid' preset livened things up a bit, producing a brighter image and bolder colours.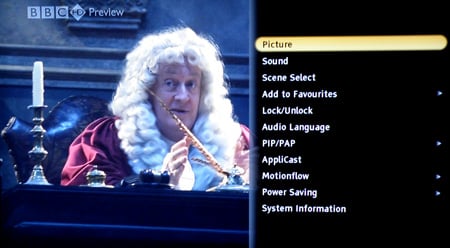 With extended use the Menus reveal a lack of refinement
Standard-definition content still has the soft, airbrushed look that inevitably results when scaling it up to HD resolution, but image quality was certainly a little better than we'd expected. Close-up images, in particular, seemed to display slightly more detail than we are accustomed to seeing with SD content on HD screens.
After switching over to the BBC HD channel that ability to capture fine detail emerged as the KDL-46W5810's real strength. We happened to chance across a spot of high-def ballet where some close-up shots revealed droplets of sweat glistening on a dancer's neck – it's the sort of detail that really reminds you why you bought an HD set in the first place, and the KDL-46W5810 did itself proud here.
The next step was to fire up some high-def films. This Bravia provides Full HD 1080p resolution, with Sony's 24p True Cinema option for films, and 100Hz Motionflow technology for reducing motion blur.
Models such as the KDL-46Z5500 may step up to 200Hz but we really had no complaints about motion blur as we watched Spiderman swinging across rooftops or Daniel Craig hurling himself around in Casino Royale. The KDL-46W5810 uses conventional CCFL backlighting, rather than flavour-of-the-month LED technology, but it produced crisp, clean blacks that worked well for the gloomy scenery of the Batman films.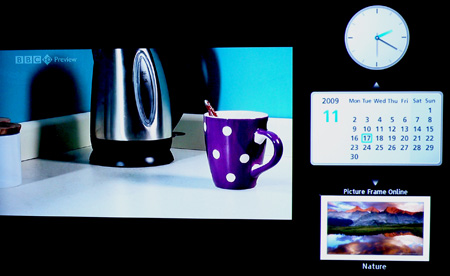 A limited range of Widgets are on-board too
Audio quality is more modest. There are separate controls for treble and bass, but a timely appearance from Muse on BBC HD revealed that the sound isn't terribly weighty even with the bass turned right up. It's fine for watching ordinary TV programmes, but movie buffs will probably want to utilise their own external speakers.
Our only other minor complaint is that the on-screen menu system is a bit of a mess. The KDL-46W5810 uses the standard Freeview and Freesat programme guides. These are perfectly straightforward, but the controls for adjusting image quality seem to be all over the place. The Options button on the remote control activates the main on-screen menu, which lists separate Picture and Scene Select sub-menus.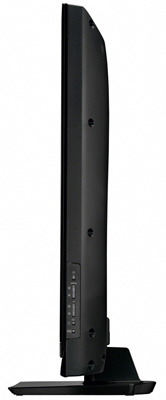 Sony's first Freesat delivers on detail
The Picture sub-menu allows you to switch between the Standard and Vivid presets, as well as adjusting a number of other settings in order to create your own custom preset. There's also an Advanced option in this sub-menu, but this is deactivated for certain presets, which means you have to scroll back and switch to another preset before you can even see what additional controls it offers.
Somewhat confusingly, the Scene Select sub-menu provides an alternative selection of presets for content such as games, movies and sports programmes. However, selecting some of these presets often deactivates some of the other settings that are available in the Picture sub-menu, so you can't quickly switch between the various presets without constantly moving back and forth between the Picture and Scene Selection sub-menus.
We were happy enough with the Vivid preset, but perfectionists who like to tweak the image until it's just right might get a bit frustrated by the poorly organised menu system. Incidentally, there's also a Theatre button on the remote control, which seems to provide yet another preset that isn't listed in any of the on-screen menus.
Verdict
An untidy menu system isn't the worst sin that an HD TV can commit, and the image quality of the KDL-46W5810 more than made up for that minor lapse. It may not have a top-of-the-range spec, but the fine detail that it captures in HD images means that this Freesat Bravia really makes the most of its 46in screen size. In fact, it shows off BBC HD so well, that newcomers to HD might finally understand what all the fuss is about. ®
More HD TV Reviews...

Sharp
Aquos
LC40LE700E

Philips
Cinema 21:9

Panasonic
Viera
TX-P42G10

Toshiba
Regza
37AV615DB