Original URL: http://www.theregister.co.uk/2009/11/18/review_gadgets_idc_ecco_pocket_gps/
IDC Ecco Personal
Points the way, literally
Posted in Science, 18th November 2009 08:54 GMT
Review Forgotten where you parked your car? Lost your hotel, tent or even family and friends? For the terminally disorientated, the Ecco Personal Pocket GPS Locator is designed to put you back on track. Indeed, this hi-tech key fob proves to be more than just the novelty item that it first appears.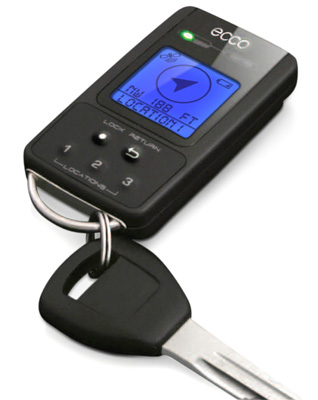 IDC Ecco: for keys that have lost their car
Designed for rough handling, a rugged, hard black plastic exterior protects the inner workings and a robust metal loop provides the means to attach it to a key ring or belt loop. The whole unit is a little on the big side for a key fob, but it doesn't feel too heavy in the pocket.
The unit works by connecting to the Global Positioning System (GPS) and the little beastie is capable of tracking up to 32 satellites and can operate over a distance of 9999 miles. Charging options are versatile enough, hooking up to anything that will provide juice using a USB port. There's also mains power, a 12V vehicle charger option, and a 5V auxiliary power pack available. Thoughtfully, the low battery warning doesn't wait until the unit is nearly drained but kicks in when it is about 25 per cent empty.
The internal battery needs a charge cycle of two hours and then lasts a reported five hours in constant use and around eight days in standby. These times are pretty accurate and we found actually were a little on the cautious side. In standby, we discovered the system could last up to twelve days without too much trouble.
Once the charge cycle is complete, you press the power on/off for around three seconds and the unit begins to acquire the satellite data it needs to work. This is supposed to take is around 60 seconds, however, we found this varied considerably depending on where you are standing and your proximity to building/trees, especially tall ones.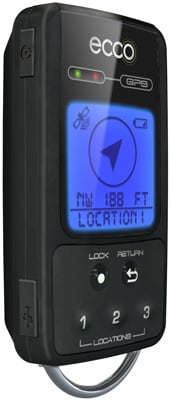 A new best friend for beachcombers and metal detector fans?
If you are inside, the unit often struggles to get a signal at all. To maximise its accuracy, the device has to be calibrated at the start of its life or when it is taken further than 100 miles or 161km. We found it was worth calibrating even without moving that type of distance, just to maintain a good level of accuracy. To calibrate you press a series of buttons on the unit as instructed in the manual, turn around 180° and turn the unit from its front onto its back and then back again.
Operation is very simple. Stand in the area you want to able to find later, press the lock button and then one of the three location buttons and you are done. To get back you press the 'return' button and the direction and distance of your destination is shown on the fob's screen.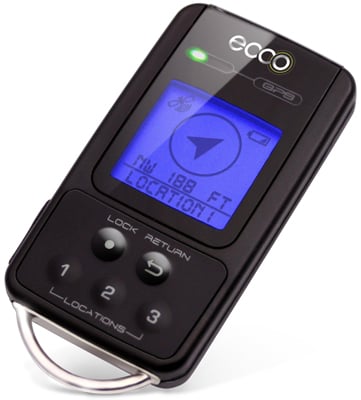 Works in a car, but better suited to pedestrian use
The arrow-based display is quite sensitive and is quick enough to adjust its direction as you move along and the unit also tells you if you are going the wrong way. The unit is reactive enough to work on the move say in a car or a boat, but as there are more accurate and sophisticated mapping and location devices available for both of those options, the unit is really best suited to users who are on foot.
The unit is quoted as being accurate to within 10 metres, which, again, is a little conservative. We found it could get quite a bit closer than that. The Ecco's biggest flaw however, is the difficulty it has in getting a signal in built up areas. The unit works well in the great outdoors and would be a good companion for walkers, horse riders or even drunk revellers trying to find their tent in the middle of a festival. Yet in the town, it struggles and really only ends up being frustrating as it often cannot find a signal.
Verdict
In the great outdoors the Ecco does provide and an accurate return path. However, the Ecco is not an urban lover and does not provide reliable enough performance to be a real option for the town. Price wise it just squeaks into the acceptable bracket for those who would get a decent level of use out of the product. ®
More Satnav Reviews...

Garmin
Nüvi 1340T

ALK
CoPilot Live 8
Android app

Coyote Systems
Mini Coyote

O2
XDA Guide