Original URL: http://www.theregister.co.uk/2009/11/17/review_netbook_samsung_n510/
Samsung N510 Nvidia Ion-based netbook
Decent HD performance in a mini-laptop at last?
Posted in Personal Tech, 17th November 2009 08:02 GMT
Review You don't have to dig too deep to see that the diversity of Samsung's netbook range is a case of flattering to deceive. Sure, there are plenty of them, but the differences are essentially peripheral and cosmetic with all bar the NC20 having 10.1in screens and the usual netbook-norm Intel Atom chippery.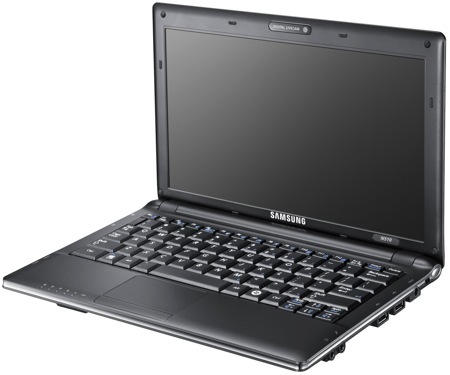 Samsung's N510: a full res screen without a weak Z-series Atom CPU
The N510, however, diverges from the pattern established by the NC10 and replicated in such machines as the N110, N120 and N310 in that it uses Nvidia's Ion LE graphics chip - along with a 1.66GHz Atom N280 CPU - and an 11.6in, 1366 x 768 display.
Despite the hidden differences, externally the N510 is quite clearly a Samsung. The design is restrained, if not to say conservative, and the only colours available are white and black. As with previous Samsung netbooks, the build quality is of a high standard. You get the feeling this is a machine that will take whatever life throws at it.
Easy-on-the-eye blue status lights abound, as do icons telling you what all the ports are for, together making this an ideal machine for anyone who loses sleep over whether or not they have left the Caps Lock key engaged or worry should they try to stick USB devices into HDMI or LAN ports.
Beyond the usual netbook array of three USB ports, three-in-one memory card reader, 3.5mm audio jacks, VGA port, Bluetooth, 1.3Mp webcam and 10/100Mb/s Ethernet, the N510 also serves up 802.11n Wi-Fi and said HDMI port.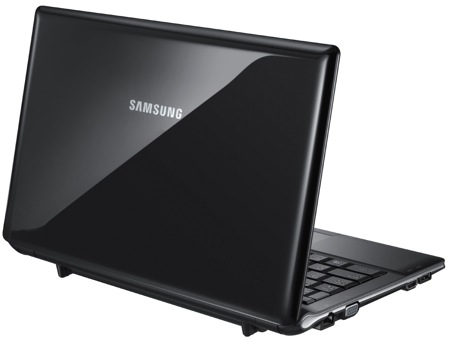 Still reasonably compact, despite the bigger screen
The installation of an 11.6in screen hasn't had too drastic an impact on the N510's size. Yes, at 289 x 199 x 26.5-30.3mm and weighing 1.5kg, it is both larger and heavier than the N110 and N120, but not monstrously so. If you managed to carry either of the older machines around without a problem, you'll be able to do the same with the N510.
Samsung has also done a good job of integrating the substantial six-cell battery pack into the design. Dell could learn a thing or two from Samsung in this respect.

The six-cell battery doesn't bloat this netbook...
In a reversion to its origin-of-species NC10, Samsung has fitted the N510 with a matte finish backlit display. As always, opinion will de divided on this issue - glossy screens are better for watching video while matte screens are less reflective. It's a case of six of one and half a dozen of the other.
Surface effect aside, the screen is fine bit of engineering looking every bit as bright, crisp and colourful as you could hope for. And it sure beats a 1024 x 600 display for room to manoeuvre.

...whichever way you look at it
Samsung hasn't re-written any rulebooks with the 510's keyboard and touchpad, both of which look and feel the same as those fitted to the N120. That's absolutely not a problem as we liked the N120's keyboard a lot. In fact, it's one of the best you will find on a netbook of any size or shape. One thing
Samsung does seem to have refined is the action of the one-piece touchpad button, which now has a superbly smooth and perfectly damped action. The touchpad doesn't do multi-touch, though.

Now to something more important: that integrated Nvidia graphics core has quite an impact on the N510's ability to render HD video. To get the full benefit of high definition video, you need a media player that can take advantage of GPU-accelerated video playback. Samsung includes just such a thing in the form of Cyberlink's Power DVD 8, but if you don't fancy that then Media Player Classic Home Cinema is another option with rather broader codec support.
Using either media player, the N510 managed perfect full-screen playback of 1080p MKV H.264 files, though only the Cyberlink player managed truly fluid playback of a 1080p QuickTime file at full screen. You really can't ask for more than that from a machine driven by an Atom processor.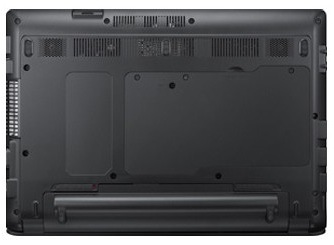 Easy-access panels make DIY upgrades straightforward
The Nvidia chippage doesn't make a demon games machine out of this netbook, but the 3DMark06 score of 1303 is certainly an improvement over anything a little laptop fitted with Intel's standard Atom chipset can achieve.
Turning to our usual PCMark05 benchtests, the N510 gave a solid if not spectacular account of itself. It's run-of-the-mill CPU, Memory and HDD figures show this is a standard netbook in all aspects other than the screen and graphics.
The N510 currently ships with Windows XP, 1GB of DDR 2 memory and a 160GB HDD. As the machine only has a single memory slot, upgrading is restricted to yanking out the 1GB module and replacing it with one of twice the capacity. The HDD and memory slot are covered by a single easy-to-remove panel, so DIY upgrades should be painless.
When or indeed if Samsung plans to upgrade its netbooks to Windows 7 is a grey area at the moment, but a couple of retailers have told us they hope to see Windows 7 equipped N510s arrive in the UK in early December. It's also rumoured that the Windows 7 versions will have 250GB hard drives.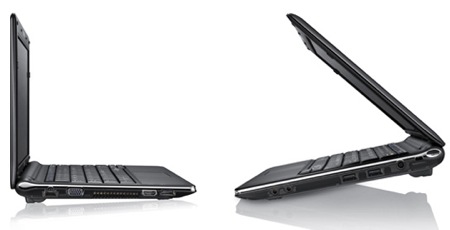 The design is restrained, if not to say conservative
It's worth noting that the Ion LE chip only supports DirectX 9, so if you decide to upgrade from XP to Windows 7, you aren't going to see any improvement in graphics performance. Though you could always type the words 'ion', 'LE' and 'hack' into Google and see what comes up...
Test Results
PCMark05 Results
CPU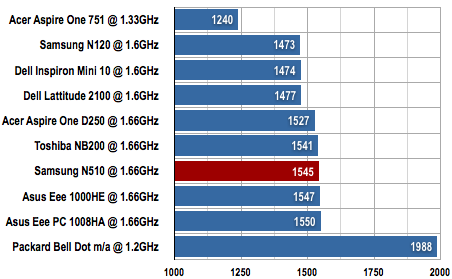 Longer bars are better
Memory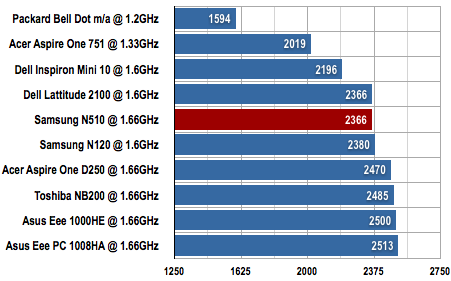 Longer bars are better
HDD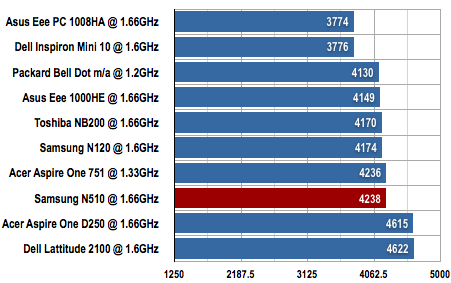 Longer bars are better
Video Playback Battery Test Results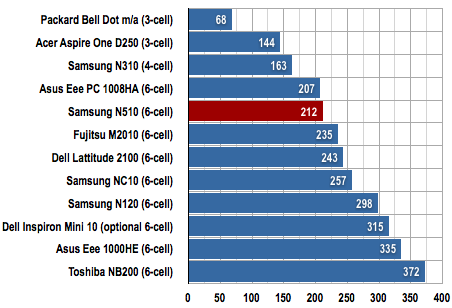 Battery life in Minutes
Longer bars are better
A traditional strength of Samsung netbooks has always been the capacity of the standard batteries and the six-cell, 5900mAh unit stuffed up the N510's derrière proved to be no exception.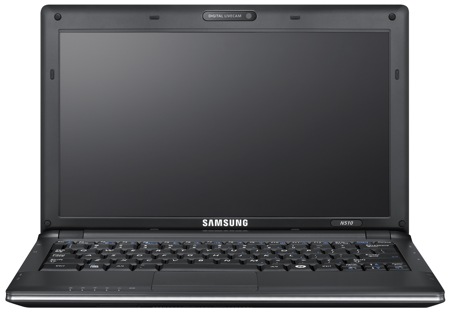 The fact the screen is matte with please many buyers
Subject to the traditional Register Hardware pummelling - running a standard definition video at full screen using VLC media player with the brightness and volume turned up to 11 and the Wi-Fi radio switched on - the N510 managed 212 minutes.
That's a fair bit less than you will get from an NC10 with a 5200mAh battery, and a lot less than from an N120, which has the same battery as the N510. But both those machines don't have the Nvidia chippery to drive.
During more realistic day-to-day use, we found it easy enough to get five hours of runtime from a charge. Switch the Wi-Fi radio off, turn the screen brightness down a bit and use the Samsung control panel to snick the CPU into power-saving mode and you can push that number over the six-hour mark without any excessive compromises in performance.
While the N510 ran silent and cool even when the chip was working its socks off, the same cannot be said for the 2.1A charger brick which while small and light takes a fair old while to recharge the battery and gets very hot indeed during the process.
Verdict
Samsung's netbooks have never been what you would call cheap, but for £380 we think the N510 is significantly better value than the firm's previous netbook efforts. The price isn't noticeably higher than the likes of the N120, but for your money you get a far more capable GPU; a larger, higher resolution screen; 802.11n; and an HDMI port, and those are not features to be sniffed at. ®
More Netbook Reviews...

Fujitsu
M2010

Packard Bell
dot m/a

Dell
Latitude
2100

Toshiba
NB200