Original URL: http://www.theregister.co.uk/2009/11/16/review_laptop_hp_envy_15/
HP Envy 15 'Lynnfield' Core i7 laptop
Inside, Intel's most powerful mobile CPU yet
Posted in Personal Tech, 16th November 2009 12:02 GMT
Review It might be more accurate to refer to HP's latest laptop as the 'Apple Envy', as the design of the machine so closely mimics that of Apple's MacBook Pro range. But, to be fair to HP, it hasn't simply copied Apple. It has added some nice touches of its own, and its use of the Intel Core i7 processor ensures that the Envy 15 outdoes its Mac rivals when it comes to performance.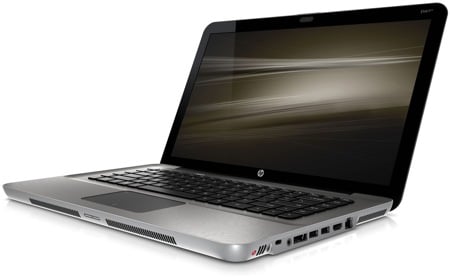 HP's Envy 15: Apple MacBook Pro inspired?
The Apple influence is obvious even before you set eyes on the Envy 15. The packaging has clearly been modelled on that of the MacBook Pro, right down to the little cardboard tab that lets you lift the laptop out of the box.
The comparisons continue as you slide the Envy 15 out of its silky cloth cover – it has the same aluminium body work as the MacBook Pro, a similar keyboard with flat, black, square keys raised a little above the surface of the machine's recessed keyboard area - it's not backlit like the MacBook Pro's keyboard, though - and the large, buttonless trackpad immediately in front.
But, as we mentioned, there are a few differences that make it more than just a lazy Apple clone. The first thing we noticed – apart from the tasteful etching on the aluminium casing – was how light the laptop is. The spec sheet says that it weighs 2.35kg compared to 2.5kg for a comparable 15in MacBook Pro, though it actually felt quite a bit lighter than the Apple laptop to us.
And then we noticed the optical drive still sitting in the box. HP has jettisoned the internal optical drive you'd expect to find in a 15in notebook in favour of an external USB unit. Unlike Apple, which charges £65 for the external DVD burner it offers to MacBook Air owners, HP includes the external LightScribe-compatible dual-layer 8x DVD±RW as standard. That alone was enough to make us feel more kindly towards the Envy 15 as we opened it up to take a closer look.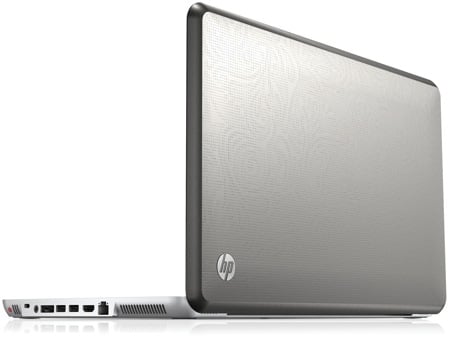 'Would you like to come up and see my etched laptop?'
Folded flat, the Envy measures just 26.5mm thick, and it's just about light enough that you can pick it and carry it comfortably in one hand – not bad going for a model with a 15.6in screen. The power socket sits on the left-hand rear corner, with most of the connectivity ports ranged along the right-hand edge of the unit. There are three USB 2.0 ports, one of which combines both USB and eSata; a combined headphone/mic audio socket; Gigabit Ethernet; and an HDMI interface for connecting the Envy to an HD TV.
The notebooks also supports 802.11n and Bluetooth wireless connectivity, and there's an SD memory card slot on the front edge of the unit. HP includes the product manuals on a 2GB memory card, which you can obviously reuse once you've made a copy of the PDF.

Here come the grilles
The keyboard has a nice solid feel to it – as it should do at this price – and we could touch-type quite comfortably on it. The trackpad works well too. Its size makes it easy to perform tasks such as scrolling through long documents, and also allows you to use the lower left and right corners of the trackpad like conventional mouse buttons.
The screen has 1366 x 768 resolution - a 16:9 aspect ratio - and uses LED backlighting that produces a very bright and colourful image. The glossy coating on the screen is highly reflective, though, which some users will find annoying when bright daylight falls on the screen.
Nonetheless, the external design of the Envy 15 is extremely attractive and shows that 'boring old PC manufacturers' can give Apple's design team a run for their money when they bother to make the effort.
However, it's the inside of the laptop that really piqued our interest. The Envy 15 arrived with 64-bit Windows 7 Home Premium pre-installed and is equipped with a Core i7-720QM processor running at a relatively modest 1.6GHz, so we were curious to see how that processor would compare with Core 2 Duo processors that typically run at much higher clock speeds.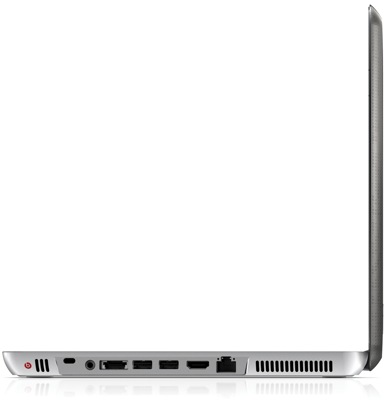 Ports a-plenty - but no on-board optical drive
The i7 chip is backed up by a healthy 4GB of DDR 3 memory - which can be upgraded to 16GB in total - a 320GB Sata hard disk running at 7200rpm and an ATI Mobility Radeon HD 4830 graphics chip which grabs at least 1GB out of the 4GB of main memory and can take up to 2811MB.
PCMarkVantage Results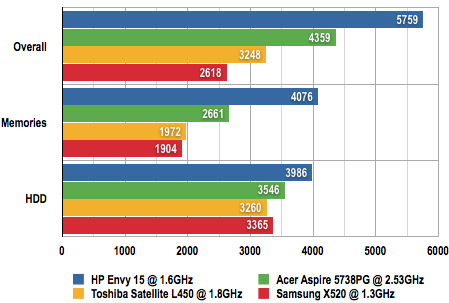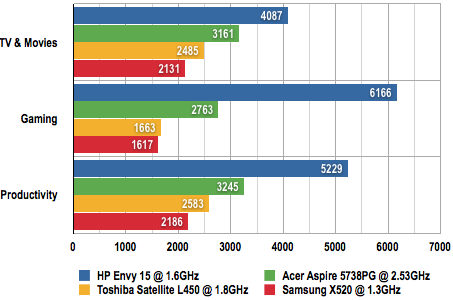 Longer bars are better
PCMarkVantage Battery Life Test Results

Battery runtime in Minutes
Longer bars are better
Despite its relatively low clock speed, the quad-core Envy 15 still outstripped the various Core 2 Duo laptops that we've reviewed in recent months in just about all aspects of system performance – and that includes Apple's 15" MacBook Pro, which comes in at almost £1500. We attribute that performance to Intel's TurboBoost technology, which can boost the basic processor clock speed if any of the processor cores aren't being used. In the case of the i7-720QM used here, the clock-speed can actually get right up to 2.8GHz.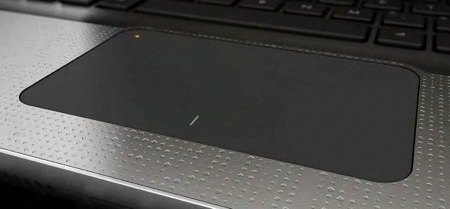 The MacBook Pro-style clickable touchpad is good to use
The Envy 15 even managed an impressive 89.30fps when running Far Cry 2 at full 1366 x 768 resolution, rising to 95.5fps at 1024 x 768, so it'll make an excellent workhorse for heavy-duty gaming or graphics work. Having a discrete ATI GPU really pays off here.
If you're more used to old-style PCMark05 numbers, the Envy 15 yieled an overall score of 7031, putting it well ahead of every other notebook we've tested bar one. Its CPU, Memory, Graphics and HDD scores of 6824, 7412, 7961 and 5912, respectively.
The Envy 15 wasn't as staggeringly fast as Rock's Xtreme X790, which is the only other Core i7 laptop we've seen so far. However, that machine was built like a tank, had an desktop i7 running at 3.06GHz and cost twice as much as the Envy 15. That makes the Envy 15 the clear winner in terms of overall price and performance.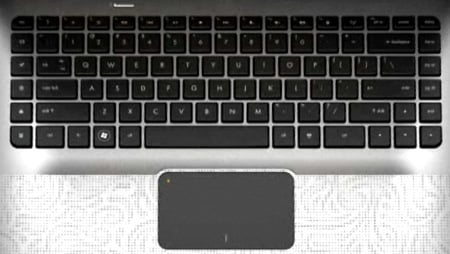 The keyboard is nice and rigid
The Rock machine also got very hot and had a number of powerful fans built into it to cope with the heat output. In contrast, the Envy 15 merely got a bit warm on the underside. It wasn't even so hot that it would be uncomfortable when balanced on your lap. The cooling system does make a slight but noticeable humming sound when it's running, but we didn't find it loud enough to be annoying.
Unfortunately, there's one thing that the Envy 15 does have in common with the Rock Xtreme – and that's its poor battery performance. We hoped that the laptop chip used by the Envy 15 would prove to have much lower power consumption, extending the runtime of the unit's six-cell power pack. Sadly, the Envy 15 could only manage about 85 minutes of battery life when running PCMark Vantage on it.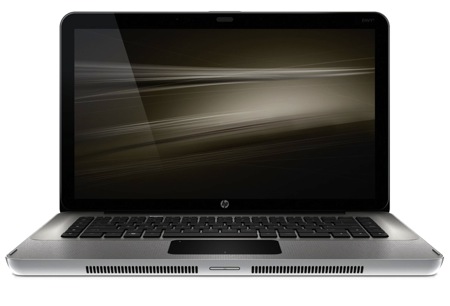 Nice design, shame about the battery life
Battery life wasn't any better when running H.264 video straight off the hard disk, and experimenting with Windows 7's power settings didn't seem to make much of a difference either. HP does sell an optional nine-cell battery pack that it claims can provide up to seven hours of battery life, but that costs over £200 so we'd expect it to make the tea and tuck us into bed at night for that price.
Still, this is a 15in machine and is likely to spend more time on desks, connected to the mains, than running off batteries while sat on someone's lap. Our test is an extreme one and we'd expect that, under ordinary usage, you'd get around three hours' runtime out of it.
Verdict
There's no denying that the Envy 15 is one of the most elegant laptops we've ever seen. It also provides outstanding performance at a competitive price - £1199. Sure you can get a 15in notebook for under £400, but not one as powerful as this - or as good looking. We'd hoped for stronger battery life from the laptop version of the i7 processor and this weakness means that the Envy 15 is essentially a desktop replacement system, rather than a truly portable laptop that you can whip out to impress people in your local Starbucks.
If you're looking for a really powerful PC that is also light enough to carry from one site to another without giving yourself a hernia then the Envy 15 will be hard to beat. ®
More 15in Notebook Reviews...

Apple
MacBook
Pro

Toshiba
Satellite
L450

MSI
X-Slim
X600

Acer
Aspire
5935