Original URL: https://www.theregister.co.uk/2009/11/14/review_netbook_acer_aspire_one_d250_android/
Acer Aspire One D250 with Android
The first netbook with Google's OS
Posted in Personal Tech, 14th November 2009 09:02 GMT
Review Installing a second operating system on a PC is nothing new. Plenty of manufacturers have done so before, building a slimline Linux distro into their machines to provide a much more rapid start-up than Windows can manage: full access to the internet within seconds of pressing on power key.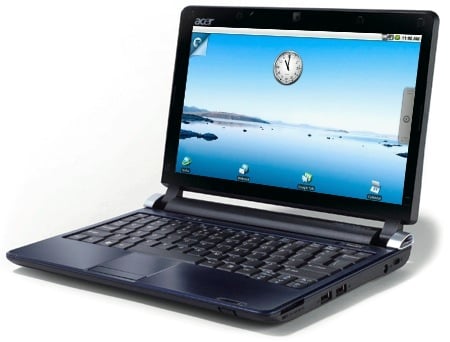 Acer's Aspire with Android: fast start for Google, slower boot to Microsoft
What sets Acer apart is its choice of secondary OS: Google's Android, an operating system usually found in smartphones, but here pressed into service the way Asus has used SplashTop, Sony has used XMB and Dell has used Latitude On.
All of these services play second fiddle to Windows, and Acer's Android offering is no different. Right from the outset, Android is junior partner to the Microsoft OS. Switch the machine on - it's an Aspire One 10in D250 netbook, almost exactly like the one we reviewed here - and alongside the regular invitation to enter the Bios setup screen by pressing F2, you have the chance "to enter Windows OS" by pressing F9.
You have to be quick, though. If you're too slow, or you keep your mitts off the keyboard, the familiar Google 'droid appears, cheekily peering up at you from the bottom right corner of the screen. Within seconds - 18.9, to be precise - you're facing the Android UI.
That start up speed is nice - Windows XP took 54s, from pressing the power key to the last of the System Tray icons being loaded - though it's not really what we'd call instant on. But we're less keen on what it brings you. This incarnation of Android - provided by Bios maker InSyde - is disappointingly basic.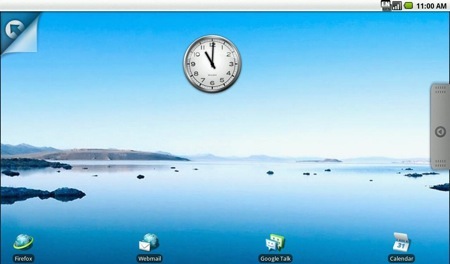 The D250's Android UI is largely like the smartphone interface
If you've tried an Android phone, the UI will be familiar: the analogue clock, the notification bar up top and the desktop space that's larger than the screen. Here you click and drag to the two other areas - there are three in a row - rather than swiping with your finger. This is one netbook that really could do with a touchscreen.
Working with a mouse rather than a finger makes for a less fluid experience. Worse, you'll need to use the keyboard too. Ever present on the right side of the screen is a tab you can click on to slide out a tray of pre-installed application icons. All of them launch with a single click. In the case of Settings, that click presents a full-screen list of options. You can click on any entry to display - again, full screen - the sub-menu. Further clicks take you down through the menu hierarchy.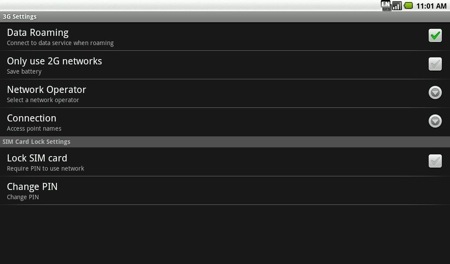 The menu lists are easy to navigate - when you figure out how
But to get back you have to hit the Esc key - there's no 'back' arrow to click. If the menu has more entries than the screen can show at once, you'll see what appears to be a vertical scroll bar but is actually just a visual guide - clicking on it has no effect. You click and hold to drag the menu up or down, a move you'd make naturally on a tablet but not with a mouse. If you get that far: the item underneath the pointer will highlight, so you think you're selecting something and you let go. We spent ages using the arrow keys to scroll up and down list before we discovered the click-and-drag manoeuvre.
The main screen has four icons along the bottom - all taken straight from the original Aspire One's Linpus OS and they weren't particularly attractive when they appeared over 18 months ago - to fire up a version of Firefox unfortunately called Minefield, plus Webmail, GoogleTalk and Calendar. The last two require a Google account - if you don't have one, you're encouraged to set one up when you first launch Android - but Webmail will work with a variety of other providers. There's a separate Email app for POP and IMAP accounts, and it'll configure most accounts with just the email address and password.
Clicking and holding Email's icon allows you to drag it off the Applications panel and onto the desktop, and you can move those already there around in the same way, though the snap-to-grid mechanism spaces them so far apart you'll have to use multiple screens if you want more than a dozen of them.
Or fewer still, if you add widgets, which take up more screen space than their pixel dimensions would suggest. Widgets you can choose from: the clock, a Google search bar, a (static) picture frame, a music playlist and a calendar. Right now there's no Android Market app so there's no easy way to download more apps or widgets. Not that with a three-screen desktop you have room for many more.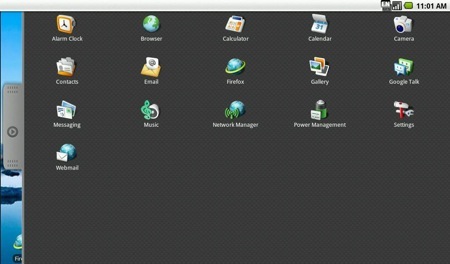 Click the right-side tab for the application list
The apps that are included provide quick access to the D250's Wi-Fi, Bluetooth, 3G modem and webcam. You can view photos and play music, but not video. Unlike other quick-boot OSes, this one won't list media stored on the netbook's Windows C: partition, which frankly makes it next to useless. Who wants to keep two copies of everything, one for Windows, another for Android?
You could run Windows, open up the D: partition on which all the Android stuff is kept, create a folder called 'Music' and place your content there. Except D: has fewer than 3GB of free space, so don't expect it to hold many tunes. It'll play MP3, Ogg and iTunes-downloaded DRM-free AACs, but not WMAs; ID3 tags and album are are supported. Android will also read SD cards and USB sticks, but surely not having to use these is what fitting a netbook with a 160GB hard drive is all about?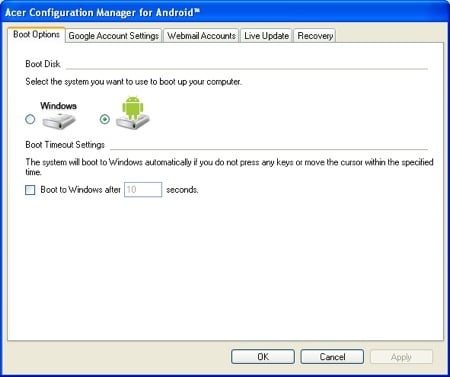 Acer's Windows-based Android config utility lets you avoid the Google OS altogether
So if Android - here, at least - isn't much use for media playback, is there any value to it beyond fast (ish) internet access? Well, not when Windows XP will here resume from sleep in less time than it takes Android to boot: 14 seconds.
Keeping the machine shut down will conserve the battery charge, though. You might think Android consumes less battery power than Windows, but if it does, there's not much in it. An hour or so's tinkering with Android and the D250's 2200mAh battery charge had fallen by much the same as it would have done under Windows.
Now, don't get us wrong, we like Android. The problem is that here it's being used to a fraction of its full potential. When Acer announced this machine, we wondered if we could remove Windows altogether and just run the Google OS. As it stands, even if that's possible - you'd have to tinker with the HDD's partitions, but we think it's doable - you'd leave yourself with a very limited computing experience. You'd be better off installing Ubuntu or Moblin instead.
You'd certainly get more consistency. Among the icons you can add to the desktop are website shortcuts - but only from a pre-set selection. Firefox's bookmarks aren't listed. This is because clicking on an on-screen web shortcut fires up the Android browser, not Firefox. It has the usual Android browser zoom and pan buttons, but these don't work. Neither does Flash playback, which is presumably why Firefox has been added. So why didn't Acer and/or InSyde also ditch the touchphone-centric Android browser?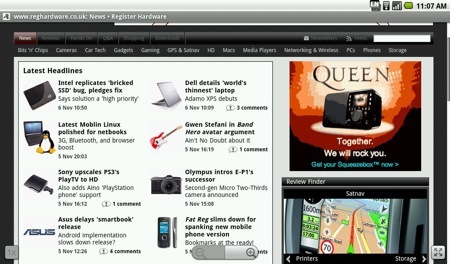 Android's Browser: nice, but you'll need Firefox for Flash content
After booting up the D250 into Windows, we did get a handful of Android updates come down the line, so there's clearly a possibility that Acer and InSyde will extend the OS' functionality. As it stands, Android is really no better than any other quick-start OS, suggesting the Google OS was chosen for its brand value rather than technology strengths.
Android Screenshot Gallery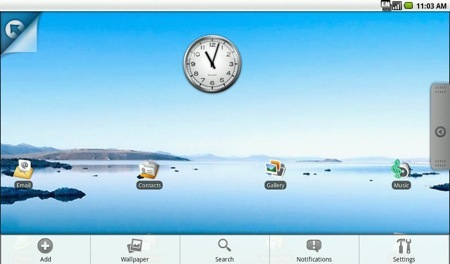 Right-click to call up this panel at the base. Clicking on Notifications is the same as clicking in the status bar at the top.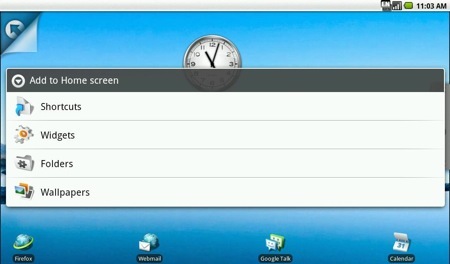 Clicking Add brings up this menu of items you can put on the desktop.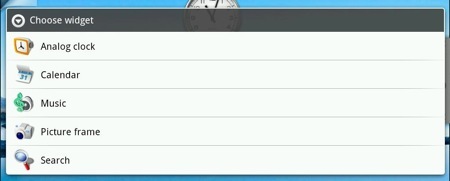 The range of available Widgets is limited - the space to put them in even more so.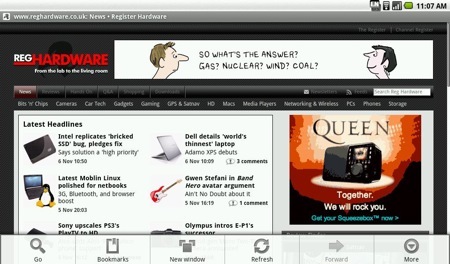 Right-click in the Android browser brings up a basic array of options. Click More...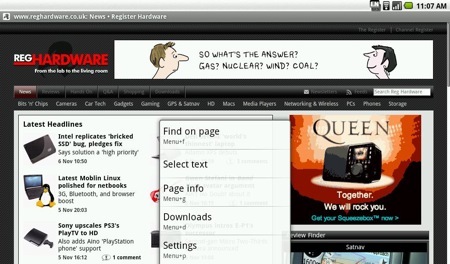 ...and this menu appears. The 'Menu' key referred to is the keyboard's contextual menu key.
Android Screenshot Gallery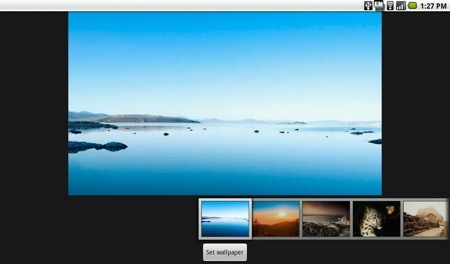 The Wallpaper Gallery contains 14 images. This one will fill the D250's screen...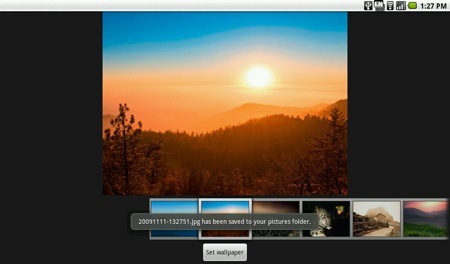 ...but none of the others will.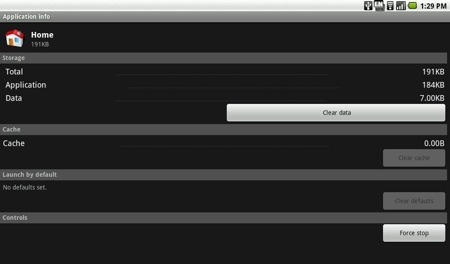 You can tweak applications, though the controls are deep within the Settings.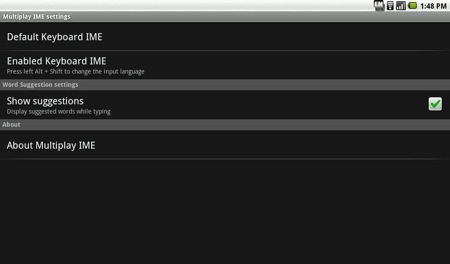 You can get predictive text suggestions, though there's no on-screen keyboard.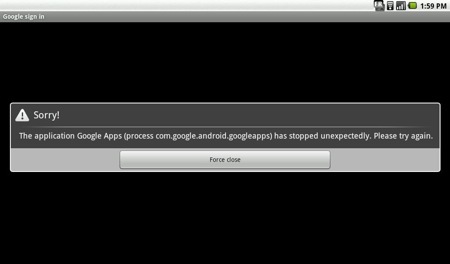 Whoops...
Android here does have some nice touches, and it's largely a good looking UI. We mentioned the ease of setting up Email, and both Wi-Fi and 3G are eminently usable for wireless internet connectivity. The integrated Huawei 3G modem is unlocked, so stick a Sim in the slot under the battery and you're away. You can manage the modem in Android and in Windows.
But it's the little things that irritate. Some 14 wallpapers are included, but only one is sized to fill the D250's 1024 x 600 screen. You can add email accounts easily enough, but you can't delete them. Clicking icons in the menu bar calls up the Notifications screen, it doesn't take you to the appropriate Settings panel. You can't create a Google account in Android if you didn't do so during the set-up process. It's sluggish, not zipping along as merrily as you'd expect a pared-down Linux distro to.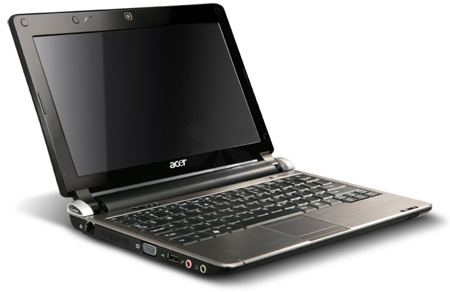 Nice netbook - but go for the six-cell battery
We should mention the hardware before we go. We liked the D250 when we reviewed it as a standalone Windows XP netbook and our opinion hasn't changed. We re-ran PCMark05 and got exactly the numbers we expected for this D250's 1.6GHz Atom N270 CPU - the previous one had a 1.66GHz N280 in it.
Hard drive, memory and 3G modem are easily accessible through hatches in the D250's base. The glossy screen is nice and bright. The keyboard isn't bad and while the touchpad is a bit on the small side, that's par for the netbook course. Only the battery lets it down - 2200mAh is too small for a device that'll be used out and about - but at least there's a 4400mAh option.
Acer should either release a netbook that uses Android as the primary OS, just as it used Linpus for the first Aspire One. We liked Linpus - it wasn't a geek's OS, but it did the job for everyone else, keeping the machine simple and consumer-friendly. Android could do the same but at scope of third-party apps to increase the machine's functionality.
Verdict
We were hoping for so much more. Android on phones is a powerful, highly customisable OS with a growing selection of third-party apps. On Acer's dual-OS Aspire One D250, it's just a basic front-end for quick web, and music and photo media access. We knew from that start that's what it was there for, but did they have to limit it quite so much?
This is not, and probably never will be, a true Android netbook. The OS here isn't on a par with Windows, in terms of functionality or role. We like the hardware - the D250 is a nice netbook - but this version really doesn't improve on the basic, cheaper model. ®
More Netbook Reviews...

Fujitsu
M2010

Packard Bell
dot m/a

Dell
Latitude
2100

Samsung
N110