Original URL: https://www.theregister.co.uk/2009/11/13/review_storage_optical_liteon_etdu108/
Lite-on ETDU108 slim DVD drive
Burning ambition?
Posted in Personal Tech, 13th November 2009 08:02 GMT
Review So ubiquitous has DVD burning become that when Lite-on sent us its ETDU108 slimline external optical drive, we naturally assumed it could write DVD±R/RW discs. It was only when we tried unsuccessfully to burn one that we realised our assumption was incorrect.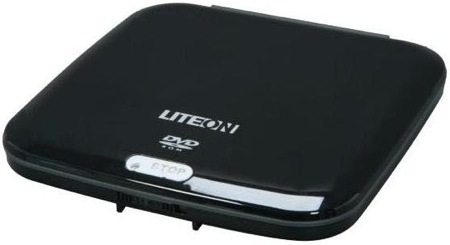 Liteon's ETDU108: read only
The ETDU108 is a read-only device designed solely for the purpose of getting content onto your computer but not off it.
Lite-on's motivation for releasing such a product is the vast number of netbooks out there, all lacking optical drives. This means they can't be used to watch DVDs or to install new software direct from discs.
The same applies to the emerging class of very thin laptop pioneered by the likes of Apple's MacBook Air that likewise lack built-in optical drives of any kind.
Owners of these machines represent a new market for Lite-on. While slimline optical drives aren't new they have largely commanded a price premium because sales volumes were low and they were seen as a more desirable alternative to bulky desktop drives.

Compact
No longer. The ETDU108 can be picked up for between £25 and £30, which is eminently affordable for anyone who wants to hook it up to a netbook for DVD viewing or software installation.
Your money buys you the drive, a short - 21cm tip to tip - mini USB cable and nothing else - no case, no software, nothing.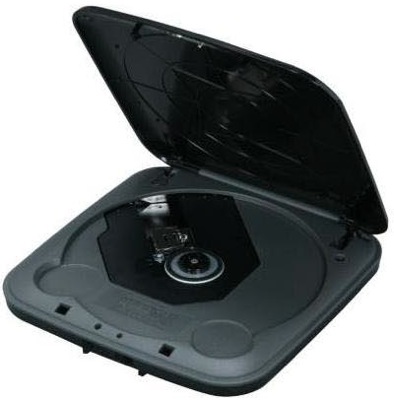 Never be trayed
Unlike other slimline external optical drives we've seen, the ETDU108 isn't a tray-loader. The lid flips up Sony Discman style to allow you to clip your disk onto the spindle within. Clip down the lid and the read mechanism kicks in automatically.
There's a big emergency stop button the front of the lid that immediately stops the disc from spinning. Beneath it Stop, on the front of the drive, is a spring-loaded slider that trips the lid's catch release.
Low-cost slimline optical drives aren't the most solidly built of computer peripherals - at least, that's what they feel like - and the ETDU108 is no exception. It's very light, and it the lid's not going to survive punishment. But the that's true of any portable disc player, and having a lid rather than a tray is certainly handy for working in confined spaces such as airline seats.
The low weight - 300g - slim dimensions and curved corners make the ETDU108 as portable as they come. With no tray mechanism it's a good 10-20mm narrower and thinner than other drives of this type. Lite-on has a cut a cable-shaped groove in the base into which you can tuck the USB cord.

The mini USB port sits in the notch at the back
We hooked the ETDU108 up to an Acer Aspire One D250 netbook - reviewed here - and found it eminently suitable for DVD viewing. Playback was perfect, and skipping chapters no chore.
Peak reading speed hits 8x for DVD-Rom and DVD±R, dropping to 6x for other DVD formats, including dual-layer media. Copying a 2GB file off a DVD-R burned in UDP format took 6m 27s. Copying a 1GB folder containing 100 10MB files took 4m 20s. That's 5.29MB/s and 3.94MB/s, respectively.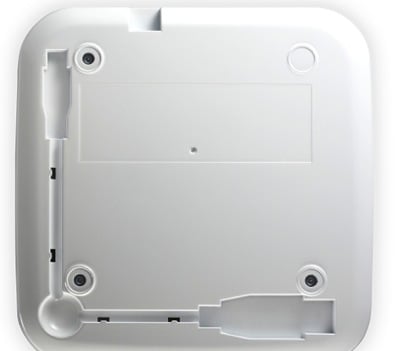 Dock the cable in the base of the drive
Using the Opti Drive Control test software, the Lite-on yielded a cross-DVD read speed range of 1.68x to 4.11x, with a random read speed of 152ms and a burst throughput of 13.1MB/s.
By comparison, a similarly 8x-rated LG GP08NU10 - reviewed here - scored from 1.04x to 2.53x, 209ms and 15.6MB/s, respectively. Not so fast at reading, but it will burn discs for you.
The LG costs between £42 and £51, depending on who you buy it from, which isn't so very much more than the Lite-on. And that's the point: wouldn't you rather pay £20 more and get a drive capable of burning too?
Verdict
Lite-on's ETDU108 isn't a bad little drive and it's cheap enough not to trouble the netbook buyer's budget - and certainly not anyone who's opted for a thin'n'light notebook. But make sure before you buy that you really don't need to burn discs. ®
More Optical Drive Reviews...

PLDS
iHES208

Pioneer
BDR-203BK

Liteon
eSAU208-16

LG
Super Multi Blue
BE06-LU10