Original URL: https://www.theregister.co.uk/2009/11/13/police_forensics_tool/
Police sitting on forensic backlog risk, says top e-cop
Triage tool coming to save the day
Posted in Policy, 13th November 2009 11:02 GMT
The UK's top e-cop believes the forensic backlog in seized IT kit poses a serious risk to ongoing criminal investigations.
Deputy Assistant Commissioner Janet Williams, the national lead on e-crime for the Association of Chief Police Officers (ACPO), also sees the situation as unfair to those having to wait ages to get their technology back.
"We can't afford the backlog because we're sitting on risk," she says. "And we need to realise that people's lives are on those computers. If we can extract what we require and at least let them carry on with their lives, surely we should be looking to do that."
Williams and her team are working on rolling out a software tool to officers early next year that should resolve both these issues,
"What we're very keen on doing is looking for a forensic triage tool that police officers or forensic officers can use locally. One that is quite simple, one they can ask questions of, such as 'in this computer is there the following...?'," says Williams. "The triage tool can pull that out for them."
She says ACPO is close to identifying the right product and that it is 'critical' that police resources are freed up. She describes the situation as one of the biggest e-crime problems. "We have got to solve it," she says.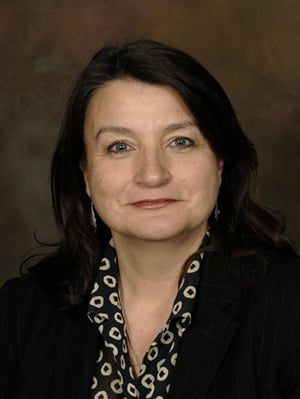 DAC Janet Williams
Disrupting the lives of people 'helping with inquiries' is also a main concern. "If you're talking about ten years ago, it was sort of fair enough to seize computers. People didn't keep their lives on them. Now if someone takes your computer, there might be part of that that contains illicit material, intelligence, or evidence, but there might also be part of that which contains all your banking details, your diary etc."
Williams explains that there is a forensic backlog because more and more detectives and officers are seizing computers, and wanting to view what's on them in order to obtain evidence and intelligence. "Particularly in child abuse child pornography cases, there is most definitely that need," she says. "Unfortunately, the capability to do that locally is limited, [which] has created a backlog."
Williams believes that computer forensic work should remain closely linked to traditional police forensic specialisms. "I'm very clear that digital forensics and traditional forensics are umbilically linked, particularly around accreditation standards with the new surveillance commissioner – it's very much linked into ACPO forensics and the work is complementary."
But ahead of the forensic triage software roll-out, who is doing the computer forensic work - police officer or forensics officer?
"It depends where you are in the country," says Williams. "Part of our objective is to be sure what we are creating nationally, is of an accredited standard, and you've got that consistency of approach across the country."
And does every copper know not to touch a computer if they don't know what they're doing? "I would hope so," says Williams, laughing. "I would really hope so."
Deputy Assistant Commissioner Janet Williams works in the Metropolitan Police's Specialist Crime Directorate. She has been Detective Chief Inspector and Senior Investigating Officer in the Metropolitan Police's Anti-Terrorist Branch. Currently she is also dealing with homicide, kidnap, child abuse, covert policing, corporate intelligence, corporate tasking, fraud, drugs, shootings and Operation Trident, the anti-gun crime initiative. ®