Original URL: https://www.theregister.co.uk/2009/11/13/olsen_raptor_case_gets_to_court/
'F-22 Raptor stealth coatings are crap' case goes to court
Pricey ultrafighter 'defective', alleges whistleblower
Posted in Policy, 13th November 2009 12:54 GMT
Updated A former Lockheed stealth-tech engineer has alleged that radar-invisibility coatings on the USA's F-22 "Raptor" ultrasuperfighter are "defective", and that Lockheed supplied them knowing that this was the case. It has now been confirmed that Darrol Olsen's whistleblower lawsuit will be heard in federal court.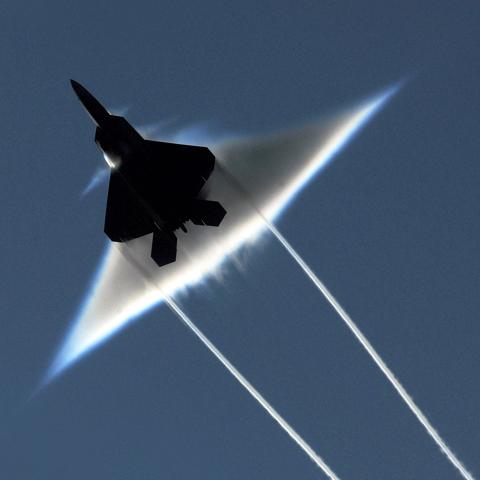 Look mummy, that plane's invisible clothes are actually visible. (Full hires here.)
Olsen's suit was actually filed in California in 2007, and was unsealed earlier this year. The Reg covered it in June. Now AP reports that the suit will be handled by federal beaks in Atlanta, near Lockheed's Marietta plant at which the Raptor is assembled.
The Raptor is universally considered to be far and away the most capable air-to-air fighter jet in the world, and also the most advanced example of stealth technology yet built. It is also the world's most expensive fighter, with each one projected to have cost the US taxpayer well north of $300m once the planned 187-strong fleet has been delivered.
Olsen says that between 1995 and 1999, he witnessed Lockheed knowingly use on Raptors "coatings that Lockheed knew were defective". Olsen contends that he was "one of the top... low observables engineers in the stealth technology industry", having worked on the original F-117 stealth fighter and at Northrop on the B-2 stealth bomber before joining the F-22 team. When he tried to raise the matter with company management, he was told to "stay out of it".
But it's not what you're coated with that counts - it's the shape you're in
The suit goes further, saying that since Olsen ceased to be involved in Raptor development Lockheed has continued to conceal problems with the plane's stealth coatings "through at least October 2004 and likely to the present date". He adds that issues with the coatings being washed off by jet fuel or water meant they eventually had to be much thicker than the design called for, compromising the Raptor's aerodynamics and adding as much as 600 pounds of unexpected weight.
Problems with coatings have always been a feature of stealth capability, however. Previous stealth aircraft, such as the F-117 and B-2, are known to be horrifyingly expensive to maintain because of issues like this - not uncommonly needing major work on their exteriors after every flight. The Raptor is supposed to be easier to look after, but even so the existing fleet is likely to be clad by now in new coatings quite different from those of Olsen's time at Lockheed a decade ago.
Then, it's also widely acknowledged that shape is much more significant than materials in stealth design, so even if the Raptor is (or was) wrapped in suspect coatings this may not have had that much effect on its signatures.
Certainly the US air force have never expressed any concerns, and the superfighter has now been in service for some time. (That said, until lately the USAF was engaged in a massive battle against the Defense secretary and President Obama to get a bigger fleet of F-22s, so the service would have been unlikely to mention any snags.)
Given the massive amount of secrecy surrounding the pricey jet's technology, and the length of time that has passed since Olsen worked at Lockheed, he and his lawyers probably have a tough fight on their hands. For those interested, Olsen's full legal filing can be read below. ®
Update
Lockheed has now supplied us with a statement saying that the case was transferred to Georgia at the company's request, and that coporate lawyers haven't yet filed their response to Olsen's suit.
"Lockheed Martin does not believe there is any merit to the allegations and will vigorously defend this matter in court," adds the aerospace firm.