Original URL: http://www.theregister.co.uk/2009/11/13/german_invisibility_carpet_sim/
German boffins produce sim of 'invisibility carpet' in action
Don't try sweeping anything important under this
Posted in Science, 13th November 2009 10:28 GMT
Remorseless German boffins have developed a simulator which can show how so-called "invisibility carpets" fashioned of metamaterials (in fact more likely to appear in the form of invisible sheds, according to top boffins) would actually appear to the human eye. According to the simulation, the invisible sheds would produce curious ripples and distortions, fairly easily spotted.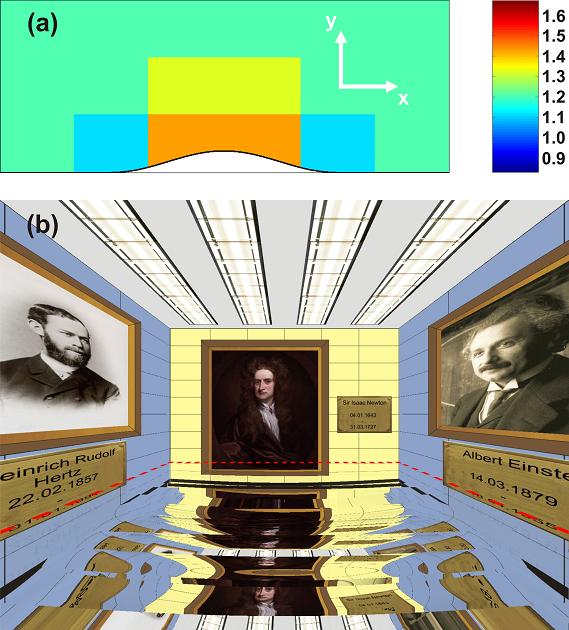 The attempt to sweep everything under the invisibility carpet wasn't terribly successful.
"It's important to visualize how an optical device works," explains Jad C Halimeh, who wrote the software as part of his Master of Science thesis at the Karlsruhe Institute of Technology. Details of the new KIT kit have been published in a scholarly paper, but the actual code hasn't been released yet.
Apparently the standard software that scientists and engineers use to simulate light in a room only allows for a few hundred "volume elements" interacting with the lighting. Halimeh says that to accurately work out the effects of visual-wavelength broadband metamaterials you need hundreds of thousands of elements, which his tech has got.
One should note that nobody has made a metamaterial able to affect visible-light wavelengths, far less a broadband one able to twist all the frequencies the human eye can see. Prof John Pendry, one of the top boffins in the field, has said that advances in nanotechnology might one day make such things possible - but that it won't be a "cloak" as such.
"Despite the hype around Harry Potter, this isn't anything that flaps around in the breeze," the prof has said. "It's more like a shed."
Meanwhile Halimeh and his KIT colleagues, wanting to demonstrate their program, rendered a virtual museum niche with three walls, a ceiling, and a floor. In the middle of the room, there's a bump in the floor - but it's covered in metamaterial invisible-shed cladding (the KIT people prefer to speak of invisibility "carpet") which in theory ought to make an observer see nothing but a flat reflecting floor. However, according to the simulation, this is actually far from the case.
It would seem that in addition to not really being possible, the invisibility cloak/shed/carpet is also fairly crap. The paper, Photorealistic images of carpet cloaks, can be read here (pdf). ®