Original URL: https://www.theregister.co.uk/2009/11/13/atlantis_crew/
Atlantis crew gears up for Monday launch
Poses for cheerful snap ahead of ISS jaunt
Posted in Science, 13th November 2009 11:32 GMT
The crew of space shuttle Atlantis has arrived at Kennedy Space Center ahead of Monday's slated launch of mission STS-129 to the International Space Station.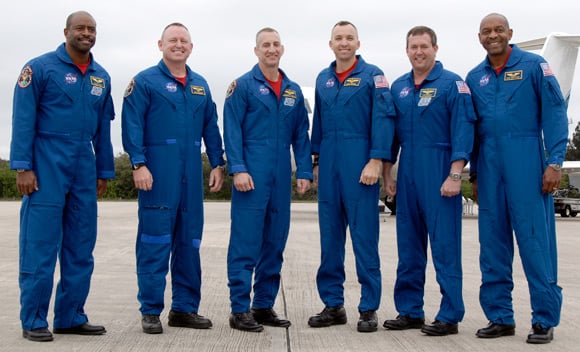 Posing for the camera on the tarmac were (from left) mission specialist Leland Melvin, pilot Barry E Wilmore, commander Charles O Hobaugh, and mission specialists Randy Bresnik, Mike Foreman and Robert L Satcher Jr.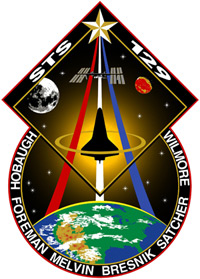 Hobaugh told the assembled press: "It's a real honor and pleasure to be here. This has been the culmination of at least nine months of us being together as a crew … we've been deeply entrenched in our training, getting to develop all of our individual requirements for accomplishing our objectives for this mission."
One of the 11-day mission's objectives is to deliver spares to the ISS to "keep the station going long after the shuttles retire".
Two external logistics carriers, aka ELCs, will be packed with "two pump modules, two control moment gyroscopes, two nitrogen tank assemblies, an ammonia tank assembly, a high-pressure gas tank... power control unit, a plasma container unit, a cargo transportation container and a battery charge/discharge unit".
NASA summarises: "Some of those spares would be used to replace failed components of the systems that provide the station power or keep it from overheating or tumbling through space."
The Atlantis team will carry out three spacewalks. One of the EVA tasks is to prepare the ISS for delivery of the Tranquility node on Endeavour's STS-130 mission, pencilled for a 4 February 2010 lift-off. This will involve "routing connections and preparing the berthing port on the Harmony node" onto which Tranquility will finally be bolted.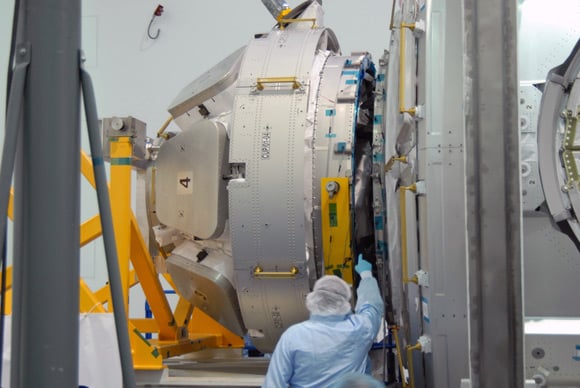 Tranquility will be the "last major United States addition to the space station", and comprises expanded living space and a "six-windowed cupola" (pictured above being mated to Tranquility), from which residents will be able to enjoy the view.
Atlantis is due to blast off on Monday at 19:28 GMT. It will return to Earth with mission specialist Nicole Stott, who's been on the ISS since arriving aboard Discovery on STS-128 at the end of August.
NASA has an STS-129 mission overview here, mission summary here (pdf), press kit here (pdf) and more on the crew here. ®