Original URL: https://www.theregister.co.uk/2009/11/12/review_p55_motherboard_round_up/
Intel P55-based motherboards
The best boards for 'Lynnfield' Core i5s and i7s
Posted in Personal Tech, 12th November 2009 13:02 GMT
Group Test If you're planning to build a new PC around an Intel 'Lynnfield' Core i5 or Core i7-800 processor then you are guaranteed to get stacks of performance at a reasonable price. In addition to a new CPU, you'll also need a motherboard that's based on Intel's P55 chipset and supports the LGA1156 interconnect spec.
To help you choose the one that's right for you, we've rounded up five of the best motherboards to see what you get for your cash. We tested each motherboard with a Core i7-870, 4GB of dual-channel Kingston KHX2133 memory, an AMD ATI Radeon HD 4890 graphics card and an Intel X25-M solid-state drive running Windows Vista Ultimate Edition.
Asus P7P55D Deluxe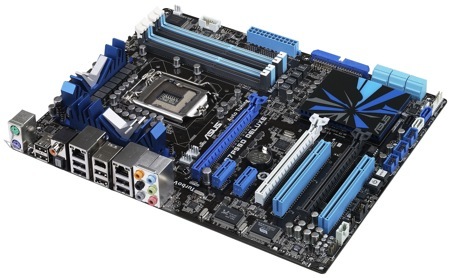 There are three eye-catching aspects to the Asus P7P55D Deluxe. The chipset is cooled by a large low-profile aluminium heatsink which is covered by a plastic plate that carries an illuminated Asus logo. It's not pretty but it leaves plenty of room for your graphics cards. This brings us to feature number two: there are two PCI Express 2.0 graphics slots that support both CrossFireX and SLI as well as a third, long PCIe x4 slot which seems tailor-made for PhysX duties.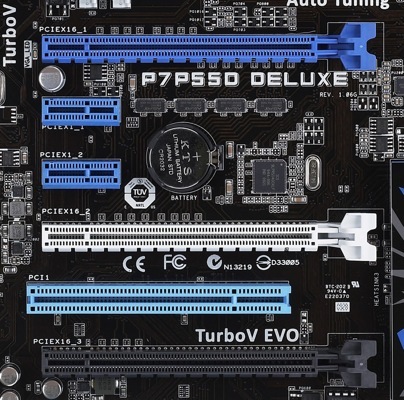 Two PCIe x16 slots and a long x4 connector for a PhysX card
The third thing that should catch the eye of any self-respecting geek is the 16+3 power regulation hardware that surrounds the CPU socket. The chokes and capacitors are absolutely tiny and the overall effect suggests some excellent engineering.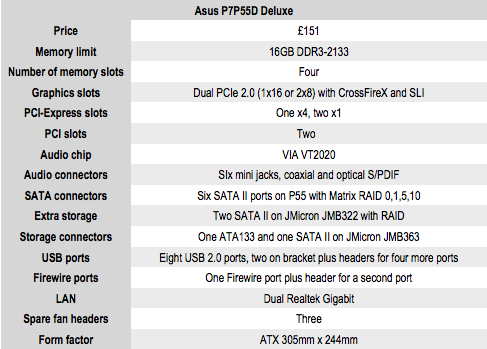 This feeling of excellent design and high build quality is repeated wherever you look on the P7P55D Deluxe. The passive coolers on the power regulation hardware look superb and are secured with screws rather than plastic pop pins. The illuminated Power and Reset micro buttons are the usual quality Asus items, the black PCB looks very smart, and the memory slots make life easy as they only use a single retaining clip for each DDR 3 module.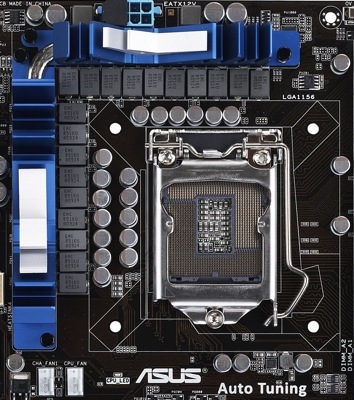 Good, solid power regulation hardware around the LGA1156 socket
The I/O panel looks relatively bare but despite that it packs digital audio, one Firewire, two Gigabit Ethernet and eight USB ports along with a bracket that carries two USB ports and an eSATA connector. Legacy support includes two PS/2 ports and an ATA-133 connector.

Only one clip per memory slot for easy module swaps
Once we got to grips with the Bios settings and realised that the Asus requires very little extra power to achieve high clock speeds, we were impressed by the performance of the P7P55D Deluxe. Specifically we found that an offset figure of +0.2V core voltage works better than a fixed core voltage with the result that our CPU would run at 3.96GHz.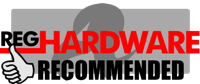 The combination of superb build quality, a long list of features and a fair price make the Asus P7P55D Deluxe a strong contender for any high-end PC.
Reg Rating 85
Price £151 Click here for the best online price
More Info Asus' website
Biostar TPower I55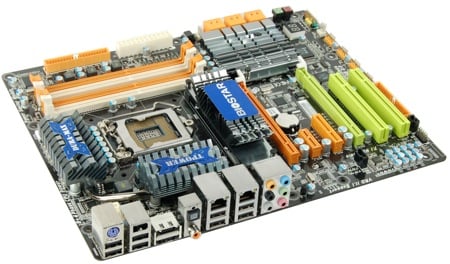 The specification of the Biostar TPower I55 looks very good on paper. There are twin graphics slots that support both CrossFireX and SLI; the integrated audio has coaxial and optical outputs; and there is a secondary storage controller that supports two eSATA ports and a legacy ATA133 connector. In short, what's not to like?
First impressions when you open the box and clap eyes on the hardware are good, and the passive cooling system on the chipset and voltage regulation hardware certainly catches the eye as it is both extensive and impressive.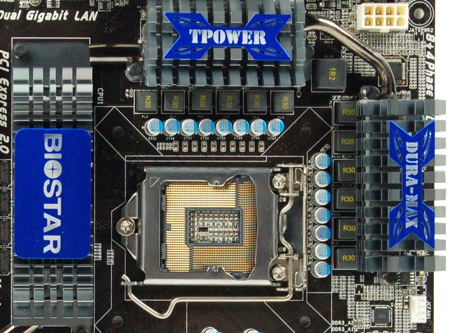 Odd cooling
There's something odd going on here as P55 is a single chip. However, Biostar has employed a cooler in the traditional northbridge position. This cooler doesn't sit on a chip and is raised a few millimetres above the board so its function is to link the various coolers together.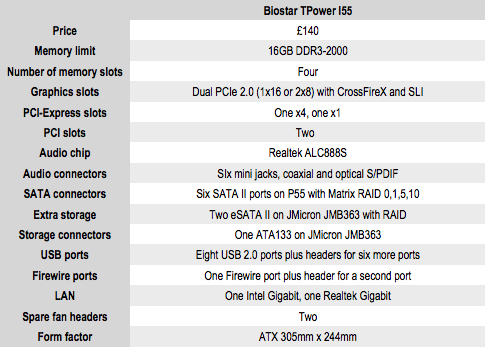 We were unimpressed by the bizarre shades of off-white and orange that Biostar has used on the memory slots and SATA connectors. The orange and lime green combo on the expansion slots also leaves us cold. These are cosmetic issues and the layout of the board is perfectly acceptable despite the crowded nature of the TPower I55 and the general sense of busyness.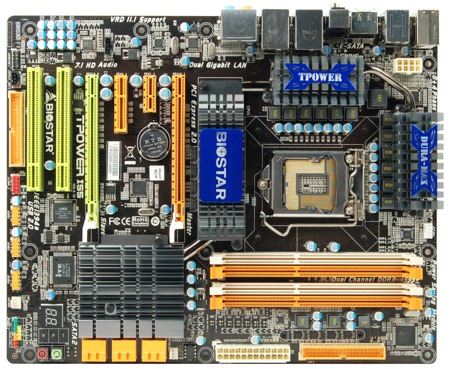 Curious colour scheme
This feeling extends to the Bios which is packed with an array of features that can get rather confusing. For instance, the SpeedStep and Turbo Mode settings are hidden away under Intel PPM Configuration, and the SPD information for each module of memory is to be found within the grandly titled Biostar Memory Insight section.
Biostar supplies overclocking features in the O.N.E. (Over-Clocking Navigator Setting) section, which has Normal, Auto and Manual options.
Auto gives you three choices called V6-, V8- and V12-Tech Engine. However, the Bios doesn't tell you the proposed clock speeds until you save and restart. We found that V6 raises the base clock to 135MHz for a CPU speed of 2.97GHz; V8 is 140MHz and 3.08GHz; and the fastest, V12 setting gives a base speed of 145MHz and a clock speed of 3.19GHz.
Those settings are very modest, as our Core i7 870 will overclock to 3.98GHz. Unfortunately, the Biostar system blue screened on each of the three settings.

We resorted to manual overclocking and got the speed up to 3.63GHz but were unable to find an option for setting QPI/IMC voltage and feel that this held us back in our efforts.
Reg Rating 75
Price £140 Click here for the best online price
More Info Biostar's website
Gigabyte P55M-UD4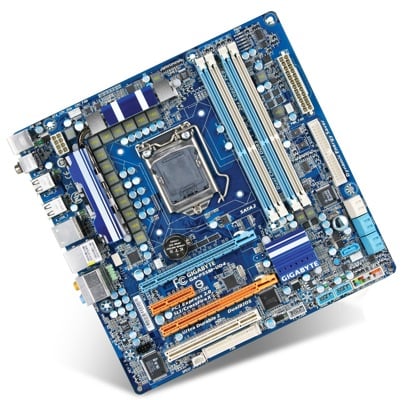 Gigabyte sent us its P55M-UD4 motherboard which stands out by virtue of its Micro-ATX form factor. Despite the small size, you still get dual PCI Express graphics slots. However, the P55M-UD4 only supports CrossFireX - not SLI.
We're in two minds whether this is a serious omission. On the one hand we find the appeal of dual graphics cards is rather limited as a single GeForce GTX 285 or Radeon HD 5870 delivers oodles of gaming pixels. On the other hand, you can be sure that someone, somewhere will attempt to run twin Nvidia cards in the Gigabyte's two slots and will be disappointed when it doesn't work.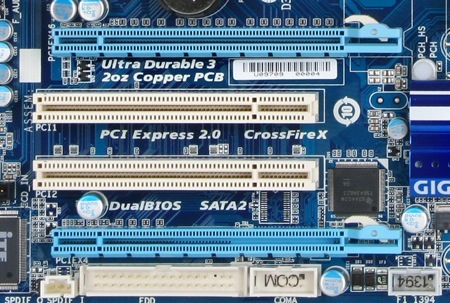 Two PCIe graphics slots - but no SLI support, only CrossFireX
The cooling on the P55M-UD4 is very basic with a tiny passive cooler on the chipset and nothing on the power regulation hardware.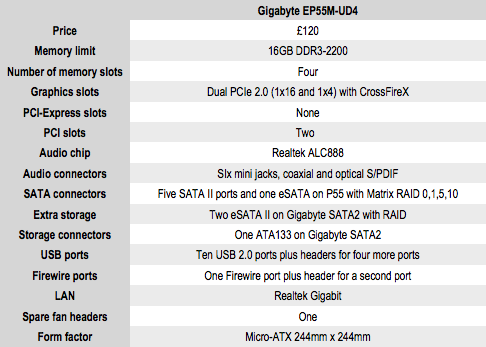 Despite the limited space on a Micro-ATX board it feels as though Gigabyte has managed to pack in all the features of a full sized motherboard although this isn't exactly true. If you install two graphics cards in CrossFireX mode, the Firewire and USB headers at the foot of the board are likely to be blocked.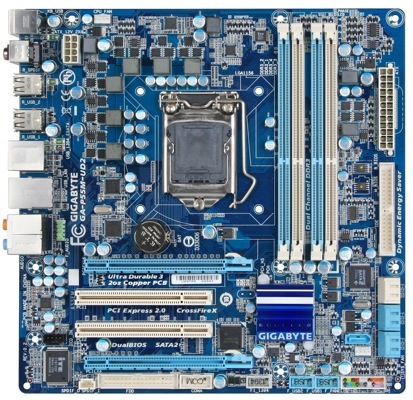 The Micro-ATX form-factor makes accomodating big graphics cards tricky
If you install two really big cards such as Radeon HD 5850s or 5870s, you can kiss goodbye to the front panel headers.
We strongly advise that you think of the second PCIe slot as something to be used for a sound card or TV tuner and forget about CrossFireX.
The MIT (Motherboard Intelligent Tweaker) section of the Bios is arranged differently from previous Gigabytes and is especially easy to navigate. The MIT Current Status, Advanced Frequency, Memory and Voltage settings make the business of overclocking as easy as pie. We were able to get our Core i7 870 up to 3.96GHz without much effort and it stormed through Cinebench at a furious pace.

The low price of the Gigabyte makes it a tempting proposition but we consider Core i7 to be an enthusiast product and the P55M-UD4 is a little too basic to make us reach for our credit card.
Reg Rating 80
Price £120 Click here for the best online price
More Info Gigabyte's website
Intel DP55KG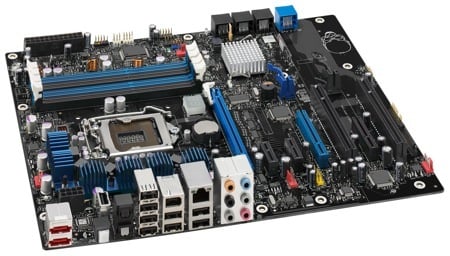 The Intel DP55KG 'Kingsberg' motherboard marks the latest step in a long, slow journey as Intel attempts to convince the buying public that it can build interesting motherboards. Provided that you expect an Intel motherboard will offer stability and precious little else then the DP55KG manages to offer a certain amount of wow factor.
There are two graphics slots with CrossFireX and SLI support; a decent array of PCI and PCI Express expansion slots; eight laid-down Sata connectors; eight USB 2.0 ports; one Firewire port; and digital connections for the integrated audio.
You don't get a legacy ATA-133 connector as Intel has deemed that the world has moved to Sata, and you can forget about a PS/2 connector for your mouse. But these are small crosses to bear.
Intel has cleared the headers and connectors away from the usual location in the bottom corner of the motherboard. The On/Off micro button is located at the top of the board next to the main power connector, and the front-panel headers and the connectors for case-mounted USB and Firewire ports live outboard of the four DDR 3 memory slots.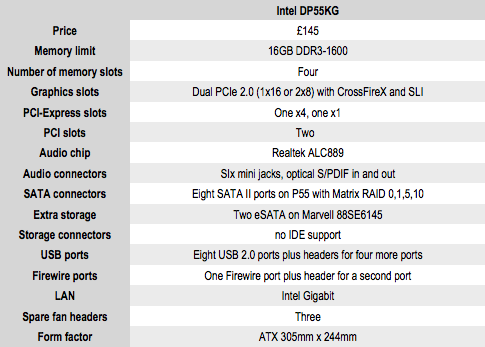 That's all well and good, but Intel has chosen to fill the vacated corner of the board with some unnecessary tat in the shape of its Extreme skull logo, which comes with some extra bling. You can enable the blue backlight for the skull in the Bios and if you feel the need you can also set the red eyes to flash to indicate HDD and SSD activity.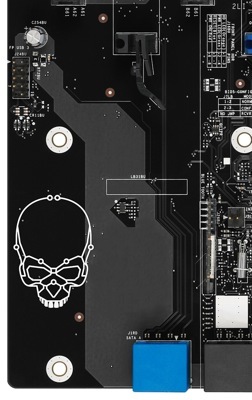 'What can we put here...? I know, a skull graphic...'
This is space that could be better used as the LCD debug display has been placed very close to the CPU socket and was completely obscured by our Noctua CPU cooler.
The Bios is relatively sophisticated by Intel's standards but the feature that really caught our eye was that you can enter Bio set-up using either the DEL key or the F2 key. That's handy when every Taiwanese motherboard uses DEL, and Intel has historically stuck with F2.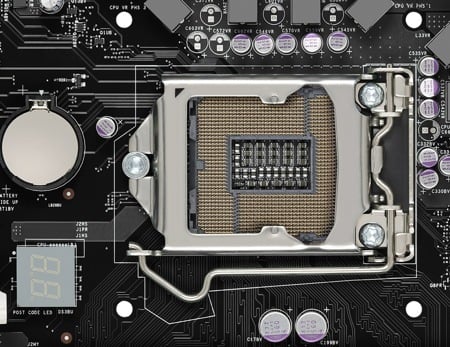 Careful - your cooler may hide the debug display (bottom left)
Our Core i7 overclocked to 3.75GHz which delivered good results in Cinebench but was less impressive in PCMark05. However, we feel that dwelling on those results rather misses the point.

The feature that sums up the DP55KG is the Back2Bios button on the I/O panel. If your PC completely and utterly locks up you can press the button and guarantee to boot into the Bios set-up. It's not exciting but it is superb insurance.
Reg Rating 70
Price £145 Click here for the best online price
More Info Intel's website
MSI P55-GD65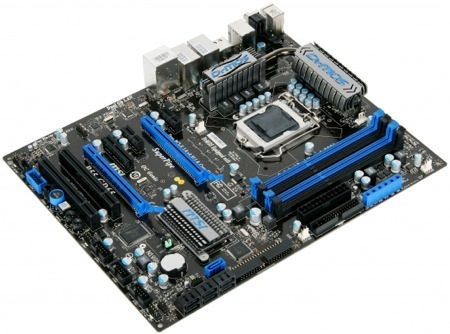 In many respects the MSI P55-GD65 is typical of the new crop of P55 motherboards. It has dual PCI Express 2.0 graphics slots that support both CrossFireX and SLI, the Sata connectors are laid down for easy connection, and there is a decent array of expansion slots. In this case, the slots are one x1 slot, one x4 slot and two regular PCI slots.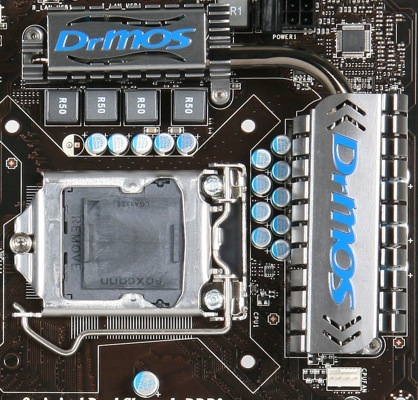 Not a bird, not a plane, it's... er... SuperPipe
The passive cooling system consists of an isolated cooler on the chipset and two coolers on the power regulation hardware that are linked by an 8mm diameter heatpipe that MSI calls SuperPipe. The result is effective cooling with a sense of space as the board isn't covered by huge coolers and miles of heatpipes.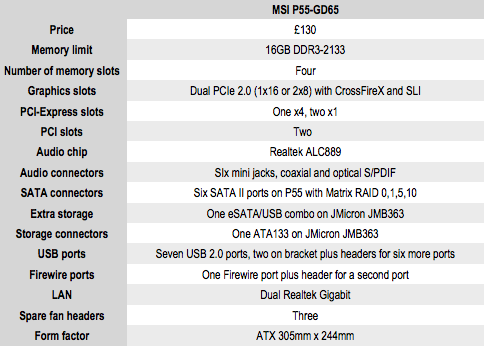 Turning to the I/O panel, we find surround sound audio with optical and coaxial S/PDIF, eight USB 2.0 ports, one Firewire, an eSata and two Gigabit Ethernet ports. There are three USB headers mid-board, and MSI supplies a bracket with two USB ports in the package.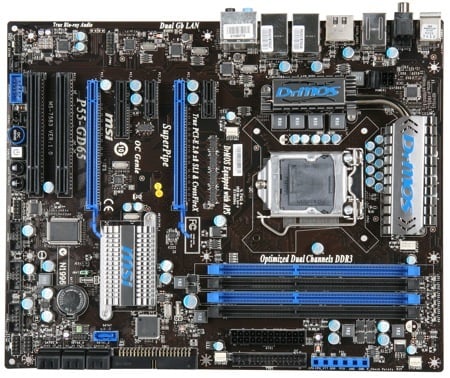 A neat board
In many respects, that's all par for the course, but MSI has added a couple of extra wrinkles. For one thing, the four memory slots support DDR 3 memory up to 2133MHz which looks good on the specification but doesn't have a huge effect on performance.
The Intel DP55KG also supports fast DDR 3 and we used that motherboard to overclock our Kingston Ram to 2033MHz which added an extra 10GB/s to the memory bandwidth. That's a huge amount of bandwidth, but it doesn't have a noticeable effect on performance.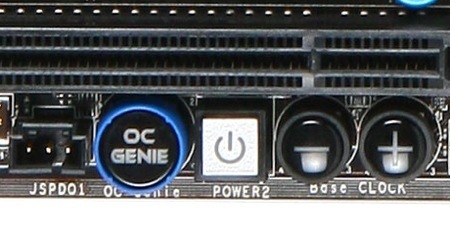 On-the-fly overclocking buttons
The feature that sets the P55-GD65 apart from the competition is the row of four micro buttons at the foot of the board. One is for power and two allow you to adjust the base clock speed while the motherboard is running. It's the fourth button, labelled 'OC Genie', that adds the magic. It offers the simplest method of overclocking that we have ever seen.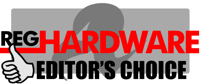 Turn off the PC, press the OC Genie button, turn on the PC, wait a couple of seconds and your PC will start at an overclocked speed. In the case of our 2.93GHz Core i7 870 OC Genie raised the speed to 3.98GHz and the system was rock solid with no work on our part, which makes the MSI P55-GD65 a winner as far as we are concerned.
Reg Rating 90
Price £130 Click here for the best online price
More Info MSI's website
Benchmarks
PCMark05 Results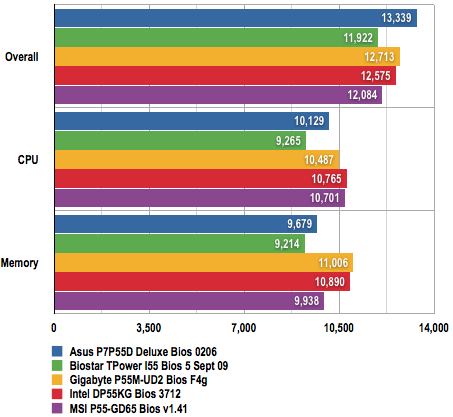 Longer bars are better
SiSoft Sandra Results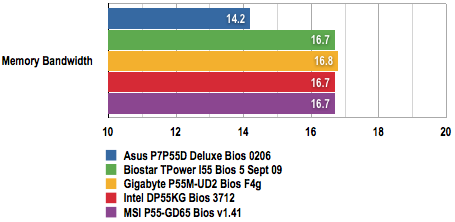 Bandwidth in Megabytes per Second (MB/s)
Longer bars are better
Cinebench Results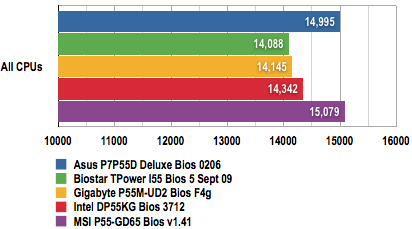 Longer bars are better
System Power Draw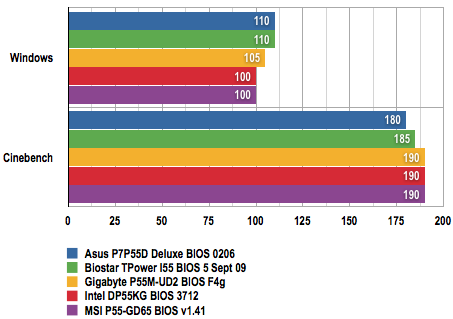 Power Draw in Watts (W)