Original URL: https://www.theregister.co.uk/2009/11/12/review_laptop_toshiba_satellite_l450/
Toshiba Satellite L450
Cheap and cheerful
Posted in Personal Tech, 12th November 2009 08:02 GMT
Review Pick up the Satellite L450, or even just glance at it, and you're left in no doubt that it's very much a budget laptop. Chunky, plasticy and devoid of any bells and whistles, it's not going to appeal to those who like their laptops to stand out from the crowd.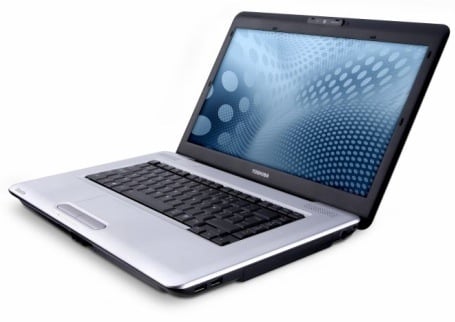 Toshiba's Satellite L450: it's not stylish, but it is dirt cheap
It is, however, dirt cheap, and the L450-137 model we've got our hands on here retails for just £379. For this, you get an Intel Celeron T3000, 3GB of DDR 2 memory and integrated Intel GMA 4500M graphics core, along with a 15.6in widescreen display.
Toshiba's gone for a simple matte-silver finish for the lid, interrupted only by the company's logo. A large hinge stretches along the bottom of the display, giving the lid a sturdy feel. The display's bezel isn't quite as well made, though, and feels very rough when running your finger around the edges of it.
Flip open the lid and, without any media shortcut keys to accompany it, the keyboard looks very lonely. Each function key is assigned a second task – such as turning Wi-Fi on and off – but we were dismayed to find these didn't work on our review unit. We eventually resolved this by downloading the latest Toshiba Utility from the company's support site, but it's not the kind of hassle you expect to be put through with a brand new laptop.
The keyboard layout is good, with decent-sized arrow keys and the Page Up and Page Down keys sitting within easy reach at the right. As with many budget keyboards, flex is an issue here – especially in the middle of the keyboard – and typing therefore has a spongy feel to it. The trackpad is impressive, though, and responds well even to light touches, but it's not multi-touch so there'll be no two-fingered gestures.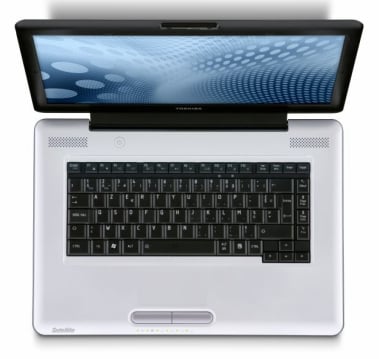 Good keyboard layout, but it flexes too much
Toshiba has given the 15.6in, 1366 x 768-pixel screen the glossy treatment. This boosts colour vibrancy, but it's not the brightest display we've cast our eyes over. Viewing angles are poor too, both horizontally and vertically, requiring you to sit straight-on to the screen or suffer a drop in brightness and clarity.
On its underside, the Satellite L450 provides easy access to the two memory slots and the Realtek 802.11n wireless card. The 250GB Sata hard drive, which ticks along at 5400rpm, is also accessible through a flap of its own. A circular grille allows the laptop fan to draw air in – this is then expelled via the large vent on the left side of the chassis.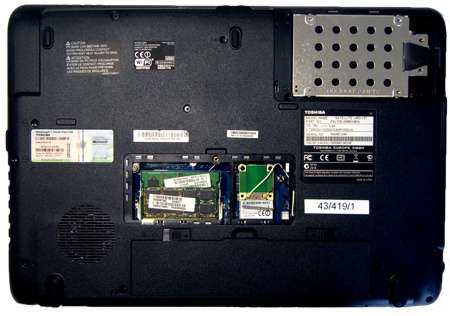 Underneath, full access to the memory, hard drive and wireless card
This fan regularly fired up during testing, even when the laptop was idle. Fortunately, it's reasonably quiet and shouldn't be a cause of irritation. It also seems to do a good job of keeping everything cool, with the trackpad being the only section that got slightly warm after extended periods of use.
In terms of ports and sockets, there are no surprises. HDMI, VGA and three USB ports are joined by Ethernet - but 10/100Mb/s, not Gigabit - audio in/out and a multi-format card reader, while a bog-standard DVD writer sits on the right. There's no PC Card or ExpressCard slot, but you do get a volume wheel at the front.

No surprises among the port array
Released earlier this yet, the Celeron T3000 CPU that's charged with powering the Satellite L450 has just 1MB of L2 cache at its disposal. However, it is a dual-core chip, with each core running at 1.8GHz. In PCmark Vantage, it achieved an overall score of 3248. We were also impressed at how the Celeron T3000 fared during general Windows 7 tasks, and even with multiple applications open simultaneously it coped admirably.
PCMark Vantage Results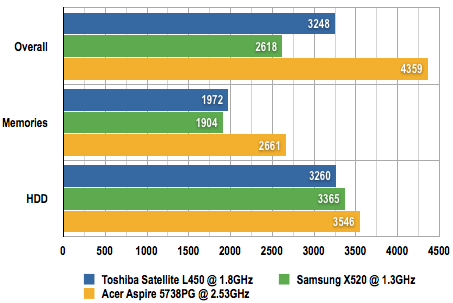 Longer bars are better
If you want to compare it to laptops we've tested with PCmark05, it clocked up an overall score of 3479 and a CPU score of 4310.
3Dmark Vantage turned its nose up at the poor old Satellite L450 and refused to return a result. Thankfully, 3Dmark06 was less snobbish, although the end result of 629 at 1366 x 768 does little to flatter. Serious gaming is therefore a write-off, but at this price it was never really on the cards in the first place.
3DMark06 Results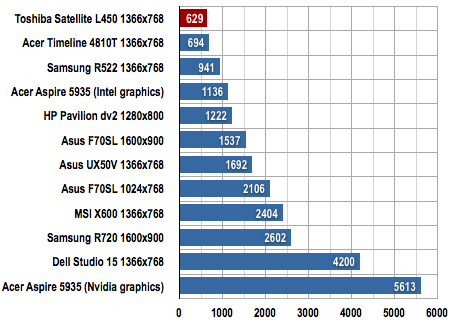 Longer bars are better
Those interested in working away from the mains won't be pleased to hear the Satellite L450 only managed to keep the lights on for 84 minutes. This time was recorded with the laptop running its socks off, but even so we were hoping it to at least break the two-hour mark. Then again, with its chunky chassis weighing 2.6kg - 3.1kg with the power adapter - it's not the kind of beast you'll want to cart around with you for long.
PCMark05 Battery Life Results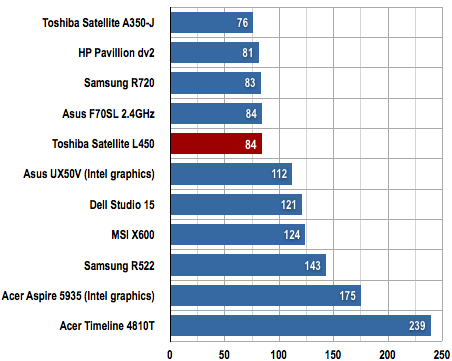 Battery life in Minutes
Longer bars are better
As expected, Toshiba has gone for Windows 7 as the operating system, and the Satellite L450 comes with the 64-bit Home Premium version pre-installed. If 32-bit is more your thing, don't fret since Toshiba also includes a 32-bit Windows 7 recovery DVD.
Not content with the new features offered by Windows 7, Toshiba has decided to throw in its own LifeSpace suite. Calling it a suite is perhaps pushing the point, since LifeSpace currently comprises just two applications: ReelTime and Bulletin Board. The latter lets you to create a collage of photos, clocks, calendars, to-do notes and other items – the idea being it helps you plan events such as holidays and meetings. Having given it a thorough test, we're not convinced. There's simply not enough space to play with and you simply end up with something of a mess. And with no print or share feature, we find it hard to believe anyone will actually put it to good use.
Of more interest is the ReelTime tool. This pops up just above the taskbar and displays a timeline of recently-viewed items in the form of thumbnails. You can limit the list to documents, photos or videos, as well as choose to view only those items associated with specific applications. Unlike the Bulletin Board app, we actually found ReelTime quite useful.
Toshiba certainly isn't averse to bloatware, and when you first fire up the Satellite L450 you'll be greeted by delights such as the WildTangent Games Console - a selection of dire titles that you're supposed to fork out money to play - along with trial versions of McAfee Internet Security and Microsoft Office 2007. Perhaps the only useful third-party software included is Microsoft Works 9, although many will prefer to ditch this and go for OpenOffice instead.
Should the Satellite L450 ring your bell, bear in mind Toshiba charges £11.50 for all laptop deliveries in the UK, which pushes the total price up to £390. That said, the company is offering a rebate of up to £150 if you trade-in your old machine, from any supplier. How much you get depends on its condition and how well it works. The offer lasts until 31 January 2010.
Verdict
If you're looking for a 15in laptop for under £400, the Satellite L450 is definitely worthy of consideration. Although anything that has to call on an Intel Celeron processor is always going to struggle in terms of performance, Windows 7 ticks along nicely and it's perfectly capable of handling everyday tasks. There are a few niggles, not least poor battery life, but on the whole this is a decent, no-nonsense budget laptop. ®
More Laptop Reviews...

MSI
X-Slim
X600

Samsung
R720

Acer
Aspire
5935

Dell
Studio
15