Original URL: https://www.theregister.co.uk/2009/11/12/google_location/
Google expands navel gazing
See where you've been, work out where you're going
Posted in Networks, 12th November 2009 11:20 GMT
Google has ramped up its Latitude service, adding the ability to see where you've been and alert you when your friends are nearby.
Latitude already offers the ability to share your location with others, so friends and family can keep tabs on your wanderings, but now you can also see how you ended up in that South London flat and be alerted if any of your mates come near enough to see you sneaking to the nearest tube station.
The truly self-obsessed can call up a map showing their entire location history, no doubt so they can show it to their friends as proof of what an exciting life they lead, while the rest of us aren't really interested in reliving the hour and a half spent shuffling round the M25.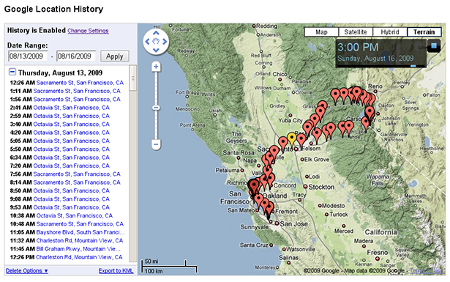 The 21st century equivalent of a neighbour's holiday slides?
Google was, of course, already storing that information: how else would the search giant be able to judge the effectiveness of a billboard or other advertising? So Location History is really about the Chocolate Factory condescending to share that information with you, which is nice of it.
Location Alerts, which ping you when someone you know is nearby, require you to have Location History activated, but apparently will use that information to learn about people you spend a lot of time with at specific locations. That's to prevent a string of alerts every time you walk into the pub - though Google might be missing a trick, as people might appreciate that confirmation of their own popularity.
That is unless any of them owns an iPhone - the inability of Apple's handset to support background tasks makes the iPhone unsuitable for Latitude, though it will work as long as the user keeps it in the foreground.
"It's fascinating to look back at where you went, and for how long you stayed," says the blog announcing the feature, but there are certainly some journeys we'd prefer to forget, even if Google never does. ®