Original URL: https://www.theregister.co.uk/2009/11/11/review_cameraphone_sony_ericsson_satio/
Sony Ericsson Satio 12.1Mp cameraphone
Ready to take on iPhone, Pre, Hero etc?
Posted in Personal Tech, 11th November 2009 13:02 GMT
Review Business has never been harder for touchscreen mobile phones. Not only is the iPhone 3GSso far ahead it's little more than a speck on a distant horizon, but HTC has the geek market neatly sewn up with its Android-based Hero.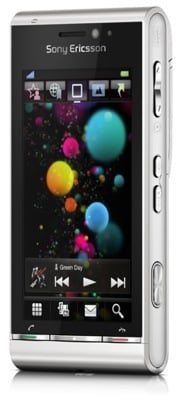 Sony Ericsson's Satio: coming in behind some hard-to-beat acts
Even the Palm Pre failed to tickle our collective fancies, and 53 per cent of current touchscreen owners will be getting a phone with buttons next time around, if market watcher Canalys is to be believed.
What chance, then, does Sony Ericsson's Satio have? Or has the manufacturer discovered Apple's secret formula?
The Satio's headline feature is the its 12.1Mp camera, which is activated by sliding back the lens cover. It takes gigantic images. At 4000 x 3000 you could, in theory, print the Satio's pictures at 33cm wide at 300dpi. But would you want to?
Our test images were variable, at times challenging a decent compact camera and at other times looking fairly indistinct from the output of most mid-range cameraphones. Colour reproduction was largely good and our best images were pin-sharp, despite the tiny lens. There's also a good range of extras, including a decent (digital) image stabilisation system and face detection. There's also a clever smile-detection function which waits until your subjects are looking suitably cheery before firing the shutter.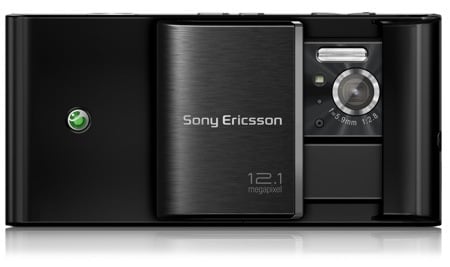 The 12Mp camera with xenon flash is the star of the show
The lag between pushing the shutter release and the camera snapping a pic is short, and the Xenon flash is powerful, though it's not up there with the punchier flashes found on most compact cameras. Yet there are only a few good reasons not to ditch your compact in favour of the Satio. Because of the impossibility of squeezing a lens motor into the Satio's case, there's no optical zoom, leaving you only with quality-destroying 16x digital zoom. And there's no continuous shooting mode.
Sample Shots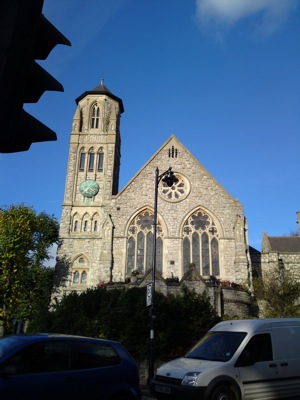 Click for full-size image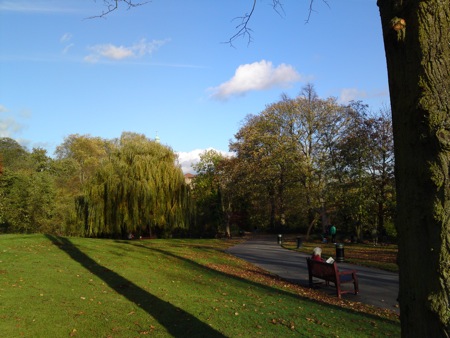 Click for full-size image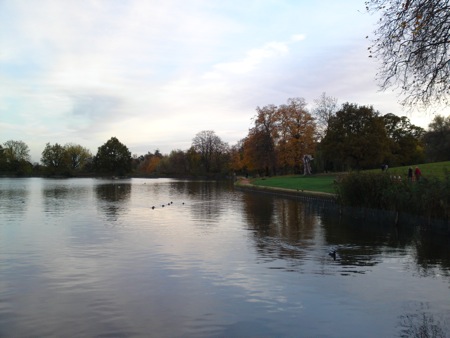 Click for full-size image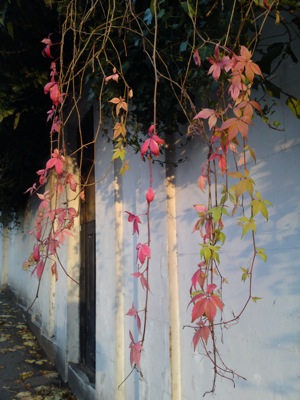 Click for full-size image
The Satio's screen is a 3.5in, 360 x 640 touchscreen. It's resistive rather than capacitive, so bang go clever multi-touch features such as pinching to zoom into Google Maps or into your images. The touchscreen is accurate, though, if a little over-glossy for our tastes.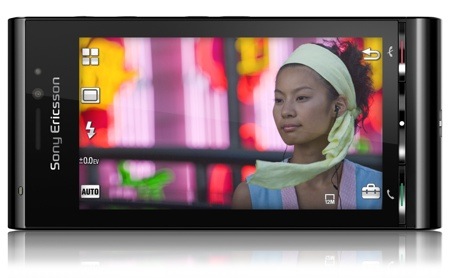 The display is superb
More importantly, the screen is stupendously bright – our review unit came with iPlayer and YouTube apps installed and, a few artefacts aside, it worked superbly. The ability to watch iPlayer in widescreen on the bus is particularly good.
If your Satio doesn't come with iPlayer installed, you can get it – the Satio runs a heavily-skinned and touchscreen-optimised version of Symbian Foundation, the newly open-source incarnation of what was Nokia's S60 platform. While this will appal S60 refuseniks, it's good to see a consumer phone with professional flexibility. For instance, it comes with DataViz' RoadSync for connecting to a Microsoft Exchange server, bolstering its email appeal.
The operating system works well. Inevitably, it's disappointing compared to current touchscreen champs such as the iPhone, Hero and Pre, but while we used it, it resolutely failed to crash, and remained responsive even with a few applications running.
It isn't perfect, though. Our main bugbear is how difficult it is to type. The Satio greets every touch of the screen with a little buzz of useful haptic feedback, but that doesn't make typing any easier. The full-screen Qwerty keyboard, which looks so useful on paper, is actually very difficult to type accurately on. The keys are only about 7mm wide, and there's no on-board dictionary to help guess what you were trying to type.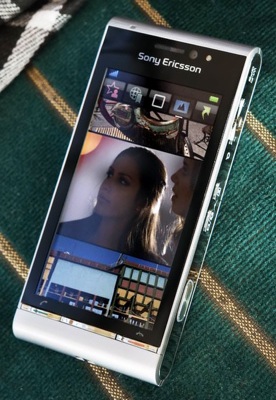 Haptics included
The Satio doesn't even add apostrophes to words such as "isn't" or "here's". So while it's fine for bashing out a text message from the pub, trying to write an email of a few lines or more is teeth-grindingly frustrating.
There are also a few niggles in terms of how intuitive the operating system is to use. Who would have suspected, for instance, that the Satio's file manager and list of applications lay beneath the Organiser icon, which looks at first glance like a calendar app?

The Satio is bulkier than Sony Ericsson's thinness claim would suggest
Selecting items from a menu can also be inconsistent. Sometimes a single tap on the screen is enough to select an option; other times you need to select the menu item and then tap "OK" at the bottom of the screen. Elsewhere, we found that some menus which extended below the bottom of the screen could be flicked up; others required us to drag our finger down the list towards the bottom of the screen to see more choices.
Unfortunately, a phone's success depends on how well its hardware matches its software, and although the Satio's implementation of Symbian is far from disastrous, the phone's hardware isn't exactly what we'd deem 'sexy'. For a start, there's the thickness. The Satio's spec sheet claims the phone is 1.12cm thick, but that's at the thinnest point. Measured at the bulky lens cover on the back the Satio is nearly 2cm thick, and that's a bit much for our jeans.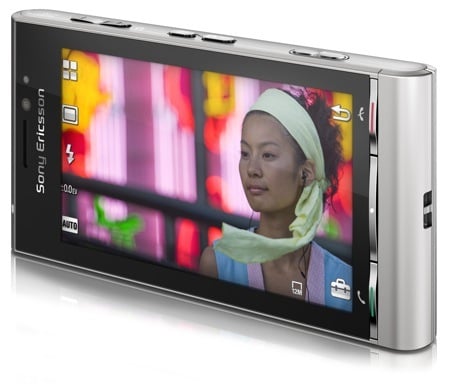 The ergonomics could be better too
Then there's the ergonomics to slate. There isn't a single concession to the fact that, by and large, the Satio will be used by humans. The back and front are perfectly flat, with the only curves appearing at the top and bottom. These curves mean it's virtually impossible to cradle the Satio between your shoulder and your ear without it sliding away. The right angles along the sides mean the Satio simply doesn't feel particularly good in the hand.
The rest of the Satio's feature list ticks most of the right boxes. Call quality is excellent, for instance, and all the connectivity you could want from a top-end phone is here. Assisted-GPS is accessed from the the pre-installed Google Maps, and data access comes courtesy of either the integrated Wi-Fi or 3G radios. The Satio does quad-band GSM/GPRS/Edge, but it's limited to the 900MHz and 2100MHz bands for HSDPA 3G/WCDMA.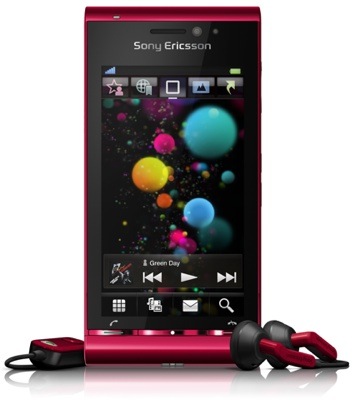 Nice 'phones, shame about the connector...
Battery life is good too: we made a few calls, watched iPlayer and used Google Maps extensively, and the Satio's battery indicator headed into the red slightly over 24 hours after we took it off the charger.
The chief irritation is the proprietary data/charger/headphone connector – lose the USB cable and you're stuffed. The headphone connector has an integrated microphone, at least, and terminates in a 3.5mm headphone jack so you can connect your own 'phones.
All of which leaves us with a decent enough phone with only a few significant drawbacks – namely the boring, uncomfortable design and difficult text entry. So whether you should get one depends largely on how much it costs, which is where the train really comes off the rails. At £146 on an 18-month, £30-a-month contract with Orange, the Satio is more expensive than the iPhone. You can get it for free with Vodafone's £35-a-month, two-year contract, but even then the price only brings it level with the iPhone. While the iPhone is by no means perfect, it's much, much more enjoyable to use than the Satio.
Admittedly, you get more minutes and texts with the Satio's contracts, but if your priority is a fun, responsive phone with superb internet credentials, the Satio pales in comparison. Alternatively, you can bag the HTC Hero from Orange for free if you sign up for its £30 a month on a 24-month contract.
Verdict
The Satio isn't a bad phone, although it has its frustrating moments. But with the price so high and the contracts so unappealing, there are plenty of better options available. ®
More Cameraphone Reviews...

Samsung
Pixon 12

LG
Crystal

Samsung
Omnia HD

LG
Viewty
Smart