Original URL: http://www.theregister.co.uk/2009/11/10/review_smartphone_htc_tattoo/
HTC Tattoo
Cut-price Googlephone for the masses?
Posted in Personal Tech, 10th November 2009 13:02 GMT
Review Android smartphones are fast losing their novelty status as more manufacturers get to grips with Google's open source operating system and go the widget way, often developing their own individual take of the basic style. Motorola and Samsung have been recent converts - with their Dext and Galaxy, respectively - but Taiwanese firm HTC was the first, and has been churning out variations on the theme with steady regularity.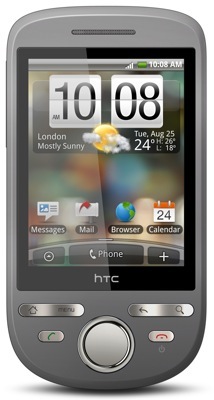 HTC's Tattoo: Android for the mainstream?
The Tattoo marks a change of positioning for HTC, since the handset aimed very much at the mid-range, and is the cheapest Android yet. It seems to have sacrificed remarkably little in doing so, since it comes with HTC's popular Sense user interface, HSDPA 3G, Wi-Fi, GPS and a 3.2Mp camera.
The Tattoo breaks with the tradition established by HTC's previous Androids by forsaking the distinctive style of the likes of the Magic and the Hero with their quirky little chin. Instead, HTC has here opted for the more classic look of HTC's Windows Mobile handsets. Beneath the 2.8in, 240 x 320 touchscreen sits a circular navpad, a control mechanism not usually seen on Android handsets, and certainly not HTC's.
Measuring just 106 x 55 x 14mm, the Tattoo is compact - it weighs 113g - and in its basic form comes in all-business grey. HTC offers a neat opportunity for personalisation, though, with a range of alternative covers in a variety of colours and styles, as well as the option to design your own and order it online from www.tattoomyhtc.com. It'll set you back around £13 for each cover plus a further £3.50 for postage.
The display and probably marks the handset's biggest 'get it downmarket' cost saving. It's resistive, rather than capacitive, and so it's less sensitive to the difference between brushes and presses. It's not terrible, but the difference in ease of use compared to the Hero is very noticeable.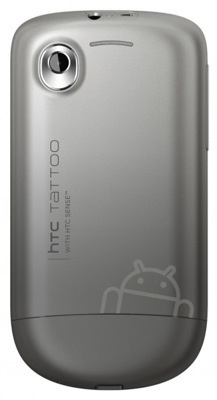 Funky, yoof-friendly styling
The onscreen keyboard is a particular letdown. It's cramped and difficult to use in portrait mode, but turning the handset on its side automatically flips you into landscape and a massive improvement in usability. The keys are still on the small side but even though haptic feedback and optional sound - as well as word prediction and spelling correction - helps with accuracy, the screen alignment on our test sample seemed a little out of whack, leading to more mistyped keys than we're comfortable with.
The Tattoo does, however, come with the version 1.6 of Android - aka 'Donut' - which adds a few features to the 1.5 'Cupcake' release - though it's not up to 2.0 standard. The phone also incorporates HTC's Sense user interface.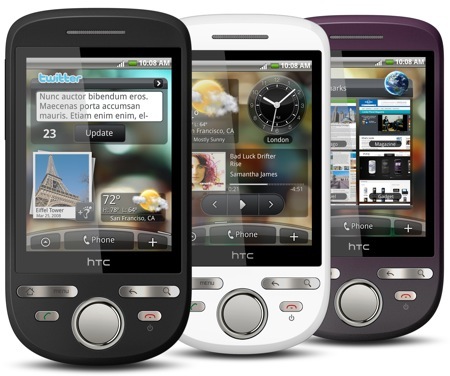 The neat Sense UI has time-specific home screens
Sense comes with seven home screens - you brush sideways to access each of them - to which you can add any combination of application and shortcut widgets from the main menu and from the ever-expanding Android Market, which has acquired a new, cleaner look.
You can now also use "scenes", which allow you to have different groups of widgets for different days or times. So you might set one for the working week, for example, with your business apps to the fore, and another for the weekend, when you can focus on social networking and music.
There's also a new search box which allows you to find keywords throughout all your apps and memory. A handy battery usage indicator tucked away in the "About Phone" section of the menu shows which apps have been draining your battery's power, with percentage ratings of just how much juice each has been using.
There have been a few tweaks to the camera software too though, now that we've mentioned it, it should come as no surprise that the 3.2Mp camera is less than stunning. HTC has yet to produce a camera that can rival more sophisticated models from the likes of Nokia or Sony Ericsson. In its favour, the Tattoo's snapper is quick to start - about three seconds - and can deliver a maximum picture resolution of 2048 x 1536 pixels, as well as offering geotagging and a timer.
But there's no dedicated shutter button on the side, no flash, no autofocus and not a lot else.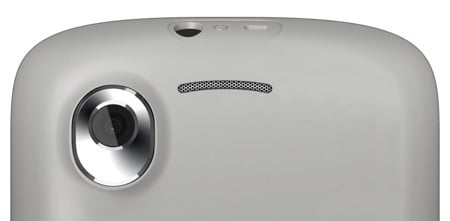 With no flash or frills, the 3.2Mp camera doesn't fail to disappoint
Android 1.6 brings a new digital zoom bar at the side of the screen and an onscreen switch for quick changing between still and video modes, plus a quick gallery link. Picture quality is OK, but there's not a great deal of depth, it doesn't handle dark scenes very well, and bleaches out too easily in bright sunlight.
Screen Shots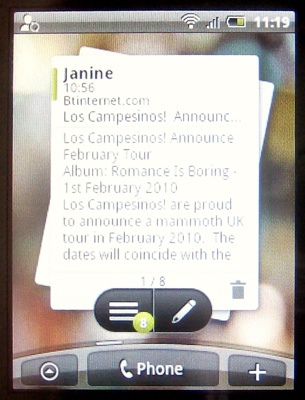 The Email app is a doddle to set up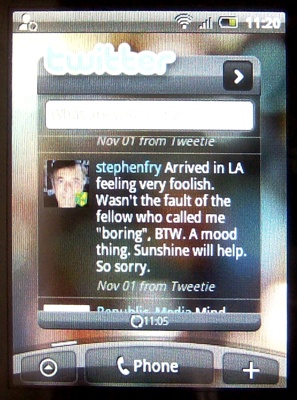 The inevitable Twitter client - and the inevitable, overexposed Stephen Fry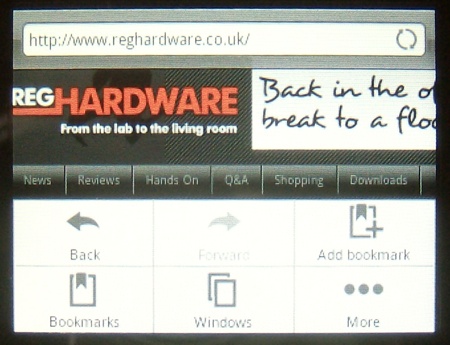 The 2.8in, 320 x 240 screen isn't an ideal size for browsing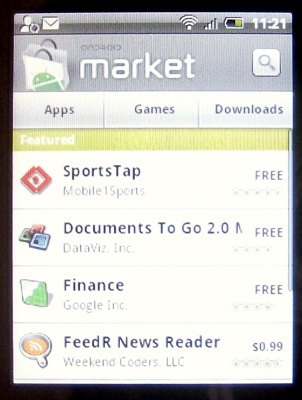 Plenty of apps to try, maybe even buy, in the Android Market
Call quality proved decent enough, with the Tattoo's speaker delivering clear, distinct vocal tones. The Tattoo can look for a GSM/GPRS/Edge signal in all four bands, but it's limited to the 900MHz and 2100MHz bands for HSDPA 3G/WCDMA. Email proved easy to set up, too, with most accounts only requiring email address and password to become active.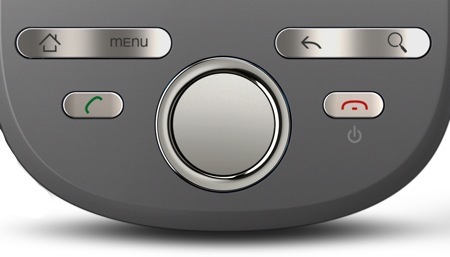 You usually only see navpads on HTC's Windows Mobile phones
You can integrate social networking functions just by setting up accounts with clients which you can download from the Market. The new People app merges Facebook and Gmail contacts so your friends' Facebook pictures appear in your contacts book, and the Sense UI includes options to display your Facebook updates and Twitter feeds on individual home pages, which is a nice touch.
We were slightly disappointed by the browser, but only because Android 1.6 doesn't appear to have added anything to its functional but not terribly exciting basic predecessor. You still have to press and move the screen before the zoom buttons appear, but you can have up to four windows open at once, and copy and paste text. There's also a quick sharing option that allows you to pass on pages via email, Facebook or Twitter.
The 2.8in screen is a little on the small side for extended video viewing and isn't as sharp as the one on HTC's Hero. There also seemed to be a bit too much screen lag, which suggests that the 528MHz Qualcomm processor might be a bit lightweight to handle all of the Tattoo's possibilities.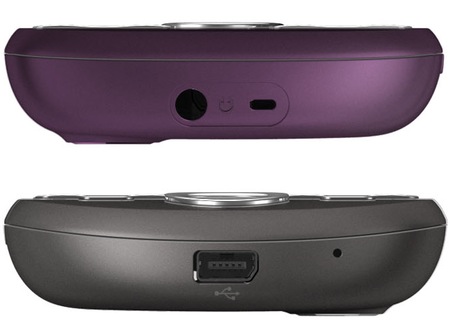 At least the ports are standard: 3.5mm for headphones, mini USB for wired connectivity
You can view MPEG 4, H.263, H.264 and WMV9 files but, disappointingly, not AVI. You can stretch widescreen movie clips to fit the screen, which drops the quality a little, but makes viewing easier within the compact dimensions.
For music, the Tattoo can handle MP3, AAC, WAV and WMA 9 formats, and features a good-looking icon-based interface with all the usual sorting options and echoes of HTC's TouchFlo 3D in its scroll bar. It also has the ability to make playlists on the move.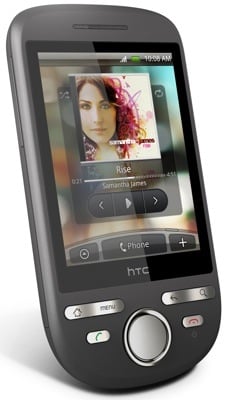 Facebook, meet phone
The supplied headphones aren't up to much, as usual, but at least you can easily replace them since the Tattoo has a top-mounted 3.5mm audio socket and A2DP stereo Bluetooth.
There's only 512MB of memory on board, which won't take you very far, but the Tattoo comes with a 2GB Micro SD card under the cover and you can add larger ones of up to 32GB.
Battery life isn't great, but then again it's not the worst we've seen from a smartphone. HTC promises up to 390 minutes of talk time and 520 hours of standby, but this translated to around a day and a half of moderate to heavy use, including having Wi-Fi switched on all the time. As per most recent HTC handsets, the Tattoo has a mini USB port on the bottom which can be used to charge the phone and to transfer files back and forth.
Verdict
The HTC Tattoo makes a good effort to offer a strongly specced Android phone at a more affordable price than most others. We like HTC's Sense UI with its seven home pages and dedicated apps for presenting messages and updates, plus Android Market of course. Though the browser hasn't advanced, it's perfectly fine for navigating the web. There's no Flash video support, mind, but you can watch YouTube using a dedicated app.
The screen is a definite step down from previous HTC Androids, with the onscreen keyboard in particular feeling the loss. The camera is distinctly average, but all things considered, the Tattoo is a very good Android offering for the price. ®
More Android Smartphone Reviews...

Samsung
Galaxy

T-Mobile
Pulse

Motorola
Dext

HTC
Hero