Original URL: https://www.theregister.co.uk/2009/11/10/apple_mdp_official/
Apple's mini DisplayPort added to Vesa standard
Proprietary no longer
Posted in Personal Tech, 10th November 2009 21:32 GMT
Vesa - the organisation overseeing DisplayPort - has added Apple's compact version of the digital monitor connector to its specification sheet.
Apple introduced its mini DisplayPort connector in 2008, rolling them out with the first metal MacBook, later renamed the 13in MacBook Pro.
The company subsequently offered the connector specification, which delivers the same functionality as a full-size DisplayPort jack, to Vesa - the Video Electronics Standards Association.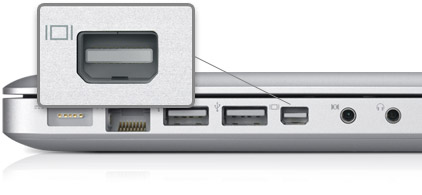 Cap up: Apple's mini DisplayPort has become Mini DisplayPort
Now Vesa has published a Mini DisplayPort (mDP) specification as an adjunct to DIsplayPort 1.1a, the revise version of the spec released back in January 2008.
mDP will be incorporated into DisplayPort 1.2 which doubles the link's bandwidth to 21.6Gb/s - 5.4Gb/s per lane - used to support higher resolutions, faster refresh rates, more colours and multiple monitors - two 2560 x 1600 monitors, or four 1920 x 1200 screens, for example - through a single feed.
Stereoscopic imaging support is also expected to be incorporated into the spec to pave the way for 3D monitors operating at resolutions higher than 1080p at 120Hz.
DisplayPort's auxiliary data channel will be expanded so that it has sufficient capacity to handle USB traffic, enabling monitors to include USB ports, webcams and microphones.
Alas, Vesa was silent on when DisplayPort 1.2 will debut. Back in January, it forecast a mid-2009 publication date. That window has opened and closed. Will the specification be formally launched at the January 2010 Consumer Electronics Show, we wonder? ®