Original URL: https://www.theregister.co.uk/2009/11/09/review_smartphone_nokia_n86_8mp/
Nokia N86 8Mp cameraphone
The serious snapper's smartphone?
Posted in Personal Tech, 9th November 2009 08:02 GMT
Review While many mobile makers in the smartphone game have been concentrating their designer firepower on touchscreen devices, the Nokia N86 8MP rolls in as a successor to Nokia's previous generation of Symbian S60 3E-packing heavyweights rather than as another touchphone contender.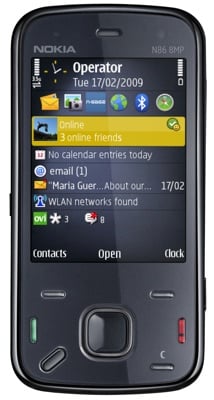 Nokia's N86 8MP: the N-series ancestry is immediately apparent
Making its mark as Nokia's first 8Mp cameraphone - and its first with a mechanical shutter - the N86 8MP combines design and functionality elements from both the N85 and N96, two of Nokia's most fully featured S60 devices. Imaging may be its focal point, but the N86 8MP also offers Wi-Fi to complement its HSDPA 3G data connectivity, A-GPS satellite navigation, 8GB of on-board storage, an FM transmitter plus a full spread of multimedia features and support for Nokia's suite of online Ovi services.
There's no mistaking that N-series family connection in the bodywork and front panel layout. The N86 8MP's two-way slider design, which incorporates a numberpad and a media player control set as first seen on the N95, is chunky, measuring 103.4 x 51.4 x 16.5-18.5mm. It weighs a pocket-sagging 149g and feels very substantial in the hand.
Scratch-resistant hardened glass covers the front panel and the display, a 2.6in, 16.7m-colour 320 x 240 OLED screen that's strikingly bright and clear.
Decked out in black or white with chrome detailing, the N86 8MP's face appears uncluttered thanks to the tiny sliver-thin controls keys, which are arranged around a conventional central navpad. These rice-grain shaped keys are oddly proportioned for such a bulky handset. Larger-fingered users may not like them and find them fiddly, but they do their job. A slightly larger unmarked menu takes you to the main menu.
The navpad is a single five-way key, and we felt the directional controls weren't particularly well separated from the central select button. We found that our thumbs could select up, down, left or right options when attempting to select something.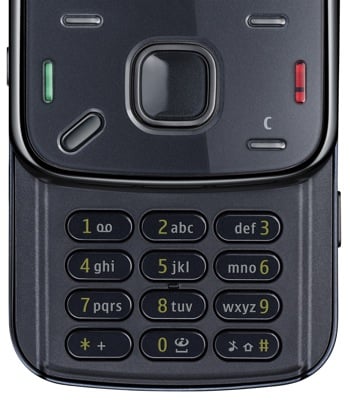 The keys are good for fast texting
The numberpad, however, has a no-nonsense feel that we liked. The number keys are large and well separated, and the texting action suitably responsive for pacey messaging.
The N86's mechanical-shutter 8Mp camera is, of course, the star feature. When other phone makers are touting 12Mp models, Nokia is being more restrained, bargaining on photography buffs knowing that the megapixel count isn't the only part of the story. It also hopes they'll appreciate the way a mechanical shutter - which gives the sensor a blast of light to work with rather than an over time average sample, and enables shutter speeds of up to one thousandth of a second - will make for better pictures.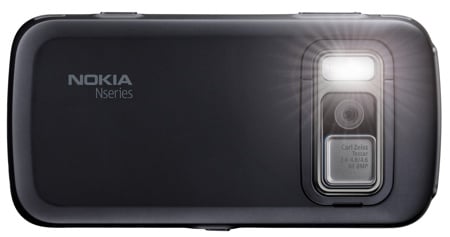 Why no Xenon flash, Nokia?
Slipping down the camera's cover activates the camera within two seconds, switching the screen automatically into landscape viewfinder mode. The camera button utilises a regular two-step autofocus-then-shoot system, and it works quickly and efficiently. Shots are snapped without any noticeable shutter lag. Processing time is pleasingly rapid.
Nokia has included a decent number of photo adjustment options, although not as many as you'll find on high-end cameraphones from the likes of Samsung, LG and Sony Ericsson. There is a very neat panorama shot mode, though, which uses the phone's accelerometer to help line up the consecutive shots, and there are a good selection of scene modes for various shooting conditions.
The macro close-up setting can deliver sharp short-range shots, though aiming the autofocus precisely can be tricky with the large autofocus 'frame' in the viewfinder image.
The results from the camera are excellent for a mobile phone. Shots are crisp, with plenty of fine detail and great definition. Colour rendition is very impressive too: colours are vibrant and natural in a variety of shooting conditions. The auto metering system seems to adjust quickly to variations in light, producing high quality images.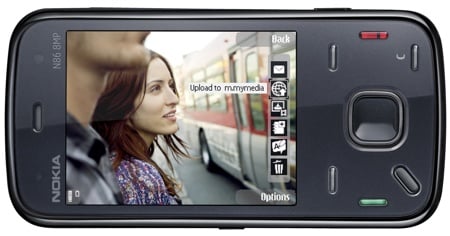 There are few control options than other high-end cameraphones offer
Low-light shooting is reasonable too, the twin flashes providing strong illumination over a few metres - Nokia suggests a 3.5m range. Serious snappers will surely be annoyed that Nokia has built in LED light sources rather than xenon flashes, but the N86's flash doesn't make a bad stab.
Sample Shots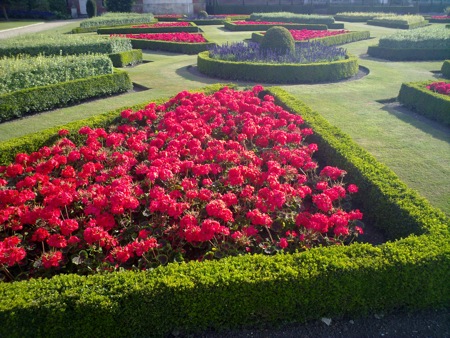 Click for full-size image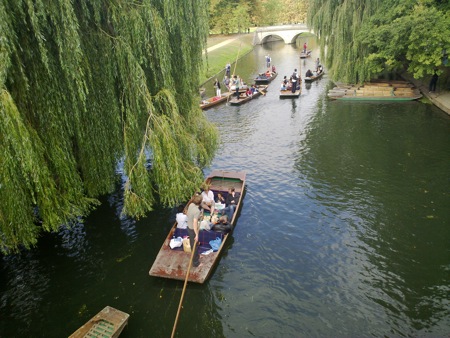 Click for full-size image

Click for full-size image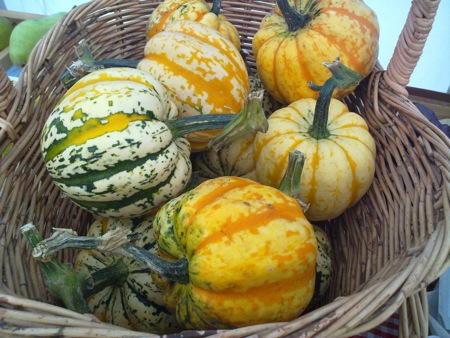 Click for full-size image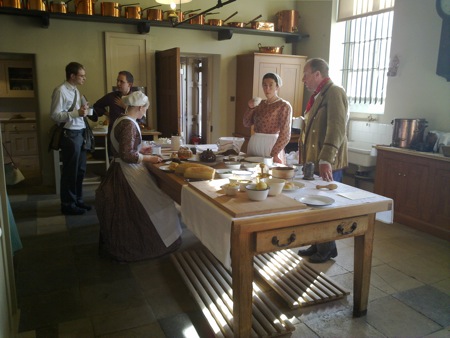 Click for full-size image
Video capture is quite decent too, recording at maximum 640 x 480 resolution at up to 30f/s in MP4 format. Playback is smooth and looks pretty good for a phone. Again, the dual LED illumination doesn't do a bad job for night shots.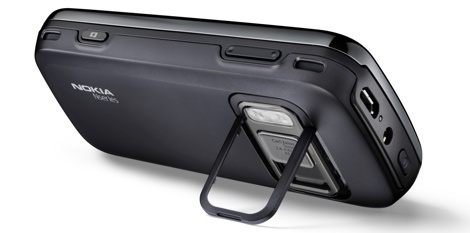 There's a fold-out viewing stand, but the 2.6in screen isn't ideal for watching video
Nokia has provided a regular set of S60 video player options: RealPlayer is pre-loaded and Nokia's own Video Centre app provides fast access to and management of a selection of streaming and downloadable video services. Video playback looks impressively smooth and rich, if small on the wee screen. The N86 supports MP4, 3GP, H.263 and H.264 file formats, and can be connected to a TV, though Nokia doesn't bundle a cable.
It does, however, include good quality in-ear buds that present a detailed and pleasingly well-balanced sound. The N86 has a 3.5mm headphone socket so you can easily use other earphones. The bundles remote control unit has a 3.5mm socket too.
The N86 8MP's music player puts in a fine performance. The user interface is familiar and easily controlled from the navpad or the upper slide-out button panel. Radio entertainment is well covered too. As well as a slick FM radio, there's an internet radio app, making it easier to find and tune into services online. A podcasting app also allows you to find, subscribe to and download podcasts.
Additionally, a built-in FM transmitter enables you to broadcast tunes playing on your phone to FM radios within a 3m radius, whether in-car, at home or even another radio-toting phone. It's simple to tune in to an appropriate radio frequency and works very effectively.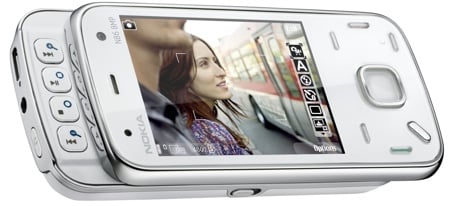 The secondary slider gives you extra media controls
With Wi-Fi as well as 3.6Mb/s HSDPA 3G, the N86 8MP's Nokia Flash-friendly browser is able to work its away around websites speedily. It has a shortcuts toolbar you can pull up with a long press on an empty area of the page. Alternatively, you can use numberpad shortcuts to help navigate around the screen, save bookmarks, go to your homepage and so on. Granted, it's not iPhone slick, but it is an improvement on earlier N-series browsers. Pages are tidily rendered, and you can use the upper slider zoom buttons for fast zooming.
The slider buttons are also handy for gaming, but Nokia has seen fit to include no full games, just 15 items of trialware.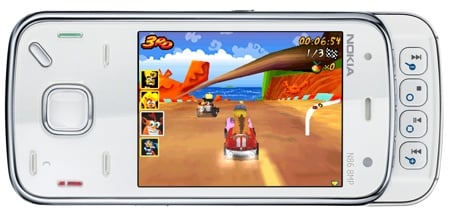 If you want to play full games, you'll have to buy them - this phones only comes with demos
The N86's Assisted GPS technology offers precise location finding and route planning using Nokia Maps software. In our tests, the GPS receiver was remarkably quick at fixing our exact position – it's among the quickest we've seen on a phone. The software has UK and Ireland maps embedded, and you can upload more from Nokia. A motion-activated compass usefully ensures that the map orientation is always from a user-friendly viewpoint.
Route planning and searches for landmarks, businesses and services and so on are included as standard. Turn-by-turn voice directions are free for ten days only, after which you have to pay extra to use them.
All the customary S60 functionality is embedded in the N86 8MP, including easy-to-set-up email with support for attachments; instant messaging; online and in-phone searching; Office and PDF viewers; and a comprehensive suite of organiser functionality, including calendar, calculator, notes, text-to-speech reader software, a dictionary and voice recorder. Nokia includes its usual PC sync software.
The N86 8MP scores a top-class rating for voice-call quality. We had no network issues during testing. Battery life is reasonable too, if not exceptional. We managed a couple of days on average between charges, although Nokia rates the optimum performance of its 1200mAh battery at up to 4.5 hours' talktime - 6.9 hours in GSM only coverage - or up to 363 hours on standby.
Verdict
The Nokia N86 8MP isn't the sort of smartphone that moves the genre on. Its size is going to be an issue for some, and its S60 3E user interface is beginning to feel old hat. But its 8Mp, mechanical-shutter camera will appeal to photographers - it's capable of taking excellent shots - and there's plenty of good extras too, including Wi-Fi, A-GPS and a fine music player. ®
More Cameraphone Reviews...

Samsung
Pixon 12

Sony Ericsson
S312

LG Viewty
Smart

Sony Ericsson
C903