Original URL: http://www.theregister.co.uk/2009/11/08/lhc_supplemental/
El Reg's LHC visit - Deleted Scenes
'An impossible machine that could not be built'
Posted in Science, 8th November 2009 10:02 GMT
The Large Hadron Collider - the gigantic underground double-barrelled particle cannon assembled by top boffins deep beneath the Franco-Swiss border - is to start up again "around the 20th" of this month. Not only is the LHC tremendously cool (quite literally) in its own right, it's also the focus of a global hypercomputing grid of tremendous potency, giving us an excuse to go and visit it this week.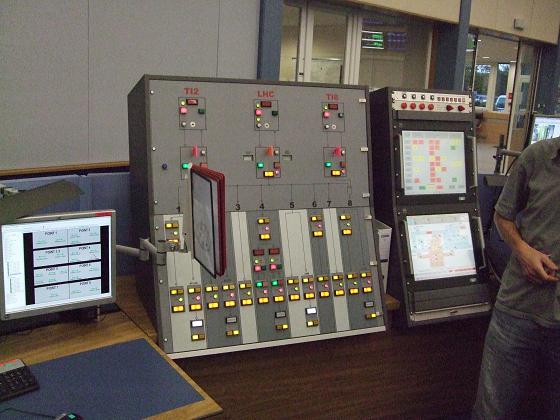 Do not spill your tea on this.
Sadly the Collider is now largely chilled down to firing temperature, and parts of it are already having test beams fired along them, so it's now pretty difficult for visits to get down into the various underground caverns and tunnels containing the actual good bits. Even the CERN boffins have to undergo a retina scan to get down there now, we were told, for security and radiation-safety reasons. ("It has to be a live eyeball, too", according to our hosts.)
As a result we don't have any first-hand pics of the underground bits. Nor did we manage to sneak down there anyway, get zapped by a freak blast of krenon-rays or something and acquire mysterious mutant powers or turn green and swell into a enormous monster journalist able to crumple up impertinent press officers like paper cups.
"Some of the collisions should be horrendously messy"
But we did get the chance to speak to various CERN boffinry chiefs regarding the mighty proton-punisher and its associated globo-computing grid, which will be highly necessary once the various instruments placed around the 27-km magnetic motorway begin to sift the shattered sub-particulate debris expected to spray everywhere when hadrons crash into each other head-on at almost light speed.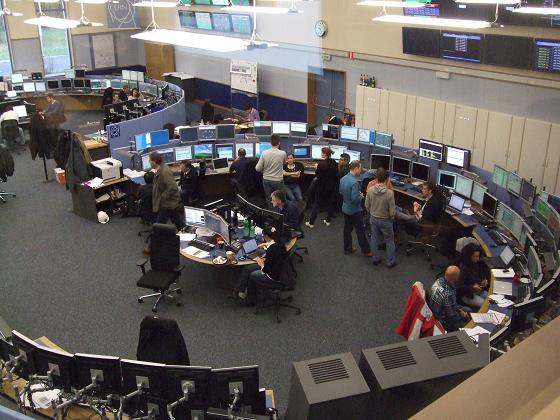 Where the magic happens. Note the small number of champagne bottles so far.
"We aim to deliver maximum beam energy," control-room boffin Dr Mike Lamont told us.
"Some of the collisions should be horrendously messy."
According to Sergio Bertolucci, one of the most senior boffinry chiefs at CERN:
"When the LHC was first conceived it was an impossible machine that could not be built, but it is working now... it is one of the coldest and emptiest places in the universe - there are less atoms inside the tubes than there are in outer space, and at less than 2 degrees above absolute it is colder than the average temperature of the universe."
"I could go on telling you fascinating and unique facts all day," added the physicist, "but let me sum up by saying this - doing this experiment is more complicated than sending a man to the moon, and it is not us who says this but those who did send men to the moon."
Bertolucci even went so far as to apparently hint at an interdimensional portal invasion of some sort, though no doubt we misunderstood.
Proton beams? Check. Superconductors? Check. Enormous robots? You're spoiling us, now
Engineer Dr Tadeusz Kurtyka explained a few of the issues in constructing the LHC, not least the fact that its 6,000 massive superconducting magnets - which have to be chilled within an ace of absolute zero to function - each shrink by nearly 5cm as they are cooled down to operating temperature, making it tricky to say the least to construct a 27-km ring of them.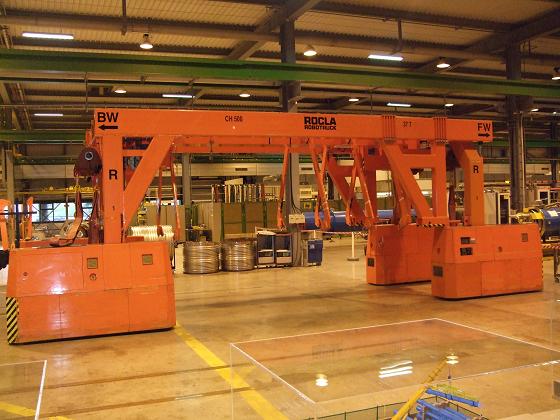 Proton beams, superconductors, liquid helium and enormous robots.
Kurtyka explained that reliability issues become outrageous when most of the equipment is unique and has only just been invented, and there are thousands of items whose failure would be catastrophic. If each magnet is merely 99.99 per cent reliable, for instance, one will probably fail each time the machine is used.
Even once you have thousands of super-reliable cutting-edge machines and have worked out a way to deal with them shrinking, cooling etc, they must all be carefully lowered down one of a few shafts and shipped along kilometres of narrow tunnel to their final resting places. Special robotic vehicles are used for this, as humans would cause too many crashes in the narrow confines of the main tunnel.
"Kids love it"
Before all that could even begin, the previous Large Electron Positron (LEP) collider had to be ripped out of the tunnel, a big job in itself.
As all the world knows, the LHC finally powered up last year: but it hadn't been running long when a faulty electrical connection between two magnets blew up - always a possibility when the coils have to carry 11,500-amp currents - and took out the liquid-helium conduit above it. Liquid helium, being a superfluid, will get through any crack or aperture, meaning that the conduits too must be engineered with extreme care.
Last year, the supercold liquid more or less exploded out of the failed join and roared along the insulating vacuum jacketing around the central cores, causing magnets to jump off their mountings for hundreds of metres each way. Repairs and modifications aimed at preventing another such disaster have taken up more than a year, possibly giving a rival American particle-puncher time to beat the LHC in the race to find the elusive Higgs boson.
This is the type of thing which absolutely will not happen if we have a problem
It having been judged impossible to replace or test every single connection in the whole ring in a reasonable time, the plan is now to fire the machine up at half power initially and gradually turn it up later. These will be tense times for engineers like Kurtyka: though he smiles and says "I'm a mechanical engineer, not an electrical one. It was an electrical fault."
Kurtyka likes working at the LHC anyway, despite the difficulties, tension, risk of being turned into a frosty stalgamite statue in a liquid helium leak, possibility of dimensional portal invasion and so forth.
"Kids love it," he says. ®