Original URL: http://www.theregister.co.uk/2009/11/08/guy_fawkes_demo/
Police fail to dampen down bonfire night Westminster protest
Met backs down in face of massed ranks of Guy Fawkes
Posted in Policy, 8th November 2009 12:02 GMT
Officers responsible for Parliamentary security stayed calm this week, despite the unexpected arrival - on the 404th anniversary of an infamous plot to blow up the Houses of Parliament - of several dozen masked men and women dressed as Guy Fawkes.
Meanwhile, a distinct lack of instant response from the Met to what most passers-by might consider to be a demonstration, suggests that the bad press that they have received over the past few years from enforcing draconian rules on demonstrating in the vicinity of parliament has led them to conclude that discretion might be the better part of policing public order.
On Thursday afternoon, about three dozen individuals, kitted out as Guy Fawkes and wearing V for Vendetta masks, took a "stroll" down Whitehall.
As a token of their good intentions, they left a rose at the entrance to 10 Downing St, although police officers there refused to take it in – possibly on the grounds that it might conceal a deadly airborne nerve agent. They then stopped off at the Westminster Arms, before making their way en masse towards the principal public entrance to Parliament – St Stephen's Gate.
They were definitely not led by an individual best known to the world as blogger aulde Holborne. He explained that he was merely "out for a walk", and suggested that he could in no way be held responsible if a number of his friends just happened to turn up wearing almost identical outfits (and masks).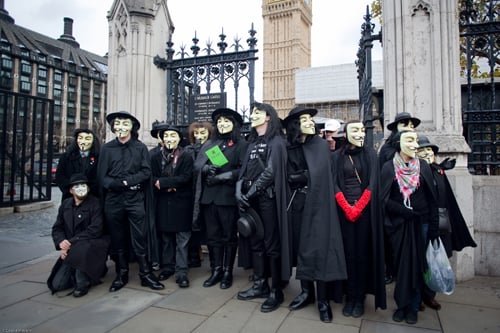 You can never find a copper when you need one. (Photo: Cassie Mayers)
On arrival at parliament, a police officer promptly informed the group that they couldn't "go in dressed like that, sir" – a reference not to the garb, so much as the masks.
A tense two minutes followed, during which the demonstrators – sorry, strollers – thought about this, and then agreed to remove their masks before entering the House to observe proceedings from the public Gallery.
A Met spokesperson played down the significance of the incident, stating:
At approximately 12:40 on Thursday, 5 November, about 30 - 40 people went to the Palace of Westminster. Initially dressed as Guy Fawkes, the group was allowed access to Parliament once they had removed their costumes in line with rules governing access to the building.

They were admitted into the public gallery, as they were the year before when they attended.

The group were treated as any other member of the public who wishes to attend the Palace of Westminster.
There were no arrests, and no additional police intervention. This was despite the fact that one walker carried a placard that controversially informed the public that "Politicians know best".
As always, there is a serious side to such an event. In 2005, in an attempt to rid parliament of lone and inconvenient demonstrator Brian Haw, David Blunkett added clauses (ss. 132-138) to the Serious Organised Crime Act 2005. The amendments made it an offence to demonstrate within a mile of parliament without prior notice to the Metropolitan Police – and permission from them to do so.
A number of infamous cases followed, including that of Maya Evans, arrested and fined for the heinous Seriously Organised Crime of reading out the names of those killed during the Iraq War near the cenotaph. Comedian and political activist, Mark Thomas, writes of one peaceful protester informed by the police that sitting in parliament square eating a cake with the word "Peace" etched into its icing could be a criminal offence.
In January, protesters returning home from a demonstration holding placards in the "down" position – that is, pointing toward the ground, at leg height – were told that they were holding an illegal demonstration and threatened with arrest.
This outwardly arbitrary abuse of police powers has led to several major protests and campaigns against the law itself – and also resulted in a promise by Gordon Brown that Labour would repeal this law. A parliamentary joint committee on Human Rights has also produced a report (pdf) calling for its repeal.
In July of this year, the Government published the Constitutional Reform and Governance Bill, which does repeal (s32) the original law. However, it is not a true repeal, since it replaces the current law with a wholly undefined policing power that can still be used in a 250 metre area around parliament.
If you wish to know what powers this law would grant to the police, you cannot. For instead of defining police powers in the proposed legislation, and therefore allowing them to be scrutinised by parliament, government has chosen to write itself a blank cheque. The new legislation merely gives Ministers the right to write new laws on this subject by executive fiat – otherwise known as a statutory instrument – without needing to return to parliament for further approval.
Yesterday's "stroll" went off without intervention, and a hint – but no official view – from the Met that it was not a demonstration. Given the reasons that they have found for intervention over the last few years, it is hard not to draw the conclusion that they know when they are beaten. ®