Original URL: https://www.theregister.co.uk/2009/11/07/review_usb_tv_tuner_elgato_eyetv_dtt_deluxe_2009/
Elgato DTT Deluxe
World's smallest USB TV tuner
Posted in Personal Tech, 7th November 2009 09:02 GMT
Review Elgato's previous EyeTV DTT Deluxe, which we reviewed in September 2008, was heralded as the world's smallest USB TV tuner. Just over a year on, and the company has launched a second record breaking tuner - one that's about half the size of its predecessor.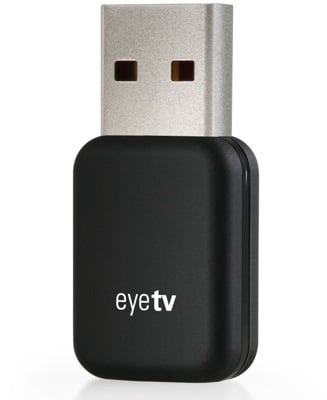 Elgato's EyeTV DTT Deluxe: ridiculously small
And there's another first: this is long-time Mac specialist Elgato's first product to ship with full support for Windows users, specifically Windows 7 drivers for out-of-the-box Media Center compatibility.
First, though, the hardware. The new DTT Deluxe takes up less room in the box than the wrapped pair of AAA batteries used to power the Freeview-friendly remote control Elgato ships with the tuner. The tuner is barely bigger than its USB connector and while it's not as tiny as the adaptors that come with many a wireless mouse, it's still very small indeed.
The Deluxe is decked out in matte black, though there's a sliver of gloss running around the side which is actually a window for the infrared remote. The IR signal is picked up whether the Deluxe is placed in a USB port on the left or right of your machine, though it doesn't work end on, so if your computer's USB ports are facing forward, you'll have to angle the remote sideways.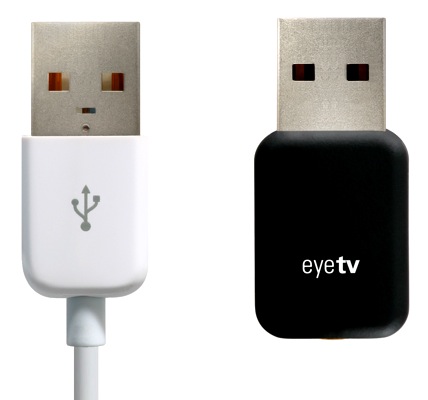 No, we mean it - it really is small
Being so small, the Deluxe won't impede adjacent USB ports. It fitted into our MacBook Air's port with ease and into the compact two-port hub we use.
The Deluxe's antenna slots into a wee MCX (Mini Coax) port at the opposite end to the USB connector. Elgato bundles a standard mini antenna with a magnetic base and separate suction cup. It pivots at the base to allow you to maximise reception, as does the separate, telescopic aerial it provides. The latter is handy if you don't want wires spoiling the lines of your laptop and is more travel friendly too. Finally, if you need a feed from a full-size antenna, there's a mcx-to-coax adaptor in the box as well.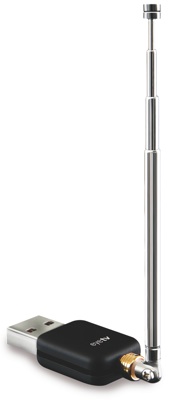 Elgato bundles two types of mini antenna, including a telescopic one
You'll certainly want to use the adaptor if you plan to plug the Deluxe into a desktop machine or media centre near to your TV. We found the reception surprisingly good with a mini antenna - certainly better than it has been with TV tuners we've tried in the past in the same London locations and with the same antenna types.
That said, it's by no means a match for a proper feed - thanks to Freeview's broadcast strength rather than any failing on the tuner's part. Our initial, extensive tune-up in Register Hardware's sixth-floor, central London HQ still missed a number of channels and couldn't get sufficient signal for some of the others.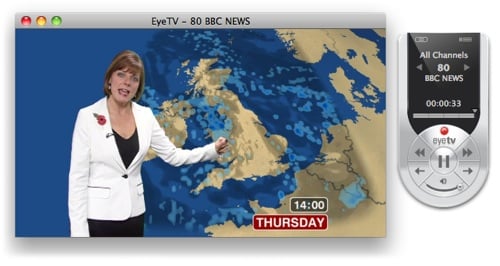 EyeTV 3 playback...
Adjusting the mini antenna helps - you'll appreciate the pivot when you're moving at around in search of a signal - but unless you're in a very good locale, you'll need a proper aerial feed if you want the full selection of channels.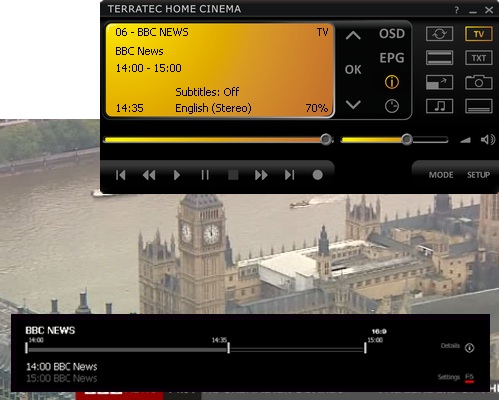 ...and from Terratec Home Cinema
On a Mac, the Deluxe works with Elgato's EyeTV 3 software, which provides full DVR functionality, augmenting the over-the-air programme guide data with a year's free access to the TVTV online EPG. You can create lists of favourite channels; record, pause and rewind live broacasts; schedule recordings, top and tail them then convert them into formats suitable for playback on iPods, iPhones and Apple TVs.
In short, EyeTV 3 does all you'd expect a DVR to do. The only trick Elgato seems to have missed is, given how small the Deluxe is, adding the ability to use two of the tiny tuners to let you watch one channel while recording another.
Terratec Home Cinema, the Windows app Elgato bundles with the Deluxe, doesn't appear to either. You can use multiple tuners, but only one at once. THC isn't as visually attractive as EyeTV, but it provides the same level of DVR functionality with more settings to tweak than you can shake your pocket protectors at.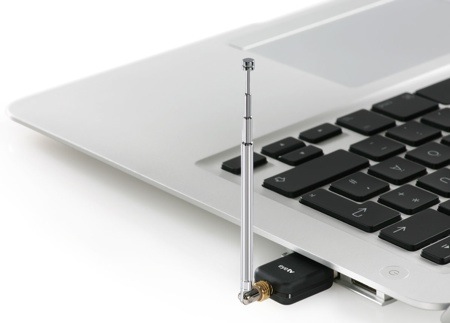 Perfect for all types of skinny laptop
Incidentally, in addition to the Windows driver for the Deluxe - it's for Windows 7, but it also worked on our WinXP netbook - Elgato has also supplied drivers for the previous version, its Diversity, Hybrid and EyeTV Sat tuners, though these aren't fully certified. The Windows 7 support means the Deluxe will work out of the box with Media Center if you prefer that to THC.
The new DTT Deluxe costs £80. Elgato's standard DTT, which does the same job, only costs £50, so you're paying a lot extra for the miniaturisation. As such, it's hard to recommend the Deluxe for anyone setting up a desktop-style media centre - you shouldn't need to care about the tuner's size, so go for the cheap one. The DTT comes with EyeTV, but not Terratec Home Cinema, but Windows users have plenty of other cheap tuners to choose from.
However, the Deluxe comes into its own if you have a netbook or thin'n'light laptop. Here, it's the ideal compact, no-fuss offering that'll get you telly on your portable PC, and it's small enough to leave connected permanently, if you're careful.
Verdict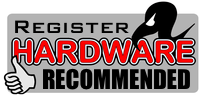 The DTT Deluxe is so tiny and cute it's hard not to find it appealing despite the £30-odd premium you'll pay for it over any other basic USB TV tuner. It's the tuner for thin'n'light laptops and netbooks - whether they run Mac OS X or Windows - where size and portability really matter. ®
More Elgato Reviews...

Video
Capture

Turbo.264
HD

EyeTV
310 HD

EyeTV
DTT